One Pan Bell Peppers Omelet recipe idea. Vegetarian friendly for a meal or breakfast. Sautéed bell peppers and parmesan cheese.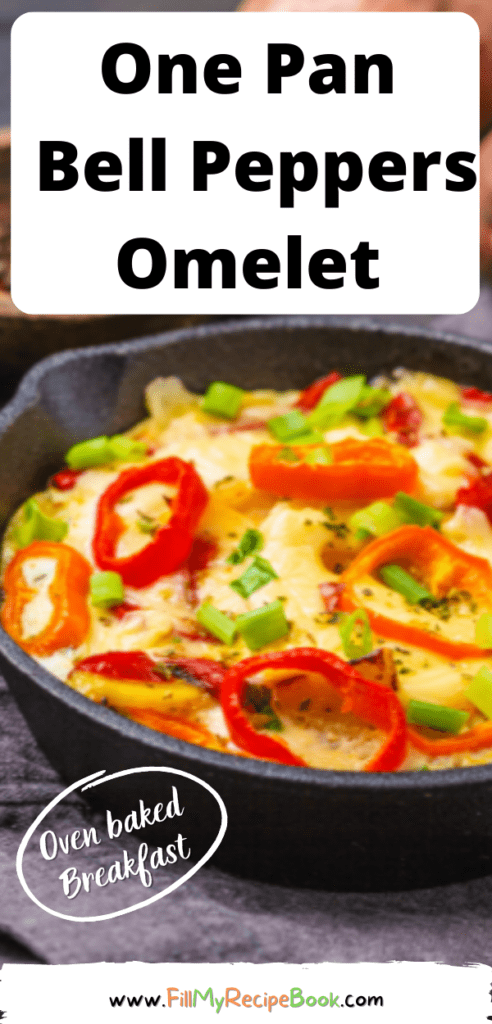 One Pan Bell Peppers Omelet.
A vegetarian recipe but enjoyed by all. Using bell peppers and onion and mushroom. Spice it up if you want to with cayenne or chili peppers. Totally your choice of ingredients. Cooked in a cast iron pan slowly in the oven. A great oven bake breakfast or brunch recipe idea or for a family meal. Special make ahead breakfast for Fathers or Mothers Day or Valentines day.
Omelets are versatile with their fillings as you can add left over food from meals such as vegetables or potatoes. Add your flavors with herbs and spices.
Topped with cheeses to suite. This one we use Mozzarella and a little parmesan to give it a tang.
How do you cut bell peppers for omelets?
Using all colors of bell peppers, cut out the seeds and then the peppers in half. Cut thin slices length ways to cook quickly and to decorate well. You could also cut them round or even in small bits.
Are baked bell peppers good?
Carotenoids are found in bell peppers and are powerful anti- oxidant. When cooking bell peppers they gain nutritional value, while breaking down the cell walls of the peppers making the carotenoids easier for your body to absorb them.
Do you cook onions or bell peppers first?
It is better to start sauteing the peppers first before the onions. As the bell peppers skin will take a little longer to get to the same tenderness as the onion will. Then the mushrooms as they cook quicker.
Which color bell pepper is the healthiest?
The red bell pepper is the healthiest as they have been on the vine longer and are packed with nutrition. Red bell peppers are also the sweetest and there is yellow, green, and orange and purple.
Ingredients
Red yellow and green bell peppers
Fresh herbs such as parsley thyme and basil
onions
mushrooms
salt and pepper
eggs
garlic
olive oil
mozzarella and parmesan cheese
green onion
For the exact amounts and instructions follow the recipe attached.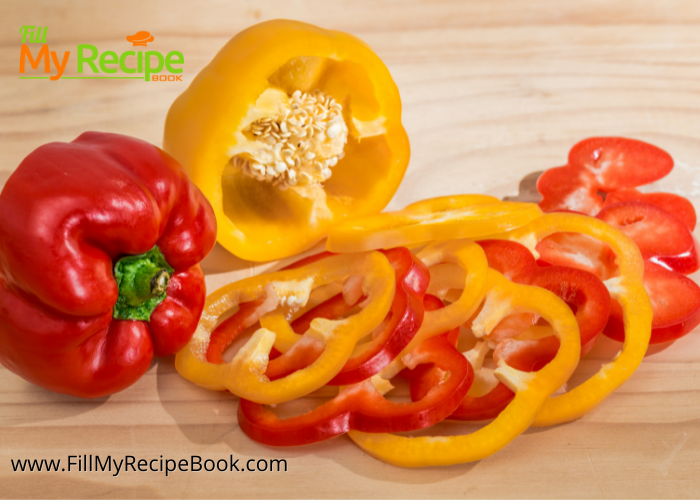 Cut or chopped bell peppers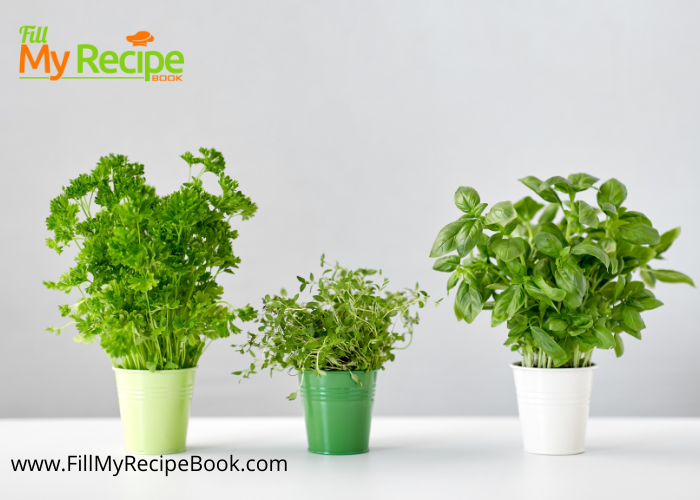 Fresh herbs such as parsley thyme and basil
How To
Saute your bell peppers and onions then add the mushrooms and salt and pepper. Till tender.
Make this omelet according to the recipe attached. Bake in the oven when all the ingredients is gently mixed in a heat resistant or cast iron pan. Topped with cheeses and herbs.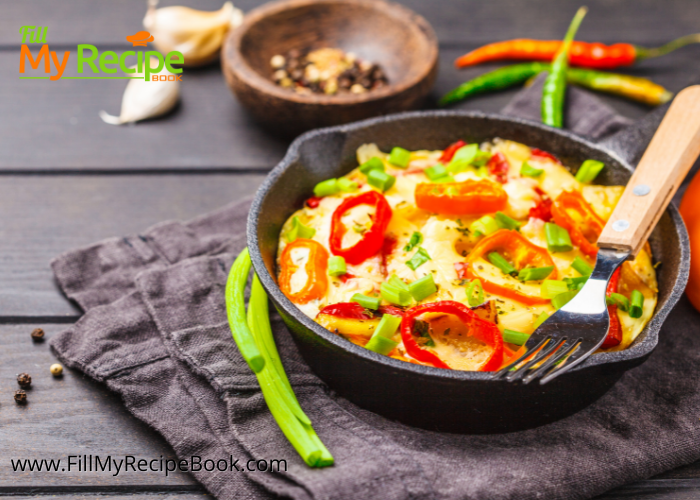 This omelet makes a meal for any time of the day. Be it dinner or lunch. But especially a great breakfast or brunch to put together with yesterdays grilled bell peppers and other veggies.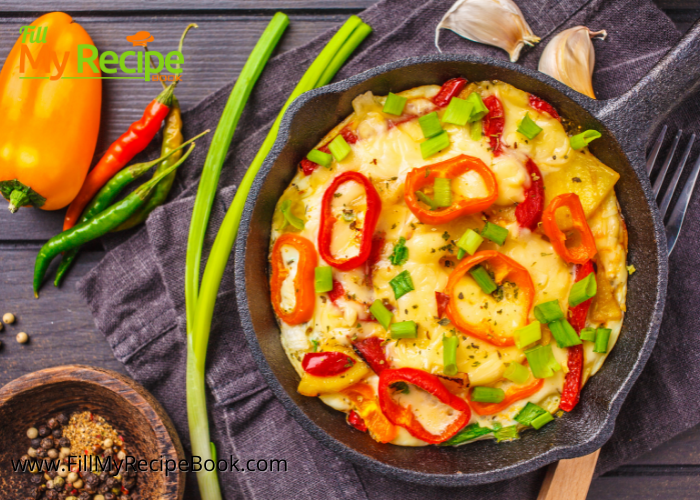 Another filling to add to this omelet is potato. Cut into small pieces and preboiled. Which would be pleasing for a dinner or lunch.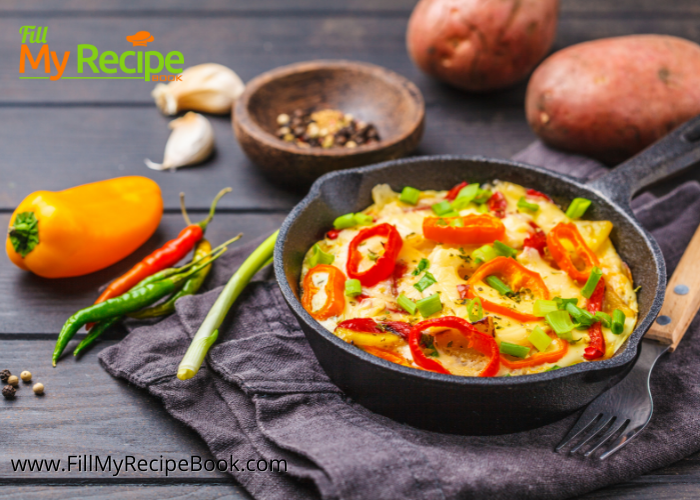 Recommendations
(click the highlighted heading for the recipes)
Not forgetting about Fathers Day. Make these for him.—–> 24 Fathers Day Breakfast or Brunch Recipes
Great omelet recipe ideas to create. —-> Cheese and Bacon Omelets and Healthy Mushroom and Spinach Omelet and Moist French Omelette Recipe and Tasty Banana and Cheese Omelet and Baked Omelet with Sausage and Veggies
For the recipe below you can download a FREE General Recipe Page to write out the recipe if you choose to do so.
Also have printables to help for kitchen charts and household planners for meal planning as well as a budget planner. Go download these for FREE.
Get more One Pot veggies recipes. ——–> 16 Warm One Pot Veggie Dish Recipes
Get these —–> 9 Easy Crustless Quiche Recipes
There are more recipes ideas for you —–> 12 Easy Healthy Skillet Meal Recipes
Breakfast recipe ideas —–> 28 Easy Breakfast Ideas Recipes as well as these breakfast ideas —-> 20 Easy Vegetarian Breakfast Recipes
More recipe ideas for egg recipes —–> 16 Tasty Egg Recipes
Some recipe ideas for meals with veg. —–> 24 Meals with Veggies Recipes Ideas
Here are some great ideas for a vegetarian —-> 15 Easy Vegetarian Lunch Recipes
and these recipe ideas as well —–> 24 Tasty Parmesan Inspired Recipes
Other recipe ideas that use Basil —–> 16 Cooking With Basil Recipes
These are simple ideas that can be made with left overs —–> 21 Easy Meatless Monday Recipes
Get these great Christmas breakfast ideas —–> 35 Easy Christmas Breakfast Ideas and make these ahead —–> 17 Vegetarian Christmas Breakfast Recipes
(click on the highlighted words for the downloads)
Print
One Pan Bell Peppers Omelet
One Pan Bell Peppers Omelet recipe idea. Vegetarian friendly for a meal or breakfast. Sautéed bell peppers and parmesan cheese.
Author:
Prep Time:

15 min

Cook Time:

15 min

Total Time:

30 min

Yield:

8

Category:

Meals, supper or lunch, breakfast or brunch

Method:

Oven Baking
Ingredients
1

onion

1/4 cup

chopped bell peppers

1/4 cup

of fresh mushrooms

1/4 cup

of grated Mozzarella cheese.

2 teaspoons

of parmesan cheese

6

eggs
salt and pepper

1/2 teaspoon

garlic powder
olive oil

1/2 cup

of chopped fresh herbs, parsley and basil.
Dried parsley and basil (for topping)
Green onion chopped for topping
Instructions
Preheat oven to 350 Deg. F (175 Deg. C)
In a cast iron sauce pan (or heat resistant pan) sauté your bell peppers, onion and mushrooms in a little olive oil then add chopped fresh herbs. Spiced with salt and pepper. Until soft.
Break eggs in a bowl and add milk salt and pepper, garlic powder. Whisk the eggs mixture until light and fluffy.
Pour this egg mixture over the bell peppers, onion and mushrooms and herbs mixture. Gently stir in the egg mixture to combine all the ingredients. Top with some Mozzarella cheese and a little parmesan cheese. Sprinkle some dried herbs over the cheese before baking.
Place the skillet in oven and Bake in the oven for 10 – 15 minutes (checking for when its cooked as it is a small sauce pan omelet)
Let cool a little and serve with avocado or tomatoes with some bell peppers and green onion on top.
Keywords: One Pan Bell Peppers Omelet, mushrooms and cheese for vegetarians
More omelet recipe to choose from.