Healthy Mushroom and Spinach Omelet recipe. A breakfast meal made with healthy ingredients such as spinach and mushrooms and cheese.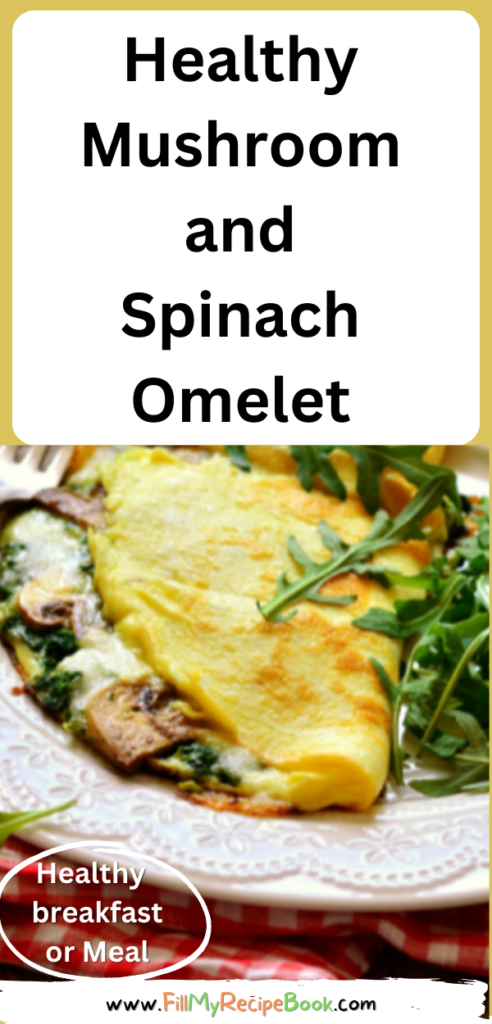 Healthy Mushroom and Spinach Omelet.
Make this easy healthy mushroom and spinach omelet for breakfast or brunch or any other meal. It is my favorite meal to make for the family. Especially omelets, as they very easy and quick to make. This one is filled with spinach and mushroom precooked. Add some cheese for extra flavor. A No Bake Stove Top recipe idea
A versatile recipe for many fillings you would love to add. This is also vegetarian recipe. Spice the omelet up as you please. As is always said by myself this is the time that turmeric or garlic spices are added to make this omelet a good healthy meal.
As you have learnt by now that turmeric helps with inflammatory conditions.
What is the healthiest omelette to eat?
Besides the eggs being healthy, adding vegetables, bell peppers, onion, tomato, zucchini and mushrooms will add much nutrients and flavor to your breakfast meal.
Is it OK to eat 2 omelette everyday?
Egg provide protein, and heart healthy nutrients like potassium, folate and B vitamins. It is said that up to 2 eggs a day is fine and and would improve your heart health. But like everything else, eat all in moderation.
What is the healthiest way to eat eggs?
Cooking eggs for a short time and on lower heat is much healthier. This way the egg would retain most of its nutrients and these methods will also cause less cholesterol oxidation. Poached and soft fried and boiled are very healthy.
Ingredients
eggs, milk
butter
salt and pepper
turmeric
spinach
mushrooms
mozzarella and parmesan cheese
Get the ingredients amounts and the instructions from the recipe attached.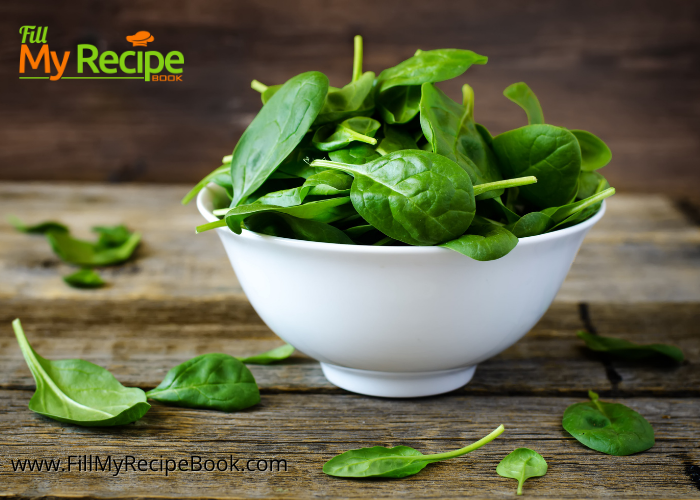 Baby spinach leaves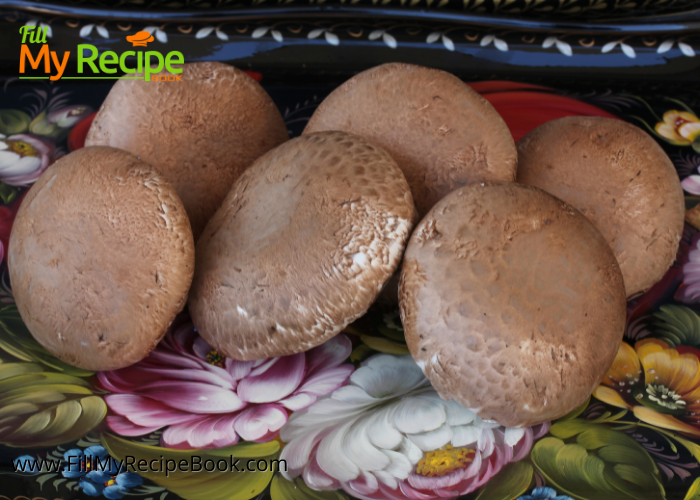 Portabella mushrooms Sliced
How To
Sauté the spinach and mushrooms before the omelet is made.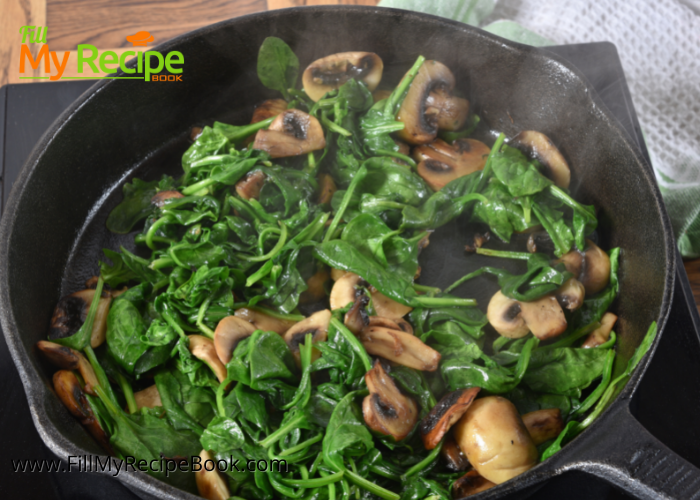 Then cook the omelet according to the recipe below.
Placing the filling on one half of the omelet then folding it over the filling.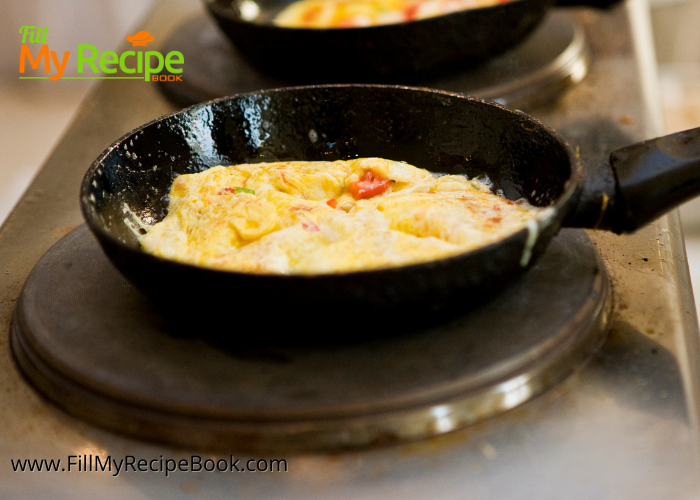 Plating the omelet with some greens or avocado or tomato for a side.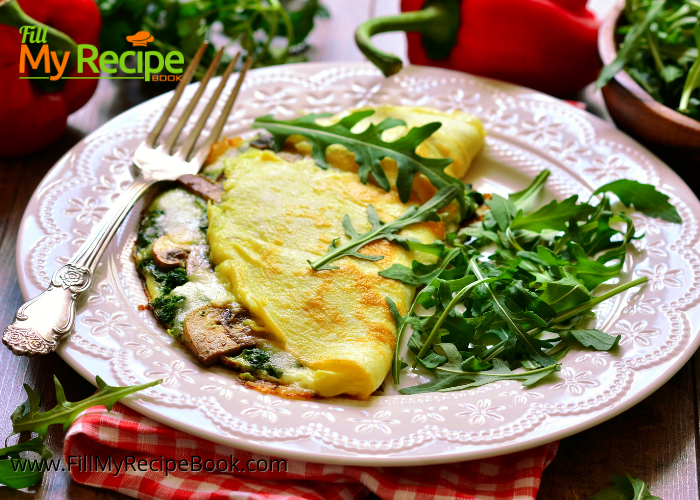 If you love to write out the recipes then download this FREE General Page Recipe page.
Other Printables to download are for Kitchen Charts and Household Planners for weekly and monthly meal preparations as well as shopping lists. Then there is the most important Budget Planner to get for FREE. GO ahead and download them.
Recommendations
(click the highlighted heading for the recipe)
Other uses of eggs for a breakfast ideas —-> Crustless Salmon and Spinach Quiche and Easy Scrambled Eggs on Toast and Baked Omelet with Sausage and Vegetables and Moist French Omelette Recipe and One Pan Bell Peppers Omelet and Cheese and Bacon Omelet Recipe and Healthy Breakfast Sweet Potato Hash and French Toast with Berries and Honey and Crammed Savory Breakfast Crepes
Create Brunch or breakfast for easter weekend recipe ideas —-> 26 Easter Breakfast or Brunch Ideas
Get these amazing —-> 12 easy healthy light meals recipes
and a few more —-> 25 Healthy Easy Breakfast Recipes and other —–> 20 Easy Egg Recipes
as well as these ideas —-> 14 Valentine Family Breakfast Ideas
You will love these recipe ideas as well —-> 19 Healthy Mushroom Filled Recipes as well as these recipe ideas to create —-> 22 Garlic and Mushroom Filled Recipes
Breakfast recipe ideas —–> 28 Easy Breakfast Ideas Recipes as well as these breakfast ideas —-> 20 Easy Vegetarian Breakfast Recipes
Other recipe ideas for eggs —–> 17 Simply Easy Egg Recipes
These are simple ideas that can be made with left overs —–> 21 Easy Meatless Monday Recipes
Get these great Christmas breakfast ideas —–> 35 Easy Christmas Breakfast Ideas
11 Ideas To Organize Pots And Pans. How to optimize the space of your kitchen and models that provide accommodations for your cookware.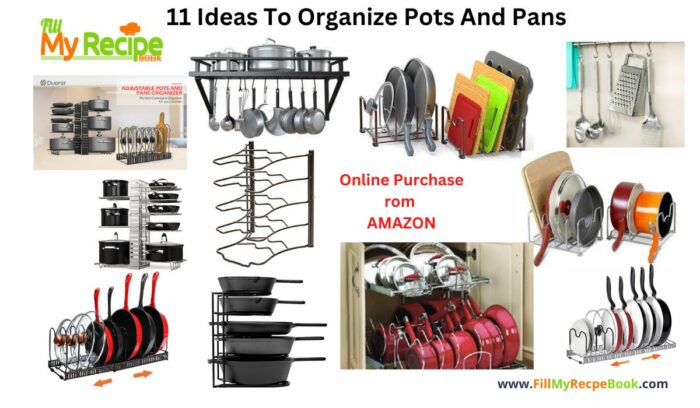 Print
Healthy Mushroom and Spinach Omelet
Healthy Mushroom and Spinach Omelet recipe. A breakfast meal made with healthy ingredients such as spinach and mushrooms and cheese.
Author:
Prep Time:

5 min

Cook Time:

10 min

Total Time:

15 min

Yield:

2

Category:

Meals, breakfast, brunch

Method:

no bake stove top
Ingredients
4

 eggs

4 Tablespoons

 of milk

2 tablespoons

 of butter
Salt and pepper

1/8 teaspoon

 of Turmeric powder (optional) But its very healthy.

2 cups

of baby spinach leaves

1 cup

of portabella or button mushrooms (portabella is healthy)

1/2 cup

 of grated mozzarella cheese

2 tablespoons

 of Parmesan grated cheese (optional)
Instructions
Whisk the eggs with the milk and spices together.
Sauté the spinach and mushrooms a little until soft.
Place half the butter in a medium saucepan that's heated. Once the butter has melted pour half the egg mixture into the pan.
With a spatula slightly tilt the pan once some base of the omelet has started to cook. and push with a spatula the egg mixture gently to the middle from the sides all the time. Allowing the uncooked egg mixture to run to the side you making space, by pushing some cooked mixture into the middle.
Don't over cook the basic omelet. Once it is almost cooked and there is no more uncooked egg mixture. Then add half of the sliced mushroom and spinach (previously cooked)  On the one half of the omelet. Sprinkle half of the Mozzarella cheese over the filling and half of the parmesan cheese as well. (remember you are making two omelets)
Fold over the omelet over the filling. Then melt more butter for the next omelet. Cook it in the same way.
Once you plate it serve with some avocado or tomato.
Makes a wonderful and filling breakfast.
Keywords: Healthy Mushroom and Spinach Omelet recipe
Get more omelet recipe Here.