An easy gluten free Crustless Salmon and Spinach Quiche recipe. No crust or pastry and self crusting meal for breakfast, lunch or dinner.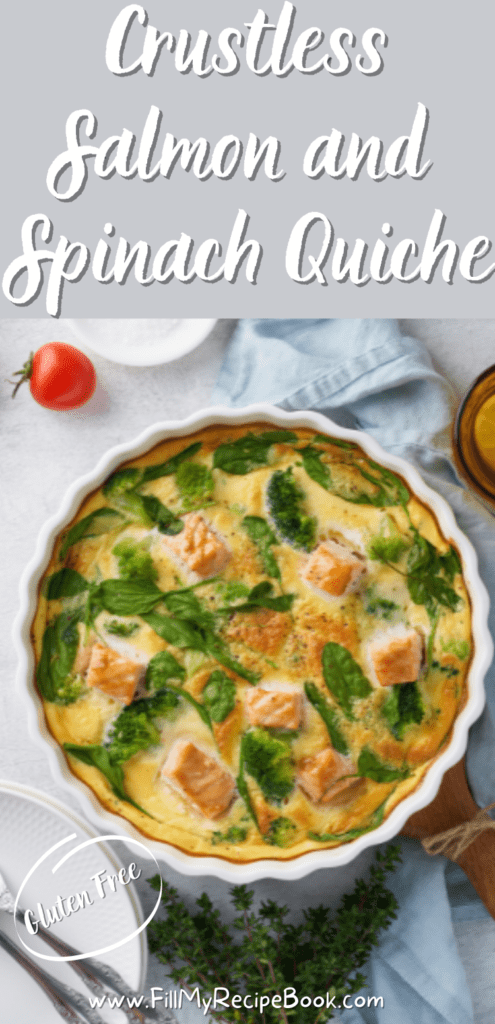 Crustless Salmon and Spinach Quiche.
What is great about a quiche is that it can be put together in a matter of minutes. So easy to make and bake. It is versatile fast healthy meal to have any time of the day. Filling and gluten free with lotsa of protein for energy if had in the morning for breakfast. You get your vegetables in and protein in the eggs and salmon.
Some of the ingredients needed, Fresh and organic.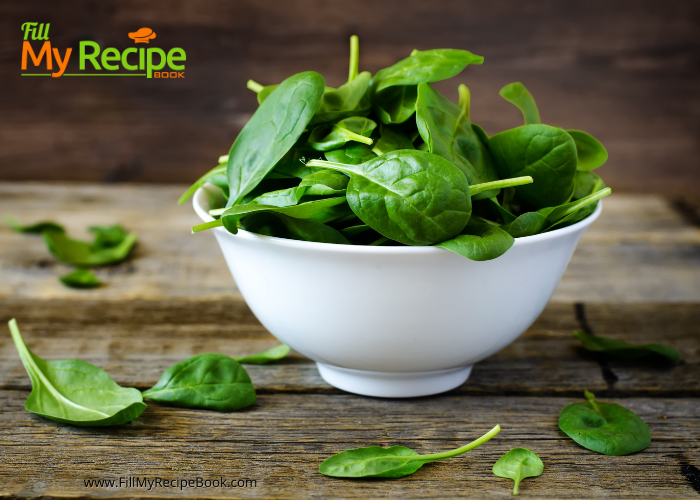 Baby spinach leaves, fresh from your garden.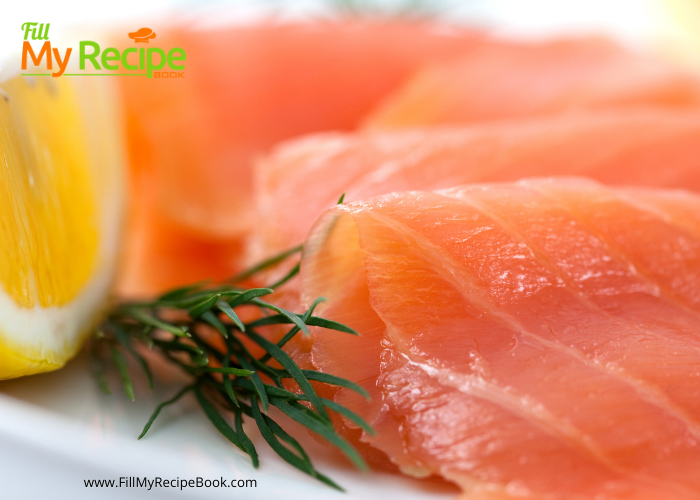 Healthy smoked salmon pieces or thinly sliced.
Firstly you will sauté the onions and garlic, then add the egg and cream mixture with the spinach and salmon, salt and lemon pepper over the onions and evenly level out the spinach and salmon. Then bake. Only 30 minutes to a great tasty meal.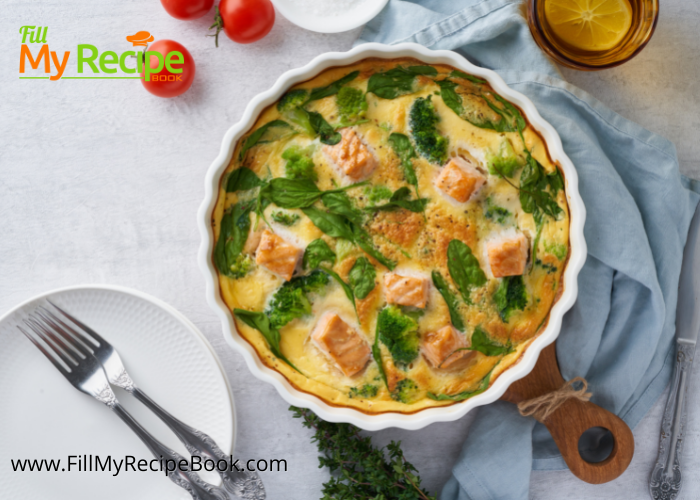 Some questions people ask.
Does almond milk work in a quiche?
While most quiches use milk or cream, you can use almond milk and dairy free cheese. This would make the quiche dairy free.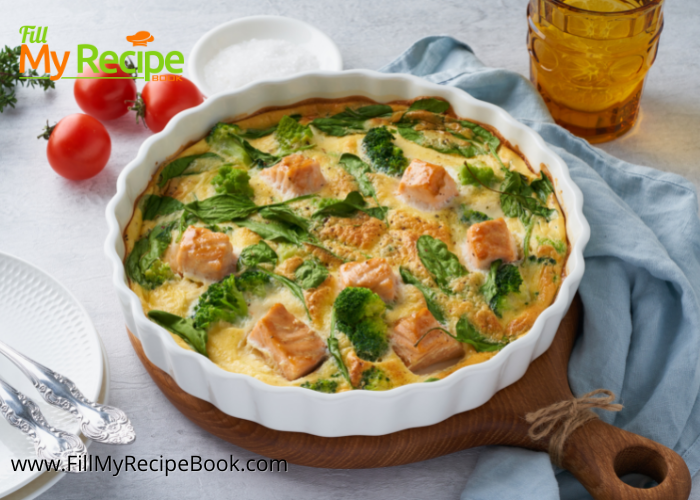 What is the best cheese to use in a quiche
Some cheeses to use are feta, cheddar cheeses or goat cheese as well as a white cheddar cheese. I use Mozzarella, then you can also use swiss cheese and gruyere cheese.
Add Ins
Use at least two cups of add ins including vegetables meats or seafoods. Mostly the add in should be precooked if needed to be. Then added in if they are warm is ok.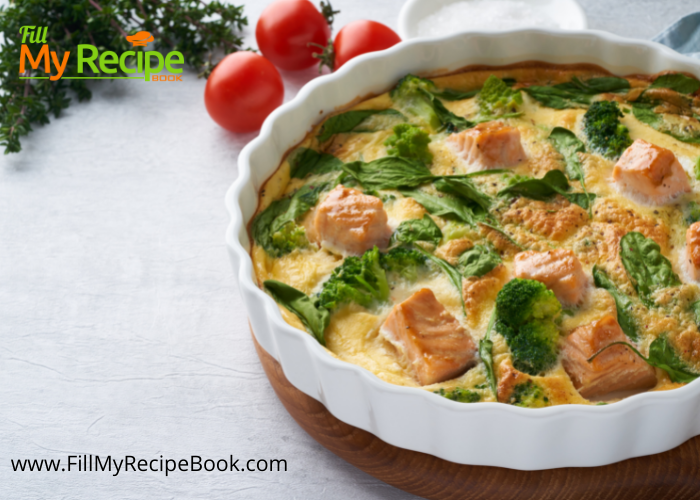 Here are some more GF ideas —–> 11 Healthy Gluten Free Lunch Recipes
Are Quiches Healthy
They are the most versatile healthy breakfast options and a slice of quiche in the morning will have plenty of protein and vitamins in for you to start the day.
You can keep a quiche in the fridge for 3 – 4 days and even longer in the freezer for about 3 – 4 months (baked is better) Of course keep them in a sealed container.
The recipe below to bake. If you need to write out the recipe then download for FREE this General Recipe Page. Other Printables for Kitchen Charts and Household planners are also FREE to download.
Recommendations
(get them in the highlighted wording. just click)
Great quiche recipe ideas for you to create —-> Swiss Chard Mushroom and Feta Quiche and Quick Fajita Veggie Quiche . as well as 8 Easy Crustless Quiches Recipes
Seafood recipe you would love as well. —-> Sautéed Shrimp Scampi with basil and garlic and Best Molasses Glazed Oven Baked Salmon and Best Pickled Curry Fish and Fresh Tasty Snoek Braai and Creamy Seafood and Wine Potjie Recipe and Crab Cake with Tomato Butter Sauce and Fried Fish and Chips with Salad and A Tuna Lasagna Casserole and How To Make Your Own Sushi
Create Brunch or breakfast for easter weekend recipe ideas —-> 26 Easter Breakfast or Brunch Ideas
Get these make ahead casseroles to freeze.—–> 10 Make Ahead Freezer Casserole Recipes. and for breakfast Get some breakfast freezable ideas —-> 17 Make Ahead Breakfast Freezer Recipes
More gluten free recipes here.—–>12 Healthy Snack Recipes (Gf.Sf.Df)
More amazing lunch recipe to choose from here. —–>14 Best Mother's Day Lunch Recipes , Mothers day recipe ideas to create —–>18 Mother's Day Morning Tea Ideas
There are some left over food ideas to obtain —–> 15 Easy Holiday Leftovers Meal Recipes
Get these —–> 9 Easy Crustless Quiche Recipes as well as these ideas —– 13 Amazing crustless quiche recipes
Even these —–> 12 Gluten Free Snack Recipes
As well as —–> 14 Easy Gluten Free Suppers Recipes and more supper or dinner ideas —–> 22 Easy Healthy Dinner Recipes
Here are some recipe ideas —–> 14 Gluten Free Breakfast Recipes
as well as these ideas —-> 17 Easy Seafood Recipes
Print
Crustless Salmon and Spinach Quiche
An easy gluten free Crustless Salmon and Spinach Quiche recipe. No crust or pastry and self crusting meal for breakfast, lunch or dinner.
Author:
Prep Time:

10 min

Cook Time:

20 min

Total Time:

30 min

Yield:

4
Ingredients
6 farm fresh eggs
150 g of sour cream and a little milk(or crème fraîche)
1 teaspoon of butter
1 tablespoon of olive oil
1 red onion slice thinly
1 garlic clove very thinly sliced
2 tablespoons of grated parmesan cheese
120 g of fresh spinach
100 g of smoked salmon cut into small squares
Himalayan salt and lemon pepper to taste
Instructions
Preheat the oven to 180 Deg. C (350 Deg. F)
With a cast iron pan or oven proof pan, Melt the butter and add the olive oil. Sauté the onion and garlic until golden brown or caramelized.
Remove pan from the heat and evenly distribute the onion garlic in the pan.
In a bowl mix the little milk, cream and egg until well. Then fold in the salt and lemon pepper with the spinach leaves and the chopped salmon, as well as parmesan cheese.
Pour this mixture over the onion mixture and distribute evenly the salmon and spinach over the pan.
Place the pan of crustless quiche in the oven and cook for 20 – 30 minutes until the sides and top are lightly brown and the quiche mixture is firm.
Cool the quiche for about 1 minutes and then serve warm cut into wedges with some salad.
Keywords: Crustless Salmon and Spinach Quiche breakfast lunch or dinner meal gluten free
Other quiche recipes to view.
Easy Crustless Quiche Recipes