Crab Cake with Tomato Butter Sauce plated for a gourmet fine dining meal. A dish to serve for a special meal set on corn salad with greens.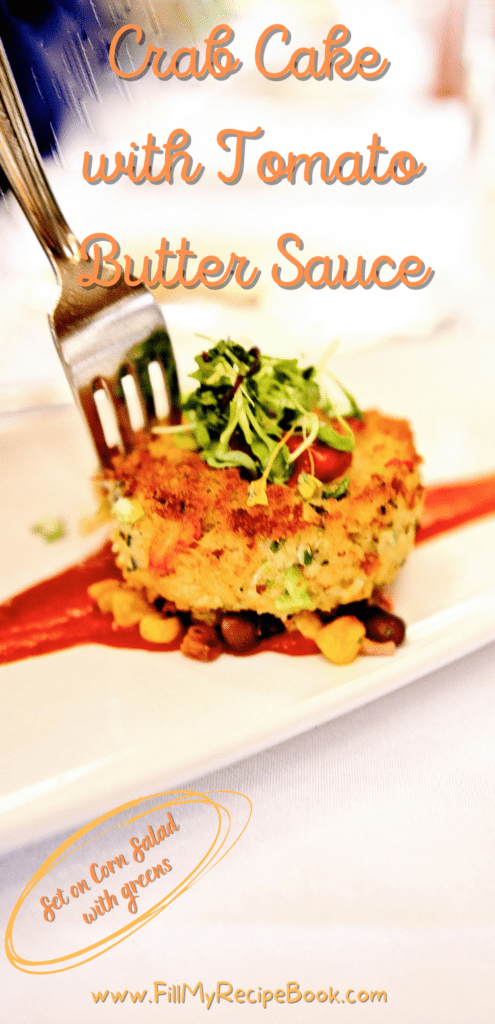 Crab Cake with Tomato Butter Sauce
Make this rather simple crab cake recipe with tomato butter sauce placed on corn and black bean salad.
Neatly arrange the tomato butter sauce on the serving plate, and place spoon full of corn and black bean salad in the middle of the sauce. Place the delicious sauté crab cake on the corn and beans.
Serve with some greens of choice. A wonderful and delicate fine dining meal to serve for a special occasion.
A few of the main ingredients needed below.
Some plum tomatoes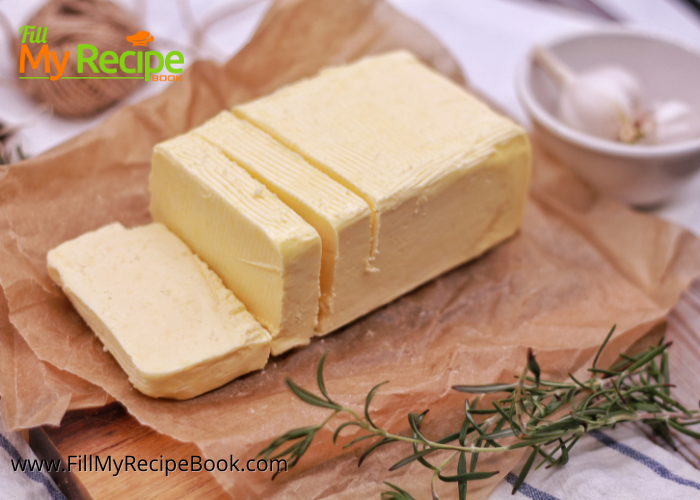 butter for the sauce
Crab meat for the crab cake. As well as other ingredients as per recipe below.
Once you have mixed the crab meats with the other ingredients on the recipe below then make them into some cakes. The size must be to suit the meal you are going to plate.
Making the sauce while the crab cake chill is a must. The tomato and other sauce ingredients get roasted and then blended to a paste.
Served as per picture for a gourmet fine dining meal.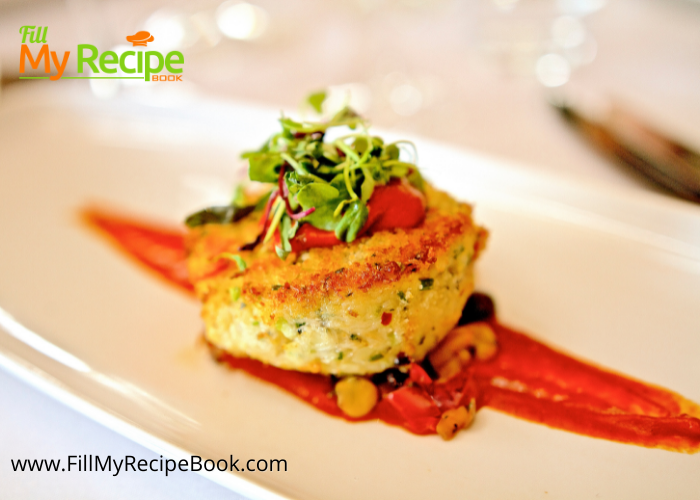 The crab cake is placed on some Corn and Bean salad. (click on the highlighted heading for the recipe.)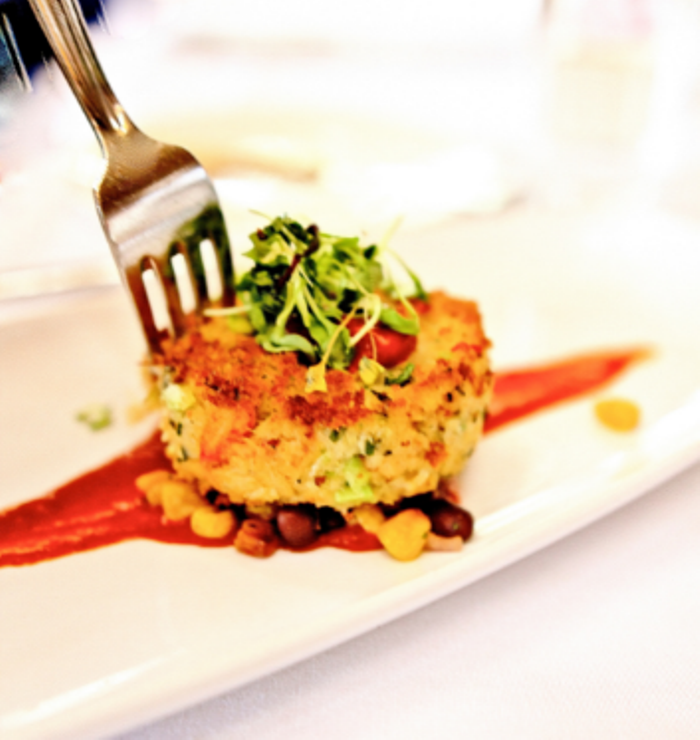 A pleasing fine dining meal to serve for a special occasion to family or special partner.
Plate for a valentine meal or just a special meal that is put together for some special occasion.
Enjoy.
Get the recipe below.
There are also some Printables to help with a General Recipe Page to write out the recipe. Then some Kitchen Charts and Household Planners to download for FREE.
ALL FOR FREE
Other sides that go with crab cake Ideas.
Some of the best vegetables to pair are asparagus, broccoli, bell peppers and onions
Avocado Pasta.
Creamy Lemon Pasta.
Potato Salad.
Roasted Potatoes.
Crispy Potato Fries.
Fried Over Medium Egg.
Grilled Avocado.
Corn Chowder.
Get these other crab recipes as well. You will love them. —–> 10 Extraordinary Crab Cake Recipes
Get some other ideas with these recipes.—–> 15 Tasty Healthy Tomatoes Recipes
as well as these ideas —-> 17 Easy Seafood Recipes
Then there are the traditional favorites for Alaskans —-> 14 Amazing Alaska Meal Recipes
These are a few great healthy dinners for two recipe ideas —-> 25 Easy Dinner Recipes For Two
Print
Crab Cake with Tomato Butter Sauce
Crab Cake with Tomato Butter Sauce plated for a gourmet fine dining meal. A dish to serve for a special meal set on corn salad with greens.
Author:
Prep Time:

20 min

Cook Time:

40 min

Total Time:

60 min

Yield:

8

Category:

fine dining

Method:

no bake and roast
Ingredients
1 Cup of bread crumbs
500 g (1 lb) crab meat (shredded)
1 large egg (lightly beaten0
1/4 cup of mayonnaise
2 teaspoons of fresh lemon juice
1 teaspoon of hot sauce (tobasco original)Jalapenos or cayenne's
2 red onions finely chopped (shallots)
1 Tablespoon of olive oil or avocado oil
1 Tablespoon of butter
Kosher salt (Himalayan salt)
For Tomato Butter Sauce
6 small plum tomatoes
3 medium shallots chopped
3 garlic flakes chopped
6 tablespoon of olive oil
2 jalapenos chopped finely
2 cups of chicken stock
1/4 cup of unsalted butter
salt and pepper
2 cups of fresh herbs (basil, parsley and mint ) or micro greens.
Instructions
Preheat the oven to 230 Deg C (450 Deg. F) To roast the tomatoes and ingredients for the sauce.
Place a lined baking pan sheet ready.
Spread out the bread crumbs on a plate to roll crab cakes in.
In a medium bowl add your crab meat. Then in another bowl whisk together the next 5 ingredient according to list (egg mayo tabasco lemon juice and onions)
Then gently fold in egg mixture to the crab meat by hand, mixing all well together.
Scoop out with a measured cup the crab meat mixture with a 1/3 or 1/2 cup and round the mixture into cakes of about 1/2 inch thick crab cake (remember its for fine dining)
Roll the crab cakes in the bread crumbs until all sides are covered. Then place them on the prepared lined baking sheet. Do this with all the crab mixture. Chill for about 30 minutes.
While they chill make the tomato butter sauce.
For the sauce
While crab cakes chill, stir altogether the shallots, garlic and a tablespoons of olive oil, and 2 jalapenos in a oven proof cast iron pan or skillet. Place the pan in the heated oven and roast for about 15 minutes. Until the tomatoes collapse.
Remove from the oven and place on the stove top plate. Over medium heat add the stock and stir often to reduce the mixture to about half. That would be about 1 1/2 cups of sauce. Which should take about 15 minutes.
Carefully transfer the hot sauce to a blender and remove the top middle cap to let steam out, and place a paper towel over to prevent spilling of hot liquid while blending. Gently blend while adding butter in and blend until the liquid is smooth and butter has combined. Then add your 1/2 teaspoon of salt and pepper to the sauce. Keep warm in a gravy boat or jug. In a warmer draw.
Then cook the crab cakes
Heat the olive oil and butter on medium heat until it sizzles, in a skillet or cast iron pan to fry the cakes gently. Add the crab cakes gently (as they can break up easily) and cook each side gently for about 3 – 5 minutes each side, turning very gently with a spatula. 3- 5 minutes a side. Pressing gently now and then. They must be nice golden brown.
Lightly sprinkle them with Himalayan salt.
Plating for fine dining meal.
Obtain a rectangular pleasing serving plate. Add the Tomato butter sauce in the middle and spread out with a tablespoon with a attractive smear. That it thins out a little. Then place two tablespoons of corn salad in the middle of the sauce then the crab cake on top of the corn salad. Sprinkle some small greens or micro green over the top. You can use basil parsley and mint chopped finely for decoration or a salad.
Be creative and artistic with the dish.
Serve warm with a bowl of warm tomato butter sauce available for more sauce if needed.
Enjoy
Notes
Keywords: Crab Cake with Tomato Butter Sauce, corn and black bean salad
You will love to cook some of these other fine dining recipe below.