Sautéed Shrimp Scampi with Garlic. Seafood shrimp sauté in butter with wine and garlic and basil. Adding cooked linguine.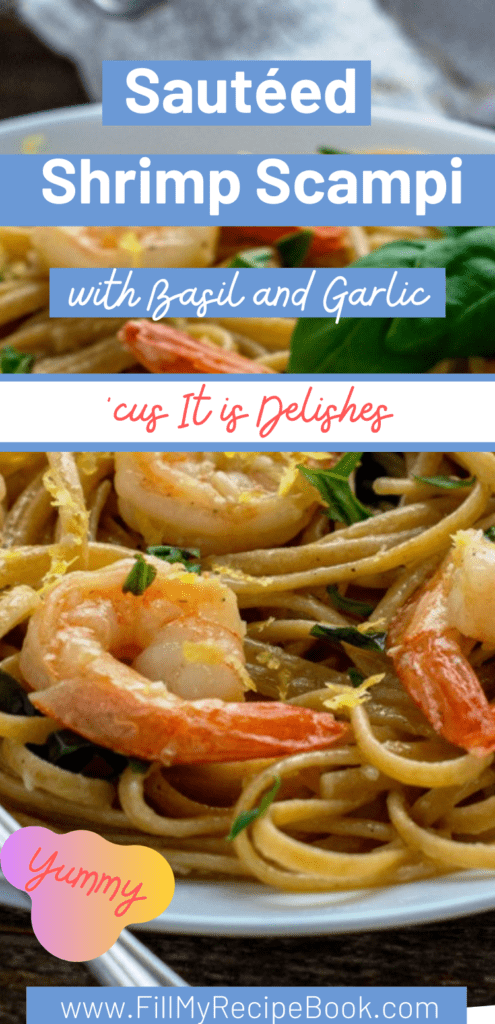 Sautéed Shrimp Scampi with Garlic.
Sautéed Shrimp Scampi with Basil and Garlic with white dry wine and all the ingredients below.
Ingredients.
Shrimp, pasta and butter and olive oil and garlic with basil. (get the specific ingredients from the attached recipe )
How To.
Cook the pasta and set aside, as well as a cup of the water used in this pasta.
Obtain the best large Shrimps and clean and get the pan ready to sauté the shrimp.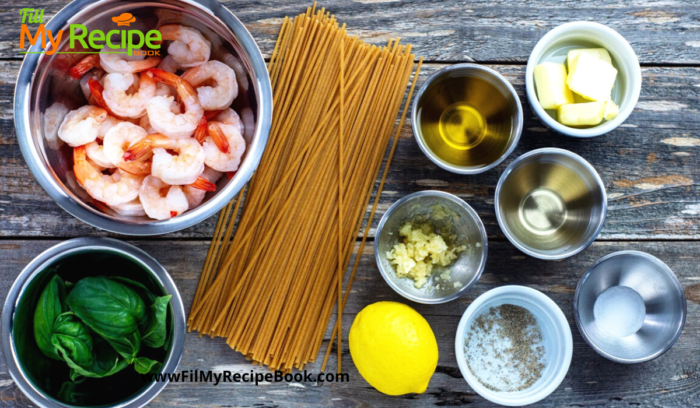 Sauté the shrimp in some butter and olive oil. Then add the salt and pepper to taste. Add the garlic and the white wine to this dish which is been sautéed on a medium heat until the shrimp is cooked. Stirring now and again.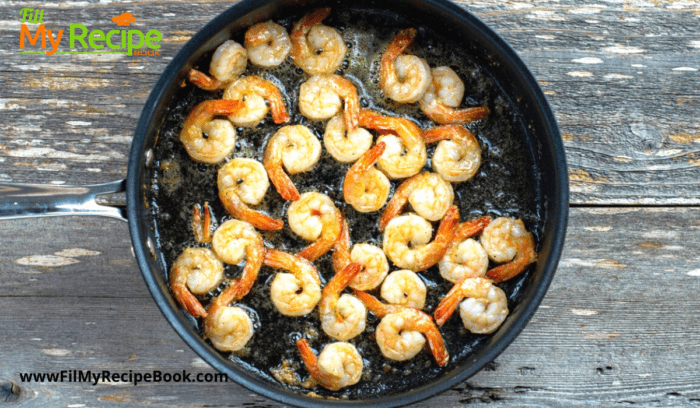 Once the shrimp is cooked add the pasta and the other 1/4 of a cup of water that was placed aside. Stirring altogether then adding the lemon and more butter, stirring constantly.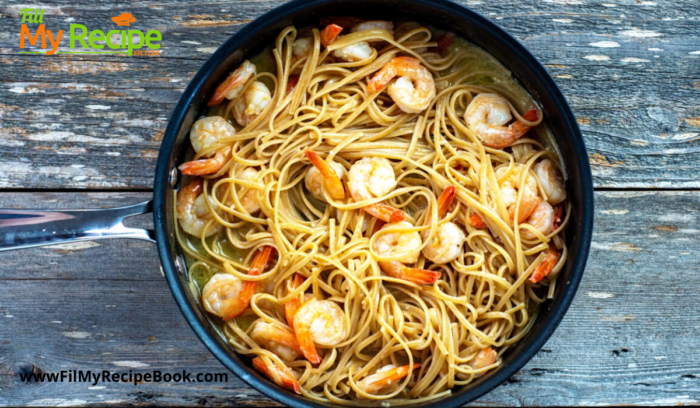 Stir until the sauce is thickened and add more water if needed. It depends how you like your sauce.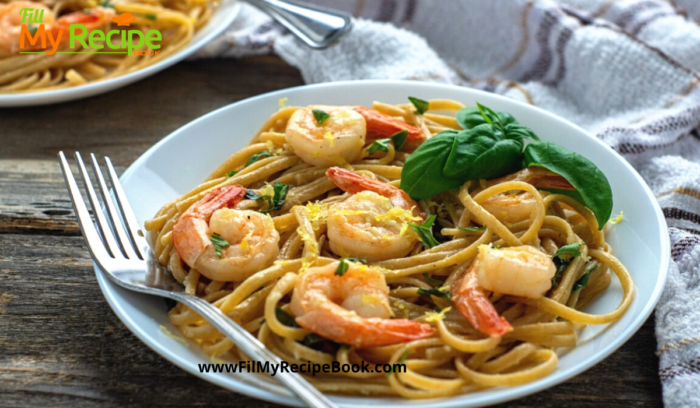 Shred and keep some basil leaves for decoration. Sprinkle some basil over the dish stirring in. Plate the shrimp and pasta with a sprinkling of lemon zest on top with basil. Enjoy and eat with some long vegetables, such as asparagus and green beans as they compliment the dish and take away that sweetness of the sauce.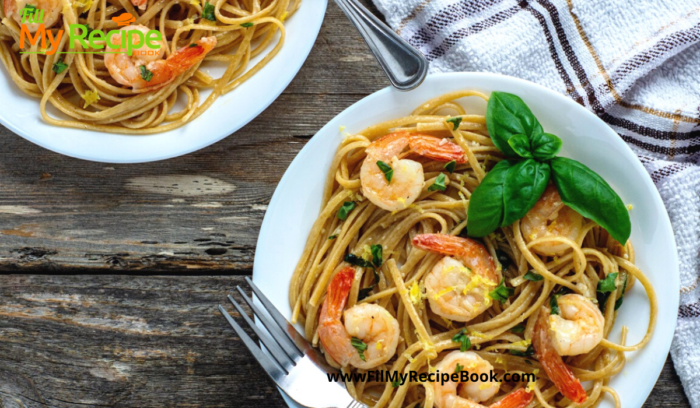 Sauté this amazing shrimp scampi. The recipe is below.
(click on the highlighted heading for the recipes)
Recommendations.
More amazing lunch recipe to choose from here.—–> 14 Best Mother's Day Lunch Recipes
You love using garlic in meals then get these ideas —–> 18 Garlic Meal Inspired Recipes
Recipe ideas for the use of lemon and herbs —-> 21 Meals With Lemon and Herbs Recipes
Also get some other inspiration for a special valentine meal idea —–> 20 Romantic Valentine Meals Recipes
Look no further for these pasta recipe ideas —–> 22 Easy Pasta Recipes
You will love to get more recipe ideas —–> 14 Enticing Fish Recipes as well as these ideas —-> 17 Easy Seafood Recipes
Other recipe ideas that use Basil —–> 16 Cooking With Basil Recipes
These are a few great healthy dinners for two recipe ideas —-> 25 Easy Dinner Recipes For Two
Get more Italian recipe ideas —–> 17 Easy Italian Recipes
Try these Chinese recipe ideas —-> 13 Flavorful Chinese Food Recipes
Get these Valentines recipe ideas to create —-> 10 Valentine Dinner For Two Recipes
Sautéed Shrimp Scampi with Garlic.
Sautéed Shrimp Scampi with Basil and Garlic. Seafood shrimp sauté in butter with wine and garlic and basil. Adding cooked linguine.
Ingredients
8 oz uncooked whole-wheat linguine

1/3 cup olive oil

1 lb large shrimp, peeled, deveined

1 1/2 tsp salt

1/4 tsp pepper

1/4 cup white cooking wine

3 cloves garlic, minced

4 tbsp butter

2 tbsp lemon juice

1/2 cup basil, torn

1 tsp lemon zest
Directions
Cook the pasta according to the directions until al dente.
Reserve 1 cup of the cooking water
Heat the oil in a large skillet over medium-high heat
Add the shrimp and sprinkle with 1/2 tsp of the salt and the pepper
Add the white wine and garlic and continue to cook, stirring often, until the shrimp are mostly cooked through
Add the pasta and 1/4 cup of the cooking water and bring to a simmer
Place the butter, lemon juice, and remaining 1 tsp of salt in the pasta
Stir constantly until the sauce thickens and coats the pasta
Add more cooking water, 1/4 cup at a time, as needed
Remove from the heat and stir in 1/3 cup of basil
Top with lemon zest, basil leaves, and pepper
Notes
The wine you would use for this recipe is a dry white wine. Long narrow vegetable like asparagus and green beans would go with this dish as a side dish. The flavor of the side dish will balance the sweet sauce of this sea food dish.
This post may contain affiliate links, where we earn from qualifying purchases.
Seafood recipe you would love.