Sautéed Shrimp Scampi with Garlic recipe. Seafood shrimp sauté in butter with white wine and garlic and basil creamy sauce and lemon.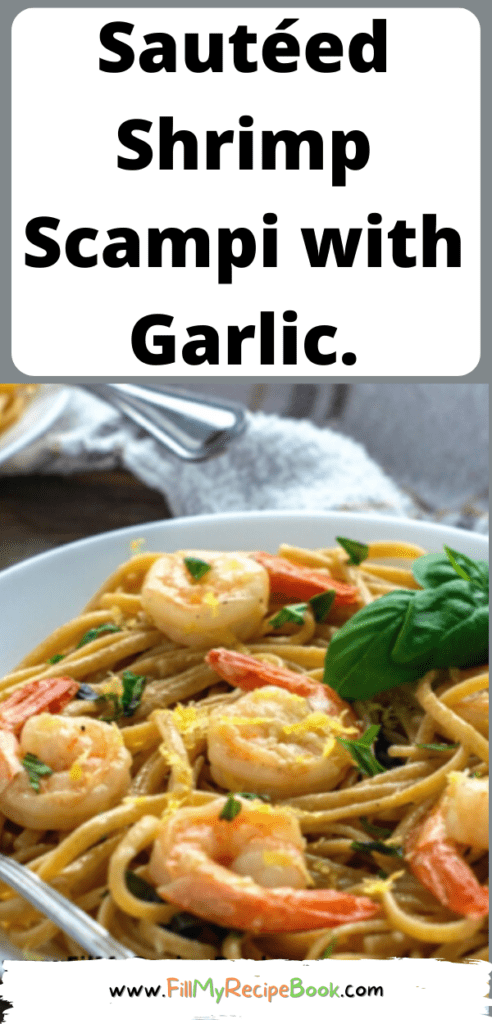 Sautéed Shrimp Scampi with Garlic.
Easy creamy Sautéed Shrimp Scampi with Basil and Garlic with white dry wine sauce. A pasta seafood dish for lunch or dinner to serve and cooked as a no bake stove top recipe for family meals. A fine dining gourmet meal for Mothers or Fathers Day or other special occasions. It is so simple and delicious.
What can I use instead of white wine in shrimp scampi?
If you do not want to use white wine you can substitute with chicken stock and lemon to give this dish the flavor that wine does. Dry white wine gives it the sweet acidity that builds an incredible amount of flavor.
Why is my shrimp scampi dry?
Shrimp can be susceptible to getting dry when overcooked. A trick is to dip them a quickly in some salt water which helps them to preserve some moisture.
Why is my shrimp scampi so oily?
The butter with the white wine in the sauce with most dishes can separate and cause oily or greasiness. A tip is to stir a teaspoon of cornstarch in the sauce before adding butter to keep the creaminess of the sauce. This cornstarch will also thicken your sauce if its to thin.
What makes shrimp taste better?
All citrus juices such as lemon or lime, as well as garlic and herbs. These are the ingredients that will always compliment seafood. Simple seasoning such as salt and pepper and paprika will balance out the flavors and always go well with seafood to.
Ingredients
Shrimp,
pasta
butter
olive oil
garlic with basil.
(get the specific ingredients and amounts needed from the attached recipe )
How To
Cook the pasta and set aside, as well as a cup of the water used in this pasta.
Obtain the best large Shrimps and clean and get the pan ready to sauté the shrimp.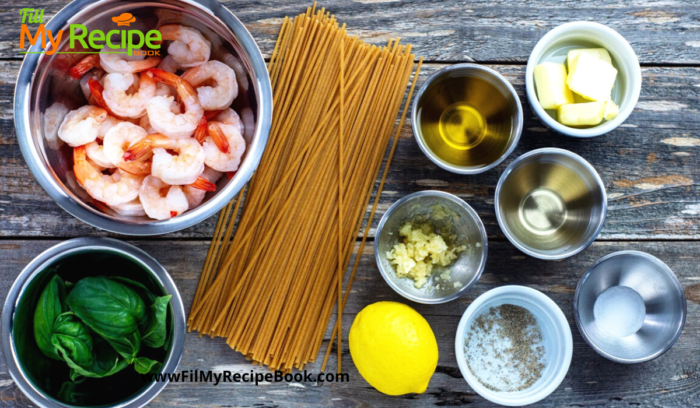 Sauté the shrimp in some butter and olive oil. Then add the salt and pepper to taste. Add the garlic and the white wine to this dish which is been sautéed on a medium heat until the shrimp is cooked. Stirring now and again.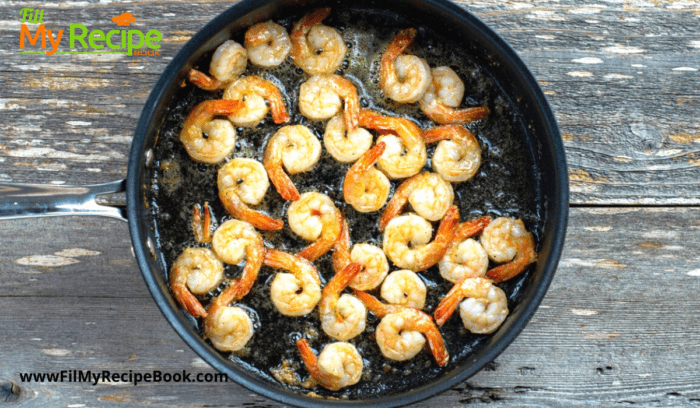 Once the shrimp is cooked add the pasta and the other 1/4 of a cup of water that was placed aside. Stirring altogether then adding the lemon and more butter, stirring constantly.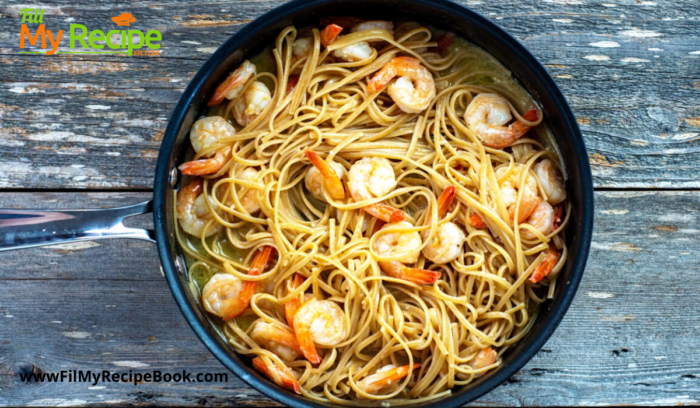 Stir until the sauce is thickened and add more water if needed. It depends how you like your sauce.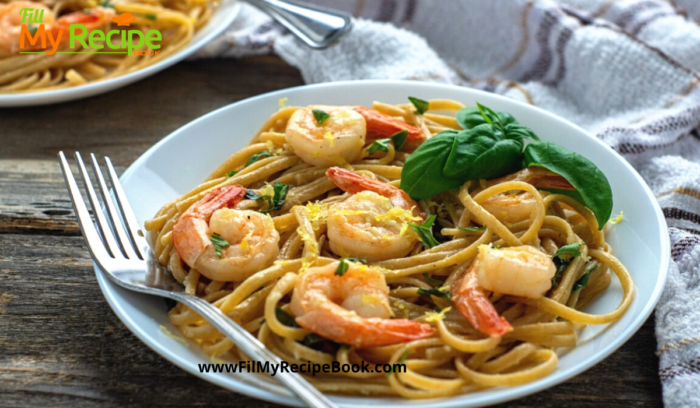 Shred and keep some basil leaves for decoration. Sprinkle some basil over the dish stirring in. Plate the shrimp and pasta with a sprinkling of lemon zest on top with basil. Enjoy and eat with some long vegetables, such as asparagus and green beans as they compliment the dish and take away that sweetness of the sauce.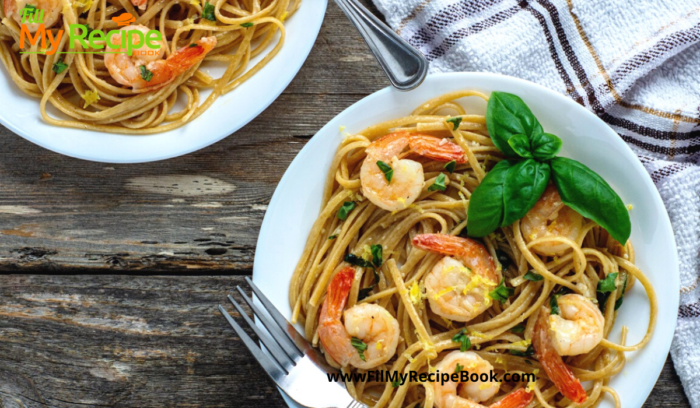 Recommendations.
(click on the highlighted heading for the recipes)
Seafood recipe you would love.—-> Soy and Molasses Glazed Baked Salmon and Best Pickled Curry Fish and Fresh Tasty Snoek Braai and Creamy Seafood and Wine Potjie Recipe and Crustless Salmon and Spinach Quiche and Crab Cake with Tomato Butter Sauce and Fried Fish and Chips with Salad and A Tuna Lasagna Casserole and How To Make Your Own Sushi
More amazing lunch recipe to choose from here.—–> 14 Best Mother's Day Lunch Recipes
You love using garlic in meals then get these ideas —–> 18 Garlic Meal Inspired Recipes
Recipe ideas for the use of lemon and herbs —-> 21 Meals With Lemon and Herbs Recipes
Also get some other inspiration for a special valentine meal idea —–> 20 Romantic Valentine Meals Recipes
Look no further for these pasta recipe ideas —–> 22 Easy Pasta Recipes
You will love to get more recipe ideas —–> 14 Enticing Fish Recipes as well as these ideas —-> 17 Easy Seafood Recipes
Other recipe ideas that use Basil —–> 16 Cooking With Basil Recipes
These are a few great healthy dinners for two recipe ideas —-> 25 Easy Dinner Recipes For Two
Get more Italian recipe ideas —–> 17 Easy Italian Recipes
Try these Chinese recipe ideas —-> 13 Flavorful Chinese Food Recipes
Get these Valentines recipe ideas to create —-> 10 Valentine Dinner For Two Recipes
Print
Sautéed Shrimp Scampi with Garlic
Sautéed Shrimp Scampi with Garlic recipe. Seafood shrimp sauté in butter with white wine and garlic and basil creamy sauce and lemon.
Author:
Prep Time:

30 min

Cook Time:

30 min

Total Time:

60 min

Yield:

4

Category:

Meals, supper or lunch, dinner

Method:

Stove top No Bake
Ingredients
1. 8 oz uncooked whole-wheat linguine
2. 1/3 cup olive oil
3. 1 lb large shrimp, peeled, deveined
4. 1 1/2 tsp salt
5. 1/4 tsp pepper
6. 1/4 cup white cooking wine
7. 3 cloves garlic, minced
8. 4 tbsp butter
9. 2 tbsp lemon juice
10. 1/2 cup basil, torn
11. 1 tsp lemon zest
Instructions
Cook the pasta according to the directions until al dente.
Reserve 1 cup of the cooking water
Heat the oil in a large skillet over medium-high heat
Add the shrimp and sprinkle with 1/2 tsp of the salt and the pepper
Add the white wine and garlic and continue to cook, stirring often, until the shrimp are mostly cooked through
Add the pasta and 1/4 cup of the cooking water and bring to a simmer
Place the butter, lemon juice, and remaining 1 tsp of salt in the pasta
Stir constantly until the sauce thickens and coats the pasta
Add more cooking water, 1/4 cup at a time, as needed
Remove from the heat and stir in 1/3 cup of basil
Top with lemon zest, basil leaves, and pepper
Notes
The wine you would use for this recipe is a dry white wine. Long narrow vegetable like asparagus and green beans would go with this dish as a side dish. The flavor of the side dish will balance the sweet sauce of this sea food dish.
Keywords: Sautéed Shrimp Scampi with Garlic recipe