One Pot Pasta with Chicken & Mushrooms recipe. Chicken pieces sautéed with onion, garlic and mushrooms, tagliatelle pasta and coconut milk.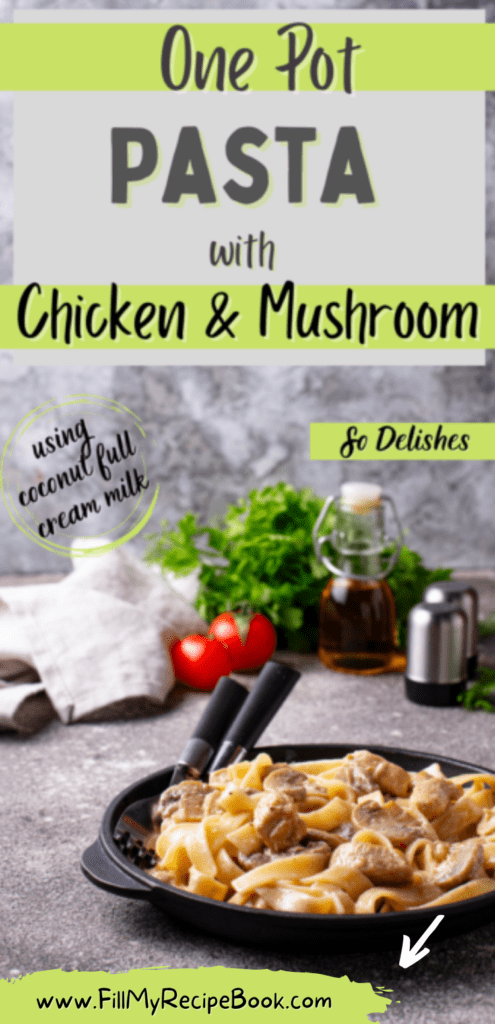 Make this one pot pasta with chicken & mushroom.
A versatile dish to make with or without meat or chicken. For vegetarians leave out the chicken and add your salads or vegetables once dished up on a serving plate. Made with tagliatelle pasta using coconut milk for the sauce. Amazingly so delicious. Made in one pot or pan.
In this family there are meat eaters and vegetarians. Therefore chicken is used for this dish, but if you want to make it versatile and cook all at once then cook the chicken separately. Add to the meat eaters plates afterwards.
Ingredients
Pasta with chicken and mushroom all in one pot.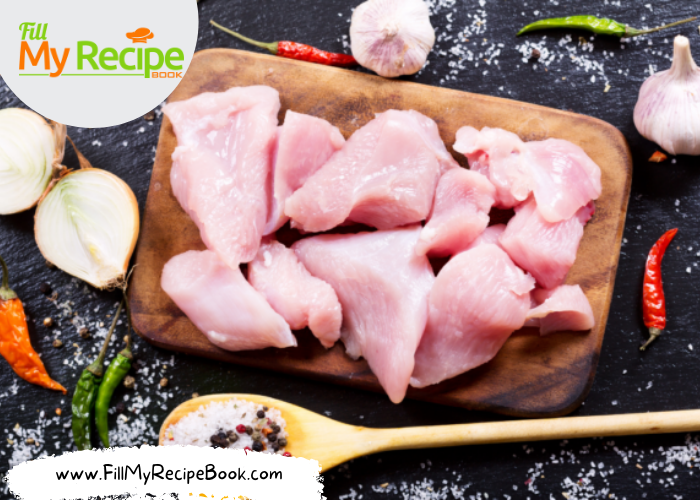 Chicken pieces debones and cut into small pieces.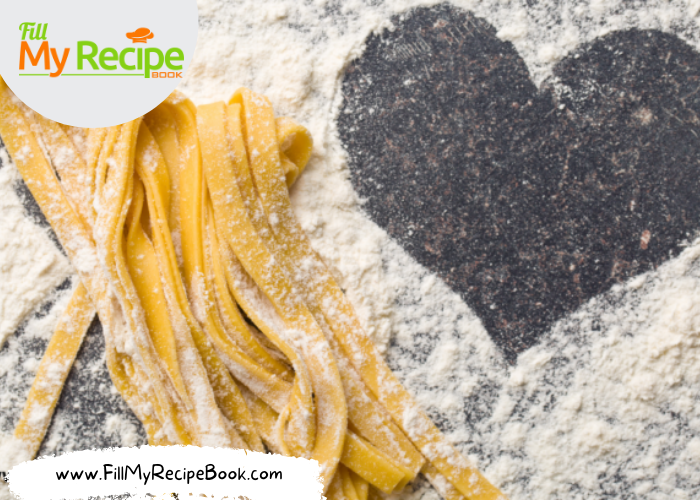 Tagliatelle made with egg pasta used as our choice.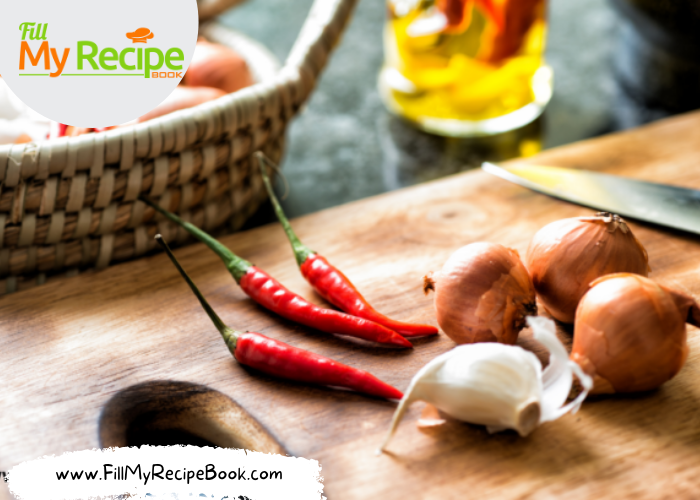 Garlic and onions minced for frying.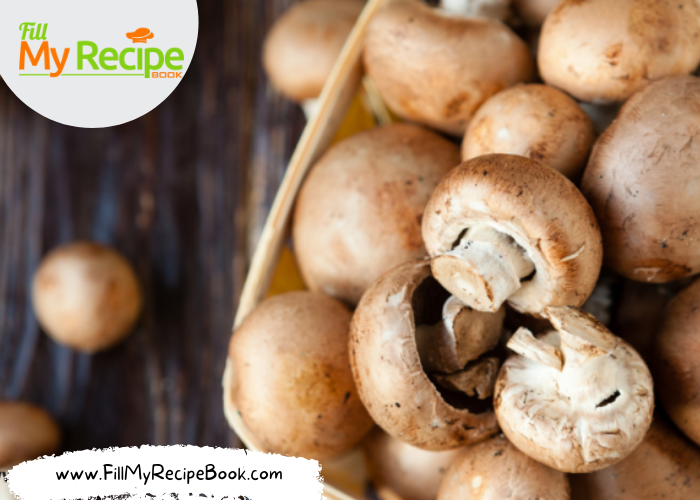 Button mushrooms sliced to sauté
How To
For a versatile plate of food for vegetarian and meat eaters the chicken would be sautéed separately. If desired. For this recipe the chicken and mushrooms were sautéed with onions and garlic and spices.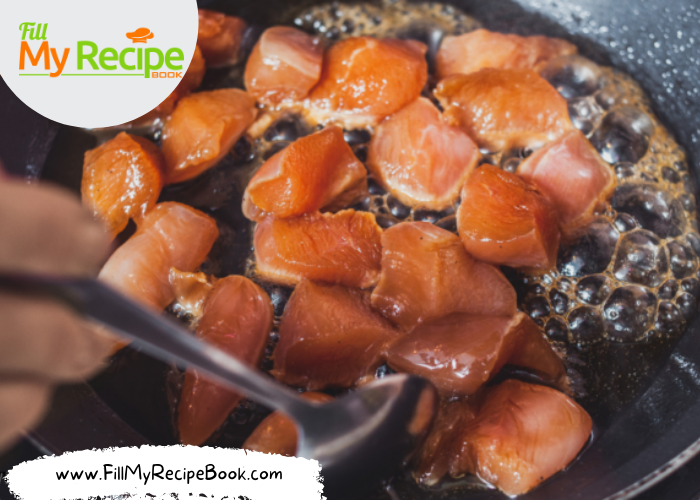 In a large heated pan you would first add the olive oil and then the ingredients according to the recipe below and sauté them for 2 to 3 minutes. Then add the other water and coconut milk with tomato paste and follow the recipe for guidance.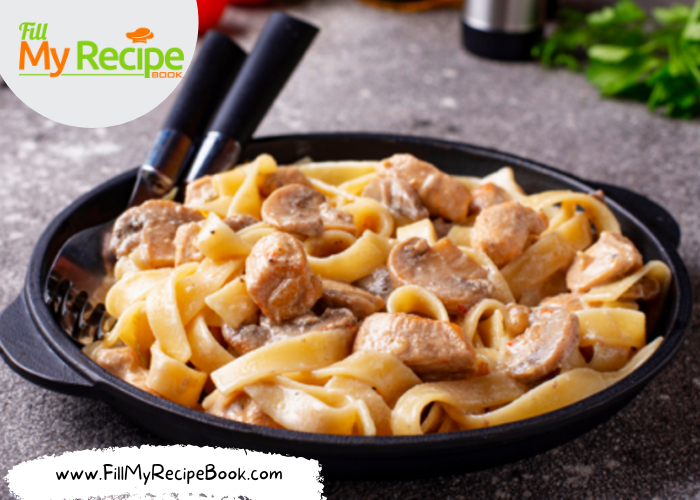 How to cook pasta in a sauce
The sauce must be thin enough and that is why we add water to this sauce. Also you need to use a pasta that will absorb better such as Barilla Collezione Tagliatelle made of egg dough. It has rough porous surface and helps the sources absorb better.
Once adding the Tagliatelle pasta, stir to prevent burning. This pasta made of egg will be cooked in about 6 minutes.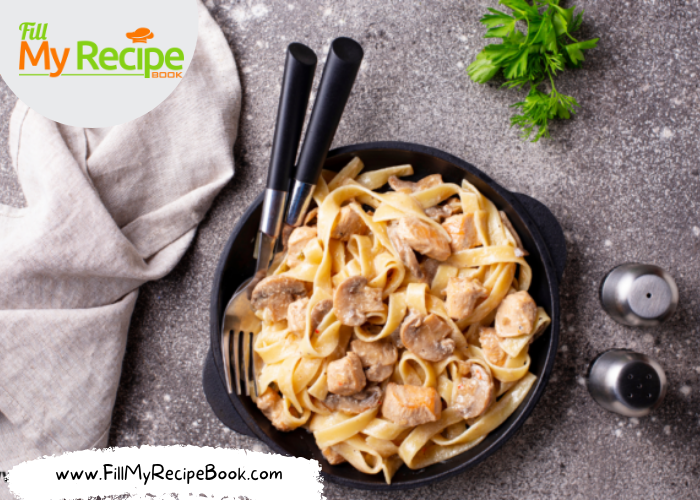 Do you cook pasta in the sauce or separately.
It is beneficial to cook the pasta in the sauce as it will absorb the flavours, and the sauce should be thin enough for this to happen.
If you cook the pasta separately then the pasta will be overcooked by the time your sauce is done and all the ingredients are mixed together. As the pasta continues to cook once removed from the liquid.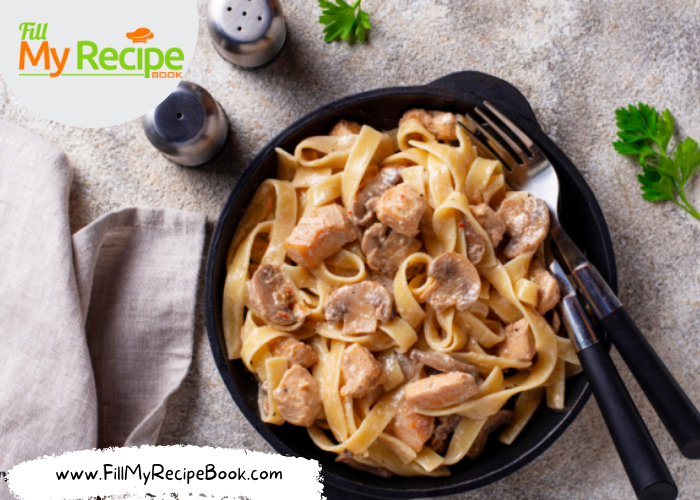 This is why this One Pot Recipe is really a one pot recipe and is so tasty and even fussy pasta eaters will eat it because of the sauce.
Perfect for.
Try Tagliatelle with prawns or zucchini flowers for a different meal. A versatile one again.
If you love the traditional rich Bolognese sauce then that will go well with meat balls and Tagliatelle.
One Pot Pasta with Chicken & mushrooms
Recommendations.
Get more light meals here. —–>14 Quick Light Summer Meals.
View more dinner party recipes to serve for special occasions here. ——>25 Easy & Quick Dinner Party Recipes
More amazing lunch recipe to choose from here. ——-> 14 Best Mother's Day Lunch Recipes
(click on the highlighted word for the recipe)
Get more One Pot veggies recipes. ——–> 16 Warm One Pot Veggie Dish Recipes
family meals —–> 22 Large Budget Family Meal Recipes
There are more recipes ideas for you —–> 12 Easy Healthy Skillet Meal Recipes
You will love these recipe ideas as well —-> 19 Healthy Mushroom Filled Recipes as well as these recipe ideas to create —-> 22 Garlic and Mushroom Filled Recipes
You would love to get some other recipe ideas from these —–> 13 Easy Coconut Milk Meal Recipes
Some recipe ideas for meals with veg. —–> 24 Meals with Veggies Recipes Ideas
Great family meal ideas —–> 24 Easy Family Meal Recipes
You will love these recipe ideas to —–> 8 Healthy Coconut Dinner Recipes
Look no further for these pasta recipe ideas —–> 22 Easy Pasta Recipes
Some great recipe ideas are —–> 13 Vegan Mushroom Recipes
Some great family recipe ideas for dinners —–> 34 Easy Family Dinner Recipes and budget friendly ones —–> 23 Simple Family Budget Meals
These are a few great healthy dinners for two recipe ideas —-> 25 Easy Dinner Recipes For Two
Get these Valentines recipe ideas to create —-> 10 Valentine Dinner For Two Recipes and Also get some other inspiration for a special valentine meal idea —–> 20 Romantic Valentine Meals Recipes
Print
One Pot Pasta with Chicken & Mushrooms
One Pot Pasta with Chicken & Mushrooms recipe. Chicken pieces sautéed with onion, garlic and mushrooms, tagliatelle pasta and coconut milk.
Author:
Prep Time:

15 min

Cook Time:

20 min

Total Time:

35 min

Yield:

6
Ingredients
2 Tablespoons (10ml) olive oil
2 onions finely chopped
6 cloves of garlic finely minced
1 teaspoon of cayenne pepper
300g of deboned chicken pieces.
2 vegetable stock cubes (dissolved in the warm water)
2 cups of water (or more if needed)
1 2/3 cups of full fat coconut milk (1 tin -399ml) OR use cream of mushroom soup.
2 cups of button mushrooms sliced thinly.
400 g of Tagliatelle pasta (egg dough pasta)
1/4 cup of tomato pasta
1 Tablespoons of nutritional yeast
1 Tablespoon of soy sauce (sodium-reduced)
1 pinch of ground black pepper and salt to taste
4 cups of fresh spinach chopped.
A little cheese (mozzarella or parmesan)
Use some basil spices or Italian spice to add more flavour.
Instructions
In a large Hot pan pour the olive oil in to sauté the onions, garlic, cayenne and chicken pieces and mushrooms. Until lightly golden for about 2-3 minutes.
Then all the other ingredients, such as water with veggie stock dissolved, and the coconut milk, tomato paste. Spices and soya sauce can be added to the pan of ingredients. Once this is warmed up add the pasta. Bring all this to a boil and then reduce to a simmer with the lid on and stir now and again. To prevent burning, for about 6 or so minutes.
Remove the pan from the heat and add the spinach and stir it in. until its combined nicely.
Sprinkle the pasta dish with some Italian spices.
When you serve this pasta and chicken mushroom dish grate a little mozzarella cheese on top and serve with a salad.
Notes
To get the creamy texture and flavour you can use creamy mushroom soup instead of coconut milk.
Use a porous pasta such as Tagliatelle that can soak up the sauces.
Keywords: One Pot Pasta with Chicken & Mushrooms
Dishes to make that are versatile for vegetarian or meat eaters.
Homemade Corn and Black Bean Tortillas
Easy Macaroni and Cheese for Two (without bacon)
enjoy