Sunday Roasted Chicken and Potato's recipe. Best family meal for lunch or dinner and Thanksgiving or Christmas with gravy and vegetables.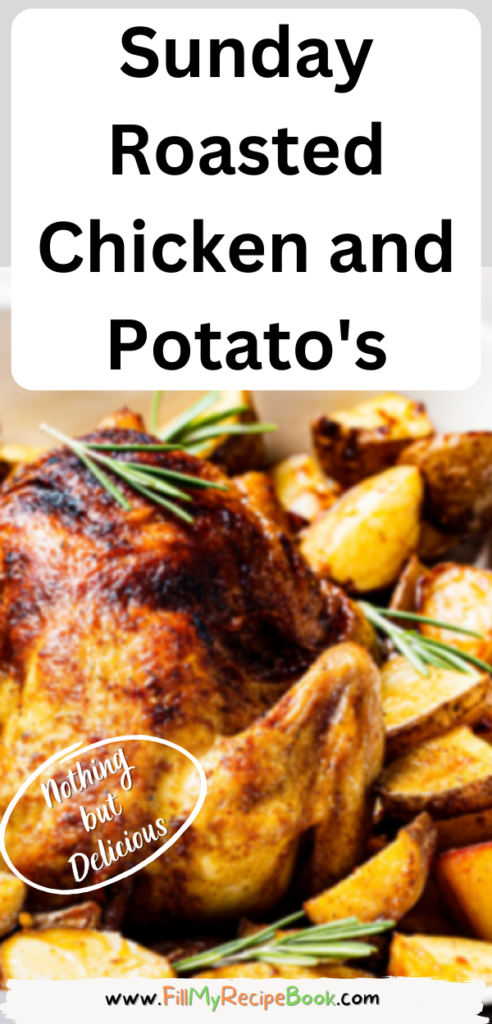 Sunday Roasted Chicken and Potato's.
A Sunday Roasted Chicken and Potato's Lunch or dinner for a family meal is a tradition in my family. My father used to love cooking and would make the amazing meat roasts and some times a roasted whole chicken with roasted brown potato's. Which was my mothers specialty and till this day long for them.
There are different ways to make a roast chicken and I am sure you can go all out. But this is the way we roast the chicken. Great Thanksgiving alternative to turkey. There are alternatives to basting or sprinkling the chicken with herbs and spices. Either way is how you prefer to do it. You can stuff the chicken with traditional stuffing's or use a cut onion or a cut lemon. Adds great taste to the chicken. A gravy is made with the pieces left in the roasting pan, with either bisto or cornstarch.
Should you always boil potatoes before roasting?
If you going to roast your potato´s with the skins on, then par boiling them will a little before roasting will help them get that crispy crust on the outside of the potato. If you don't then the skin on the outside will remain tough and not allow the fat or oils used to penetrate the skin. BUT if you peeled them and cut them into thirds and roast them with the chicken they should roast beautifully.
What does soaking potatoes in water before roasting do?
Soaking them in water for at least an hour or so after peeling will allow the extra starch that is left on the potato to be cleaned off. The reasons you would want to soak the potato's is because the starch would make the potato´s burn and stop them from becoming crispy and it turns them into sugar.
Should you salt potatoes before or after roasting?
Roasting the potato´s for the whole process you would not salt them before they are cooked or cooking. Salt them after they are cooked or roasted. This is to avoid drawing out moisture while they cook and making the outer layer leathery.
Ingredients.
The ingredients for this lunch starts with a uncooked whole chicken. Some onion and herbs and spices. A lemon to cut and place inside the chicken. (follow the recipe attached)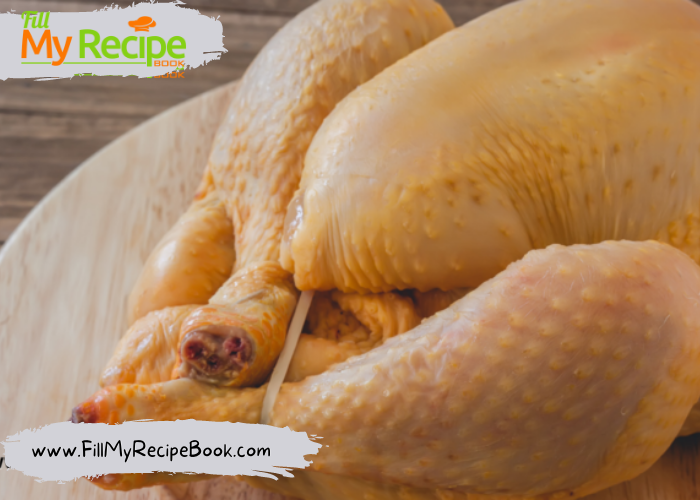 How To.
Cut the lemon in quarters and stick half of it inside the chicken with some garlic mashed cloves or garlic flakes. First baste the chicken with olive oil. Sprinkle garlic, salt and pepper and rosemary herbs over the chicken skin.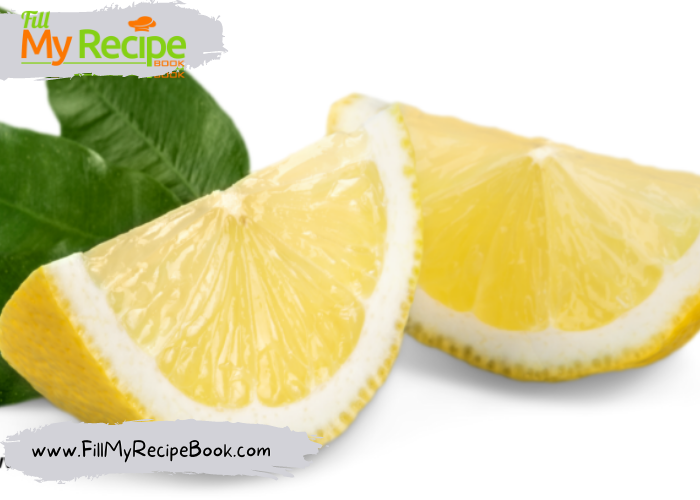 Have the oven heated to about 180 Deg.C.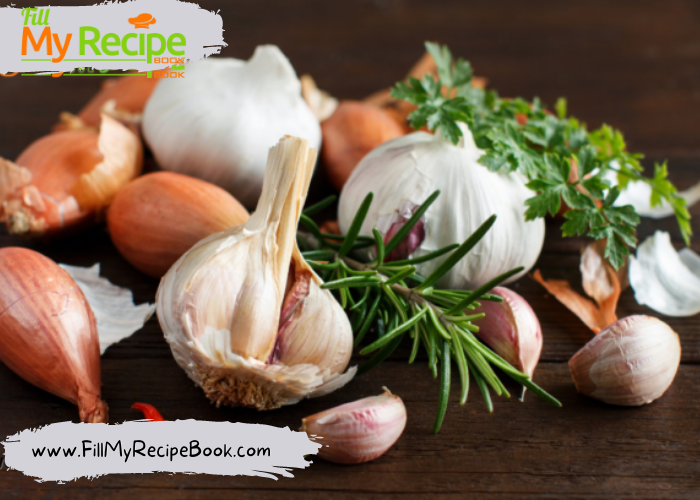 Then we normally place the chicken in a roasting pan with some olive oil.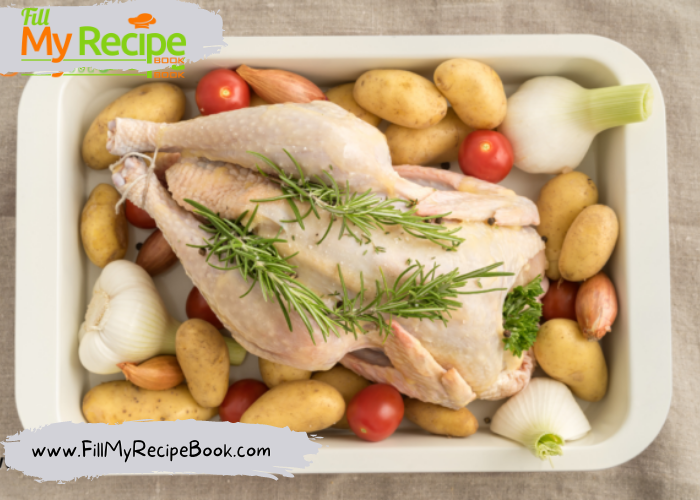 Peeled potato's for roasting. Or you can have clean whole potato's and also add some onions. All together in a roasting pan.
I love to add dried fennel to the herbs for roasted potato's. Fennel gives that liquorish taste which is sweetening. Sprinkling the chicken and the potato's with some Worcestershire sauce or soya sauce to brown the potato's. My fathers secret addition for more taste.
Roast the chicken and potato's until done and turning the potato and chicken once. basting them halfway for them all to brown and be spiced.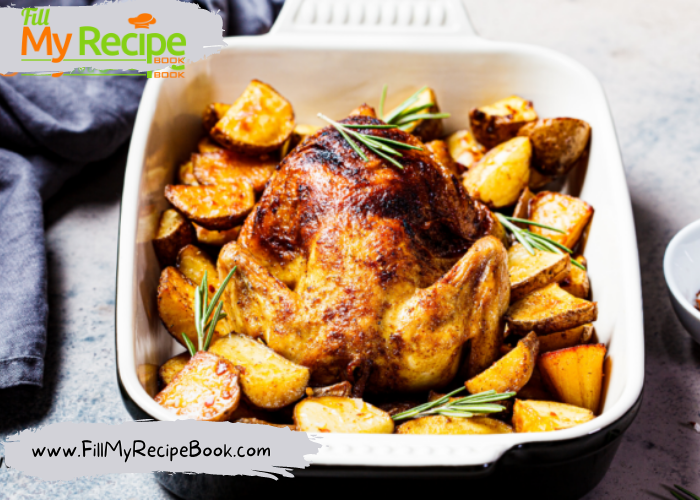 A final roasted chicken and potato dish for a Sunday lunch or dinner with some vegetables. lovely and brown and ready to eat with family. yummy enjoy.
Make this mint sauce with some yogurt for a tasty sauce for chicken. —-> Easy Mint Sauce for Lamb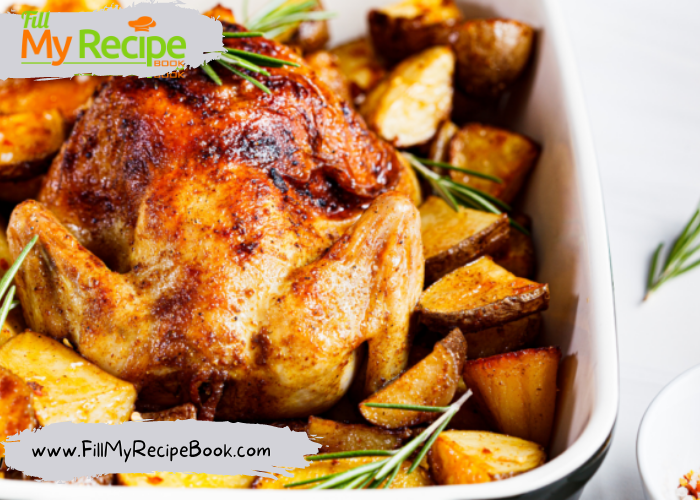 Recommendations
(click the highlighted heading for recipes)
Another roasted veggie recipe idea to bake —–> Oven Roasted Cauliflower Florets and Roasted Brussels Sprouts with Bacon and and Roasted Turmeric Cauliflower Steaks and Easy Roasted Brussel Sprouts
More chicken oven baked casserole dish recipe ideas you will love to bake. —-> Creamy Chicken & Broccoli Pasta Casserole and Chicken Mushroom Bake and Baked Parmesan Chicken with Garlic & Mayo and Chicken and Noodle Potjie Recipe and One Pot Pasta with Chicken & Mushrooms and Sunday Roasted Chicken and Potato's and Apple & Cranberry Stuffed Chicken Breast and Creamy Chicken and Veggie Pie
Great potato recipe ideas to create —-> Potato and Garlic Baked casserole and How To Make Mashed Potato and Baked Potato in Foil on Coals and Foiled Sweet Potato on Coals and Creamy Potato Salad
Get more chicken oven baked recipes here.—–> 14 Easy Chicken Meal Baked Recipes
More amazing lunch recipe to choose from here.—–> 14 Best Mother's Day Lunch Recipes
Get more recipes that use rosemary herb. —-> 16 Cooking with Rosemary Herb Recipes
Other family meals you would love to make —-> 14 New Year's Day Family Feast Recipes
family meals —–> 22 Large Budget Family Meal Recipes
Recipe ideas for the use of lemon and herbs —-> 21 Meals With Lemon and Herbs Recipes
Some recipe ideas for meals with veg. —–> 24 Meals with Veggies Recipes Ideas
Great family meal ideas —–> 24 Easy Family Meal Recipes
You will love these —–> 10 Easy Potato Recipe Ideas
More spicy recipe ideas to create —–> 21 Easy Spiced Meals Recipes
Get Thanksgiving recipe ideas to create —–> 16 Traditional Thanksgiving Meal Recipes
Some great family recipe ideas —– 24 Easy Family Favourite Recipes
Some great family recipe ideas for dinners —–> 34 Easy Family Dinner Recipes
Use the sliced meat for a —–> Christmas Roasted Cold Meat Platter.
Learn how to cook with herbs and spices, get the guides —–> Cooking with Herbs and Spices
Some warm roasted meals for the family dinner or lunch on Christmas —–> 18 Roasted Christmas Family Meal Recipes
Roast recipe ideas ……
Print
Sunday Roasted Chicken and Potato's
Sunday Roasted Chicken and Potato's recipe. Best family meal for lunch or dinner and Thanksgiving or Christmas with gravy and vegetables.
Author:
Prep Time:

30 min

Cook Time:

60 min

Total Time:

90 min

Yield:

6

Category:

lunch, dinner, meals family

Method:

oven roasted

Cuisine:

South african
Ingredients
1

x whole Chicken

6

x peeled potato's cut into thirds

2

x onions (cut or slices)

1

x lemon
Rosemary (dried)
Fennel (dried)
Salt and pepper
Garlic (dried or crushed cloves)
Worcestershire sauce or soya sauce.
Olive oil
Instructions
Clean and baste the chicken with olive oil then spice the chicken and insert half a lemon inside with some garlic and a piece of onion.(I use plenty garlic). 
Heat the oven ready to roast at 180 Deg. C.
Peel or clean your potato's cut them into thirds if they are large then quarters. (depends how you would like to eat them) Soak them in water for at least an hour before you roast them to remove the starch.
Add olive oil to roasting pan and place the chicken in the middle then add the potato's around the chicken in the olive oil.
Add your cut up onions between the potato's then sprinkle your dried fennel garlic and salt and pepper over the chicken. Not on the potato´s. Than drizzle your Worcestershire sauce or soya sauce over the potato's and chicken.
Roast for almost a half an hour then turn the chicken and potato's over to brown on the other side. 
At this stage you can baste and drizzle more sauces and olive oil over the chicken to keep moist.
Roast further until done. Should take an hour in a normal oven.
Check regularly by the inner leg of the chicken to see if it is cooked. (no red meat  showing) The potato's should be soft and brown.
Make the gravy. Roast vegetables with the roast in another pan or dish in the oven.
Notes
When all has been roasted, remove the oil from the pan and leave the little pieces of onion and roasted potato stuck to the roasting pan. Return the pan to a stove top and pour some hot water in to make a gravy. Mix Mazena (cornflour) Bisto gravy powder in a paste and stir into the boiled roasting pan to make a tasty gravy for the meal.
Keywords: sunday roasted chicken and potato lunch with vegetables and gravy
Enjoy more oven baking meals and download some printable to help in the kitchen.
Enjoy the time with your family and keep up traditions.
Online purchases for a few some awesome kitchen gadgets to use with your veggies.
Here are 28 rather awesome accessories to use in the kitchen! We might not NEED some of these, but they are hard resist!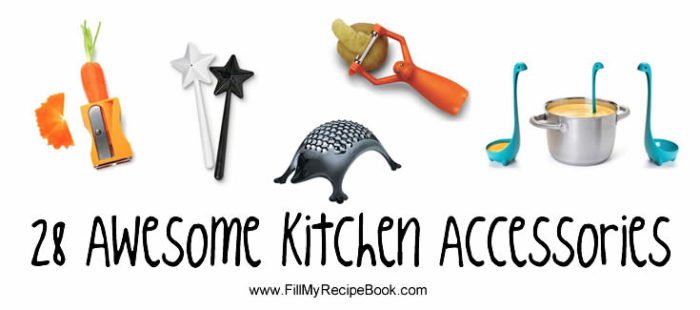 This post may contain affiliate links, where we earn from qualifying purchases. See more details in the policy page. Does not effect your purchase cost.