Herbs and Butter Roasted Turkey for Thanksgiving meal. Juicy roasted buttered and herbed filled Turkey with amazing gravy to serve.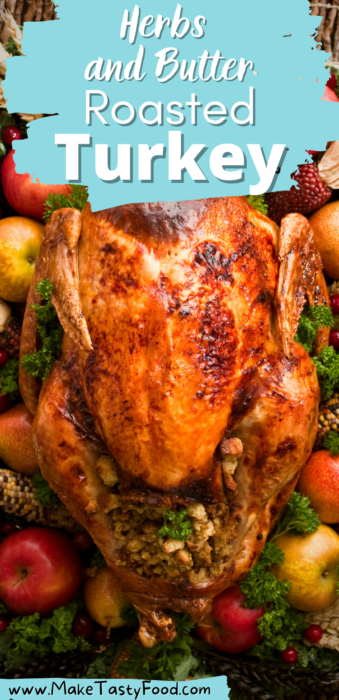 Herbs and Butter Roasted Turkey
Roast this amazing Turkey for Thanksgiving or A Christmas lunch or Dinner.
Prepare ahead by basting and filling the turkey with lemon and orange wedges and onion slices as well as garlic and herbs. Kept covered overnight in fridge.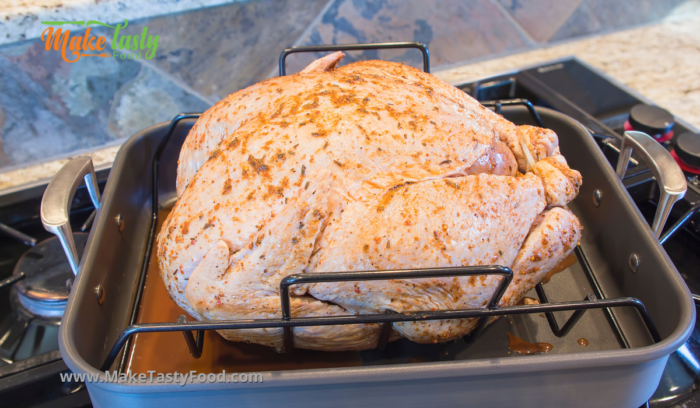 Leaving to get to room temperature for at least twenty minutes before placing in a preheated oven to roast. Attending to it half way, to baste with broth and uncover the foil to brown nicely on the final roast. The turkey set on the roasting vegetables to roast with some broth.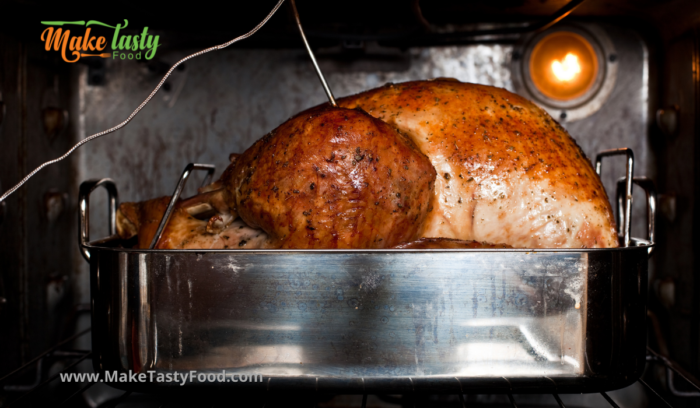 Once the Turkey has roasted and left to rest.
To keep warm cover with foil.
Prepare the gravy with the turkey broth that is left in the roasting pan. Removing the pieces from the roast. This adds so much flavor you will not believe.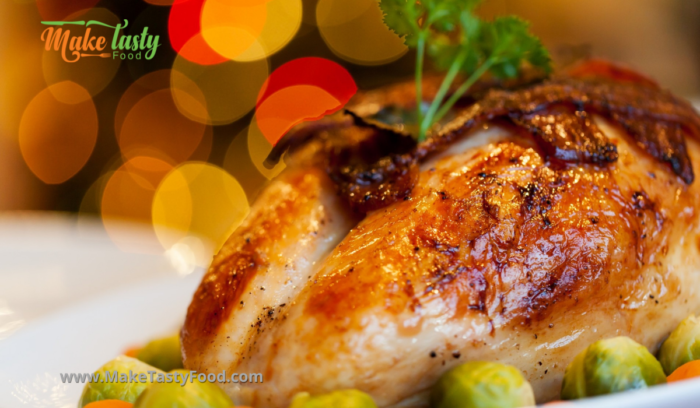 Let the turkey rest for 30 minutes before carving.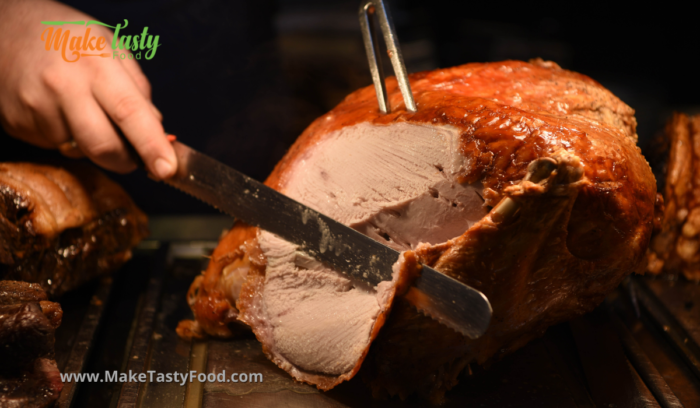 Once the gravy has been made and the slices of turkey are plated on a meat platter board, serve the gravy warm or hot. Keep the gravy hot by leaving in a flask until ready to pour. Love hot gravy.
Download or print and save this recipe below, of Herbs and butter Roasted Turkey.
(you would love to write out this recipe then download the general recipe page to do so HERE)
Print
Herbs and Butter Roasted Turkey
Herbs and Butter Roasted Turkey for Thanksgiving meal. Juicy roasted buttered and herbed filled Turkey with amazing gravy to serve.
Prep Time:

25 min

Cook Time:

45 min

Total Time:

70 min

Yield:

8
Ingredients
Turkey Ingredients
1 whole fresh Turkey (18-20lbs)
1 or 2 orange cut into wedges
1 or 2 lemons cut into wedges
1 head of garlic peeled and cut
1 onion sliced
2 sprigs of rosemary and sage leaves each
1/2 cup of salted butter (room temperature)
1 –2 Tablespoon of Herbs de Provence (includes thyme, basil, rosemary, tarragon, savory, marjoram, oregano, and bay leaf. Herbes de Provence are most commonly used in French cuisine,)
Pan Roasting Ingredients
4 carrots and celery stick cleaned and cut length wise
2 onions cut into wedges for pan
4– 6 sprigs each of Rosemary and sage for pan frying
4 cups of organic chicken broth
Gravy Ingredients
1 cup of white wine. (sauvignon blanc)
4 Tablespoons butter (1/2 stick)
6 Tablespoons of cornstarch (mazenia) to mix to a paste with 1/2 cup of chicken broth.
Salt and pepper.
Instructions
Preheat the oven to 400 Deg. F (200 Deg.C)
The rack should be placed on 3rd lowest position. To roast plan 15 min per pound of the turkey. (500g)
Make this the day before.
1. mix the herbs in 1/2 cup butter then place aside.
2. Clean the turkey and pat dry with paper towel, and line the roasting pan with all the pan ingredients. But not the chicken broth.
3. Placing the Turkey on top of the pan roasting ingredients (they hold the turkey up) Then add alternatively the orange and lemon, onion wedges and Garlic inside the turkey carcus and lastly add the rosemary and sage.
4. Then secure the legs with twine and tuck them under the skin.
5. Generously rub the skin with the herb butter taking care to tear the skin. As well as between the skin of the breast.
6. Cover the Turkey with aluminum foil and refrigerate for the next day roasting.
Next day.
1. Allow the turkey to rest for 20 minutes to room temperature before roasting in oven.
2. Add the 3 cups of chicken broth and leave the turkey covered with foil that is tented to not touch its skin.
3. Roast for 45 minutes.
4. Reduce the temperature to 325 Deg.F  Then add the 1 cup of chicken broth to the pan and uncover the turkey to roasts further. (only cover again if the turkey starts to brown to quickly)
5. Roast the turkey until temperature reaches 165 – 175 Deg. F. inside, (measured with a meat thermometer)
6. Turn the pan around halfway during roasting as to prevent burning on one side. Baste the turkey now and again with the roasting pan juices. To keep moist.
Once cooked leave to rest for 30 minutes before carving. Serving on a platter.
Use the juices from the roasting pan for gravy, But remove the solid pieces of veggie left. (add more chicken broth to make up 4 cups)
Place roasting pan over stove top plate and bring to heat. Add 1/2 cup of wine and glaze pan then add butter. Whisking add the rest of the wine and allow it to reduce for about 3 minutes.
Add the 4 cups of broth to the roasting pan and warm up. Stirring the corn starch to a paste and adding it to the pan, but continue to stir until it is mixed without any lumps. Letting it thicken to a pouring consistency and adding salt and pepper. Pour into a gravy dish. To serve.
Notes
To serve warm cover with foil and add some towel over the turkey to keep it warm. Otherwise rest it to serve cold on a platter.
When making gravy and lumps occur just sieve the gravy to remove lumps. Want to serve hot gravy then keep it in a thermos flask until served.
The turkey is a little dry or overcooked? Pour some broth kept over the cut or sliced turkey to make it moist.
Keywords: Herbs and Butter Roasted Turkey
View more Roasts and meat platter below.
Sunday Roasted Chicken and Potato's
Roasted Leg of Lamb & Mint Sauce
Christmas Day Cold Meat Platter.
View these amazing side dishes for warm or cold sides below.