Crispy Chinese Duck Breast recipe with noodles and sauce. An easy fine dining meal, seared duck breast with alfalfa sprouts, bell peppers.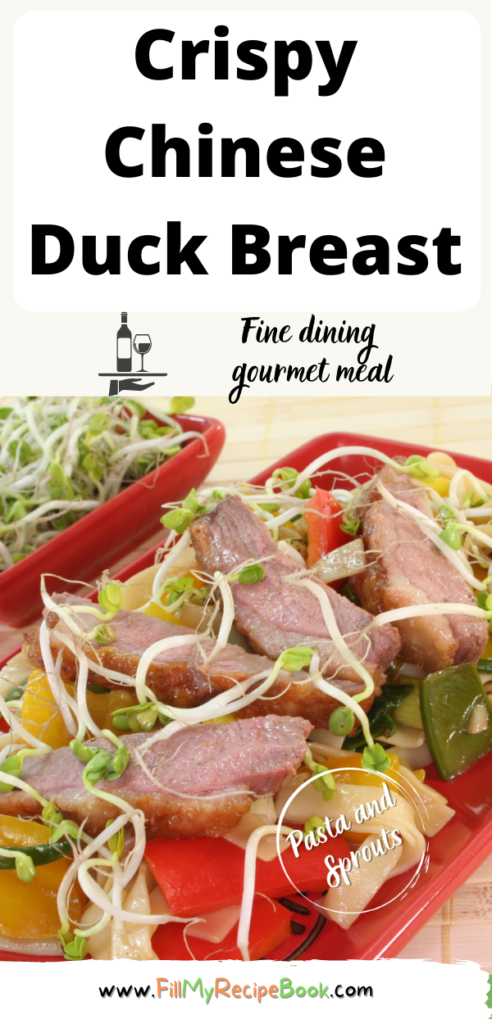 Crispy Chinese Duck Breast
Serve a fine dining crispy Chinese duck breast recipe idea for a gourmet meal. A tasty and easy seared duck with noodles and bell peppers and sauce with sprouts for a special dinner or lunch meal. Serves two and you can plate it for a gourmet meal. Stove top no bake recipe and oven baked for a few minutes.
How do you get crispy skin on duck breasts?
To get a crispy skin on a duck breast firs score the skin with a sharp knife, lightly then sauté duck skin side down in a hot pan on medium heat until golden brown. Finely placing in the oven, skin side up, for a few minutes until done. For about 8 minutes.
Can you overcook duck breast?
Duck breast is best served medium rare and pink in the middle as overcooking can cause it to dry out.
How to make duck breast more tender?
Just like with steak and chicken, it's important to slice the duck breast against the grain, which cuts the muscle fibers short, making the duck feel more tender when you chew it. I cut it into thick, quarter-inch slices for a nice, meaty bite.
ingredients
Below are some images of ingredients needed. View the recipe attached for the specific directions needed.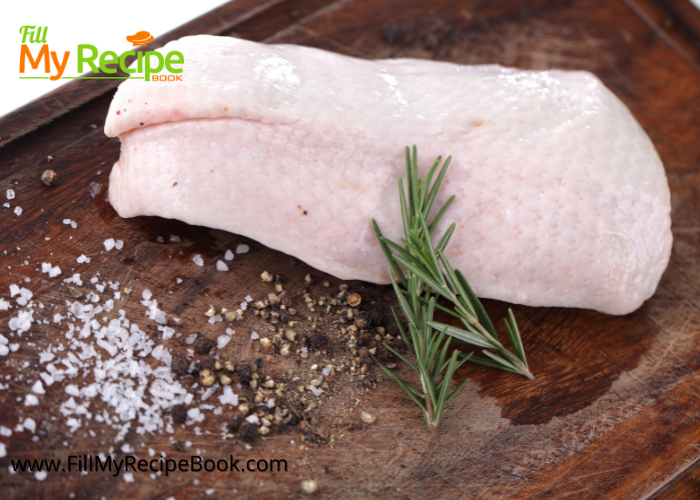 Duck Breasts salted and peppered.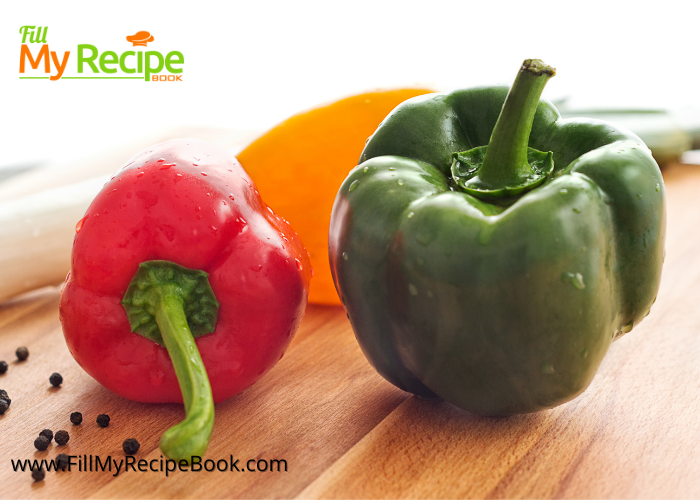 Bell peppers for color and taste.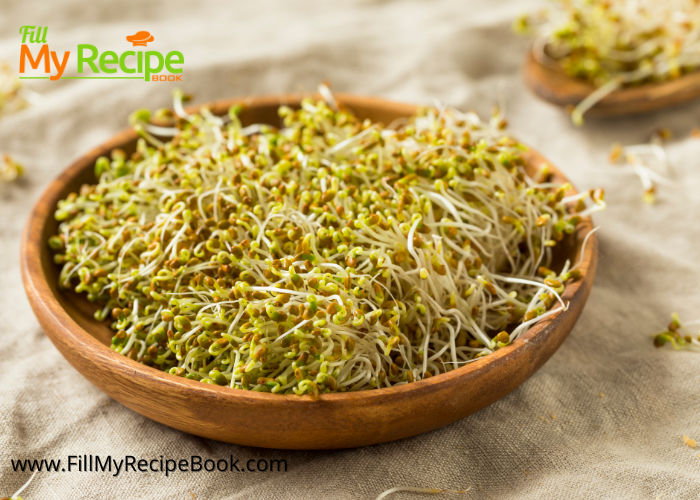 Alfalfa sprouts for a tasty and fine salad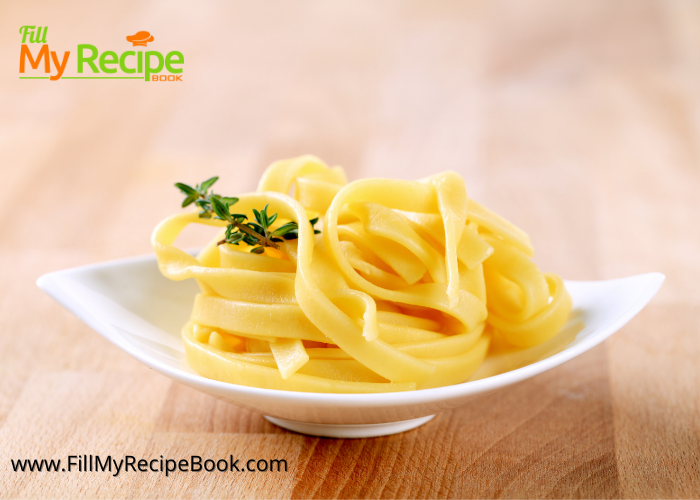 Egg ribbon noodles for the base of this dish
How To.
Scoring the duck breast skin before you sauté it. Searing the spiced duck on its skin in a hot oven proof pan with a little olive oil.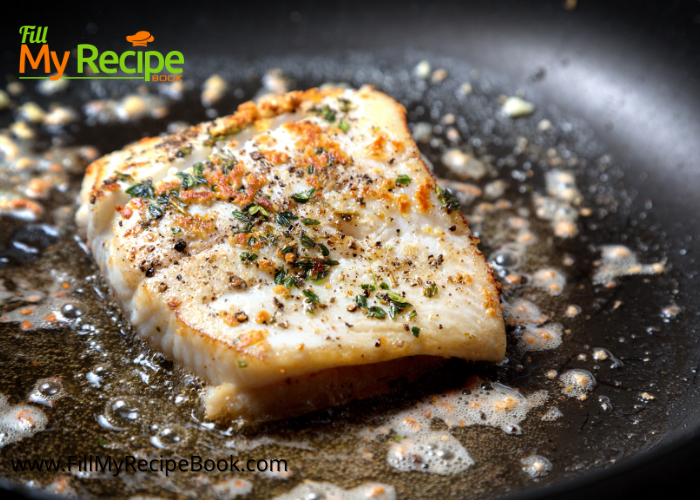 Searing for about 3 minutes or until the fat duck skin has browned and melted, then turning over to salt and pepper the other side. Further searing for another minute. Then placing this duck in the oven for another 3 – 8 minutes or so.
While you cook the noodles and sauce and sear the bell peppers. (as per recipe below)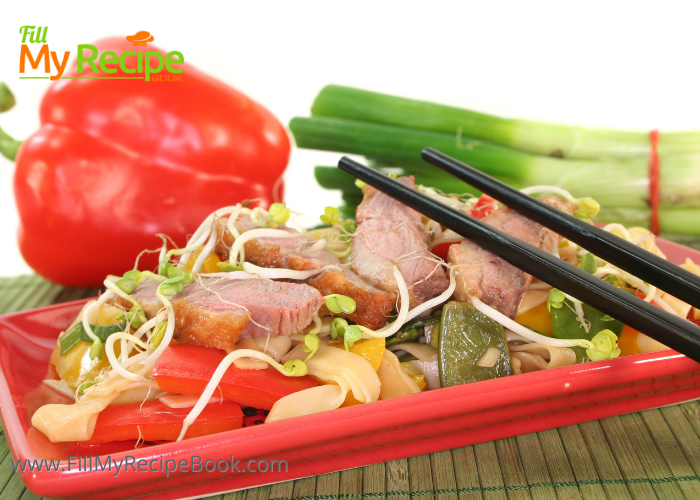 Plate the dish tastefully for a special meal or fine dining experience. To serve a gourmet fine dining meal you should plate the meal tastefully on good dishes and set the table well.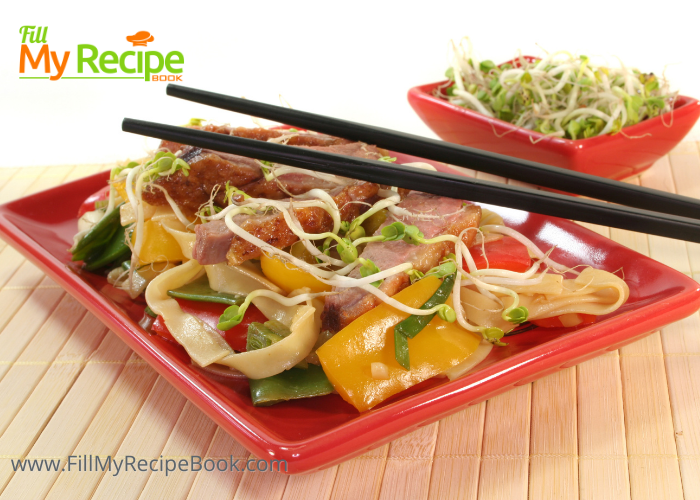 How to plate the meal tastfully, ideas shown.
The ribbon noodles are placed under the cut duck pieces with sauce drizzled over the duck.
Placing the bell peppers next to the dish and sprinkle the sprouts over the duck.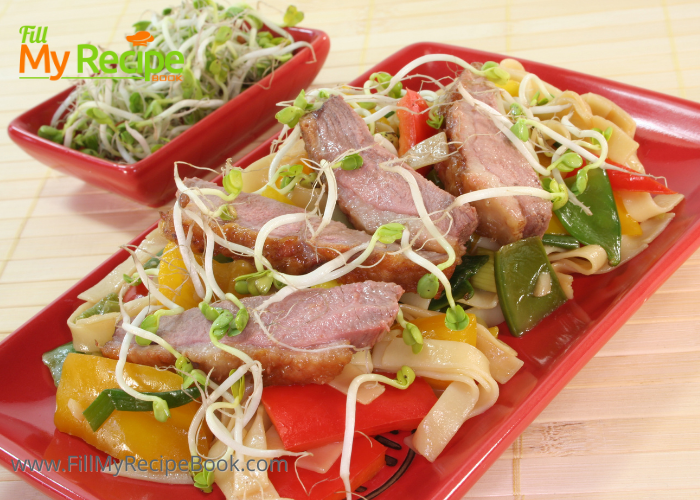 Below is the recipe to download or print. If you prefer to write out the recipe then download for FREE this General Recipe Page . There are more kitchen useful printables to choose from as well as some planners for meals and households. FREE
Recommendations.
(click the highlighted heading for the recipes)
View more gourmet fine dining recipes —-> 10 Extraordinary Gourmet Fine Dining Recipes
More Asian recipes to choose from —–> 10 Delightful Asian Recipes
Also get some other inspiration for a special valentine meal idea —–> 20 Romantic Valentine Meals Recipes, Get these Valentines recipe ideas to create —-> 10 Valentine Dinner For Two Recipes
Other great noodle recipes to create —–> 15 Easy Noodle Recipes
These are a few great healthy dinners for two recipe ideas —-> 25 Easy Dinner Recipes For Two
Try these Chinese recipe ideas —-> 13 Flavorful Chinese Food Recipes
Purchase these serving dishes to present a fine dining meal, online for your convenience.
A few purchase online links of Fine Dining Dessert Serving Dishes to choose from. Fine dining desserts must be presented well.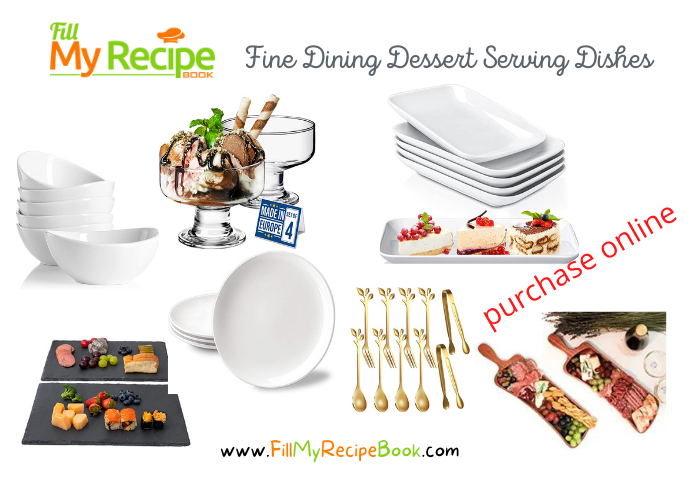 Print
Crispy Chinese Duck Breast
Crispy Chinese Duck Breast recipe with noodles and sauce. An easy fine dining meal, seared duck breast with alfalfa sprouts, bell peppers.
Author:
Prep Time:

30 min

Cook Time:

20 min

Total Time:

50 min

Yield:

2

Category:

Gourmet fine dining meals

Method:

Oven Baking, stove top

Cuisine:

Asian
Ingredients
2

Duck Breasts

2 Tablespoons

of organic honey

6 Tablespoons

of soya sauce

4

Spring onions finely sliced.

200 g

egg ribbon noodles
a squeeze of fresh lime juice
olive oil to fry
Himalayan salt and fresh ground pepper
cup of alfalfa sprouts
Cup of sliced green red and yellow bell peppers
 
Instructions
Preheat oven to 180 Deg.C
Score the duck breast on the fat, Not to deep. Season with salt and pepper and rub it into the fat of the duck breast.
Heat a oven proof cast iron pan and add olive oil to sear. Place the breast pieces skin side down and then season the bare duck, while searing. This should take about 3 minutes to cook until the fat has all been cooked and light brown. Turn the duck over and cook finely for another minute.
Take the pan and place in the heated oven for another 3 – 5 minutes. taking out to rest.
While all of this is taking place boil the egg noodles. (As per instructions on the package) Drain the noodles and add the cut spring onions and lime juice and sesame oil. toss and place in two bowls.
Sauté the bell peppers that are cut into strips. Salt and pepper them. Plate them
Heat the honey and soy sauce together for  minute.
Plate the noodles then the cut duck (slice into pieces) on top of the noodles and pour the soy sauce over the duck and place the bell peppers on the side. Sprinkle some sprouts over the duck.
Serve on a serving plate tastefully for a fine dining dish.
 
Keywords: Crispy Chinese Duck Breast with sprouts and bell peppers
This post may contain affiliate links, where we earn from qualifying purchases. See more details in the policy page. Does not effect your purchase cost.