Herb Crusted Rack of Lamb for fine dining recipe idea. Green herb and parmesan crusted lamb chop served meal with asparagus, sides and sauce.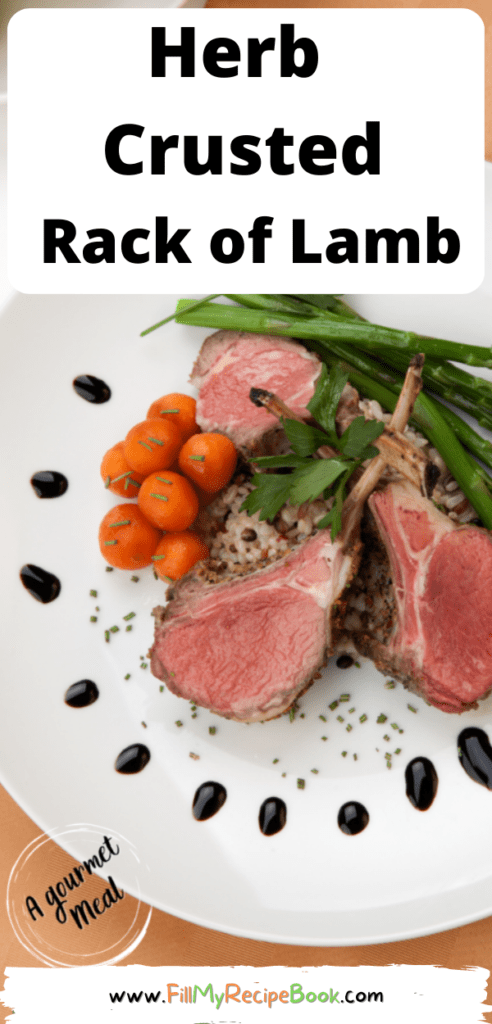 Herb Crusted Rack of Lamb
An amazing herb crusted rack of lamb, to sear and bake with the herb crust with cherry tomato and sear asparagus in garlic and butter.
What herbs go best with lamb?
Rosemary
Oregano
Basil
Mint
Sage
Thyme
What wine goes with herb crusted rack of lamb?
Cabernet is an excellent pairing with the rich lamb and its herbal notes are echoed in the parmesan-herb crust. Petite Sirah is another great match for this lamb. Its flavors of plum, berries and black pepper pair wonderfully with stronger flavored meats.
Why is my rack of lamb tough?
When meat is sliced with the grain, it often results in tougher, chewier pieces. Follow this tip: The grain of the meat refers to the direction in which the muscle fibers run. Always slice lamb against the grain, cutting across the muscle fibers rather than with them.
Is butter or oil better for browning meat?
As you can see, between butter and oil, butter has a dramatically lower smoke point. Because of this, if you heat up a pan hot enough to sear your steak, putting a dollop of butter in first means it is likely to burn up.
Ingredients.
Below are some images of the ingredients to obtain. (Please view the recipe attached for the ingredients measurements and directions.)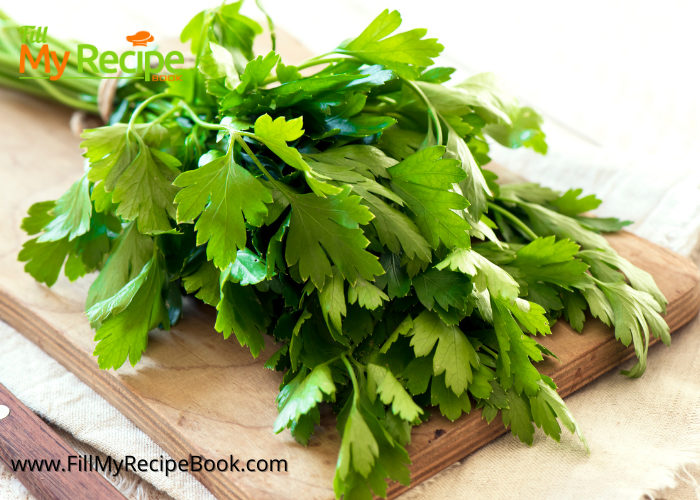 Parsley to blend and make the crusting nice and green.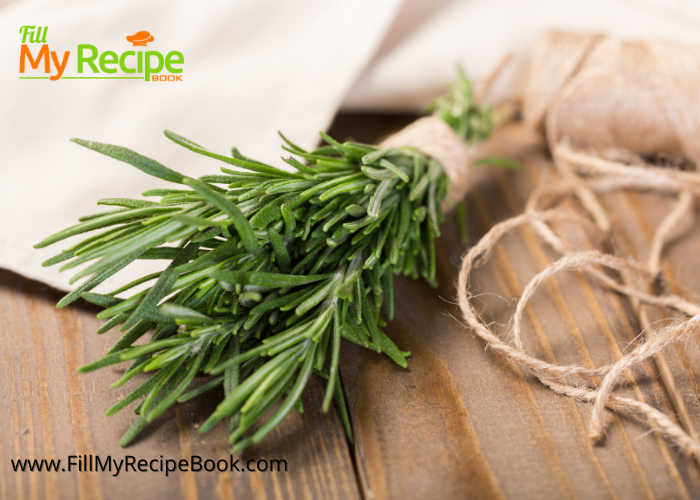 Rosemary to add to the crusting in the blender for taste.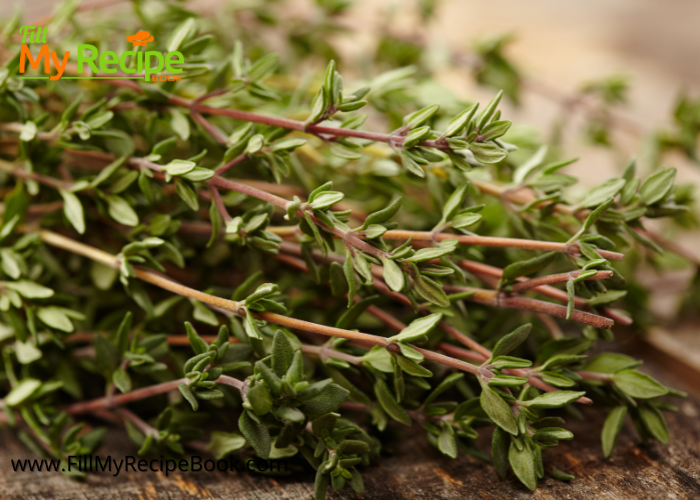 Thyme for searing and adding to the blender with the crusted herbs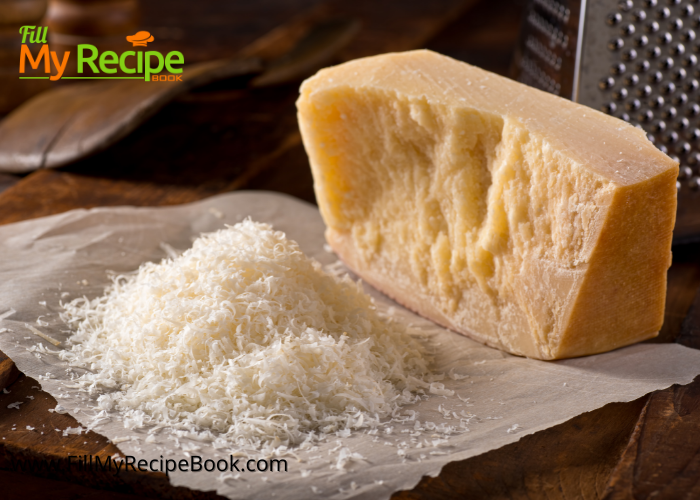 Grated parmesan cheese to add to the flavor of the crust that gets basted on the lamb.
If you have a kitchen aid machine then purchase this amazing cheese grater accessory for your kitchen aid mixer.
How To
Obtain a rack of lamb with about eight chops and trim them the French trim. (scraping the bones clean and cutting the excess fat of the sides) Leaving the fat only on the top of the rack for moisturizing the meat. Cut the rack in chops of 4 each.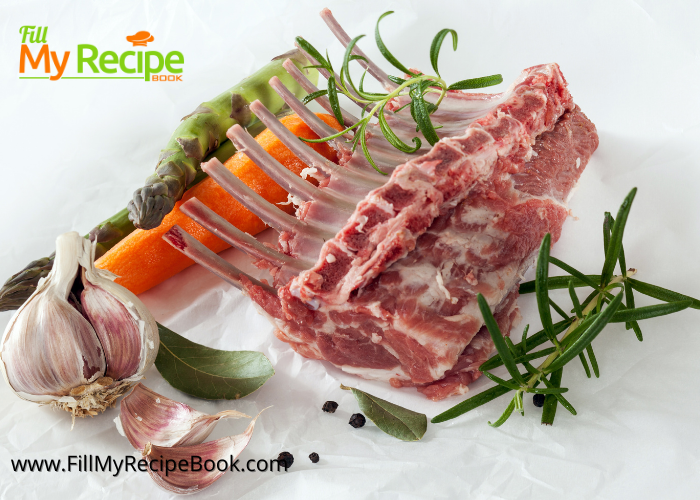 After salting the rack of lamb, sear them in a oven proof pan on all sides to color the meat, which adds flavor.
Blending the herbs in the blender with the parmesan and a drizzle of oil to keep the herbs together.
Baste the seared lamb when hot with mustard so the herbs will stick better. Which also adds to the flavor of the meat. Pat the herbs on thick all over.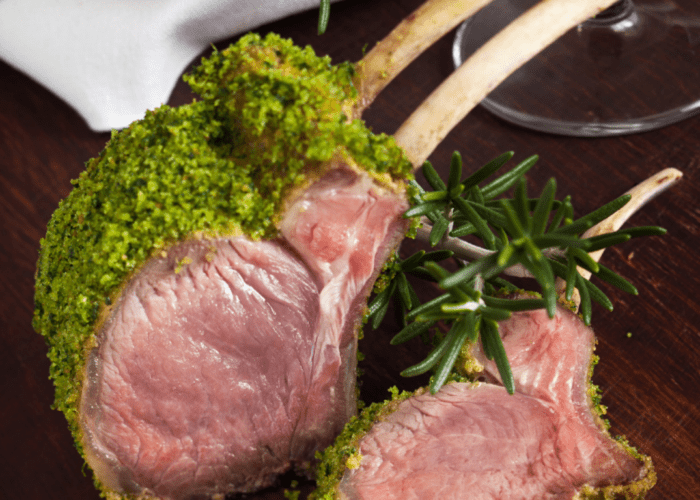 Placing the crusted lamb in the pan again and in the oven for about 4 – 5 minutes until lightly brown.
With a sharp knife cut the chops separate, and sauté the asparagus and cherry tomatoes while the lamb is in the oven.
Place them elegantly in a plate and add the veggies next to them. We decorated with some Worcestershire sauce on the plate, as this is what my hubby loves. You can make any sauce you like such as wine sauce.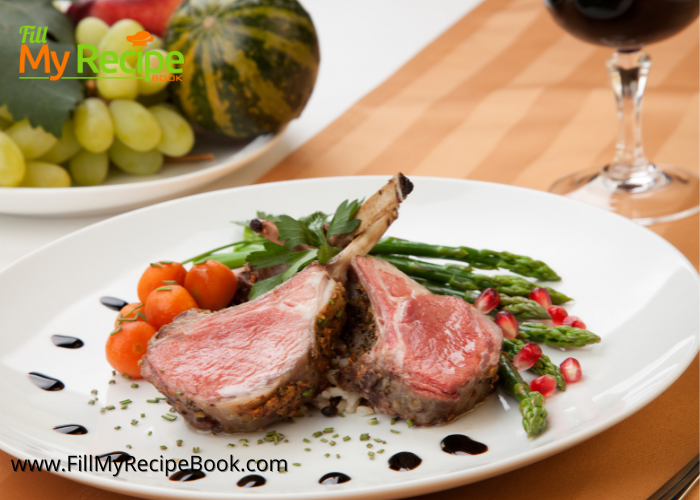 Medium rare rack of lamb served for a gourmet meal to die for. To make these special sauce drops you can purchase online this 2 in 1 Kitchen Supplies Glass from the reliable Amazon stores and delivered promptly.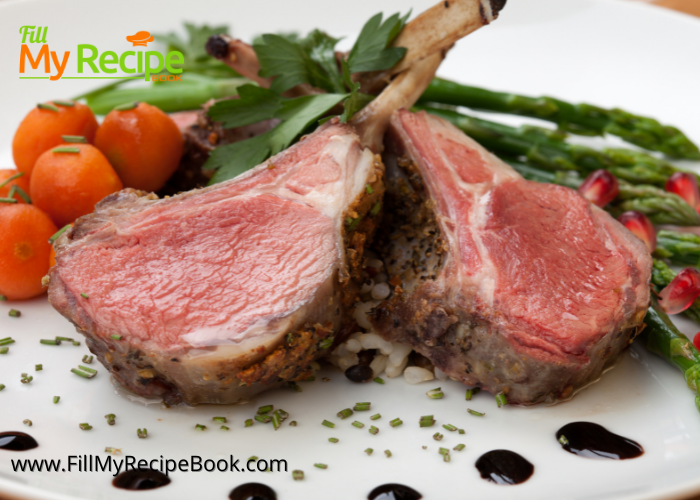 What are good side dishes with rack of lamb?
Most sauteed or roasted vegetables such as carrots and cauliflower.
Roasted rosemary potato.
Asparagus.
Onion with salads
Also serve this fine dining meal on a special gourmet plate. such as these —> DOWAN 12″ Serving Platters, White Serving Plates, Oven Safe Porcelain Dinner Plates Serving Dishes for Entertaining,
A few purchase online links of Fine Dining Dessert Serving Dishes to choose from. Fine dining desserts must be presented well.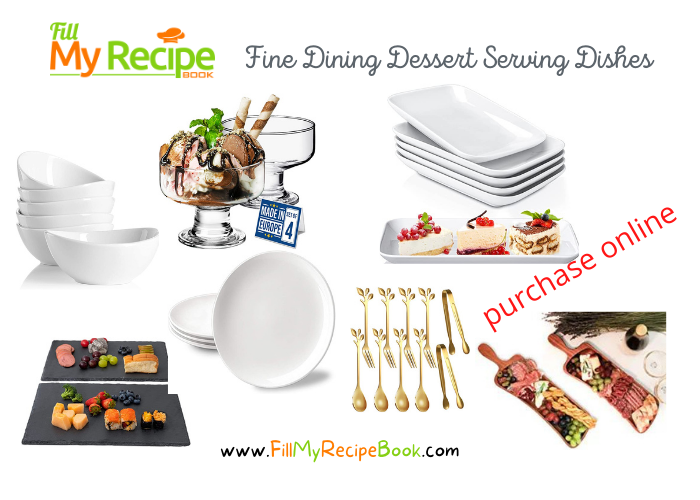 If you prefer to write the recipe out then download for FREE this General Recipe Page .
Recommendations.
(click the highlighted heading for the recipe)
You will love to make these other gourmet meals as well.—-> Extraordinary Gourmet Fine Dining Recipes
Roast this amazing and delicious —-> Roasted Leg of Lamb & Mint Sauce
How to use asparagus in and with meals —–> 13 Unbelievable Flavorful Asparagus Recipes
Also get some other inspiration for a special valentine meal idea —–> 20 Romantic Valentine Meals Recipes, Get these Valentines recipe ideas to create —-> 10 Valentine Dinner For Two Recipes
and these recipe ideas as well —–> 24 Tasty Parmesan Inspired Recipes
These are a few great healthy dinners for two recipe ideas —-> 25 Easy Dinner Recipes For Two
Print
Herb Crusted Rack of Lamb
Herb Crusted Rack of Lamb for fine dining recipe idea. Green herb and parmesan crusted lamb chop served meal with asparagus, sides and sauce.
Author:
Prep Time:

15 min

Cook Time:

15 min

Total Time:

30 min

Yield:

2

Category:

Gourmet fine dining meals

Method:

stove top sear and oven baked

Cuisine:

French
Ingredients
Rack of

8

lamb chops

1/2 Cup

of each Rosemary, Parsley and Thyme to Blend for crust.

50 g

Grated parmesan cheese

1/4 cup

of Dijon Mustard to brush over the lamb chops
dash of olive oil to blend the herbs together in blender
Salt and pepper and a garlic clove.
a few Cherry tomato and asparagus and some oil to sear in.
Instructions
Trim your rack of lamb that is now cut into chops of 4. (French trim fat) the only fat left on these lamb chops is on top to keep the moisture of the meat.
Lightly season it with salt and pepper.
Warm up the oven proof pan with some olive oil in, Not to Hot to burn the lamb. Now Sear the lamb gently by holding the bones on top and place in the pan resting them on the side. Then holding the bones sear each side of the lamb until color is lightly brown. Top and Bottom, done you will lock in those flavors.
Add a touch of Thyme, butter and garlic cloves, lightly crushed. letting it sizzle, and smearing the lamb in the butter and thyme mixture. Placing the butter and herbs on top of the lamb. Basting the butter over the lamb chops.
Once they have nice color it is time to blend the herbs to bast them with. Place some parsley thyme and rosemary in a blender with some grated parmesan cheese. Add some olive oil (just a drizzle) to keep it together. Pour these blended herbs into a plate and rub the hot lamb chops with mustard to add flavor and to keep the green herb crust on the lamb. Rub and dip the lamb all over so that it is coated with the green herb crust,
Then place them in the oven. For 4 1/2 to 5 minutes at 375 Deg F. (190 Deg. C). They will lightly brown once done. Take them out and sharpen your knife to easily cut the lamb chops in pieces. (4 per plate)
Lightly oil or butter a pan for searing the asparagus and cherry tomatoes until soft and done. A few minutes.
Plate the lamb in a T Pee form on a plate and place vegetables around the lamb chops. You can add any sauce you prefer drizzled on the plate. (We used Worcestershire sauce with dots around the plate.)
Preferred sauce would be a rec wine sauce.
Keywords: Herb Crusted Rack of Lamb