Baked Parmesan Chicken with Garlic & Mayo Recipe. An easy casserole dish with tender chicken breasts for a family lunch or dinner.
Baked Parmesan Chicken with Garlic & Mayo
An amazing and popular chicken casserole dish recipe idea to oven bake. It is so simple and easy to make with just 3 main ingredients and spices. Mixing all the spices of choice together with the parmesan cheese and mayonnaise. Placing the mayonnaise mixture over the chicken breasts and its optional to add some potato's to the bake. Baking it for a meal with some vegetables for a family lunch or dinner. Tender and tasty chicken.
Why does mayonnaise keep chicken moist?
With some recipes you use oil or butter to cook chicken, but mayonnaise fats keeps the chicken tender and moist. It the better option. While the chicken cooks it will absorb the oils from the mayo and fats from the egg. Keeps moist and adds so much flavor.
Which mayonnaise is best for chicken?
Regular or full fat mayonnaise is great, but any mayonnaise works well.
Is mayonnaise made with olive oil better than regular mayonnaise?
Healthier options are canola or avocado oil and olive oil are healthier options. Canola and avocado oils are higher in  heart-healthy monounsaturated fats, but the calories are the same. With the olive oil-based versions they tend to combine olive oil with other vegetable oils so that the flavor isn't too overpowering.
Ingredients
chicken
mayonnaise
parmesan cheese
garlic and salt and pepper
View the recipe attached for the amounts recommended for this delicious lunch.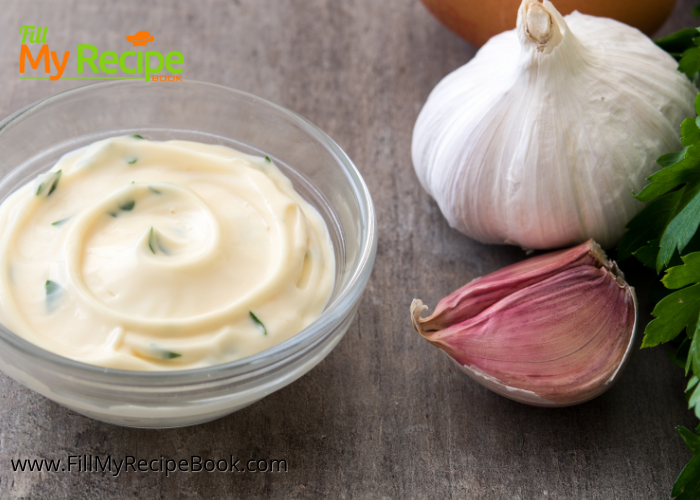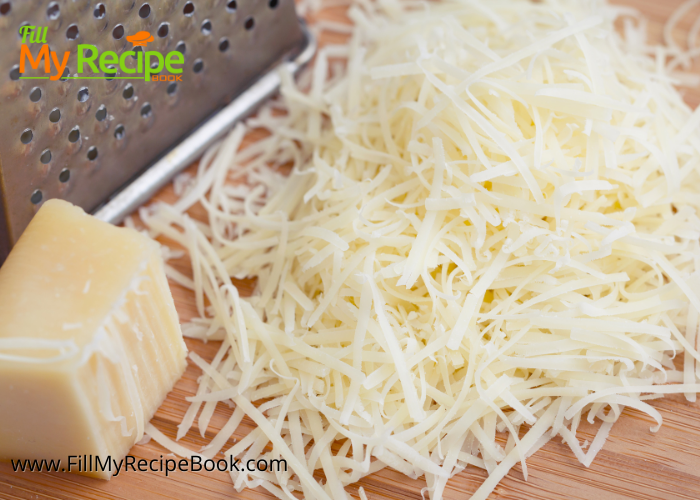 How To
Some clean skinless chicken breasts cut in half. This would make four chicken steaks. Any chicken pieces may be used such as legs or wings. But they would not have that much meat on.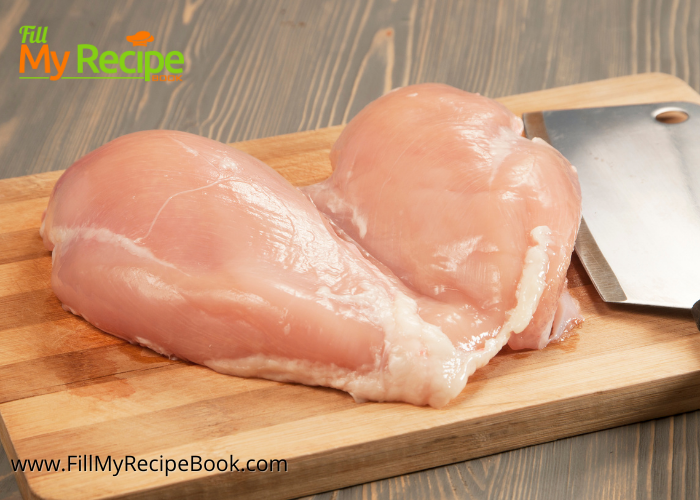 Layering the chicken breasts in a buttered baking dish then topping the chicken with the mayonnaise mixture and topping with some lemon pepper. Then baking until done, how much easier can this be.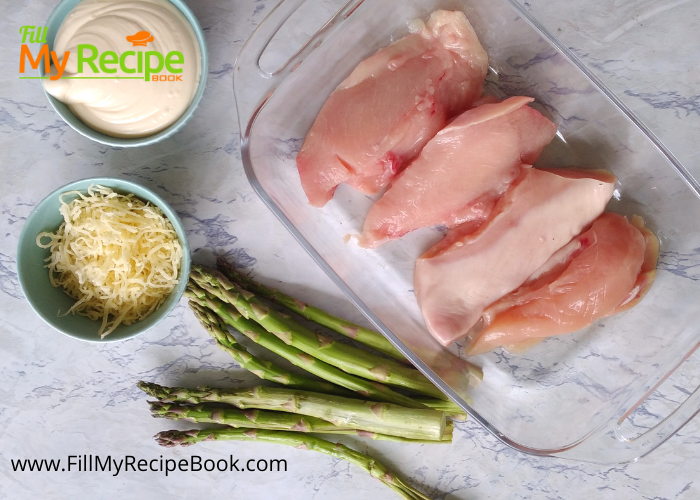 The image above shows the chicken portions in a Pyrex dish then the mayo and parmesan to mix.
Added some asparagus to the cooked dish when served.
Pasted the mayonnaise and parmesan and spices mix over the chicken to bake.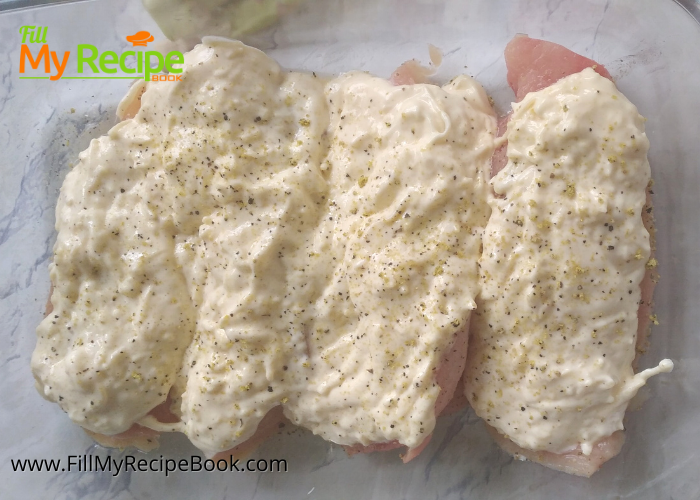 Added in some cut potato to cook with the chicken and mayo dish. It will make some juices from the mayonnaise and parmesan melted. Roasting with the chicken.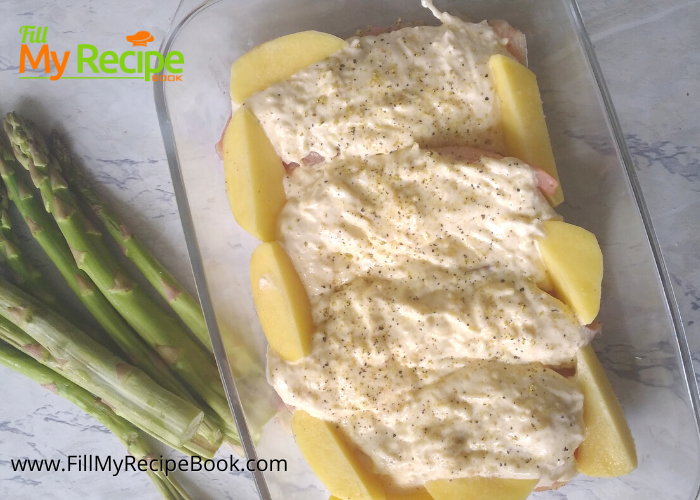 The baked chicken and potato dish with juices and slightly browned parmesan and spices on top.
If you want it to brown more on top then grill the top a little. But it is great like it is. (note the juices from the mayonnaise and parmesan that melted. SO, SO tasty.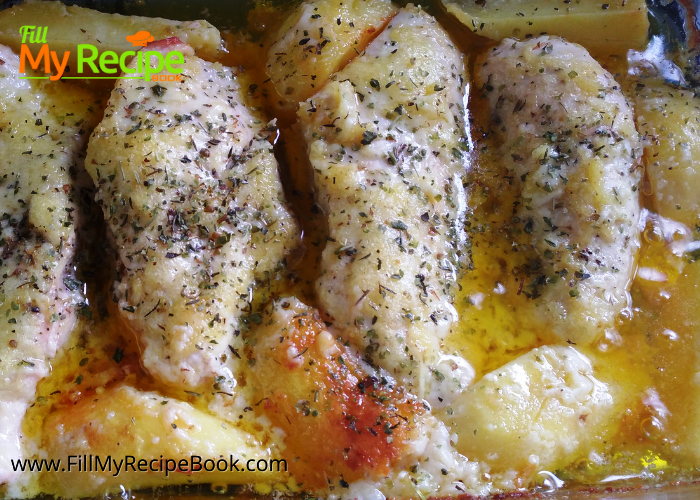 Serve with some cherry tomatoes or vegetables of your choice.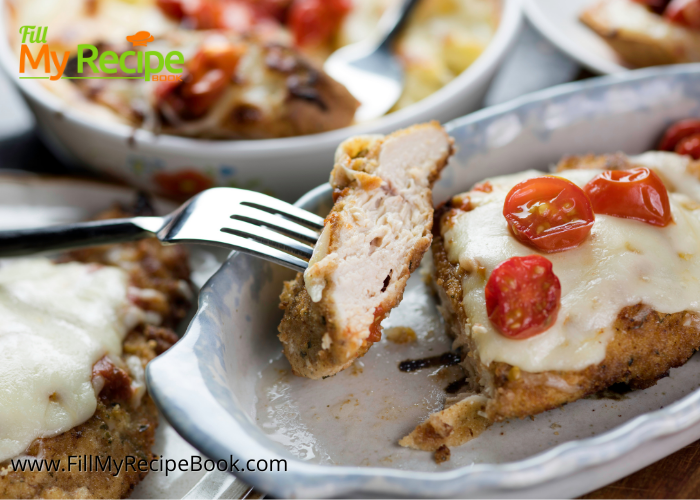 Recommendations.
(click the highlighted heading for the recipe)
More chicken oven baked casserole dish recipe ideas you will love to bake. —-> Chicken Mushroom Bake and Chicken and Noodle Potjie Recipe and Creamy Chicken & Broccoli Pasta Casserole and One Pot Pasta with Chicken & Mushrooms and Creamy Chicken in Dijon Mustard Sauce and Sunday Roasted Chicken and Potato's and Apple & Cranberry Stuffed Chicken Breast and Creamy Chicken and Veggie Pie
More amazing lunch recipe to choose from here.—–> 14 Best Mother's Day Lunch Recipes
Obtain some Printables for your kitchen charts and Household Planners for weekly or monthly meal planning and shopping. Not forgetting the budget planner. Download for FREE.
Get more recipes. —–> 8 Mayonnaise Inspired Meal Recipes.
and these ideas —–>14 Easy Chicken Meal Baked Recipes
also view more casserole recipes to bake here.—–> 20 Easy Casserole Baked Recipes
Having a dinner party? Then get some ideas and help here—–> 25 Easy & Quick Dinner Party Recipes
Get these —–> 13 Mouthwatering Chicken Casserole Recipes and 13 Easy Chicken Breast Recipes
You love using garlic in meals then get these ideas —–> 18 Garlic Meal Inspired Recipes as well as these recipe ideas to create —-> 22 Garlic and Mushroom Filled Recipes
Some recipe ideas for meals with veg. —–> 24 Meals with Veggies Recipes Ideas
Also get some other inspiration for a special valentine meal idea —–> 20 Romantic Valentine Meals Recipes, Get these Valentines recipe ideas to create —-> 10 Valentine Dinner For Two Recipes
Then there are these 3 ingredient —-> 16 Three Ingredient Dinner Recipes
Some more amazing dinner recipes to create —–> 13 Easy 4 Ingredient Dinners Recipes
Supper or lunch casserole ideas —-> 22 Family Casserole Dishes as well as these —-> 23 Easy Casserole Recipes
Get some cheese recipe ideas —–> 26 Heavenly Cheese Recipes and these recipe ideas as well —–> 24 Tasty Parmesan Inspired Recipes
Some great family recipe ideas —– 24 Easy Family Favourite Recipes
Some great family recipe ideas for dinners —–> 34 Easy Family Dinner Recipes
These are a few great healthy dinners for two recipe ideas —-> 25 Easy Dinner Recipes For Two and more supper or dinner ideas —–> 22 Easy Healthy Dinner Recipes
Get more Italian recipe ideas —–> 17 Easy Italian Recipes
You will also love these casserole ideas —–> 20 Taste of Home Casserole Recipes
Print
Baked Parmesan Chicken with Garlic & Mayo
Baked Parmesan Chicken with Garlic & Mayo Recipe. An easy casserole dish with tender chicken breasts for a family lunch or dinner.
Author:
Prep Time:

5 min

Cook Time:

35 min

Total Time:

40 min

Yield:

4

Category:

Dinner or lunch, meals

Method:

Oven Baking

Cuisine:

South african
Ingredients
1/2 cup

of mayonnaise

1/2 cup

of parmesan cheese

4

boneless chicken breast

4 teaspoons

of Italian herbs

1 teaspoon

of garlic powder
Salt to taste

1 teaspoon

of lemon pepper
Instructions
Preheat the oven to 200 Deg. C (400 Deg. F)
Combine the mayonnaise with the herbs and spices then add the parmesan cheese and mix altogether.
Grease the backing dish and add the chicken breasts then top with the mayonnaise mixture. Sprinkle a little more lemon pepper on top and bake.
Add a few small pieces of potato in the dish with the chicken. Bake all together.
Bake until the chicken is cooked and a little brown. Will take about 35 minutes.
Serve with some vegetables of choice.
Keywords: Baked Parmesan Chicken with Garlic & Mayo. baked chicken parmesan mayo garlic dish