Creamy Chicken and Veggie Pie recipe. Easy hot puff pastry pie with left overs bakes the best homemade meal, loaded with cream mushroom sauce.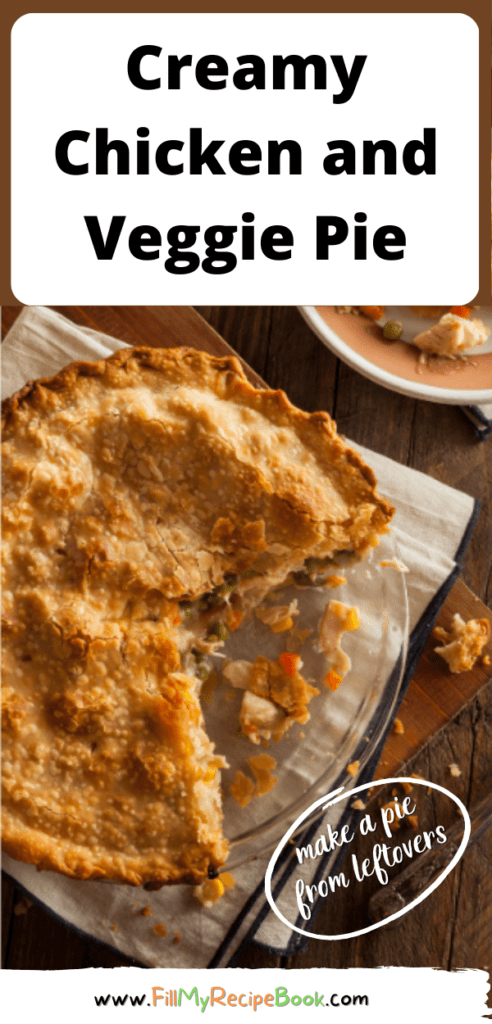 Creamy Chicken and Veggie Pie
Have some left overs or not? This creamy chicken pie recipe idea is always a winner for the family and is a homemade recipe. Make it from scratch or use left overs. Its so simple. Sunday roasted chicken left overs shredded. This way your one meal turns into two or three days food. (if you family is not to large) Using a roll of puff pastry bought and even cooking some frozen mixed veggies, adding creamy mushroom soup. A delicious oven baked family meal for lunch or dinner.
Can you use puff pastry for the bottom of a pie?
It might sound a little strange using puff pastry for the base of the pie (since all the puffiness is going to be squashed down with pie filling), but it works, and it saves the effort of using a different type of pastry for the base.
Why is my chicken pie so watery?
Water can be released from your pie filling while cooking in the oven. To avoid turning your pie into a sloppy mess, add flour to the filling. Using a creamy tin of mushroom soup also keeps the liquid low.
How do you stop pastry going soggy at the bottom of a pie?
Blind-bake your base before adding a filling to help to firm the base and avoid liquid being absorbed into it. Prick the base with a fork to help steam escape, cover with foil or parchment, and weigh it down with ceramic baking beans, uncooked rice or white sugar. Then bake at 220°C (425°F) for 15 minutes.
Ingredients
Using left overs of roast chicken and veggies or fill up with frozen veggies and cream of mushroom soup.
chicken shredded
vegetables
mushroom soup
puff pastry
Get all the ingredient list and amounts from the recipe attached.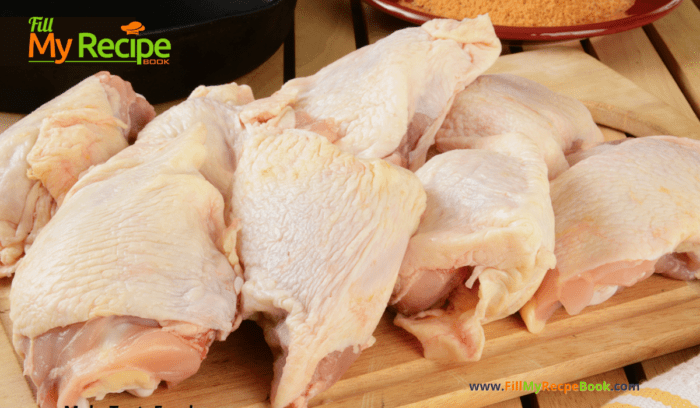 Always add some mushrooms and of course garlic, which is only good for you and onion for taste.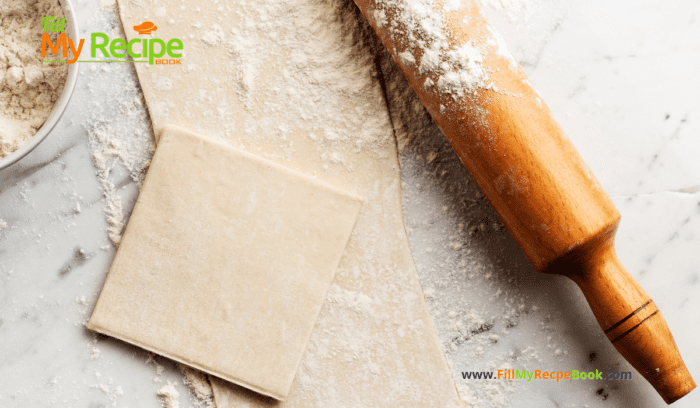 What ever veggies are available or left over. Or just cook some for this dish you only need a few if its a regular pie size. Don't forget the potato as well.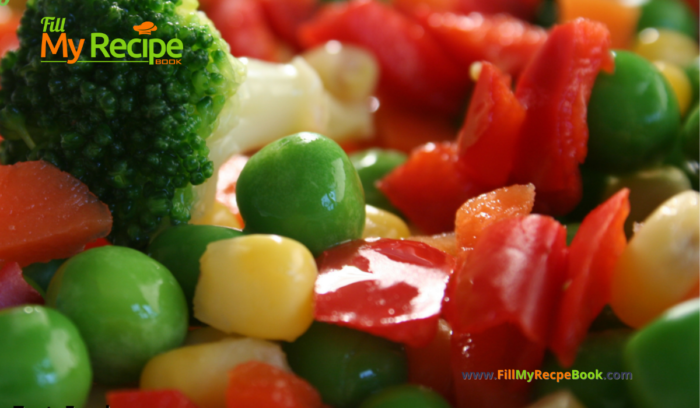 How To
This is a regular pie dish, with pastry to cover the bottom and the top of the chicken and veggie pie.
Shred the left over chicken and mix with the vegetables left over. (of course you can start from scratch and cook the chicken and veggies first.) Placing these vegetables in a large pan on the stove top, to mix and warm up before adding some liquid with the mushroom soup for the sauce. Thickening it and cooling before filling the pastry pie in a dessert pie dish.
Baked to a lovely golden brown and cut up and plated with a side dish of your choice.
Keep in the fridge for a day, covered so that it does not dry out. Re warm in microwave or the oven.
That's if there is anything left. This will also make for a quick and easy light meal, but filling.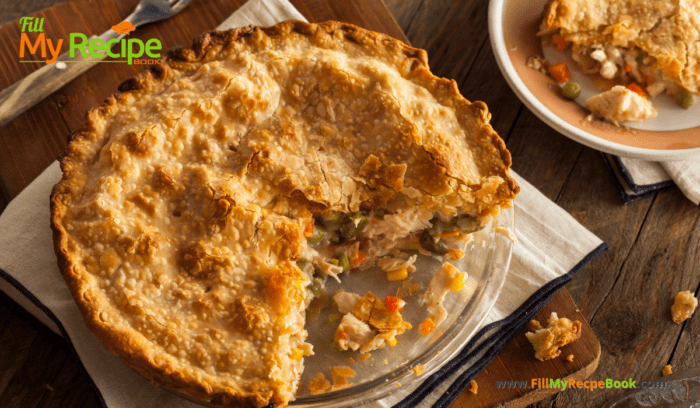 Recommendations
(click the highlighted heading for the recipes)
More chicken oven baked casserole dish recipe ideas you will love to bake. —-> Creamy Chicken & Broccoli Pasta Casserole and Chicken Mushroom Bake and Baked Parmesan Chicken with Garlic & Mayo and Chicken and Noodle Potjie Recipe and One Pot Pasta with Chicken & Mushrooms and Sunday Roasted Chicken and Potato's and Sunday Roasted Chicken and Potato's  and Apple & Cranberry Stuffed Chicken Breast.
Make this Chicken A La King and Rice as a meal with left over chicken. As well as this Quick Vetkoek Curry Chicken Filling. and Creamy Chicken & Broccoli Pasta Casserole and How to Make a Chicken Tortilla Wrap and Chicken A La King & Rice and Healthy Asian Chicken Wrap and A Filling Homemade Chicken Salad
Recipe made with pastry to die for. —-> Mini Puff Pastry Sausage Rolls and Homemade Tasty Croissant Recipe and A Tangy Asparagus Tart Recipe and Easy Apple Puff Pastry Tarts and Puff Pastry Apple Turnovers
Diabetic friendly recipe ideas to create —-> 15 Satisfying Diabetic Recipes
Use left overs at Christmas time to make these recipe ideas —-> 25 Quick Christmas Leftovers Ideas
Get more chicken oven baked recipes here. —–> 14 Easy Chicken Meal Baked Recipes
There are some left over food ideas to obtain —–> 15 Easy Holiday Leftovers Meal Recipes
Other recipe ideas to use puff pastry for. —->10 Puff Pastry Veggie Tart Recipes
as well as these —–> 11 Savory Puff Pastry Snack Recipes
Get these recipe ideas —–> 16 Leftovers Dishes Recipes Ideas and 22 Leftovers Ideas for Monday Meals
You will also love these —–> 14 Easy Pot Pie Recipes
You will also love to bake these —–> 8 Easy Puff Pastry Recipes
as well as these recipe ideas to create —-> 22 Garlic and Mushroom Filled Recipes
Get some recipe ideas for pies —–> 12 Homemade Meat Pies Recipes
Some of the Traditional Australian recipe ideas —–> 17 Enticing Australian Recipes
Some side dishes to use with this quick and easy creamy pie. —> Warm side dishes for meats and Warm side dishes for meats
Purchase these attractive but useful casserole dishes to bake with.
Get these beautiful Casserole Dishes & Table Mats to bake your healthy homemade casserole dishes in, many ceramic and stoneware dishes.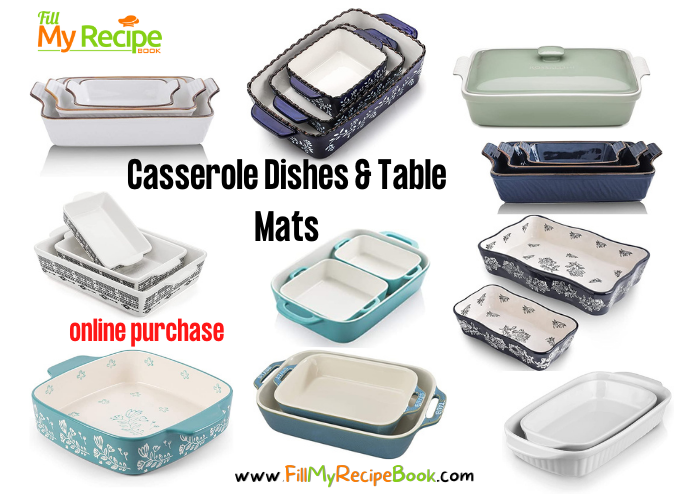 Print
Creamy Chicken and Veggie Pie
Creamy Chicken and Veggie Pie recipe. Easy hot puff pastry pie with left overs bakes the best homemade meal, loaded with cream mushroom sauce.
Author:
Prep Time:

10 min

Cook Time:

25 min

Total Time:

35 min

Category:

Meals supper or lunch

Method:

Oven Baking

Cuisine:

South african
Ingredients
For a normal Pie size dish.
1

x Pastry (bought puff pastry rolls) or make some pastry.

1 cup

Cooked chicken white meat. shredded (the amount depends on the size of the pie made)

1/2 cup

of mixed veggies, (small pieces)

1/4 cup

of potato, chopped small.
Mushroom soup powder

1/2 cup

of Mushrooms

1

small red onion 

1 tsp

Garlic flakes or cloves. (if you use left over food that hasn't had spices in, or if you like me prefer more garlic. no harm)
I egg 
( More salt and pepper is not used as the left overs had these when cooked. Also the soup is very salty. If you are not making this pie from left overs then spice chicken, but remembering that soup is very salty)
Instructions
Set oven at 180 Deg. C
Grease the pie dish.
Pastry should not be frozen. roll out and place a sheet in the bottom of pie dish .
Mix the shredded chicken and veggies and garlic and mushroom and onion in a sauce pan. 
Heat them up and mix the mushroom soup in a cup of water and add to the pan.(cream can be used if need a richer taste)
Stirring while it thickens. leave to stand for a few minutes. (taste test if any other spices are needed)
Fill you pie base dish with the ingredients, carefully not messing the top side of the pastry. (otherwise it does not stick to the top pastry)
Then cover the pie with another layer of pastry over the pie dish.
Cut off the pieces not needed and crimp with your fingers around the dish. To seal the two pastry layers together.
Whisk an egg to baste the top of the pastry, so it will cook golden brown in the oven. (you can decorate your pie pastry as you wish)
Place the chicken pie in the oven and bake until golden brown. For 25 – 30 minutes.
Serve warm with side dishes.
PS: you can keep the left over pie in the refrigerator for a day or two covered. Warm up in a microwave oven or just reheat in the oven covered.
Notes
If you prefer something richer then use some cream to mix with the soup mix instead of water.
You don't have mushroom soup then use some mazena or flour/corn flour and cream/water for thickening the  sauce for the chicken and veggies pie.
Keywords: creamy chicken and veggie pie. with left overs
More Oven Baking Recipes for you to choose from. (use the left over chicken from these recipes below)
Also download these printables for your kitchen for free.