Chicken and Noodle Potjie Recipe. The Best South African creamy chicken noodle mushroom and peppers, dry white wine, on fire and coals potjie.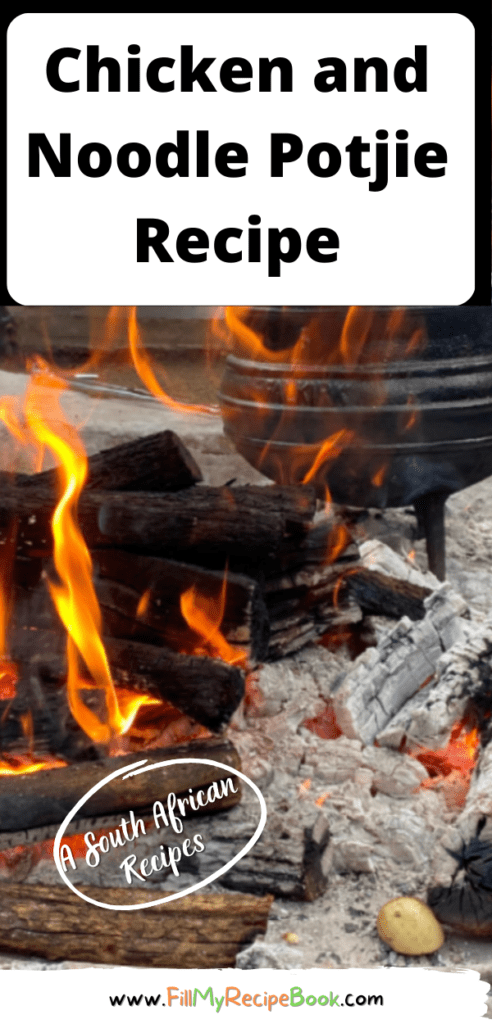 Chicken and Noodle Potjie Recipe
Nothing better to sit around the fire with coals and chat with family and friends while your supper cooks slowly. This chicken noodle potjie made with dry white wine and some noodles with cheese finely sprinkled over the top once cooked. Any pasta of your choice will be fine.
The secret to a potjie is to have a good few coals that are ready to replace the ones that are finishing under the potjie. You need to keep the pot on a simmer, as it cooks for and hour and half about. Therefore you have to watch the coals and leave the pots lid on to steam cook over the coals.
The image below shows the coals under the potjie and some new wood burning to coals. That what you have to do. Replacing the coals to just keep the pot on simmer.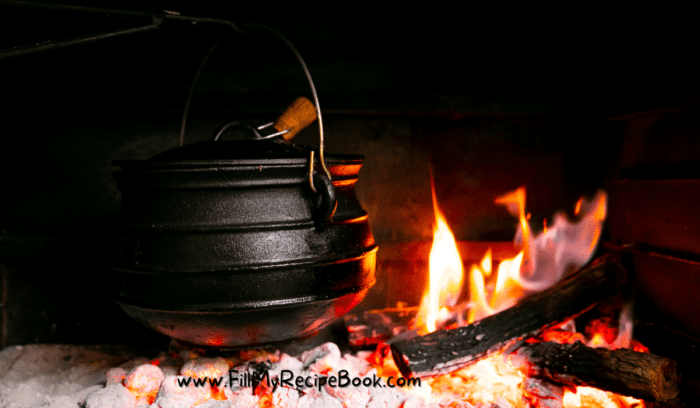 Should a potjie boil?
You should only hear a slight bubble like it is simmering. You should never hear it rapidly bubbling or even bubbling, as the potjie kos, pot is prepared to cook slowly and over a moderate heat, then you should adjust the coals to simmer. IE: take some coals away from under the pot.
What the rings on the potjie means?
The number of rings on your potjie pot multiplied by the size of the pot equals the number of servings it can make. For example the size 3 pot has 4 rings on the side, which means that it can hold up to 12 servings of your favorite potjie pot or potjie kos food.
How do you prepare a potjie for the first time?
wash out with hot soapy water and steel wool, dry thoroughly.
coat the inside of the cast iron pot with any type of cooking oil and heat until oil begins to smoke.
allow to cool.
wipe out with a paper towel.
repeat until the paper towel comes out clean.
Ingredients.
The images below show you a few of the ingredients needed for this tasty chicken potjie pot.
chicken
tomato and bell peppers
onions and mushrooms
salt pepper and olive oil
grated cheese
broken pieces of pasta
dry white wine
(follow the attached recipe for the exact ingredients and measurements)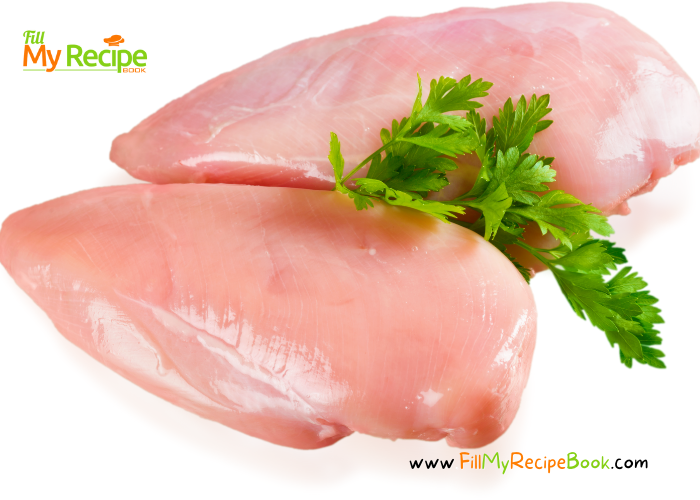 Chicken breasts or other pieces.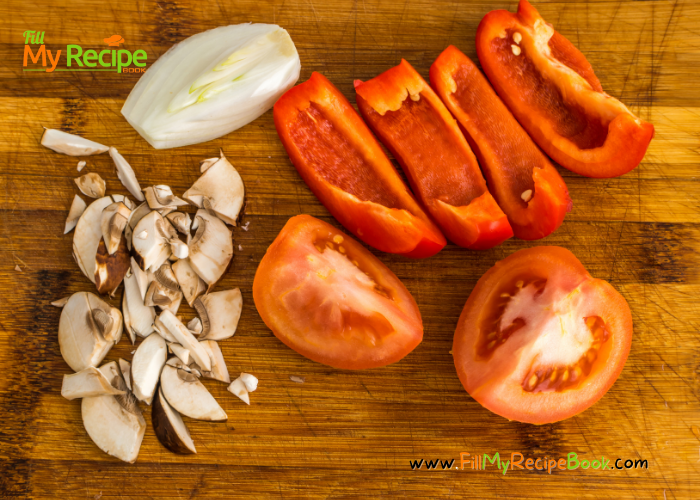 Tomato and bell peppers.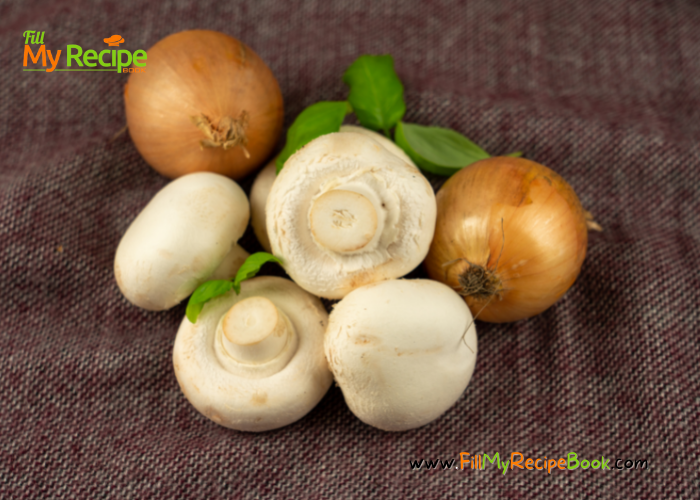 Onion and mushrooms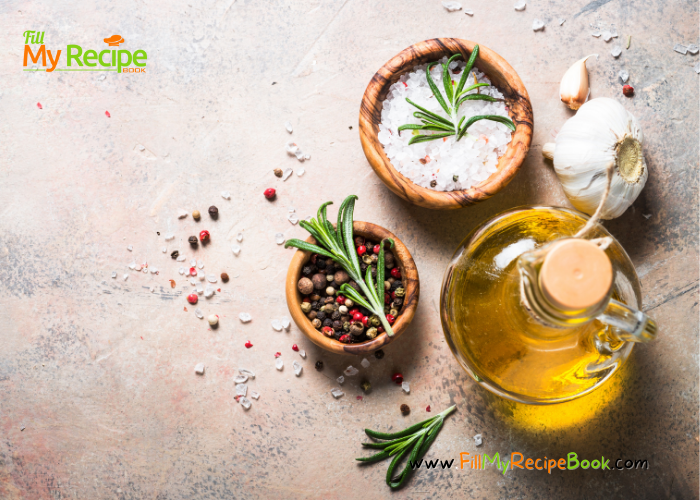 Salt and pepper and olive oil.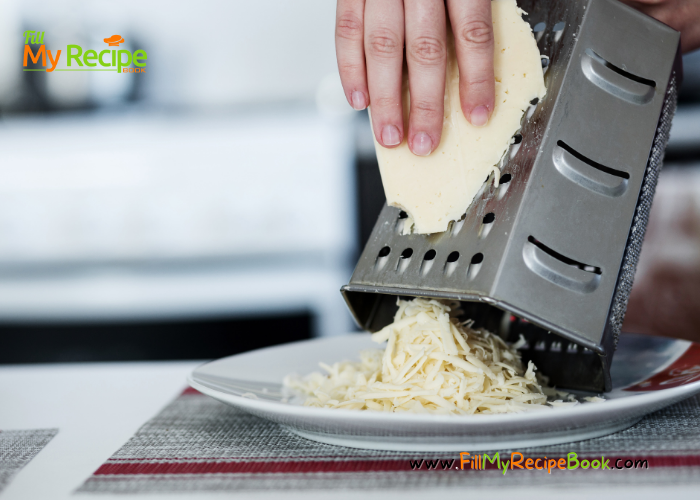 Grated cheese.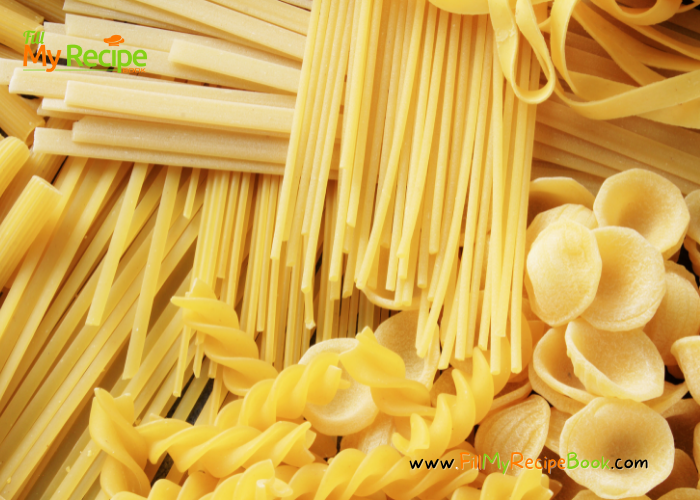 Any broken pieces of pasta or noodle, or small pasta shells.
Dry white wine for the creamy slow cooked potjie over coals for a family dinner or lunch meal.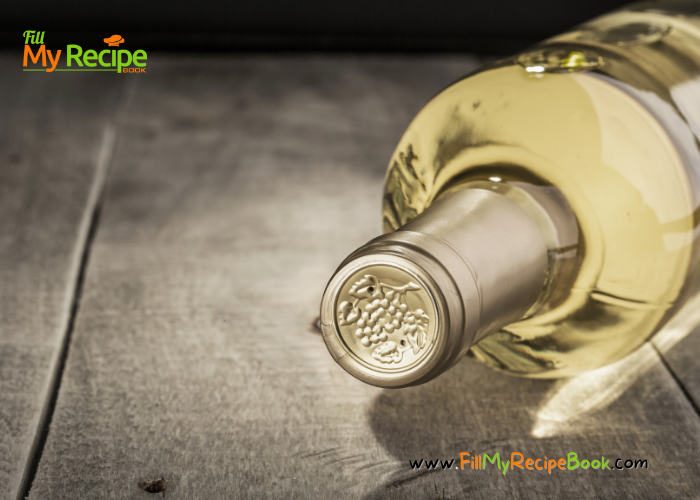 How To.
Please follow the recipe attached for the method of how to properly slow cook this potjie, step by step.
Simmering the chicken and noodle and vegetables with herb and spices slowly will make this amazing potjie just so delicious.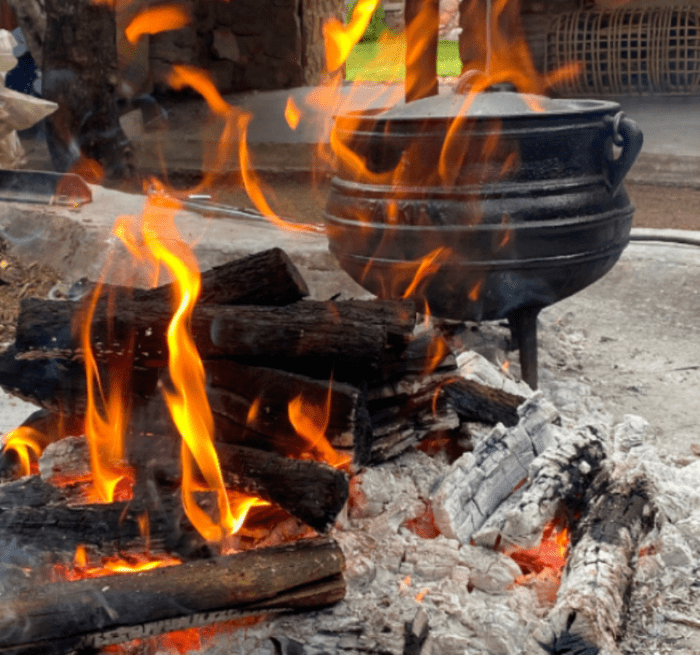 What is the difference between a potjie and a stew?
This "potjiekos" is a South African recipe that is traditionally Afrikaner. The difference is this food is cooked in a cast iron pot, that had three little legs to keep it over the coals of a medium heat. The food is layered in the potjie and is never stirred and is cooked slowly with the lid on. For a certain amount of time.
Why don't you stir a potjie.
The food closer to the bottom of the pot is closer to the heat, and should take longer to cook. You never stir a potjie as it allows the flavor to stew with the lid on as well. The idea is to layer the ingredients in strategically. (longer cooking time ones first) You normally place the coals outside of the legs and leave the heat to do its magic to cook the potjie pot.
Download or print or save it. But if you prefer to write out the recipe then download this FREE General Recipe Page to write it on. There are also other printables to help in the kitchen with ingredients and oven temperatures. Household budget and meal planning as well as monthly and weekly planners and not forgetting the important part of shopping list. FREE
Recommendations.
(click on the highlighted heading for the recipe)
More chicken oven baked casserole dish recipe ideas you will love to bake. —-> Creamy Chicken & Broccoli Pasta Casserole and Chicken Mushroom Bake and Baked Parmesan Chicken with Garlic & Mayo and One Pot Pasta with Chicken & Mushrooms and Creamy Chicken in Dijon Mustard Sauce and Sunday Roasted Chicken and Potato's and Apple & Cranberry Stuffed Chicken Breast and Creamy Chicken and Veggie Pie
A few Mothers Day recipe Ideas to create —-> 21 Mother's Day Braai Ideas
Get these amazing recipe ideas for —-> A Braai or BBQ for Fathers Day
Love potjie pot recipes then view more —–> Original SA Potjie Pot Recipes and Creamy Seafood and Wine Potjie Recipe and Curry and Yellow Rice Potjie and Easy Biltong Pasta Potjie Recipe and Tasty Oxtail Potjie Recipe and Filling Lamb Shank Potjie and Loaded Breakfast Potjie Pot
Other great noodle recipes to create —–> 15 Easy Noodle Recipes
Get these camping recipe ideas —-> 11 Yummy Camping Recipes
Look no further for these pasta recipe ideas —–> 22 Easy Pasta Recipes
Some great family recipe ideas —– 24 Easy Family Favourite Recipes
Purchase these online potjie accessories.
Cast iron Potjie Pots and Accessories
When using cast iron potjie pots and accessories get the equipment them. Cleaning as well as preserving the cast iron pots and pans.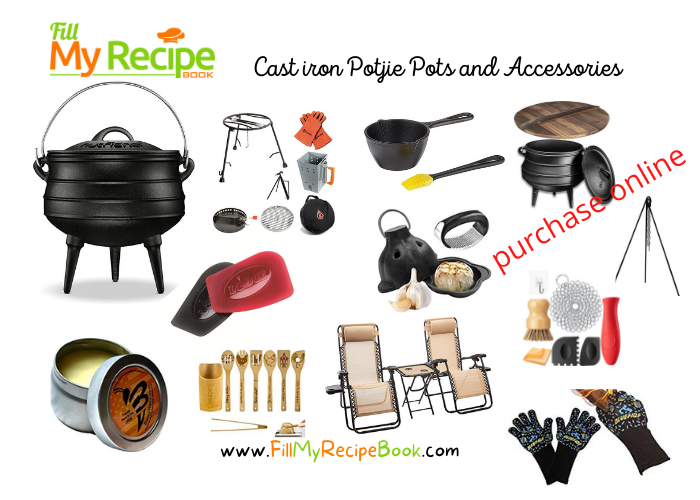 This post may contain affiliate links, where we earn from qualifying purchases. See more details in the policy page. Does not effect your purchase cost.
Print
Chicken and Noodle Potjie Recipe
Chicken and Noodle Potjie Recipe. Make a fire and collect coals for this chicken noodle mushroom and peppers potjie pot with dry white wine.
Author:
Prep Time:

15 min

Cook Time:

1 hr 20 min

Total Time:

1 hr 35 min.

Yield:

4

Category:

Meals supper or lunch, Braai

Method:

open fire

Cuisine:

South african
Ingredients
8

Chicken Breasts

30

ml olive oil
Salt and Pepper

4

cloves of garlic cut and chopped

2

celery sticks chopped

2

tomatoes sliced

1

green bell pepper cut length wise

250 g

whole button mushrooms

250

ml spring onions chopped

15

ml of chopped parsley

2 teaspoons

mixed herbs

500 g

uncooked pasta shells (or noodles)

1 teaspoon

of whole black pepper

1/2 teaspoon

of dried rosemary

200

ml dry white wine

250 g

grated cheese
 
Instructions
On the fire made leave the wood or charcoals to go to hot coals.
Place the oil in the potjie pot and salt and pepper the chicken pieces. Place the chicken pieces in the pot and leave to cook. until golden brown.
Layer the vegetables as per order in the ingredients listed. Sprinkling the salt and pepper and herbs over the vegetables.
Add the pasta shells and sprinkle the peppers and rosemary over them, before you pour the wine over the shells and the rest of the ingredients.
Cover the pot with a lid and allow to simmer on medium coals for at least an hour.
Once that is cooked sprinkle the cheese over and leave to simmer for another 20 minutes.
Open and dish up for meal time. Serves 4
Notes
When making or cooking a potjie pot. It must only simmer on coals, and not flames. You will keep a stack of coals simmering to continue supplying the pot that is simmering once the other coals die out. Keep and eye on the coals and not the potjie. leave covered.
Keywords: Chicken and Noodle Potjie Recipe