Creamy Chicken & Broccoli Pasta Casserole dish with sauté mushroom and bacon. Mixed and baked with cheddar cheese and herbs and spices.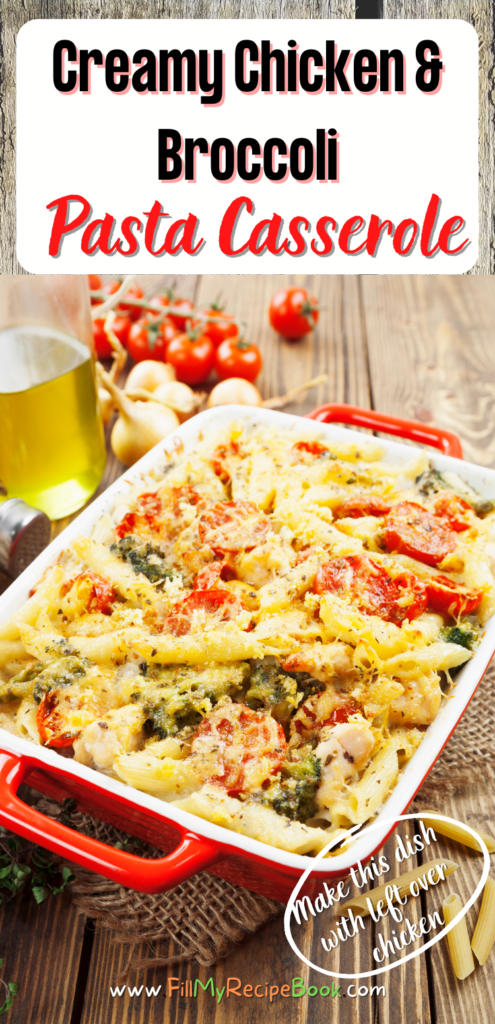 Creamy Chicken & Broccoli Pasta Casserole
A delicious meal to bake for a lunch or supper. Use left over chicken or whole barbecued chicken shredded for this dish. Spice the dish up with garlic and bacon and some veggies such as broccoli. A creamy cheddar cheese sauce and penne pasta all tossed together and baked with cheese topping. Sprinkling some parsley herbs on top, baking until golden brown. Serving for a family meal of 4 with a salad of choice. Freezers well for a make ahead meal.
Ingredients.
Images of some of the main ingredients needed to bake this delicious casserole meal. Obtain the other few ingredients needed for this recipe in the below recipe attached.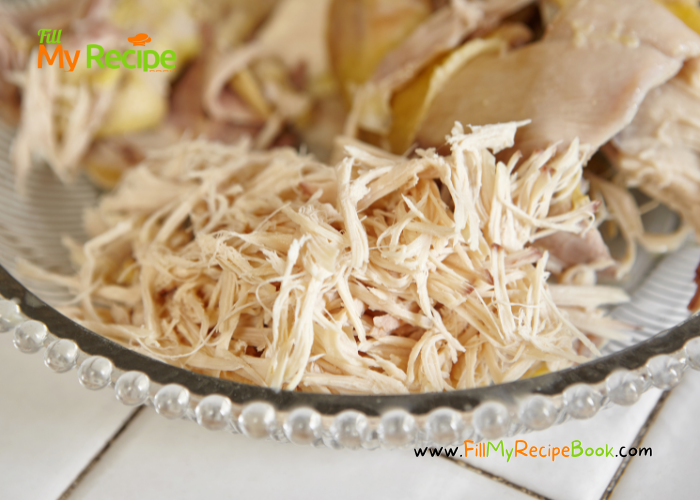 Cooked shredded chicken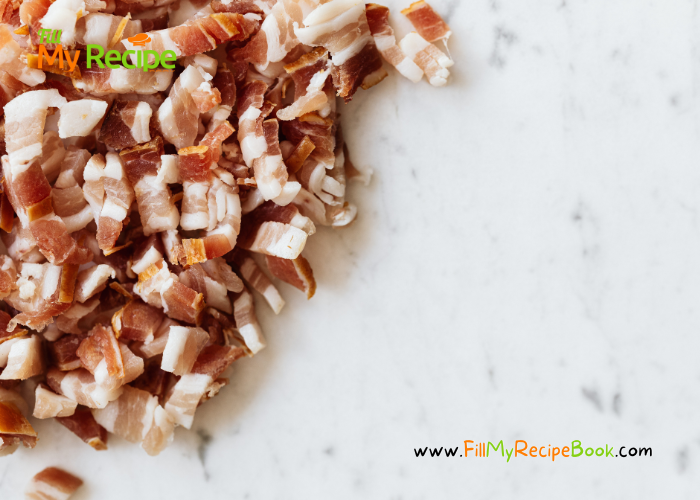 Bacon cut into bits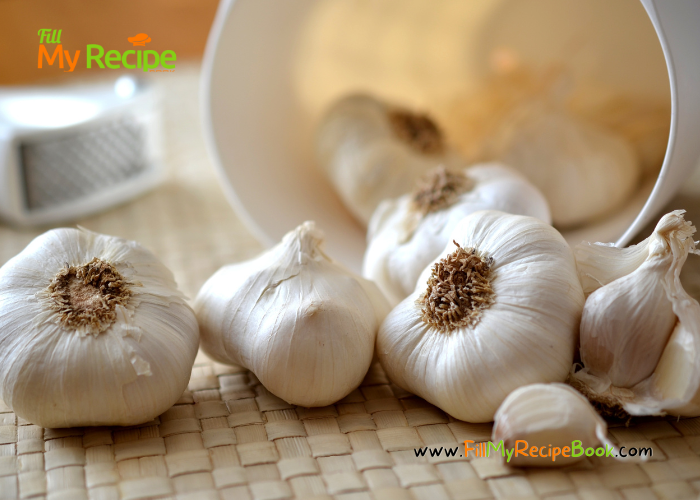 Clove of garlic finely cut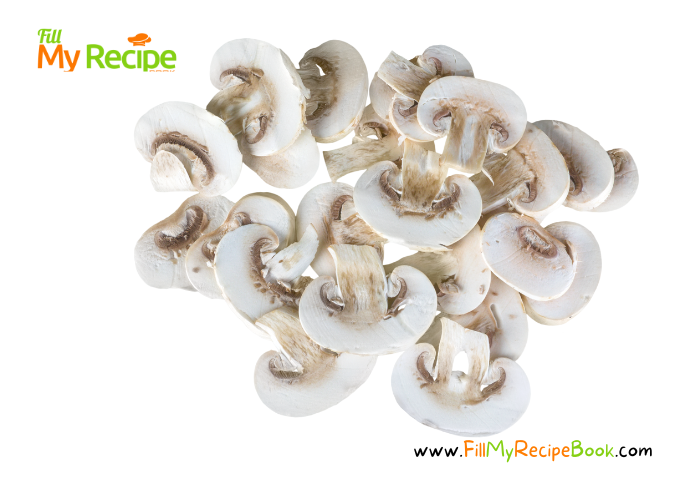 Button mushrooms cut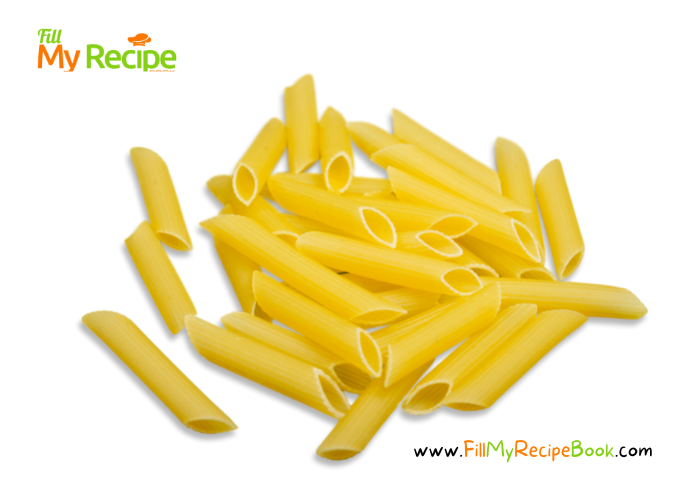 Penne pasta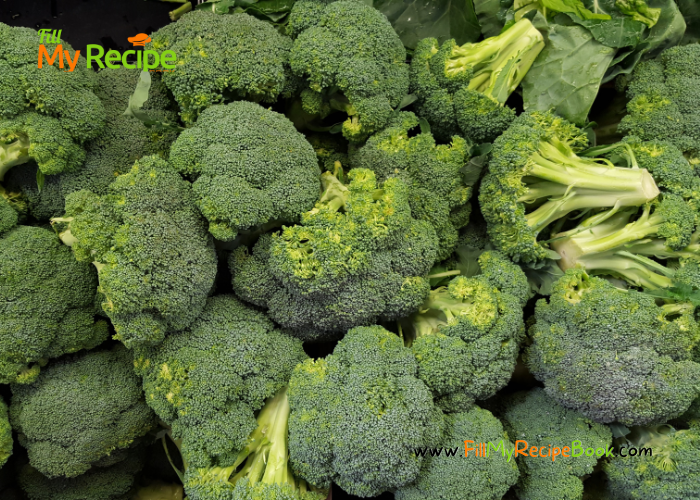 small broccoli florets
Then there is also the cherry tomato´s for color and the cheddar cheese with milk and cream and herbs and spices.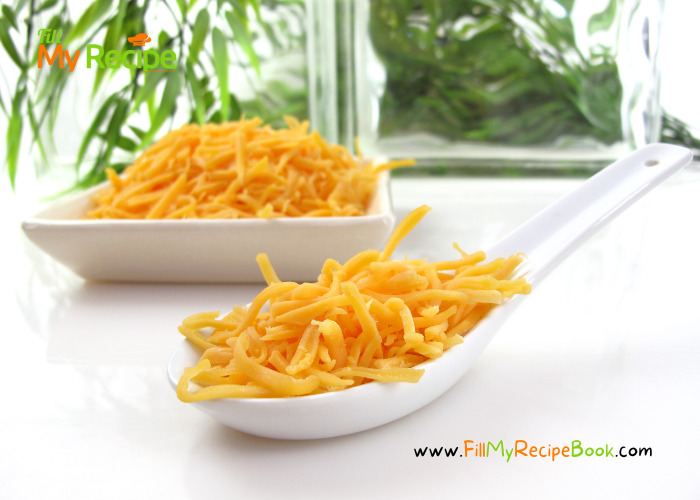 How To
Sauté the mushrooms, bacon and broccoli and garlic. Boiling the pasta. Then adding the milk cream mixture with flour or cornflower and some of the cheese, to thicken the sauce, in the pan. Finely adding all the cooked ingredients into a greased baking dish and mixing together all three ingredients. (pasta chicken and sauce) topping with cheese and herbs. Baking at 175 Deg. C until brown and baked.
(view direct instructions from the recipe below)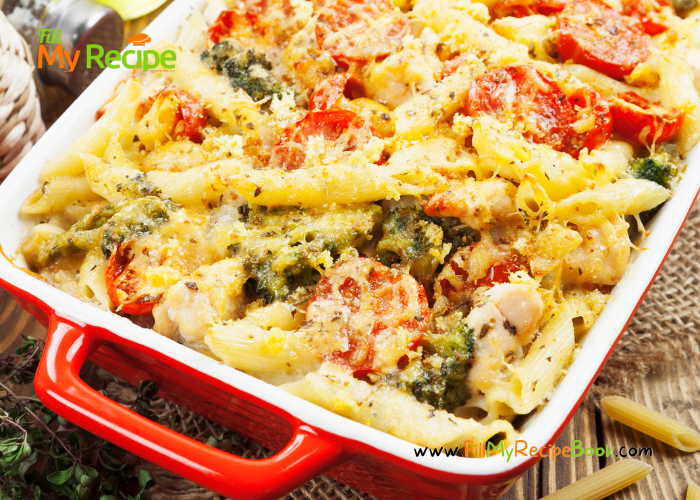 Makes a delicious meal for lunch or dinner or supper. All in one dish, with vegetables. This creamy chicken pasta casserole is a great dish to make ahead and freeze for meals.
Can Chicken pasta Bake be frozen?
You can freeze individual portions up to 3 months. To reheat, defrost in the microwave for 6-7 minutes or reheat in a 350 F oven for 20-30 minutes.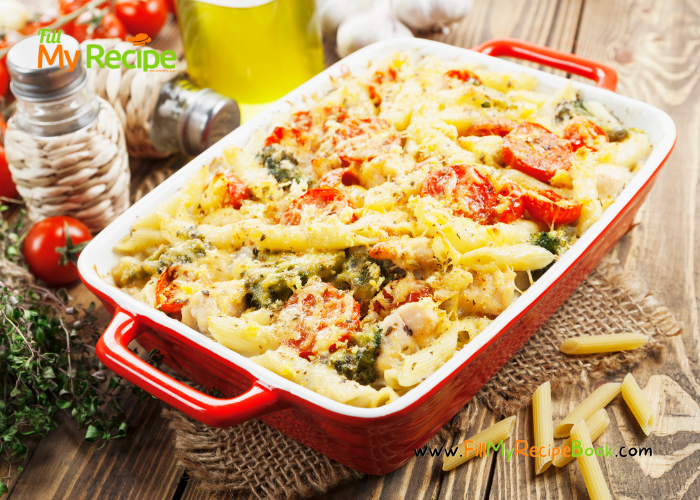 An Idea of what to serve with pasta casserole is.
(click the highlighted idea for the recipe)
Eating with out these sides is fine as there is vegetables in this casserole.
Some recipe ideas for bacon filling —–> 17 Easy Bacon Filled Recipes
Some recipe ideas for meals with veg. —–> 24 Meals with Veggies Recipes Ideas
Great family meal ideas —–> 24 Easy Family Meal Recipes as well as these delicious —-> 14 Easy Chicken Meal Baked Recipes
as well as these recipe ideas to create —-> 22 Garlic and Mushroom Filled Recipes
Supper or lunch casserole ideas —-> 22 Family Casserole Dishes as well as these —-> 23 Easy Casserole Recipes
Get some cheese recipe ideas —–> 26 Heavenly Cheese Recipes
Look no further for these pasta recipe ideas —–> 22 Easy Pasta Recipes
Print
Creamy Chicken & Broccoli Pasta Casserole
Creamy Chicken & Broccoli Pasta Casserole dish with sauté mushroom and bacon. Mixed and baked with cheddar cheese and herbs and spices.
Author:
Prep Time:

15 min

Cook Time:

40 min

Total Time:

55 min

Yield:

4

Category:

Meal Casseroles

Method:

oven baked
Ingredients
8 oz (260 g) Penna pasta (or use spaghetti or Togliatti pasta )
3 Tablespoons of butter (or olive oil)
4 oz (110 g )of mushrooms cut into slices. (button mushrooms)
1 clove of garlic minced finely.
100 g Bacon cut into bits
2 Tablespoons of flour ( cornstarch or mazena)
1 cup of milk
1/2 cup of cream
3 cups of grated cheddar cheese
2 cups of shredded cooked chicken (or cook chicken and shred it)
1 cup of broccoli sauté for 3 minutes (cut into small florets)
1/2 cup of cut cherry tomatoes.
Parsley dried
Salt and pepper
Instructions
Preheat oven to 175 Deg . C (350 Deg. F)
Clean and cut or chop ingredients needed. Shred the cooked or left over chicken.
In a medium pot add the water and salt and bring to boil the pasta. Boil for 8 – 12 minutes. Drain in a colander. (at least 2 minutes less than the normal boiling period as you will still bake this pasta)
In a medium sauce pan add butter or olive oil and fry the bacon bits and mushrooms with the broccoli for about 3 minutes tossing to cook all sides. Adding the garlic just before done. In a bowl mix the flour and milk and cream then add into the sauté ingredients in the pan and bring to simmer, stirring in well. Add only 2 cups of the cheddar cheese into this mixture and melt it. The mixture should be all smooth.
Grease a casserole dish and fill the dish with the pasta and shredded chicken and cream of mushroom and bacon sauce, with broccoli and add the cut cherry tomato. Mix all together well. Sprinkle the 1 cup of cheddar cheese on top of the casserole mixture and sprinkle some parsley over the cheese.
Bake for 30 – 40 minutes at 175 Deg. C until golden brown and cooked. (should bubble or if you have a clear Pyrex bowl you will see on the side that the liquid has thickened)
Serve with a salad for a tasty meal.
Notes
Use spaghetti or any other pasta of choice.
Also change up the vegetables or use any left over ingredients.
Keywords: Creamy Chicken & Broccoli Pasta Casserole dish