Mini Pink Meringue Kisses. Pastel colored meringues made with organic dried strawberry or raspberries are a great gift for any occasion.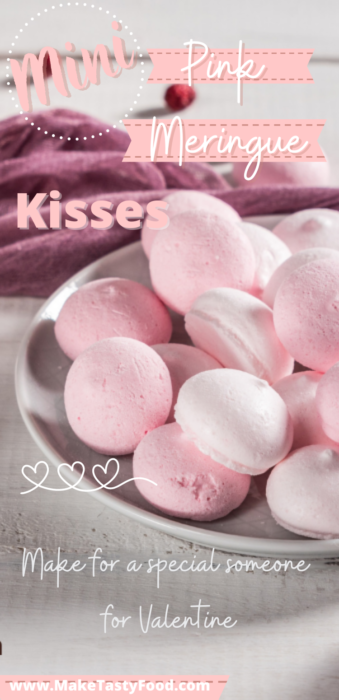 With special occasions coming up all through the year, one can make these easy Mini Pink Meringue Kisses. Made with organic coloring like freeze dried strawberries, or raspberries powders. Suppose some other pastel color to make these meringues could be made from freeze dried powder of blueberries. Any other fruits you can think of or have available for the time of season and have freeze dried.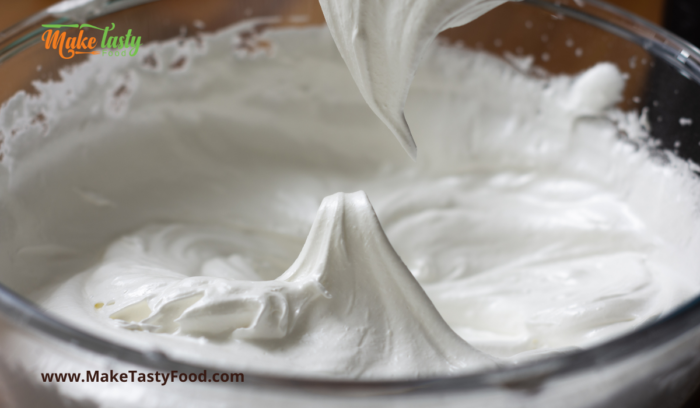 Whip the egg whites, that were at room temperature, until fluffy and stiff (as above photo) before adding the sugar and powdered mixture. The sugar gets added slowly one tablespoon at a time. Until all is fluffy and stiff and forms peaks.
Filling a piping bag with the whipped egg whites, for the making of your meringue. Make round meringues or if you are more talented some rose like meringues.
These are wonderful gifts for a special person, all wrapped in a pretty paper or given in some usable jars.
Mini pink meringue kisses, below.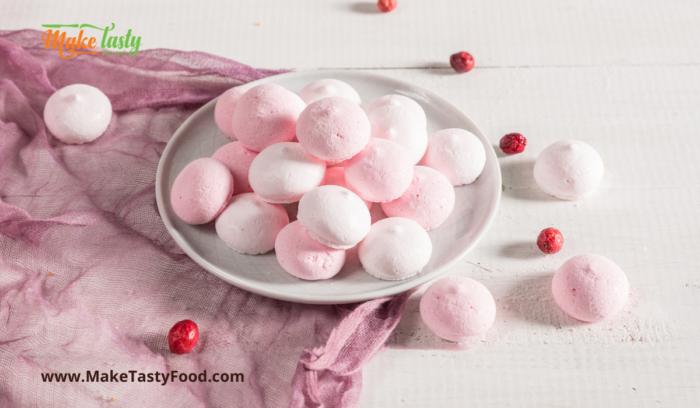 Pretty mini pink meringues are just my favorite for family gathering.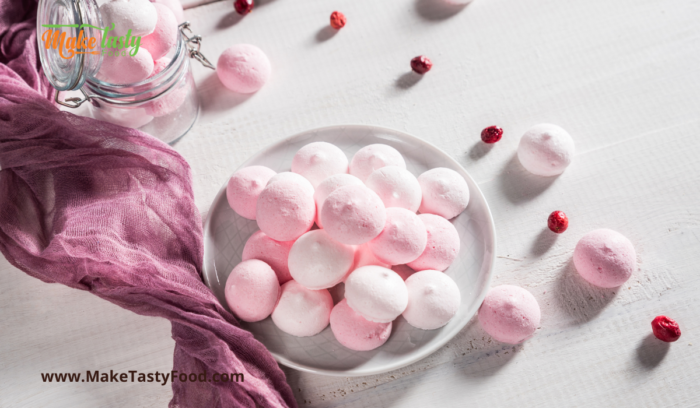 Kids would love them to, as they are not made with food coloring and will not be unhealthy for your children.
What a wonderful way to color eats. Natural flavoring and very easy to make.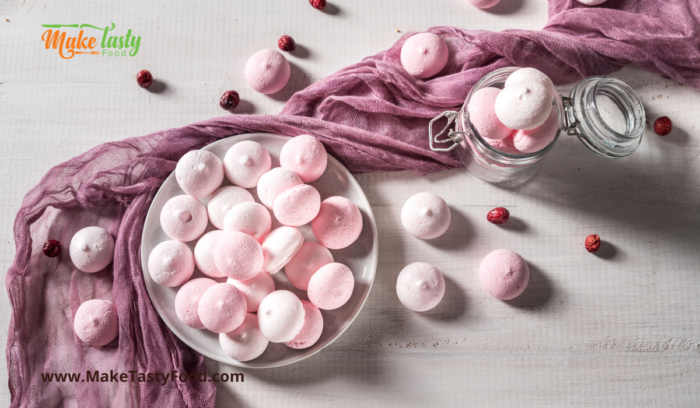 Serve some of these pink meringues with tea with your guests and display them attractively.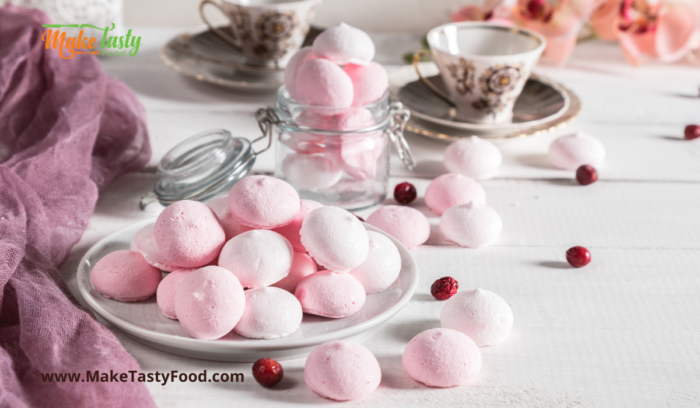 The easy mini pink meringues kisses recipe below.
Print
Mini Pink Meringue Kisses
Mini Pink Meringue Kisses. Pastel colors made with organic dried strawberry or raspberries. Pink mini meringues for a valentine or special day.
Prep Time:

30 min

Cook Time:

45 min

Total Time:

75 min

Yield:

3 dozen

Category:

Desserts
Ingredients
2 Large eggs (egg whites only at room temperature)
1/8 Cup of freeze dried strawberries or raspberries.
3/8 Cup of castor sugar (granulated white sugar)
Pinch of salt
1/4 tsp of cream of tartar (to keep the meringue in shape)
1/2 tsp of vanilla essence
Instructions
Preheat the oven to 225 Deg. F (117 Deg.C)
Line two baking sheets with non stick paper.
The only time you will use eggs out of the fridge is when you need to separate them from the whites. Then leave the egg whites to get to room temperature. Before whisking them. (they are easier to separate this way)
Take your freeze dried strawberries ( or Raspberries) and place in a blender until they are a fine powder. then measure and add to your sugar and set aside.
Obtain your clean and dry mixer bowl, and add your room temperature egg whites and cream of tartar and salt. Blend the egg whites on medium until the mixture becomes frothy then place the mixer on high and blend until it becomes firm, and doubles its size.
Add one tablespoon at a time to this mixture while still blending at a high speed until smooth. (adding the sugar slowly will not allow the whisked egg whites to become soft) Continue whisking until soft peaks form.
Add the vanilla and beat until combined.
Transfer the meringue mixture to a piping bag with a star point.
Pipe the meringue mixture onto the greased wax paper on the baking trays.
Holding the bag upright pipe a tight swirl starting in the middle then outward and around.
Pull the piping bag away on top to create a little spike.
Bake in oven for 45 minutes. 
Do not open the oven door when baking. Once they have finished baking leave the oven door closed and switch of the stove. Allow the meringues to stay in the closed oven for up to an Hour. Before moving from the baking sheet pan. 
After baking decorate the meringues as you please or leave as is and serve on some decorated plate.
Notes
Very important to add sugar slowly to not allow the meringue to deflate while whisking.
Also when baking not to open the oven, this applies once its baked as well and leave in the oven for up to an hour once done.
Keywords: meringues mini meringue mini pink meringues for valentine
get more recipes for meringues here below.
Best Mini Pavlova and Meringues Recipes
If you loved these pretty mini pink meringue kisses, then you would enjoy these.
More Oven Baking Recipes to choose from.
Download and print these FREE Printables for help in your kitchen.