Mini Chocolate and Hazel Nut Pavlova. This is a creamy chocolate and hazelnut paste filled mini pavlova for dessert or tea time.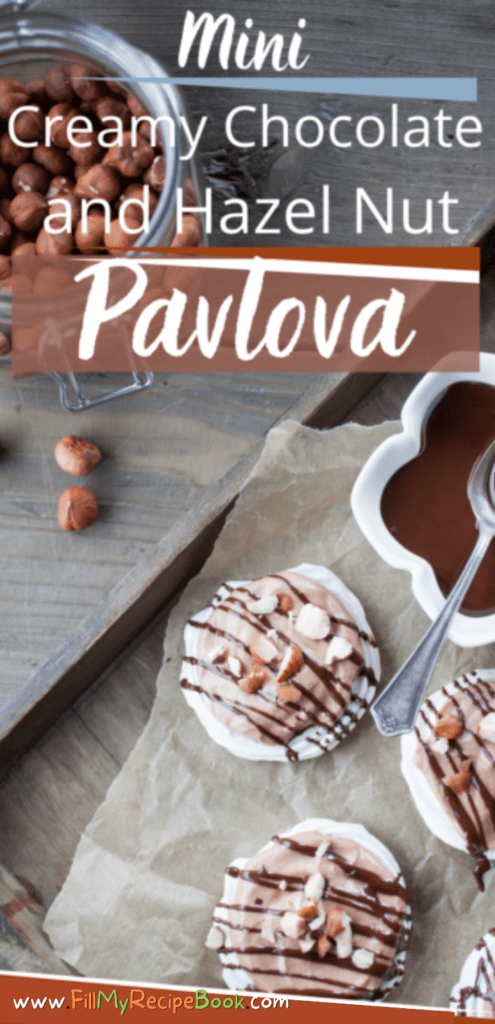 Chocolate and hazel nut pavlova.
A wonderful tasty dessert to make and have for special occasions or just someone special for tea time.
Not that hard to make these pavlova's but it does take some time. Especially these that are filled with a cream that needs to be kept in a fridge after been whipped the day before. As well as baking the pavlova baskets that need to cool down naturally in oven and maybe left overnight. This method is to prevent them from cracking. Although any bake goodies will always be edible and called pudding.
So if you willing to make these perfect for an occasion then start the day before or afternoon before.
Ingredients
Eggs (whites only)
Castor or fine sugar
Cream of tartar
Dark Chocolate.
Hazel nuts
Full cream
View the recipe attached for the ingredient amounts.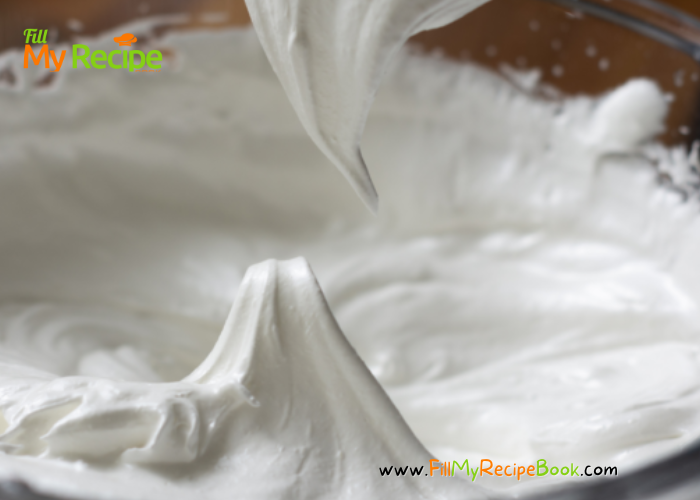 The whisked egg whites for piping the pavlova bowls or baskets.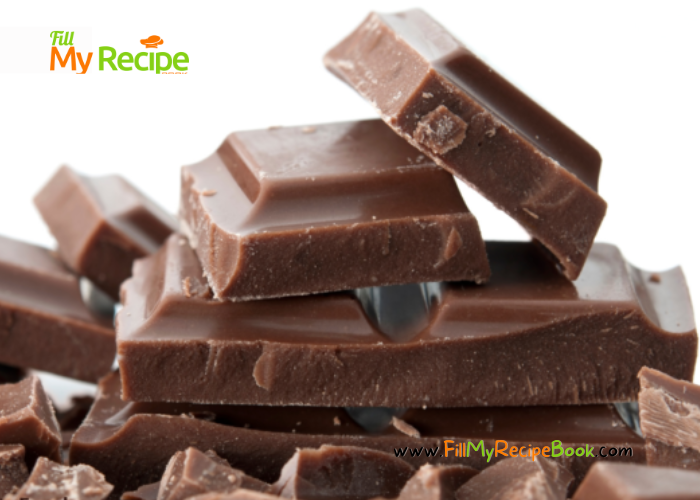 Dark chocolate chopped and crushed for melting in the warm cream for the topping of the pavlova.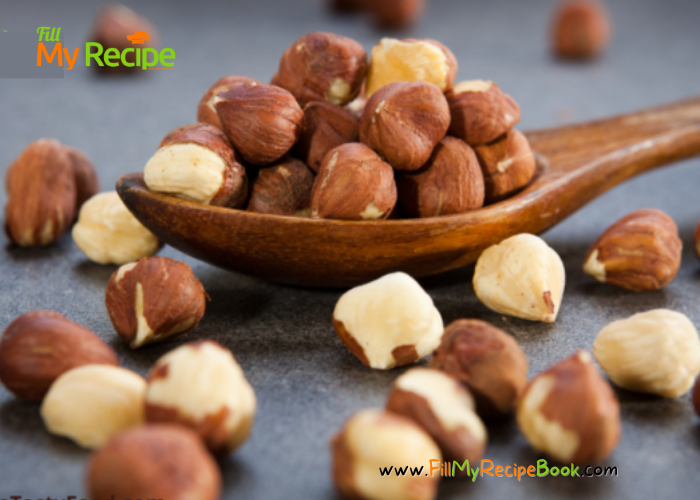 How To.
Whisk the egg whites and follow the directions in the recipe attached.
Hazel nuts for decoration and topping of the mini creamy chocolate and hazel nut pavlova.
Although the cream from the day before that was left in the fridge gets whisked with hazel nut paste to fill the pavlova baskets up with.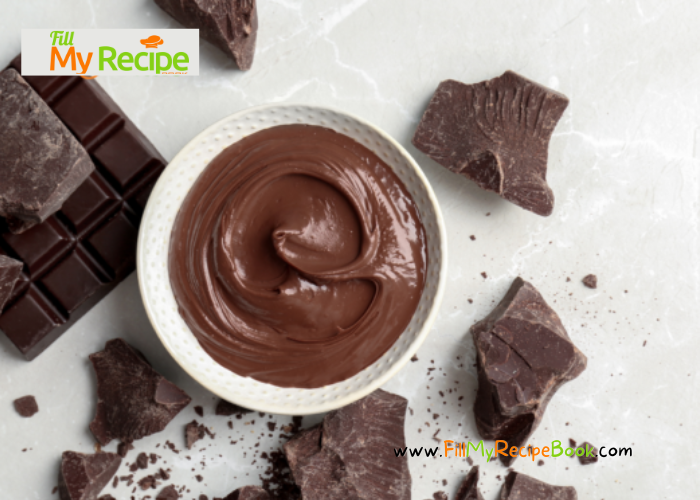 The mixture above of the crushed chocolate melted and mixed with the cream. Piped on top of the creamy hazel nut paste.
Below are the completed pavlova with hazel nut and melted chocolate drizzled over them.
Finished pavlova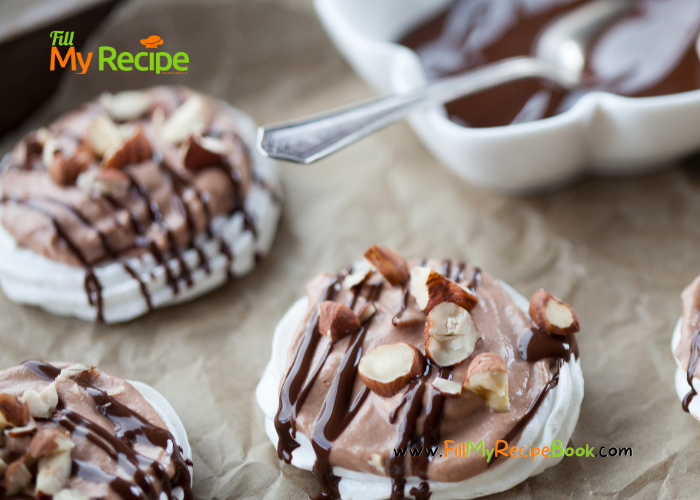 An amazing tasty mini pavlova for an occasion or just some tea with special family.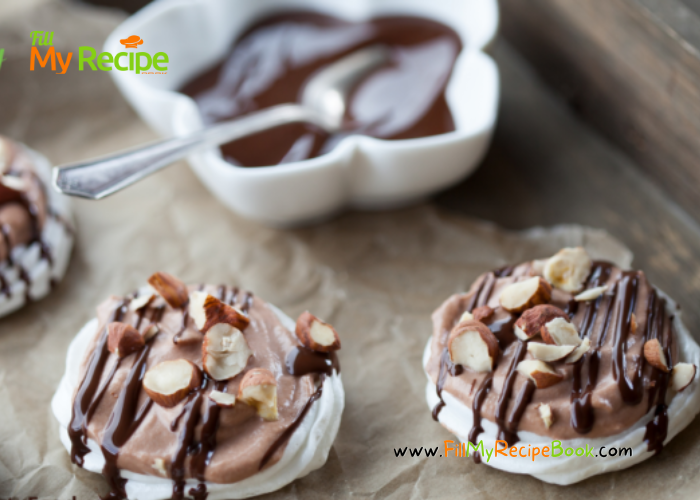 Some hazel nuts to taste with these chocolate filled creamy hazel nut pavlova.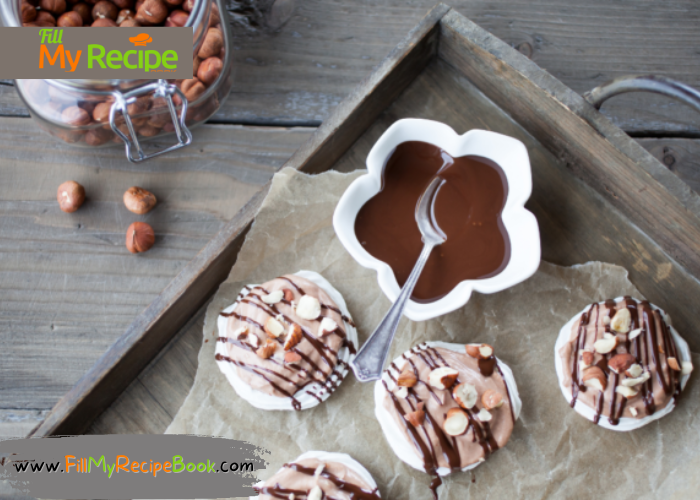 A tasty creamy hazel nut filling in the meringue made pavlova baskets, then filled or piped with creamy dark chocolate topping. Topped with crushed hazel nut and drizzled with some dark melted chocolate. Served with warm drinks or cold, depending on the occasion. It will be worth the waite and time taken to make these scrumptious pavlova's. Enjoy
Recommendations.
(click the highlighted heading for the recipe)
There are these pavlova cake recipe to create —–> 12 Easy Pavlova Cake Recipes and Create some more amazing mini pavlova —–> 16 Mini Pavlova Desserts Recipes
More recipe ideas for puddings —-> 16 Chocolate pudding Recipe
Some of the Traditional Australian recipe ideas —–> 17 Enticing Australian Recipes
Get these recipe ideas to create for valentines —-> Easy Valentines Treats to Choose.
Print
Mini Chocolate and Hazel Nut Pavlova
Mini Chocolate and Hazel Nut Pavlova. This is a creamy chocolate and hazelnut paste filled mini pavlova for dessert or tea time.
Author:
Prep Time:

25 min

Cook Time:

1hr and 45 min

Total Time:

1 hr 70 min

Yield:

16

Category:

Desserts

Method:

Oven Baking

Cuisine:

New Zealand, Australian
Ingredients
For the Pavlova
4

egg whites (room temperature)

280 g

of castor sugar (fine sugar)

1/2 tsp

of cream of tartar
For the creamy hazelnut paste
1 Tbsp

of Hazel nut paste or butter

500g

full cream Stored in fridge the day before.
For chocolate Ganache
200 g

of dark cooking chocolate (crushed to pieces)

200 g

of full cream
Instructions
Preheat oven to a medium heat. 0f 80 Deg. C to 100 Deg. C (200Deg F)
Line two baking sheets with grease proof paper or non stick sheets.

In a clean dry bowl pour the egg whites, cream of tartar and start whisking them on a low speed until foamy. Once foamy increase the speed to medium, until the beaten egg whites form a stiff peak.

Only then do you add castor sugar one tablespoon at a time whisking between additions until all is combined and you have a stiff glossy mix.

Fill a piping bag with the egg whites and use a star nozzle.

Start by piping a blob and then start on the outside and pipe in one action the pavlova twirls. On the side. Then once more on top for the sides.

Repeat until you have piped your pavlova basket.

Place the pavlova in the oven and bake for 1 hour and 45 min.

Do not open the door, also once they have baked switch of the oven and leave the door closed for at least 1 hour. Or preferably leave over night until cool to prevent them from cracking. Before removing.

Once removed from the oven and well cooled, then you can fill them.

Then to make the chocolate hazel nut cream.
Obtain the 500 g of full cream (that was stored the day before in the fridge)
The one Tbsp of hazel nut paste.
The cream is to be whisked with a mixer until it forms peaks, then you add the paste slowly and whisk until peaks are formed. (do not over whisk)
Dark chocolate Ganache
In a small bowl heat the 200 g cream until almost at boiling and add the crushed crushed dark chocolate. Leave to rest for a minute The stir until all the chocolate is melted completely. Leave it for 40 minutes at room temperature until its firm enough to use as a pastry bag.
Then fill the pavlova's with the cream and hazelnut, firstly and then pipe the chocolate and cream paste on top like icing, or as you would like. Sprinkle some chopped up hazel nuts on top and maybe some cocoa powder over that.
enjoy
Notes
The cream must be in fridge for a day at least. Add the castor sugar slowly until the egg whites are stiff. 
Keywords: mini chocolate and hazelnut pavlova
Get more pavlova and meringue recipes here below.
—–> Best Mini Pavlova and Meringues Recipes
—–> Mini Fine Dinning Desserts
Another wonderful recipe you would love.
More Oven Baking Recipes to choose from.
Download some printables for FREE to help in the kitchen.