Mini Pavlova Strawberries and Cream recipe. A decadent dessert to bake and decorate with cream, strawberries for a tea or special occasion.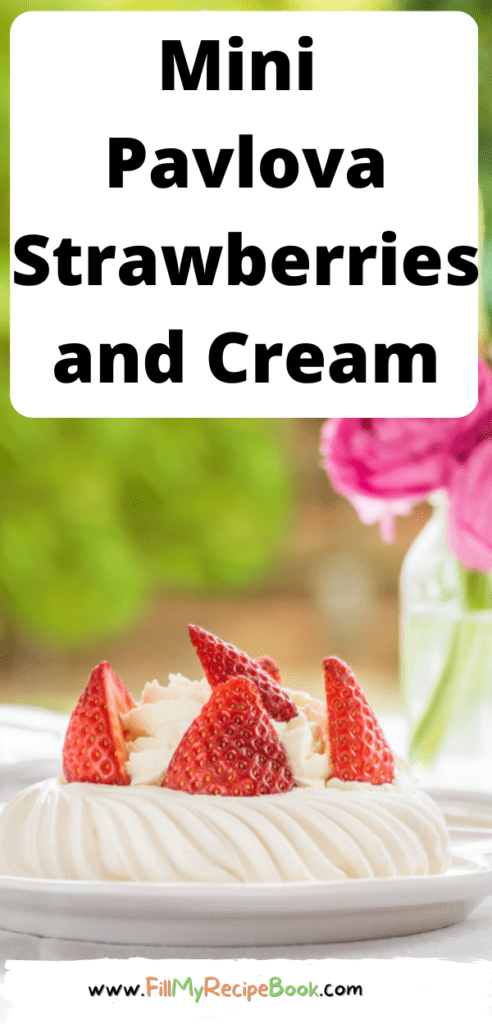 Mini Pavlova Strawberries and Cream
Mini Pavlova's are popular as a decadent dessert to have for a tea time treat especially for Christmas or other special occasions, such as Mothers or Fathers Day or Valentines Day. Filled with cream and strawberries. A few different fillings can be added into the piped pavlova nests. An oven baked recipe that can be stored and frozen for make ahead servings.
What is the difference between the Meringue and Pavlova?
The difference between a Pavlova or Meringue is that both are egg white desserts and made in a similar way. Méringue is crispy and dry throughout and pavlova is crispy on the outside and fluffy and marshmallow like on the inside. Making the Pavlova a meringue based dessert but not actually a classic meringue. Pavlova also gets filled with creams or fruit as its piped into a basket form to serve.
Ingredients.
egg whites
strawberries
cream
and more ingredients and amounts in the recipe attached.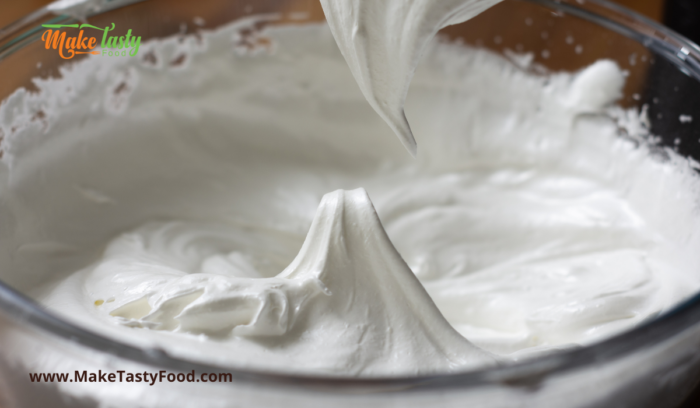 Whipped egg whites for pavlova dessert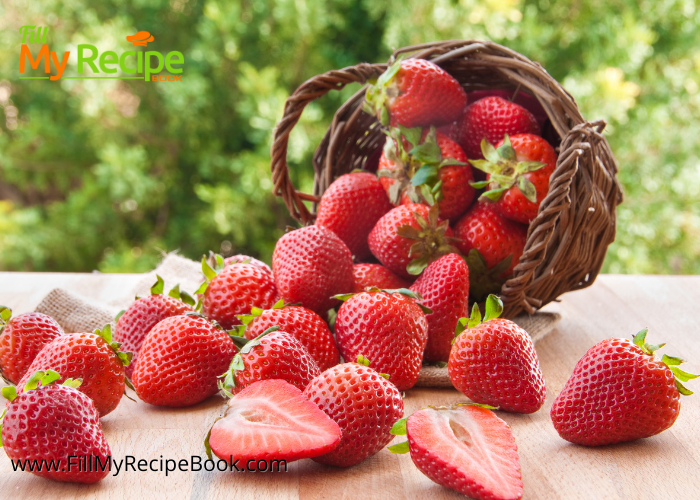 Fresh ripe strawberries sliced to decorate
How To Make
Once you have whipped the egg whites for the pavlova, then add the mixture to the piping bag with nozzle of choice. Different nozzles make pattens and make the dessert classy and pleasing. Place the piped baskets on a wax proof paper greased oven pan.
A tip to make successful pavlova is to make this dessert the day or night before. So that it cools off naturally. Made a day or two before your event is also good as they can be kept in an airtight container. That is without any topping or fruits. Which would make them moist.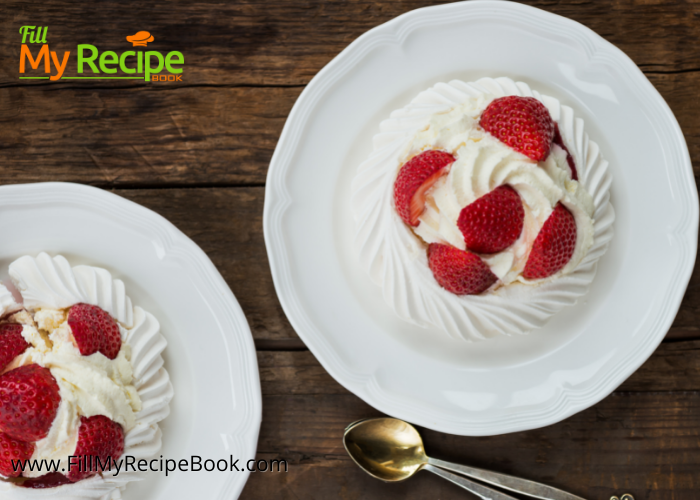 Dressing the dessert with the whipped cream and cut fresh ripe strawberries from your garden.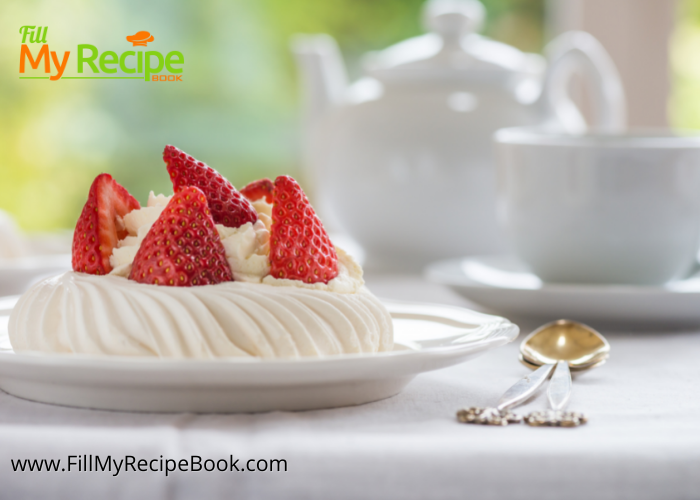 Serve for guests for a tea or make these for a function, which is a very popular thing to serve.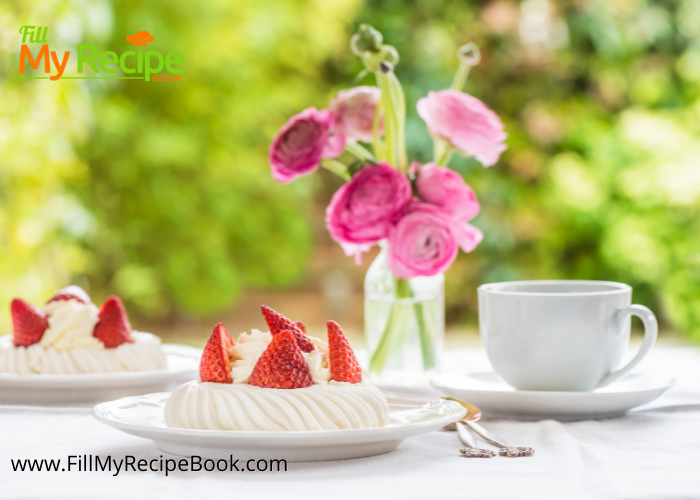 Different fruits may be added to the toppings, considering that the pavlova or cream is sweet and need to balance this dessert out with a tart tasting topping.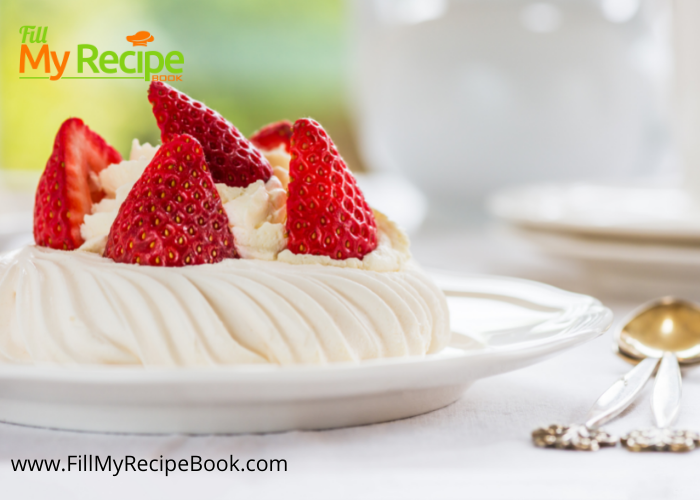 How long will mini Pavlovas keep?
Pavlova's that do not have any filling on will last up to a day in an airtight container. But you can freeze them for up to 3 months. (sealed ) without any topping on. Freeze toppings separately.
Below is a recipe to print or write out. If you love to write out the recipe then download this General Recipe Page
Recommendations.
(click the highlighted heading for the recipes)
A few Mothers Day recipe Ideas to create —-> 21 Mother's Day Braai Ideas
Very tasty dessert recipe ideas to create for the family —-> 10 Puddings and Desserts Recipes
Mini pavlova recipe ideas to create —-> Mini Peaches and Cream Pavlova Recipe and Mini Pavlova Cherries & Cream Cheese Filling and Mini Easter Pavlova Nests and Mini Chocolate and Hazel Nut Pavlova and Mini Berry Pavlova Twirls
Create some more amazing mini pavlova —–> 16 Mini Pavlova Desserts Recipes and these Valentine desserts ideas —-> 14 Special Valentine Dessert Recipes for Two
Print
Mini Pavlova Strawberries and Cream
Mini Pavlova Strawberries and Cream recipe. A decadent dessert to bake and decorate with cream, strawberries for a tea or special occasion.
Author:
Prep Time:

25 min

Cook Time:

1 hr 45 min

Total Time:

1 hr 70 min

Yield:

16

Category:

Desserts

Method:

Oven Baking

Cuisine:

New Zealand, Australian
Ingredients
For the Pavlova
4

 egg whites (room temperature)

280 g

 of castor sugar (fine sugar)

1/2 tsp

 of cream of tartar

500g

 full cream Stored in fridge the day before.

Fresh strawberries Cut in quarters
Instructions
Preheat oven to a medium heat. 0f 80 Deg. C to 100 Deg. C (200Deg F)
Line two baking sheets with grease proof paper or non stick sheets.
In a clean dry bowl pour the egg whites, cream of tartar and start whisking them on a low speed until foamy. Once foamy increase the speed to medium, until the beaten egg whites form a stiff peak.
Only then do you add castor sugar one tablespoon at a time whisking between additions until all is combined and you have a stiff glossy mix.
Fill a piping bag with the egg whites and use a basket weave/star nozzle.(what you prefer)
Start by piping a blob and then start on the outside and pipe in one action the pavlova twirls.
Repeat until you have piped your pavlova basket, base and side.
Place the pavlova in the oven and bake for 1 hour and 45 min.
Do not open the door, also once they have baked switch of the oven and leave the door closed for at least 1 hour. Or preferably leave over night until cool to prevent them from cracking. Before removing.
Once removed from the oven and well cooled, then you can fill them.
Obtain the 500 g of full cream (that was stored the day before in the fridge)
The cream is to be whisked with a mixer until it forms peaks.
Fill the pavlova with cream in the middle and place the cut strawberries up right on the side of the cream, so that the cream is in the middle still.
Notes
Pavlova or meringues are best made the day before.
Keywords: Mini Pavlova Strawberries & Cream
Other pavlova or Meringue recipes you would love to bake below.