Make this stunning Mini Pavlova Cherries & Cream Cheese Filling with strawberry sauce recipe for a fine dining mini dessert for high tea.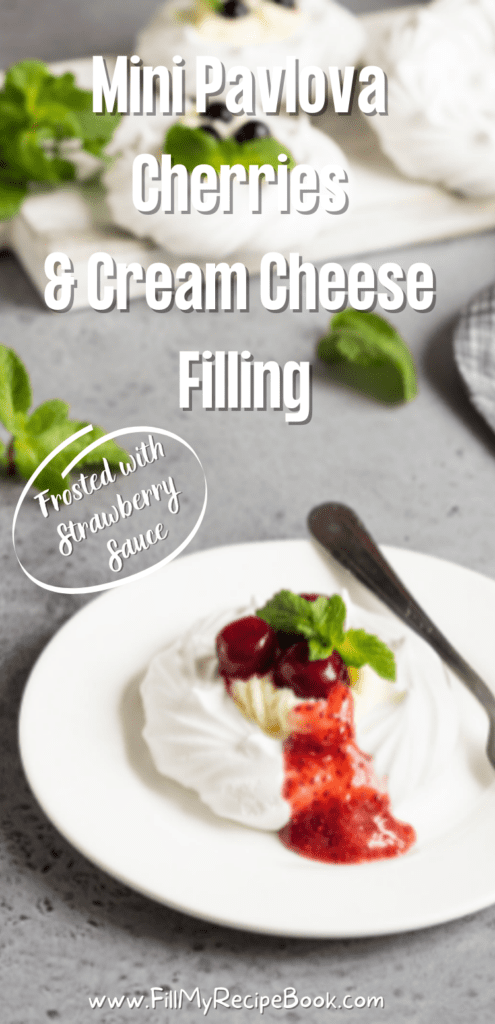 Mini Pavlova Cherries & Cream Cheese Filling.
A very delicious dessert to make with tasty cream and cream cheese or mascarpone cheese filling.
Topped with fresh or other cherries of choice, and some blueberries as well. Glazed with a strawberry sauce to just finish off that deliciousness. A favorite dessert for many and These mini pavlova's served for fine dinning dessert with gourmet meal.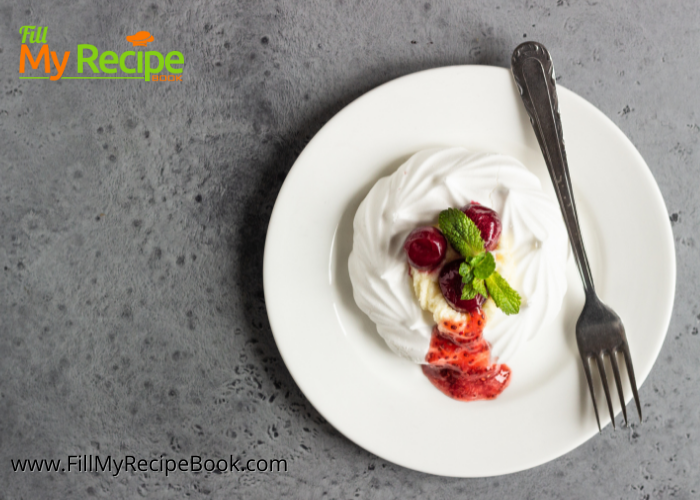 To make this dessert follow the well instructed recipe below. Best that pavlova is baked the day before or a few hours before you would like to serve them.
Below image shows the delicious pavlova with cream cheese filling and cherries with strawberry sauce over the top, served with tea.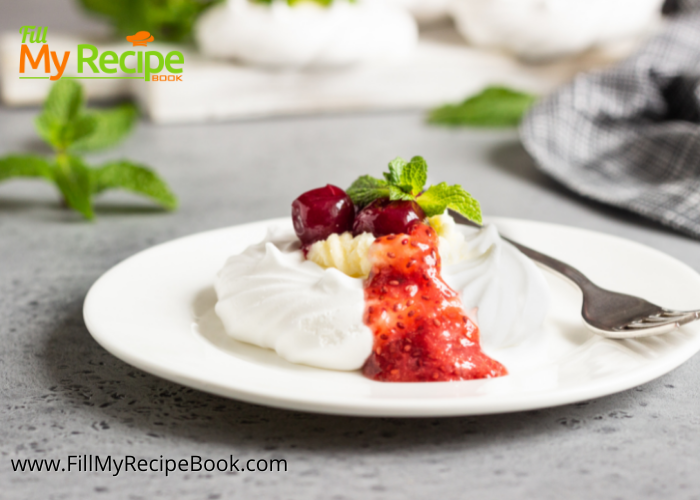 Is pavlova from Australia and New Zealand
Some say that Pavlova's are a Australian or New Zealand dessert. But researched has found that the origins of this dessert lie outside both of these countries. The origins of the modern pavlova can be traced back to Austro-Hungarian Spanische windtorte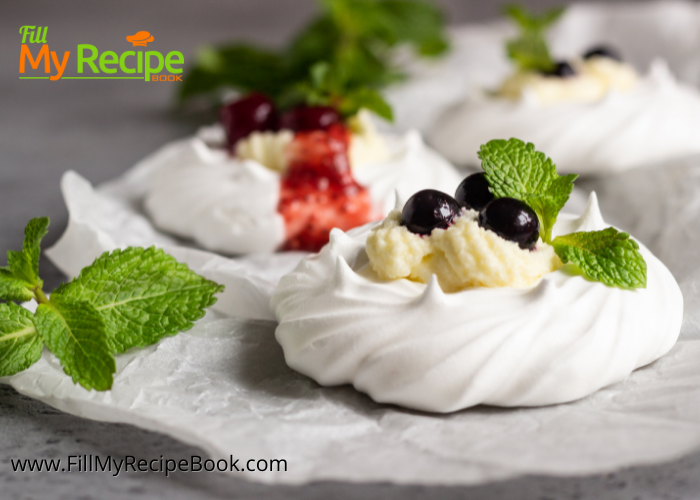 Make some of these mini desserts with blueberries on the cream cheese as well. Serve and decorate once cooled well. Not to over do it with the strawberry sauce as then the pavlova will be very soggy. Recommending that the sauce be cool and only drizzled on the cherries just before serving.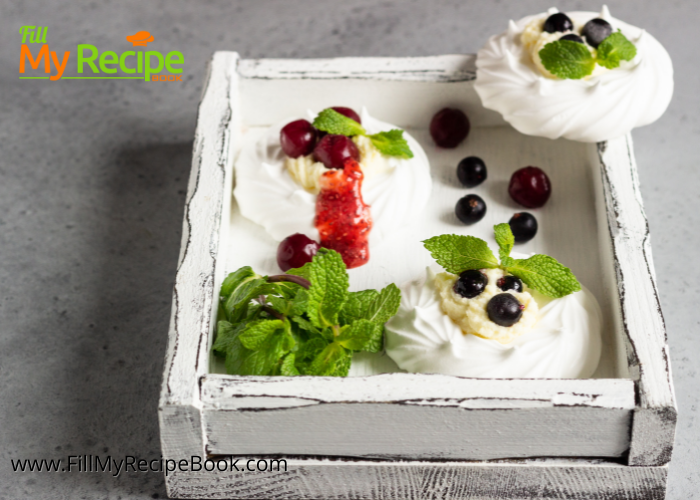 The pavlova gains some richness from the whipped cream and cream cheese with a little bit of a tang from the fruit plated. Then there is the sweetish raspberry sauce to cap it all off.
Pavlova's can be kept in a sealed container carefully for up to 2 days. Freezing is also good in a sealed container but not topped with any toppings of fruits or creams or sauces. Keep them plain for best results.
Recommendations.
(click the highlighted headings for the recipes)
Get some great recipes here —–> 18 Mother's Day Morning Tea Ideas to spoil your mother and show how you appreciate her.
Create some more amazing mini pavlova —–> 16 Mini Pavlova Desserts Recipes
Sharing more delicious dessert ideas —–> 20 Scrumptious Dessert Recipes and other you would love to make —-> 24 Easy Mini Dessert Recipes
Here are more ideas to make a recipe with cream cheese. —-> 21 Cream Cheese Inspired Dessert Recipes
Get some cheese recipe ideas —–> 26 Heavenly Cheese Recipes
and other fruity ideas —-> 27 Fruit Inspired Recipes
Sharing more thanksgiving dessert recipe ideas for you to create. —-> 23 Thanksgiving Dessert Recipes
Here are some amazing recipe ideas for you —–> 30 Ideas for Fruit Recipes
Great ideas for a Christmas Desserts —–> 20 Pleasing Christmas Dessert Recipes and Some recipe ideas for Christmas desserts. —–> 24 Christmas Fancy Dessert Recipes
Did you know.
Use broken pieces of pavlova or meringues can be used for a trifle filling and they turn out so amazing.
Print
Mini Pavlova Cherries & Cream Cheese Filling
Make this stunning Mini Pavlova Cherries & Cream Cheese Filling with strawberry sauce recipe for a fine dining mini dessert for high tea.
Author:
Prep Time:

25 min

Cook Time:

1 hr 45 min

Total Time:

2hrs and 10 min

Yield:

16

Category:

Deserts

Method:

Baking
Ingredients
For the Pavlova
4

 egg whites (room temperature)

280 g

 of castor sugar (fine sugar)

1/2 tsp

of cream of tartar

2 cups

Cherries and Blueberries for topping. (fresh or bottled cherries)
For the Cream Cheese filling.
1 cup

(

8 oz

) of Cream Cheese or (mascarpone cheese)

2 cup

(

16 oz

)of full cream
For Strawberry Sauce.
1 Cup

of clean Fresh Strawberries.

1 Cup

of fine castor sugar

3 Tablespoons

of corn starch

3/4 cup

of water
Instructions
Preheat oven to a medium heat. 0f 80 Deg. C to 100 Deg. C (200Deg F)
Line two baking sheets with grease proof paper or non stick sheets.
In a clean dry bowl pour the egg whites, cream of tartar and start whisking them on a low speed until foamy. Once foamy increase the speed to medium, until the beaten egg whites form a stiff peak.
Only then do you add castor sugar one tablespoon at a time whisking between additions until all is combined and you have a stiff glossy mix.
Fill a piping bag with the egg whites and use a basket weave/star nozzle.(what you prefer)
Start by piping a blob and then start on the outside and pipe in one action the pavlova twirls.
Repeat until you have piped your pavlova basket, base and side.
Place the pavlova in the oven and bake for 1 hour and 45 min.
Do not open the door, also once they have baked switch of the oven and leave the door closed for at least 1 hour. Or preferably leave over night until cool to prevent them from cracking. Before removing.
Once removed from the oven and well cooled, then you can fill them just before serving.
Cream Cheese filling.
Combine the cream and cream cheese (chilled). in a medium mixing bowl. Beat the ingredients with a mixer until stiffened and thick smooth peaks form. (don't over mix it)
Spoon this mixture into a piping bag and pipe some into the center of the cooled mini pavlova tarts. Not to much.
Strawberry sauce
In a bowl mash the clean fresh strawberries and put aside.
In a medium sauce pan combine the sugar and the corn starch and then stir in the water and the mashed strawberries. Bring this to a boil stirring all the time. Cook and keep stirring until thick which should take about 3 minutes. Remove from the saucepan and place to cool in a bowl for 10 – 15 minutes. (can be called a glaze as well)
If the strawberry sauce is not smooth you can blend it or mash the sauce again. I leave the pips in as it give it an original effect when on the mini pavlova's.
When the pavlova and sauce has been cooled, obtain your cherries and blueberries and put them aside.
Firstly pipe the cream cheese filling in the pavlova's  with just two swirls. Then place the 3 cherries on top of the cream cheese fillings (if you prefer to have both, then on one half of the pavlova's, and some blueberries on the other half.)
Just before serving. Gentle drizzle some strawberry sauce over the cherries. Not to much as you do not want the pavlova's to be soft. Serve plated with some mint leaves for a high tea.
These make a very delicious fine dinning dessert.
 
 
 
 
 
 
Keywords: Mini Pavlova Cherries & Cream Cheese Filling, strawberry sauce and blueberry pavlova on cream cheese filling
Obtain more amazing pavlova recipes below.