How to Make a Chicken Tortilla Wrap with spicy pieces of chicken and fresh crispy lettuce and tangy cheddar cheese.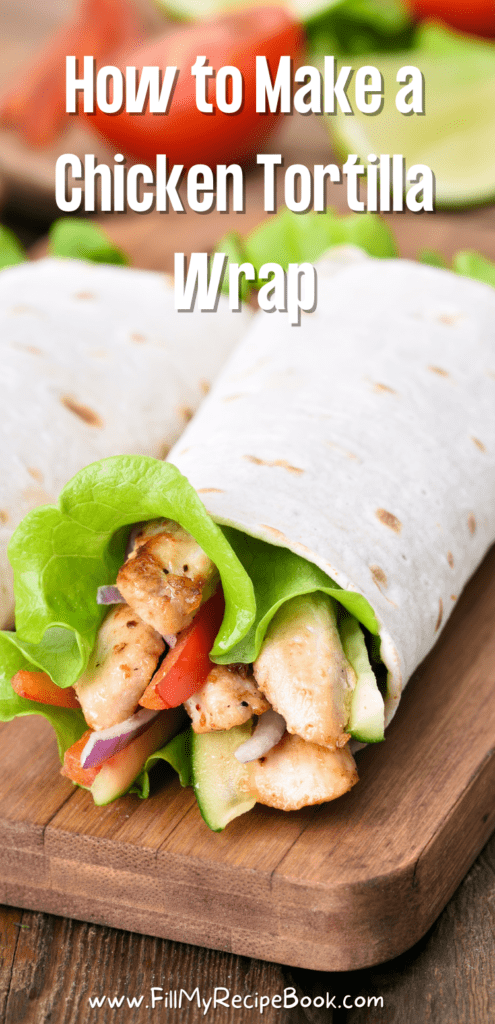 How to Make a Chicken Tortilla Wrap
A tortilla wrap makes an amazing light meal for snack or a lunch. Even a supper or as most people do is to make them for a Saturday lunch.
Either cook the chicken from scratch or use left over chicken cut into strips or pieces for fillings.
To give these tortilla wraps a crunch we added a little red onion and tomato with crispy lettuce. Made the wrap a little tangy with cream cheese spread on the tortilla and a salsa or mayonnaise to go in with the ingredients or serve with the wrap.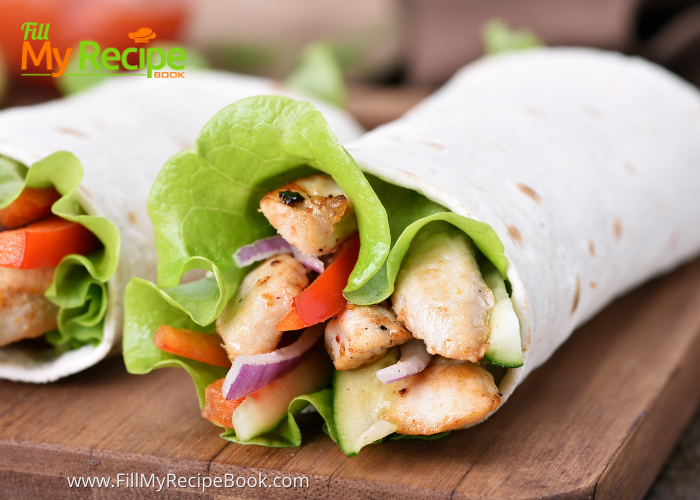 With this recipe we have added some parmesan with the cheddar to give it a richer tang. Which is totally optional as you may only want to use the cheddar cheese. Of course you can use mozzarella cheese or any cheese you prefer to suit your diet. Such a versatile meal to whip up quickly with any filling or meats that are left over from another meal.
Recommendations.
(Click on the highlighted headings for your recipes)
Recipe ideas to create with left over chicken —-> Creamy Chicken and Veggie Pie
There are some left over food ideas to obtain —–> 15 Easy Holiday Leftovers Meal Recipes and 22 Leftovers Ideas for Monday Meals
Get more recipes from this link. —–> Easy Homemade Tortillas Recipes
Some great IDEAS or Fillings from left overs for wrap. —–>Wraps and Tortilla Filling Ideas
There are also some helpful Household Planners and Kitchen Charts to download.
Some more amazing ideas —–> 15 Lite LCHF Lunch Recipes and these recipe ideas as well —–> 24 Tasty Parmesan Inspired Recipes
These recipes are easy and simple enough for kids to make.—-> 22 Easy Recipes Kids Can Make
Here are some really healthy recipe ideas —–> 13 Low Carb Healthy Fat Lifestyle Recipes
Get Printalbes HERE FOR FREE
Print
How to Make a Chicken Tortilla Wrap
How to Make a Chicken Tortilla Wrap with spicy pieces of chicken and fresh crispy lettuce and tangy cheddar cheese.
Author:
Prep Time:

5 min

Cook Time:

4 min

Total Time:

9 min

Yield:

2
Ingredients
1 cup (8 oz) Skinned boneless chicken breasts cut into strips.
2 Teaspoons of chicken seasoning
3 Tablespoons of cream cheese softened
2 (10″) Tortillas
1/2 cup of shredded lettuce (washed and clean, dried)
1 small tomato 
1 small red onion 
1/2 cup of grated cheddar cheese
1 Tablespoon of parmesan cheese (optional)
1/4 cup of mayonnaise or salsa for salads.
Instructions
In a non stick pan add a little olive oil and bring it to a medium heat. Toss the chicken strips in the seasoning and add to the pan and lightly sauté until golden brown and cooked. Turning them until done.
Cut some tomatoes in thin strips and some red onion to fill the tortilla with.
 Spread the creamed cheese on the tortilla and add the lettuce, cheese and the chicken strips with tomato and onion. Then top them with the salsa or mayonnaise. 
Fold the two edges over each other and wrap it up burrito style and cut in half. 
Serve on a plate or board.
Keywords: How to Make a Chicken Tortilla Wrap