For a quick and easy weekend lunch or supper make this Quick Homemade Pizza filled with bacon and banana, herbs and cheese, or mini pizza.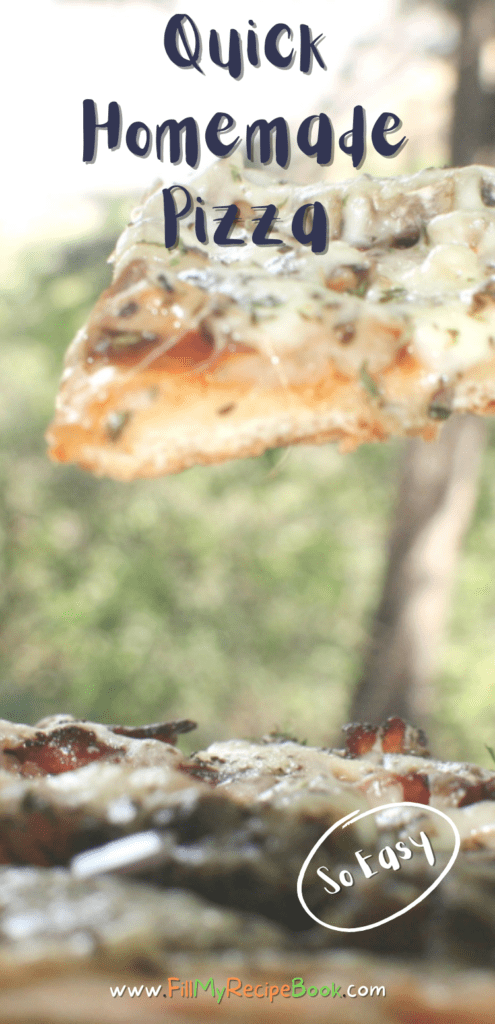 Quick Homemade Pizza
Love making our own pizza toppings. We fill the pizza base with lots of things, depending on what you love and like to have on pizza. Sometimes we have bought pizza basis for the quick and easy meal prep. Baking and banana, pineapple and mushroom and onion. On top its two grated cheeses, one being gouda or mozzarella, then parmesan for the tang.
Spiced with Italian herb our homemade mix, parsley or basil. What ever you love and depends on your taste totally. Add small tomato's cut in cubes.
Placed in the oven and baked until cheese is melted and the base is cooked, otherwise everything else was already cooked.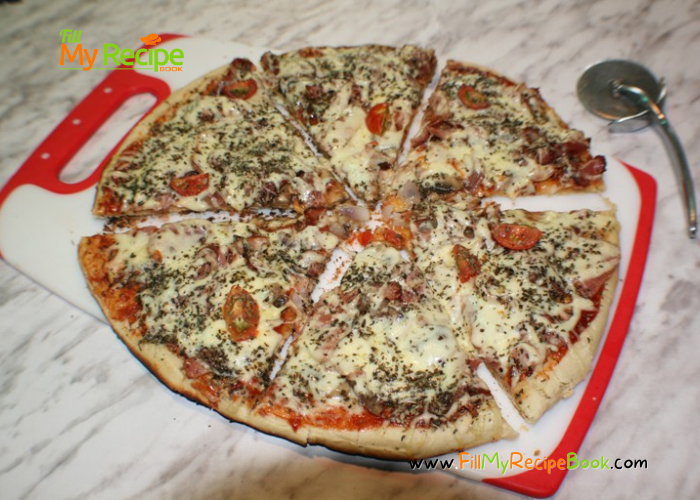 Remove from the oven and cut with a pizza wheel. Pull apart the cheesy pizza and enjoy.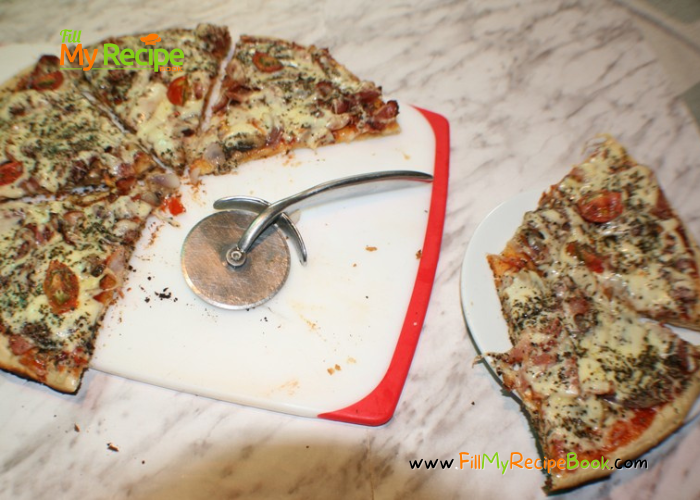 Left over slices kept on plates and eaten warm or cold for supper.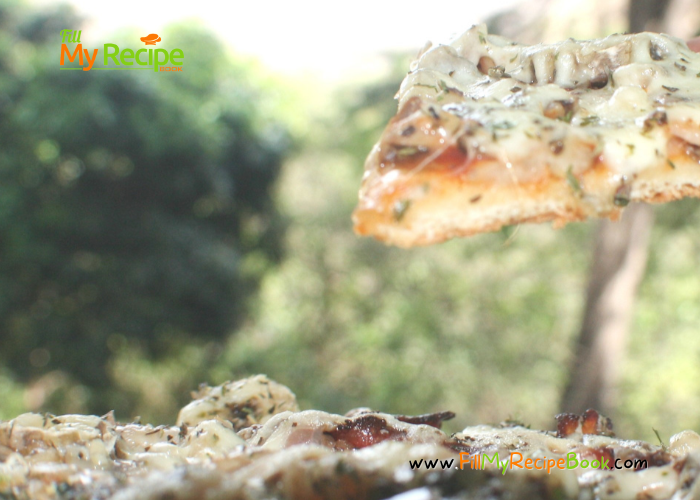 We also make our own pizza bases, when required. As we are on the farm this is sometimes a quick homemade pizza fix for a meal.
Make some mini pizza for snacks, as all you need to do is cut out the round base with a cookie cutter. Top the pizza with small chopped up fillings and cheese to bake on a sheet pan for snacks.
Recommendations
(click the highlighted heading for the recipe)
Quickly mix this —-> Easy 2 Ingredient Pizza Base for making your pizza dough or crusts.
Appetizers and snacks to serve —–> 20 Easy Thanksgiving Appetizers Recipes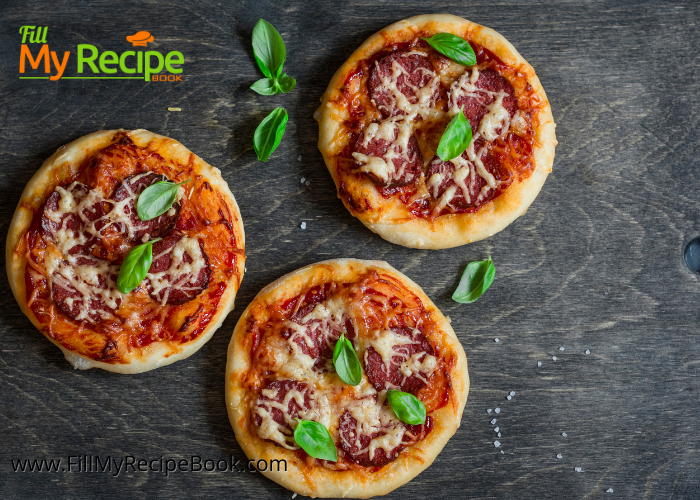 Obtain these recipe ideas —-> 22 Leftovers Ideas for Monday Meals
Recipe ideas to create for Valentines —-> 14 Easy Valentine Appetizer Recipes
You will love these —-> 12 Easy Savory Bites Recipes (click on the highlighted words)
Other recipes inspired with pineapple. —-> 16 Pineapple Inspired Meals Recipes
Get this easy —-> Easy 2 Ingredient Pizza Base and make this mini pizza recipe.
You will also love to make some of these recipe ideas —-> 16 Rainy Day Snacks Recipes
Some recipe ideas for bacon filling —–> 17 Easy Bacon Filled Recipes
There is more recipe ideas —–> 12 Delicious Homemade Pizza Ideas
Get some cheese recipe ideas —–> 26 Heavenly Cheese Recipes and these recipe ideas as well —–> 24 Tasty Parmesan Inspired Recipes
Other recipe ideas that use Basil —–> 16 Cooking With Basil Recipes
Looking for something simple to bake or not to bake that's quick? then get these —-> 20 Easy Baking Recipes Ideas
Here we share recipe ideas to create for —-> 21 Quick and Easy Snack Recipes
Use left overs at Christmas time to make these recipe ideas —-> 25 Quick Christmas Leftovers Ideas as well as these party snack ideas —–> 18 Quick Christmas Party Snacks
Get more Italian recipe ideas —–> 17 Easy Italian Recipes
Print
Quick Homemade Pizza
A simple and easy weekend lunch or supper is a Quick Homemade Pizza filled with bacon and banana, herbs and cheese, fully topped pizza.
Author:
Prep Time:

15 min

Cook Time:

10 min

Total Time:

25 min

Yield:

6

Category:

baking
Ingredients
2 Pizza Bases
100 g Bacon, Chopped
1 Banana sliced
1 onion chopped 
cup of mushroom sliced
3 Small tomato, cut
Tomato paste
Italian herbs with basil and parsley.
Garlic flakes
2 cups Gouda cheese and Parmesan, grated
Instructions
Preheat oven to 185 Deg. C
Defrost the bought pizza bases and set aside.
Smooth the tomato sauce or paste over the pizza base.
Fry mushrooms and onions in a little olive oil, with garlic flakes and spices. till tender
Fry bacon until almost done.
Cut banana and place over the tomato paste on the base.
Then add the cooked mushroom and onion and then the bacon.
If you want add more sausage or cheese grillers.
Sprinkle the two cheeses over the filled pizza bases.
You can also dribble some mayonnaise or sauce over it for a tangy taste.
Spice with mixed herbs. Such as Italian herbs or just dried parsley or dried basil.
Place the pizza in the oven until cheese is melted and base is baked.
Slice the pizza with a pizza cutter. 
Enjoy.
Notes
We do make a homemade base as well.
This bought base is so quick and easy, and use it when we in a hurry or for a last minute lunch fix.
Keywords: Quick and simple homemade pizza
some other Oven Baking Recipes for you, plus printables for free to use in the kitchen.
get more savory snacks or treat recipes here below.