Easy Mini Eggplant Pizza recipe idea. A very simple oven bake healthy vegetarian or gluten free snack or side dish filled with vitamins.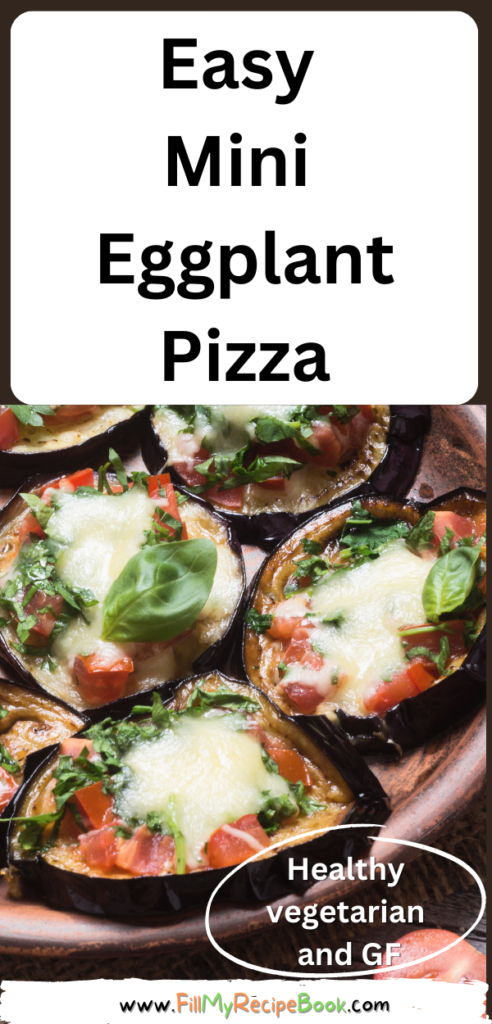 Easy Mini Eggplant Pizza
Bake this very simple and easy mini eggplant pizza recipe idea. A delicious Oven Bake and Grilled dish for snacks or appetizers, will even pass as a warm side dish for a meal. Vegetarian and gluten free with mozzarella cheese and basil leaves topped with cherry tomatoes and Italian seasoning.
Can you eat the purple skin on eggplant?
The whole eggplant flesh and inside and seeds are totally edible when cooked, except the green top with the stalk. Eggplants have many health benefits such as fiber, protein, vitamins and minerals and anti oxidants.
What is the most flavorful eggplant?
It is said that the most popular eggplant is the long thin purple one that is from Taiwan known as Ping Tung. They produce well and are sweet and pleasant tasting.
Should I refrigerate eggplant?
You can keep your eggplants in a cool darker place, even a wine cooler. They will last keeping them in a fridge for about 5-7 days whole and not peeled or cut. You can freeze them as well.
Ingredients
medium eggplant
mozzarella cheese
marinara sauce or pizza sauce
salt and pepper
basil leaves
cherry tomatoes
Italian seasoning
olive oil
For all the ingredient amounts and instructions see the recipe attached for details.
eggplant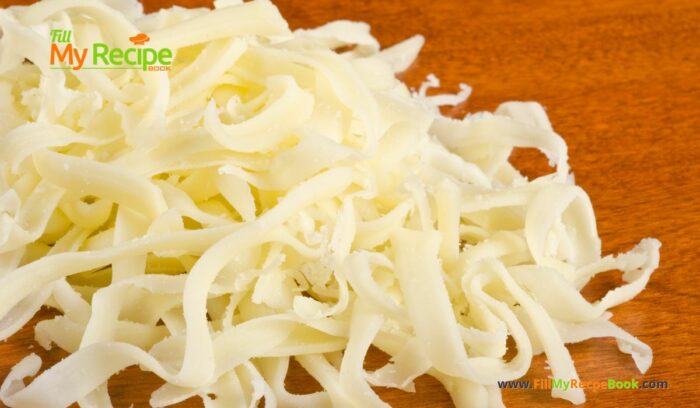 mozzarella cheese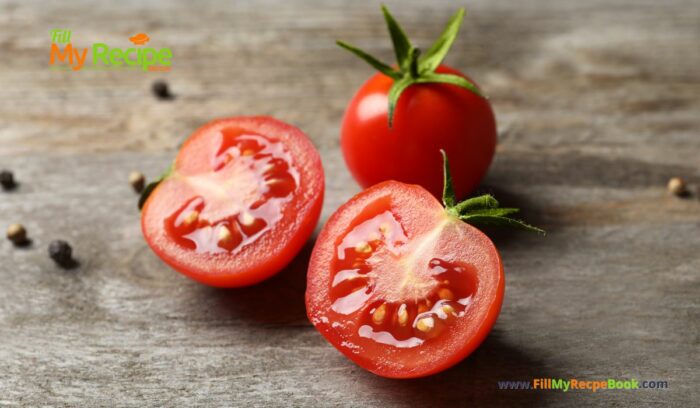 cherry tomatoes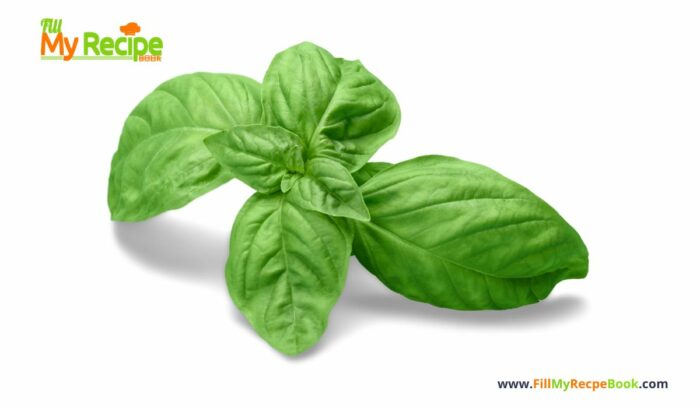 basil leaves
How To
Clean the eggplant, remove the top green stem and cover top. Slice the eggplant into rounds of about half an inch thick. Place them on a baking sheet that was grease or lined.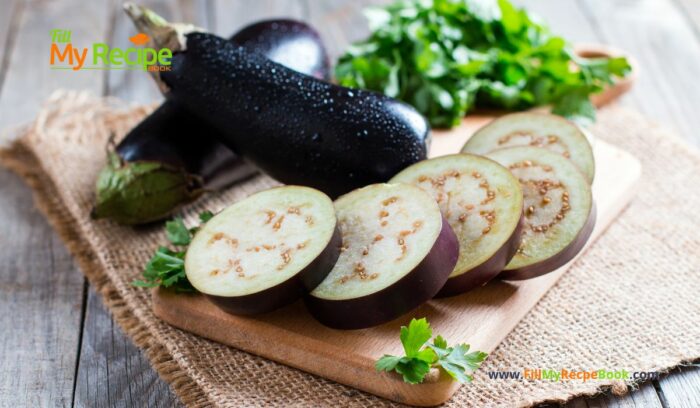 Brush them with olive oil both sides and top the top half with salt and pepper. Bake in the oven for about 10-15 minute until soft.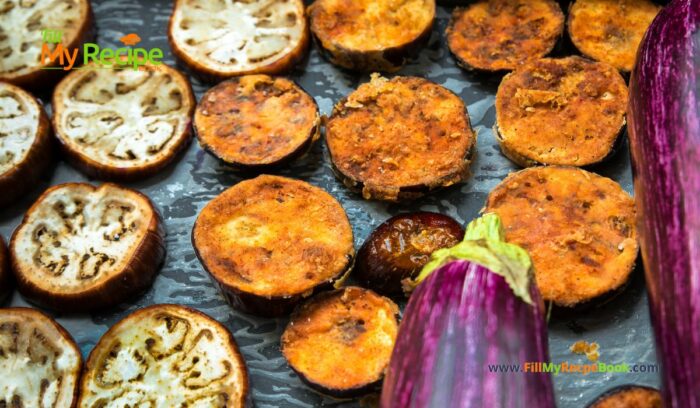 When they are soft, add a little of the marinara sauce on top and then add the cut up cherry tomatoes and the chopped basil leaves, then add the cheese and flavor with Italian seasoning.
Switch the oven to Grill and place the sheet pan under the grill to melt the cheese for about 4-5 minutes. Simple that's all you need to do.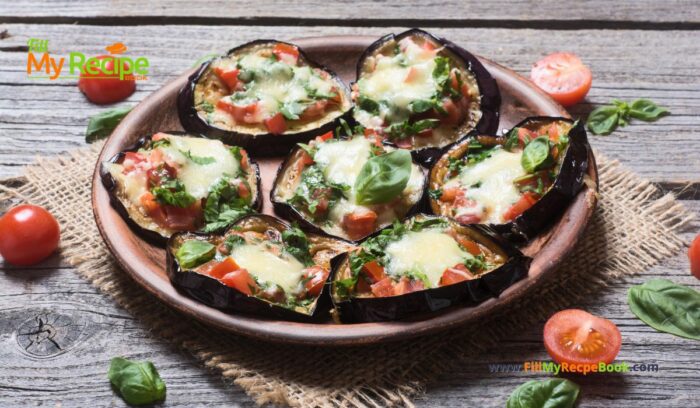 Serve as an appetizer or a mini pizza for a snack or even for a side dish with other food.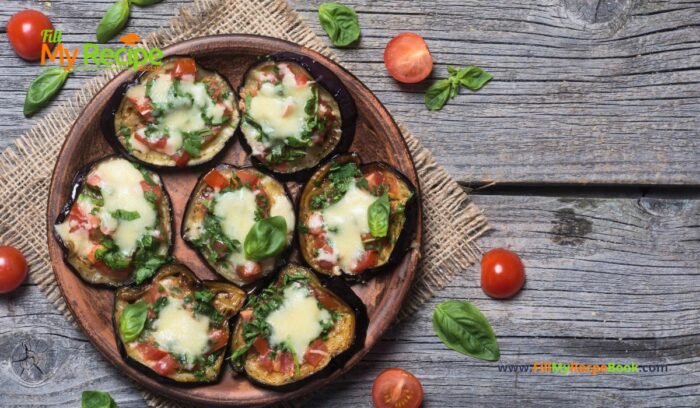 This is such an easy and very simple healthy recipe for a vegetarian or gluten free pizza recipe idea.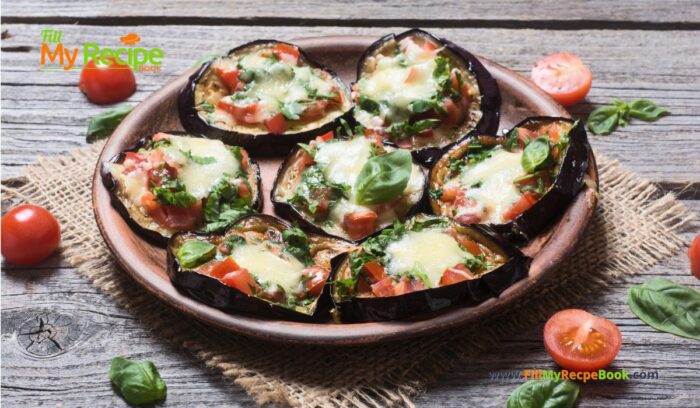 Recommendations
(click the highlighted heading for the recipes)
Make these mini pizza recipes that are healthy —> Easy Stuffed Portabella Pizza
Get more eggplant recipe ideas to create —-> 10 Delicious Eggplant Recipes and Delectable Eggplant Recipes and Grilled Caprese Eggplant Steak
Print
Easy Mini Eggplant Pizza
Easy Mini Eggplant Pizza recipe idea. A very simple oven bake healthy vegetarian or gluten free snack or side dish filled with vitamins.
Author:
Prep Time:

5 min

Cook Time:

20 min

Total Time:

25 min

Yield:

6

Category:

appetizer, snack, side dish

Method:

Oven Baking

Cuisine:

Italian
Ingredients
1

medium eggplant(cut into half inch thick slices)

1 tablespoon

of olive oil

1 teaspoon

of salt and pepper

1/2 cup

of pizza sauce or marinara sauce

1.1

/2 cups of grated mozzarella cheese

3/4 cup

of slice cherry tomatoes
basil leaves

2 teaspoon

of dried Italian seasoning
Instructions
Preheat the oven to 200 Deg. C (400 Deg. F)
Grease a baking sheet or line with grease proof or parchment paper. Slice your eggplants into half inch round slices. Cut your cherry tomatoes in small pieces. Grate your cheese.
Smear or brush both sides of your sliced eggplants with olive oil. Line them up on the baking sheets.
Sprinkle the top with salt and pepper. Then bake them in the oven for about 10 – 15 minutes until soft.
After it has been baked, spread about 1 – 2 teaspoons of pizza or marinara sauce on top of the eggplant. Then add your tomatoes and chopped basil leaves. Top with your grated mozzarella cheese, then over that add Italian spices.
Set the oven to grill, then place the baking sheet of eggplant topped mini pizza pieces under for about 4-5 minutes until cheese has melted.
Serve as a side dish or a mini pizza that is vegetarian and gluten free, snack or appetizer.
Keywords: Easy Mini Eggplant Pizza recipe