Delectable Eggplant Recipes ideas to create for an appetizer or meal. Easy healthy clean eating stuffed or curry eggplant ideas to try.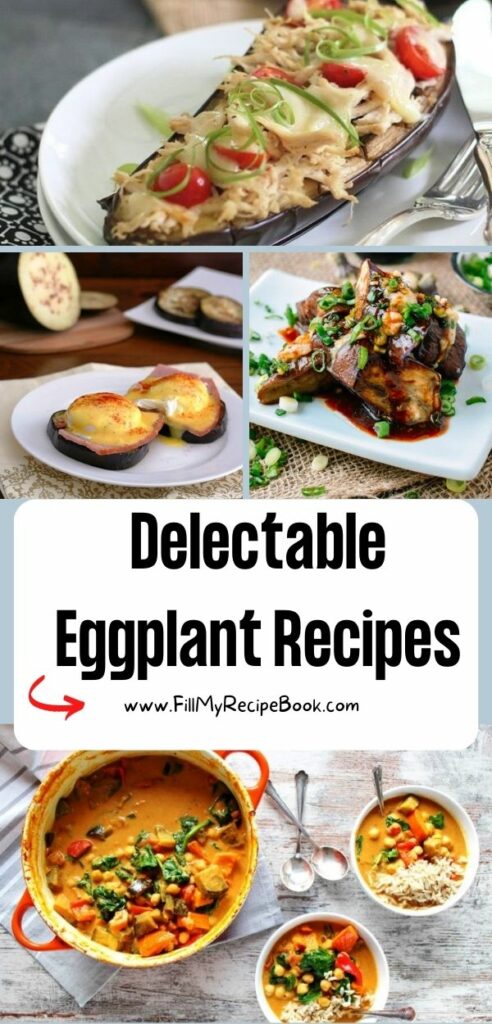 Delectable Eggplant Recipes
Sharing delectable eggplant recipe ideas for you to create for lunch or dinner meals. A gluten free eggplant benedict, or caponata and even stuffed egg plant recipes. Eggplant Parmesan cheese idea and chickpea and eggplant curry, with a delicious stuffed eggplant meal.
Why do you let eggplant sit in salt?
Because like some other vegetables eggplant is filled with moisture. Adding salt to it will draw out the moisture and when cooked will give you more flavor and softer texture.
Should you rinse eggplant before cooking?
Preparing the eggplant to cook you would first peel the eggplant as the skin is bitter. Then cut it in shapes that you would like to cook it with. Place them in a colander and salt them. This way the moisture that comes out of them will drip out and then you would wash them off before cooking to remove all the excess salt.
Should I salt eggplant or soak in milk?
According to some people the milk will draw out the bitterness and the eggplant soaks it up the milk easily. This helps when you sauté or fry the eggplant as it will not soak up the oil.
Do you eat the seedy part of eggplant?
For the fresh eggplant the seeds would be invisible and totally edible. For an older eggplant the seeds would be little browner and more bitter. Then you can scoop them out.
(click the highlighted heading for the recipe)
Easy Mini Eggplant Pizza recipe idea. A very simple oven bake healthy vegetarian or gluten free snack or side dish filled with vitamins.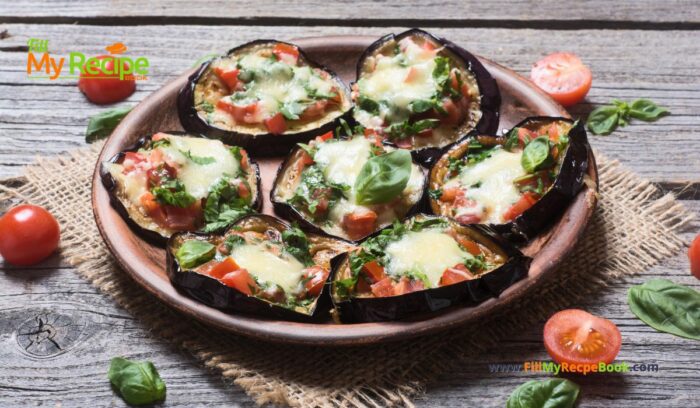 Grilled Caprese Eggplant Steak
Grilled Caprese Eggplant Steak recipe idea for a healthy meal. A quick and easy side dish for meals, topped with cheese, tomato and spices.
Eggplant benedict – low carb and gluten free
Eggs Benedict gets a healthy low carb makeover. Replace the carb heavy bread with delicious asparagus for a fresh take on the brunch classic. This post is sponsored by Pete and Gerry's Organic Eggs.
Purple polenta with roasted eggplant caponata
I just had blue cornmeal on hand so that's what I used to cook up a creamy pot full of this (purple!) stuff. I thought it paired perfectly with this caponata – made with sweet and savory onions, roasted eggplant, olives and pine nuts.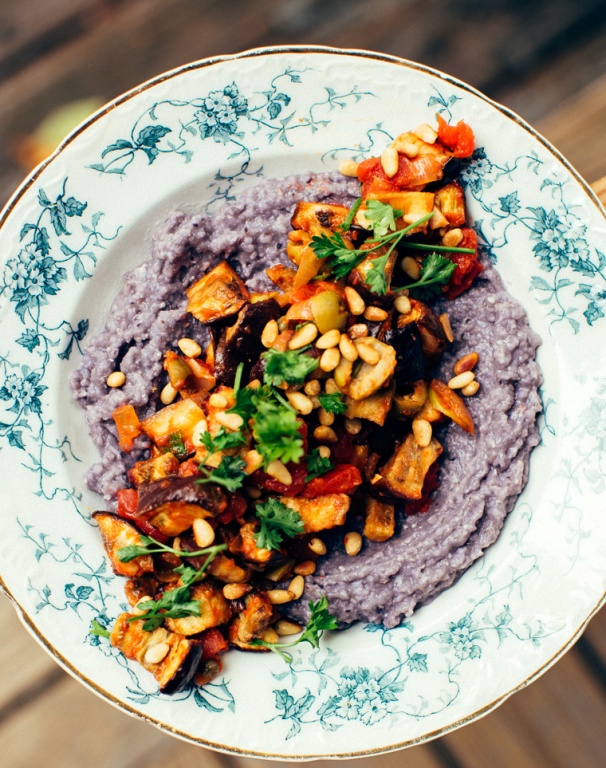 Cheesy stuffed chicken eggplant
This easy stuffed eggplant recipe with chicken and cheddar cheese is a great dinner option everyone will love and can be made in 30 minutes.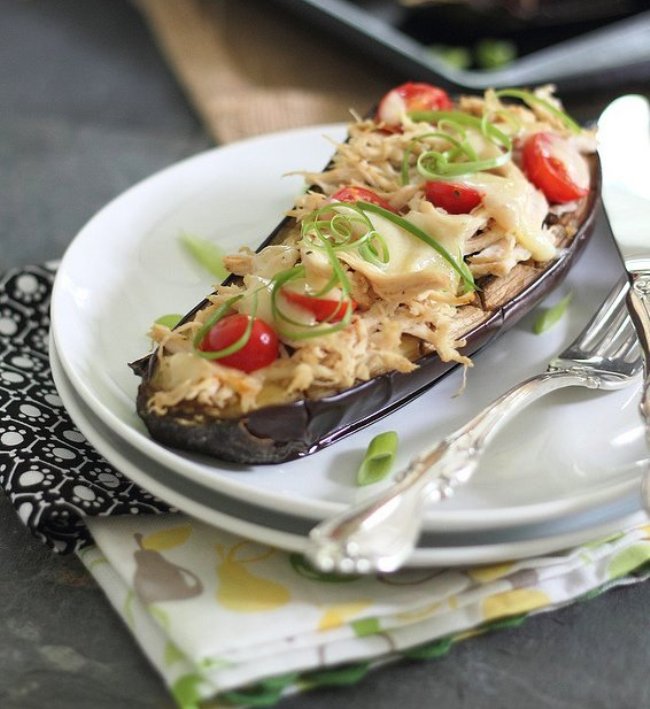 Extravagantly excellent eggplant parmesan
Extravagantly Excellent Eggplant Parmesan is one of the best dishes I've ever made! It's one of my favorite dishes to serve when we're entertaining guests. Never fails to elicit groans of satisfaction!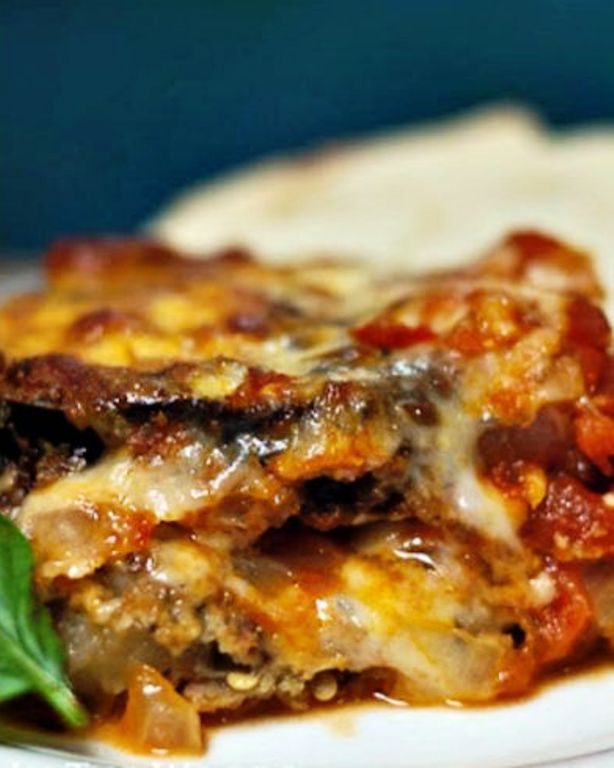 One pot eggplant and chick pea curry soup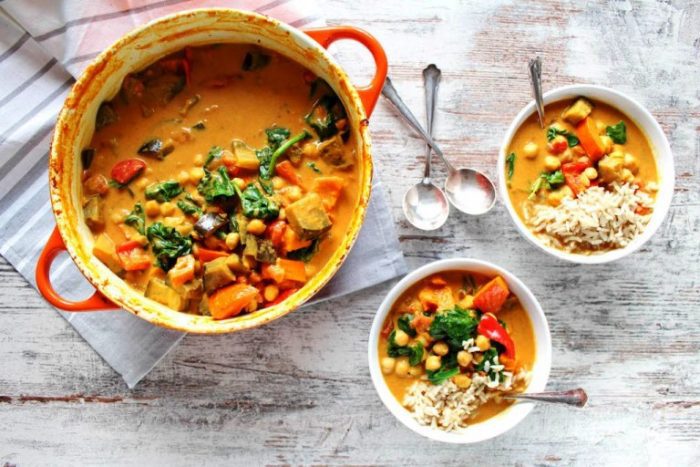 Chinese stuffed eggplant is a popular dim sum dish that also makes a great lunch or dinner meal when served with rice. What I like most about this dish is that it uses less oil than most Chinese eggplant recipes, or for that matter, any eggplant recipe, but is still very satisfying.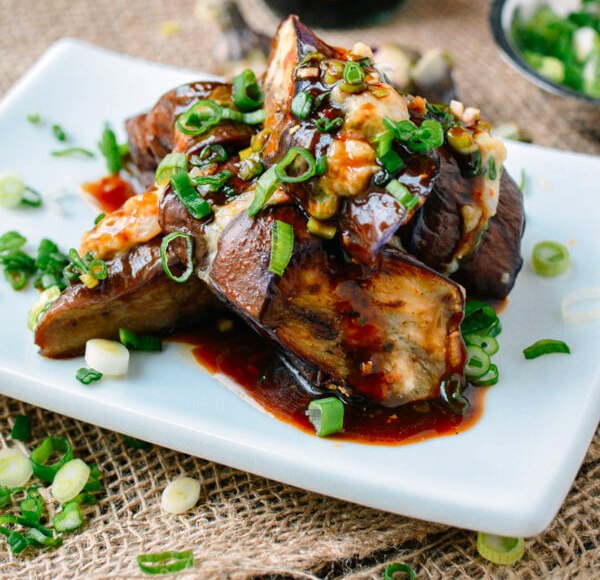 Recommendations
(click on the highlighted heading for the recipes)
Find more eggplant recipe ideas for a meal —-> 10 Delicious Eggplant Recipes
Healthy vegetable side dishes to roast or bake recipe ideas —-> Roasted Brussels Sprouts with Bacon and Easy Roasted Brussel Sprouts and Roasted Turmeric Cauliflower Steaks and Oven Roasted Cauliflower Florets Easy cooked recipe ideas that contain vegetables —-> Easy Chicken Asparagus Stir fry and Summer Beef Strips Stir Fry and Creamy Cabbage Casserole with Cheese and Creamy Pumpkin Vegetable Casserole and Tasty Vegetable Dish Recipe.