Summer Beef Strips Stir Fry recipe. An easy and quick healthy warm meal for lunch or dinner for a family with vegetables and steak and sauce.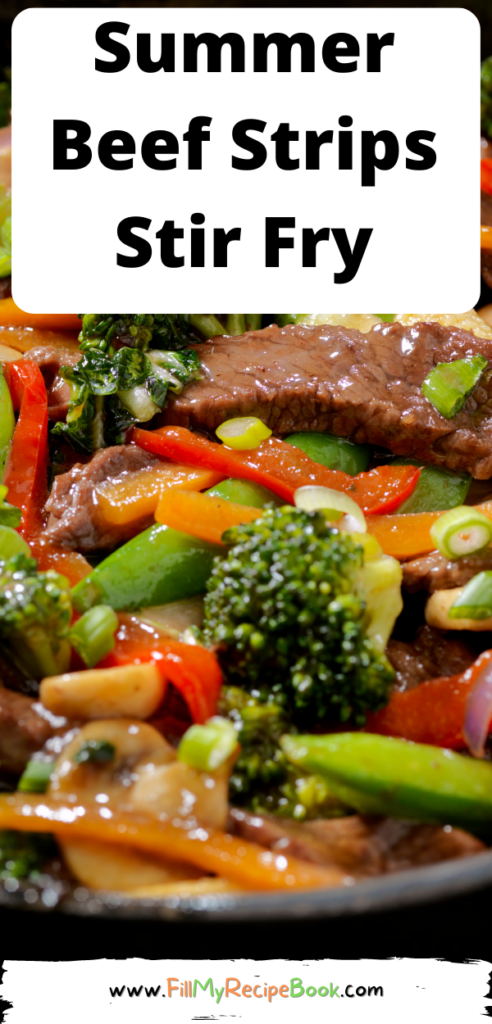 Summer Beef Strips Stir Fry
The summer is hot and uncomfortable to cook a hot meal. Make this easy and quick stir fry with vegetables and beef strips and sauce in just 20 minutes. A great healthy lunch or dinner for a family of at least 8 people. It is cooked in a wok or deep pan on the stove top, a great no bake recipe to enjoy.
Use left over meats pulled or sliced into thinner strips, No cooking needed for them and all you will do is sauté the vegetables and add the meat at the end to warm up. Any vegetables that you have in the fridge or for the season will work well for this meal.
What beef is best for stir fry strips?
Chinese restaurants use the popular flank steaks (Bavette steak)for their stir fry meals. It is the most recommended cut of beef for stir fries. It is readily available and flavorful and comes with a reasonable price.
What is a good substitute for flank steak in stir-fry?
A good substitute for flank steak is fat iron steak. Recipes such as stir fry and fajitas and sandwich fillings and salads can use these types of steak strips or pieces. It has a beefier flavor and is a little fattier but adds richness to the dishes. As well as been more tender.
Does soy sauce tenderize meat?
Salt and soy sauce tenderizes meat and helps it retain moisture and savoriness. For the browning sugar will help. Oil helps distribute fat-soluble aromatic compounds over the meat.
Why do chefs put butter on steak?
My favorite is adding butter to your steaks as it adds a richer flavor and softens the sautéed outside and make the steak more tender.
What are the 3 rules of stir-frying?
Its important to prepare the ingredients before you start frying them. As it goes very quickly when your start to fry.
The ingredients need to cook slow and on low.
Stir them now and again.
What is the secret to a good stir-fry?
Your wok or pan should be very hot.
Do not cook cold meat it should be at room temperature.
Cook the meat in batches first.
Then cook the vegetables next.
Add the cooked meat at the end.
What can I add to stir-fry to make it taste better?
If you do not want salty sauce add herbs.
Herbs such as basil, oregano and cilantro.
Spices such as cumin, cardamom and coriander.
Use no sodium broth.
Fresh lemon grass, garlic and ginger.
fruit juices of 100 %.
Zest of any citrus.
Lower sodium based soya sauce (<600 mg sodium per tablespoon)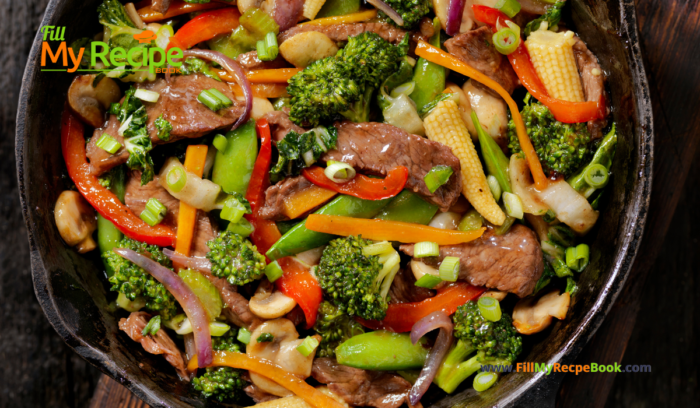 Ingredients
steak pieces or flank steak.
bell peppers,
broccoli
green peas or beans
mushrooms
mini corns
spinach or kale
onion
olive oil
View all the other ingredients needed for the sauce and the amounts needed as well as the instructions in the recipe attached. As well as the herbs and spices.
How To
Firstly you should wash and cut the bell peppers and onions in slices or half rounds. The broccoli should be cut into small bites to cook quicker. Have all the vegetables ready before heating the wok or pan. (please follow the instruction on the recipe attached )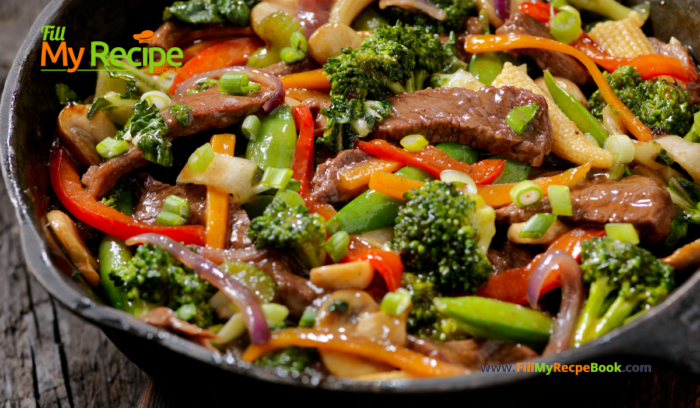 The meat should be slice into strips and the sauce made and waiting to add lastly.
Heat the wok or pan then add the olive oil and the meat and brown it. leave aside to add last.
Sauté the vegetables on a low or medium heat turning over now and again. Leave until tender.
Then add the meat and sauce and simmer for 2 minutes or so tossing for the sauce to be mixed well.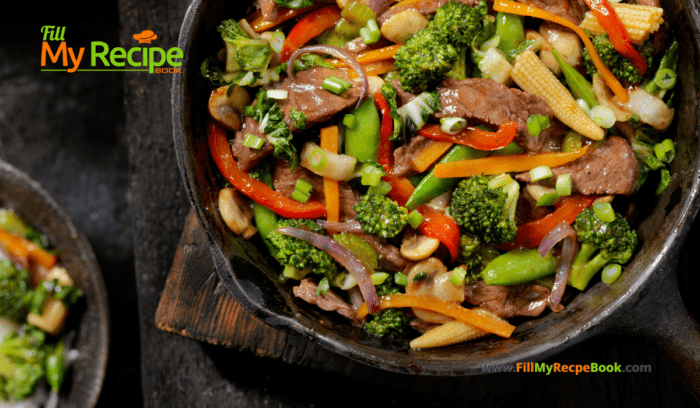 Serve warm for the family meal for a lunch or dinner with your favorite sides. Add either rice or potatoes to this meal. Even some dinner roles or buns would be great. Enjoy the summer meal that is healthy and easy.
Recommendations
(click the highlighted heading for the recipes)
Stir fry stove top recipe ideas to create —-> Easy Chicken Asparagus Stir fry and 8 Easy Vegetarian Stir Fry Recipes and 14 Healthy Stir Fry Recipes
Some more beef recipe ideas to create —-> Tasty One Pot Beef Stew and Simple Oven Roasted Beef Recipe and Minced Beef Spaghetti and Veggies and Beef Fillet Garlic Potato and Homemade Ground Beef Chili Recipe and A Classic Beef Stroganoff and Grilled Beef and Peppers Sosaties and Beef Stew with Fresh Vegetables and Homemade Cottage Pie Dish and Spaghetti & Meatballs with Sauce and Curry and Yellow Rice Potjie and Filet Mignon in Red Wine Sauce and Traditional Bobotie and Yellow Rice and Pan Seared Garlic Butter Steak and Homemade Tangy Lasagna Dish and Curry Mince Vetkoek Filling and Easy Biltong Pasta Potjie Recipe and Mini Puff Pastry Sausage Rolls
Print
Summer Beef Strips Stir Fry
Summer Beef Strips Stir Fry recipe. An easy and quick healthy warm meal for lunch or dinner for a family with vegetables and steak and sauce.
Author:
Prep Time:

10 min

Cook Time:

20 min

Total Time:

30 min

Yield:

8

Category:

Meals supper or lunch, dinner

Method:

Stove top No Bake
Ingredients
2

lbs of beef strips or flank steak (or other cuts of steak you prefer) to cut.

1

red and orange bell peppers

1 cup

of broccoli (cut into small pieces)

1

medium red onion

1 cup

of white button mushrooms

1 cup

of greens such as pea or beans

1 cup

of kale or spinach. (broken into smaller pieces)
a few mini corns (or corn )

1/2 cup

of chopped spring onions

2

–

3

tablespoons of olive oil or avocado oil.

1/2 cup

Basil leaves or

1 teaspoon

dried basil

2

garlic cloves or

1 teaspoon

dried garlic flakes or powder.
Salt
Stir fry sauce.

6 Tablespoon

of soy sauce

2 Tablespoons

of sesame oil

2 Tablespoons

of brown sugar

1 Tablespoon

of fresh grated ginger
Instructions
1. In a medium bowl add the sauce ingredients, Soy, brown sugar, sesame oil, and ground ginger. Whisk all together for a sauce. Leave aside.
2. Clean and slice all your vegetables into bite size pieces or strips to fry easily and quickly.
3. The steak should be cut into thinner slices. Cutting against the grain. A good idea is to use left over beef from a roast.
4. Warm up your wok or deep fry pan then add your oil and first. Salt and sauté the steak until brown. Take out and set aside.
5. Stir fry your vegetables until tender turning them over now and again. Adding your herbs of basil and garlic.
5. Add you meat strips and toss them, for a minute. Also add the spring onions last.
6. Pour in your sauce and toss the vegetables and meats, leave to simmer for 2 minutes.
7. Serve warm as is in your plate or add your favorite side dish(or rice or potato.)
Notes
Using left over roast beef or any other steak.
The vegetables can vary to what is seasonal or what you have in the fridge.
Keywords: Summer Beef Strips Stir Fry