A Curry mince vetkoek filling recipe with ground or minced meat and vegetables. The best and easy South African recipe with curry spices.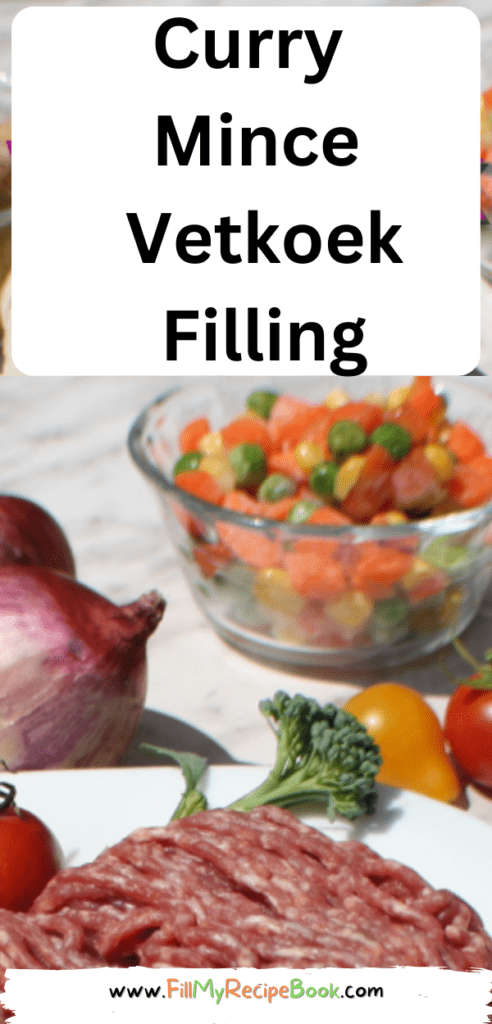 Curry Mince Vetkoek Filling
A popular South African recipe for a curry mince vetkoek filling. The curry ground or minced meat vetkoek filling is not difficult to make. A no bake stove top recipe to create for a family meal, to fill the vetkoeks with to enjoy as a breakfast or a brunch and even lunch or supper. It is very versatile meal.
What do you serve with vetkoek?
The traditional vetkoek may be served with some salads for a balanced meal. But South Africans love to eat it on its own as it is very filling, with a cup of hot tea or coffee.
What is a vetkoek in English?
The recipe name for "vetkoek" is an Afrikaans language name for the English version it would mean "fat cakes". Similar to the doughnut for the Americans as it is made with a yeast dough.
Can vetkoek be frozen?
Vetkoek is best eaten warm with various fillings. Jam or jelly is the most common filling. You can leave them in a closed container on the counter overnight. If you would like to freeze them when cold, then seal them in a container or zip lock freezer bag and freeze them for about a month.
Ingredients
onions
olive oil
ground or minced beef
curry spices
salt and pepper
mixed veggies
beef stock cubes
potato
cumin
turmeric
garlic
View the recipe attached for the amounts needed and how to add them to this dish as well as the instructions.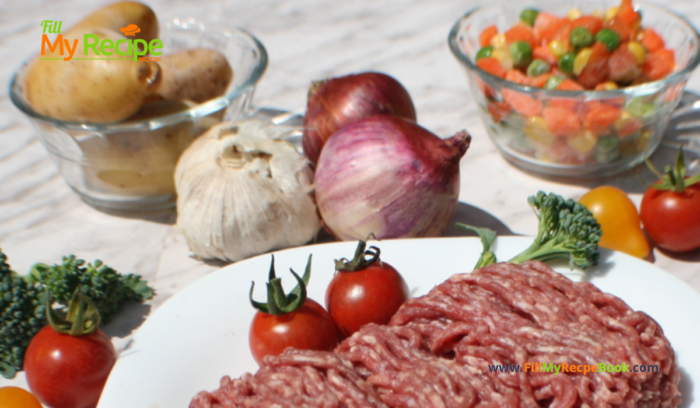 How To
The onions sauté in some olive oil and crushed garlic cloves. Curry spice mix, added to this mixture.
Adding the beef minced meet, and frying until brown. Then the beef stock that was put aside, added to the mince mixture. Adding your vegetables and small chopped potato's.
Placing the lid on the pan and let it simmer until done.
That curry aroma will make you very hungry.
The mince can then be added to the homemade vetkoek previously made.
Cut open the vetkoek and spoon some of this curry mince inside, add chutney or tomato sauce if preferred.
Serve and enjoy as a family. This meal can be for lunch or supper, or a weekend meal. Even a breakfast or a brunch.
Vetkoek with curry mince meat and vegetables.👇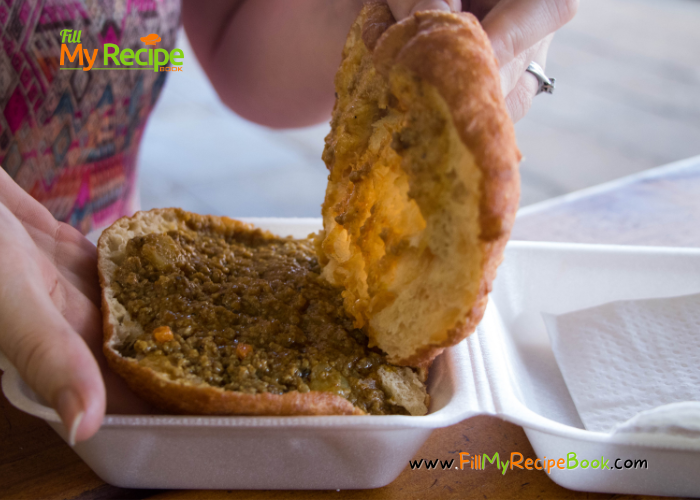 Recommendations.
(click the highlighted heading for the recipes)
Looking for another vetkoek filling —-> Vetkoek Bacon Egg with salad Filling and Quick vetkoek curry chicken filling and Vetkoek Boerewors and Tomato Onion Sauce and Vetkoek with jam and cheese and Bobotie Filled Vetkoek Pockets
Some more beef recipe ideas to create —-> Summer Beef Strips Stir Fry and Tasty One Pot Beef Stew Beef Recipe and Simple Oven Roasted Beef Recipe and Minced Beef Spaghetti and Veggies and Beef Fillet Garlic Potato and Homemade Ground Beef Chili Recipe and A Classic Beef Stroganoff and Grilled Beef and Peppers Sosaties and Beef Stew with Fresh Vegetables and Homemade Cottage Pie Dish and Spaghetti & Meatballs with Sauce and Curry and Yellow Rice PotjieSauce and Filet Mignon in Red Wine Sauce and Traditional Bobotie and Yellow Rice and Pan Seared Garlic Butter Steak and Homemade Tangy Lasagna Dish and Easy Biltong Pasta Potjie Recipe and Mini Puff Pastry Sausage Rolls make this recipe idea to —-> Beef Stew with Fresh Vegetables create these beef recipes to —-> Filet Mignon in Red Wine Sauce
More recipe ideas for ground meat —–> 15 Mince Meat Supper Recipes Ideas
Get more curry recipe ideas —–> 19 Tantalizing Curry Recipes as well as these recipe ideas —- 16 Easy Tasty Curry Recipes
More spicy recipe ideas to create —–> 21 Easy Spiced Meals Recipes
More beef recipe ideas to create —–> 26 Marvelous Beef Recipes
Some great family recipe ideas for dinners —–> 34 Easy Family Dinner Recipes
Get a few recipe fillings for vetkoek ideas —–> Recipes for Vetkoek and Fillings
Print
Curry Mince Vetkoek Filling
A Curry mince vetkoek filling recipe with ground or minced meat and vegetables. The best and easy South African recipe with curry spices. 
Author:
Prep Time:

15 min

Cook Time:

45 min

Total Time:

60 min

Yield:

10

Category:

Meals supper or lunch, breakfast or brunch

Method:

Stove top No Bake

Cuisine:

South african
Ingredients
2 Tbsp

. of olive oil (to sauté onions)

2

medium onions (of choice, red or white)

1 Cup

of Beef stock. (melted in water)

500 g

of minced Beef

1 Cup

of frozen mixed veg (chopped)

1 Cup

of potato (chopped)
Spices.
2 Tbsp

of garlic flakes (or cloves)

15

ml of curry powder. (lessen if a medium curry is required)

1 tsp

Cumin powder

2 tsp

Turmeric powder
Salt and Pepper to taste.
Instructions
In a saucepan add the olive oil, bring to heat and add the onion and sauté until soft and clear.
Add garlic cloves crushed, fry for a minute. If you use garlic flakes then add with the curry and cumin powder, on top of the onions. Stir well and make sure the mixture is not to dry. Otherwise add some water.
The mince meat is then added and stirred up with the onion mix. Brown the mince meat.
The the turmeric and beef stock is added and stirred well until all is mixed. Bringing this to a boil.
Before reducing heat add the frozen vegetables and potato pieces. Once hot reduce the heat and bring to a simmer then cover with a airtight lid. This will increase the flavor, simmer for 30 minutes. 
Salt and pepper can be added to your taste.
Cook until all is done and you are satisfied with the taste.
Can be for about 10 – 15 minutes more.
If  you have already made the vetkoek, then cut and fill the inside with this mince and serve.
This mixture will fill about 8 to 10 vetkoeks. Depending on the size of your vetkoek.
Notes
Use chopped frozen vegetables that contain some peas, corn and carrots. If you can obtain the frozen veg with chopped potato included that would be good.  OR use left over vegetables from a previous meal. 
Turmeric contains curcumin which is a powerful anti-inflammatory compound. Helps reduce inflammation related to arthritis and diabetes and other diseases. (use whole wheat choices for wraps and tortillas)
Keywords: Curry Mince Vetkoek Filling recipe
More fillings for vetkoek.
(click on the bold underlined heading for the recipe)
Homemade Chutney Recipe.
Choose more No Bake Stove Top Recipes.
download your FREE Printables here.