A curry mince vetkoek filling made with minced meat, few vegetables and potato with curry spices. A South African favorite.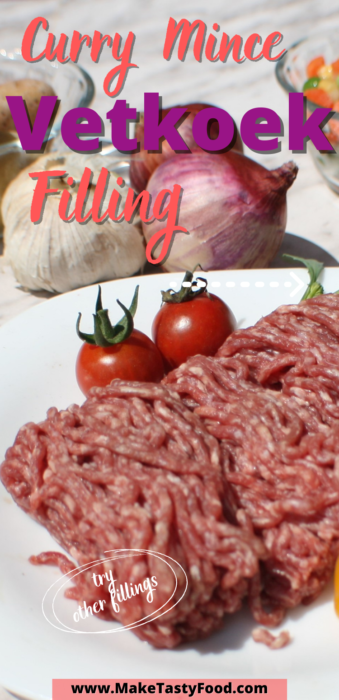 Curry Mince Vetkoek Filling.
A popular south african recipe for a vetkoek filler. The curry mince vetkoek filling is not difficult to make. The onions saute in some olive oil and crushed garlic cloves. Curry spice mix, added to this mixture.
Adding the beef minced meet, and frying until brown. Then the beef stock that was put aside, added to the mince mixture. Adding you vegetables and potato.
Placing the lid on the pan and let it simmer until done.
That curry aroma will make you very hungry.
Below are the ingredients for this curry mince filling.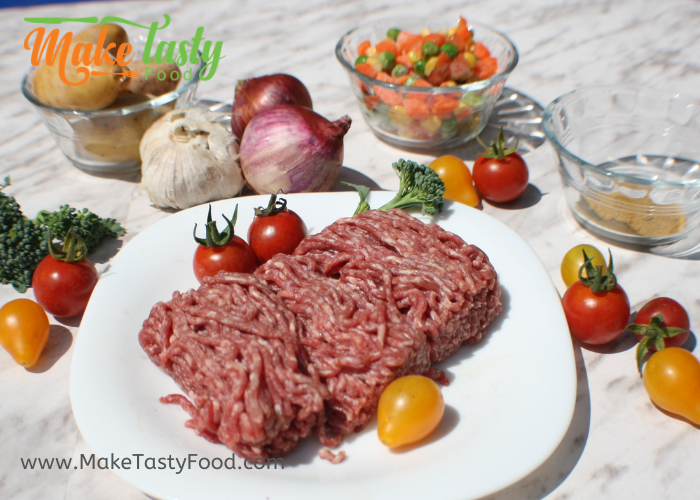 The mince can then be added to the homemade vetkoek previously made.
Cut open the vetkoek and spoon some of this curry mince inside, add chutney or tomato sauce if preferred.
Serve and enjoy as a family. This meal can be for lunch or supper, or a weekend meal.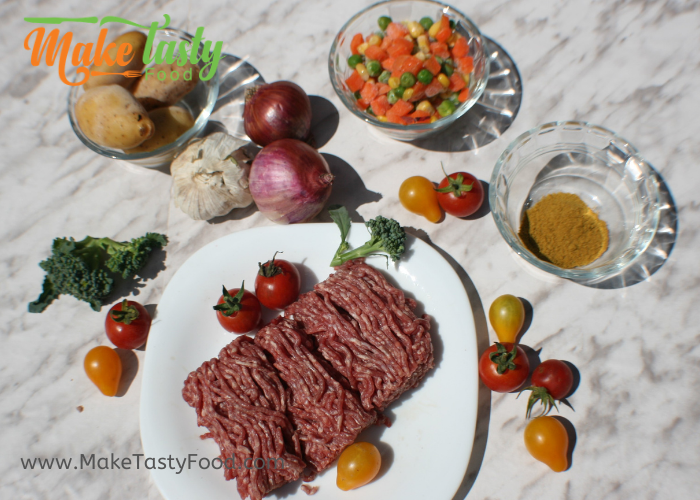 Vetkoek with curry mince.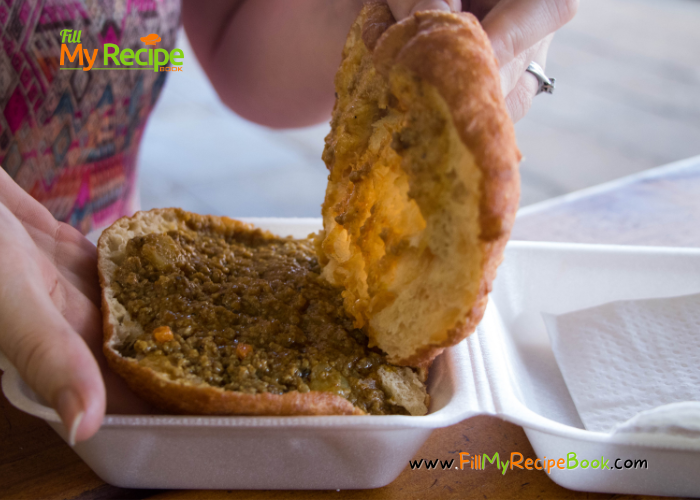 Recommendations.
More recipe ideas for ground meat —–> 15 Mince Meat Supper Recipes Ideas
Get more curry recipe ideas —–> 19 Tantalizing Curry Recipes as well as these recipe ideas —- 16 Easy Tasty Curry Recipes
More spicy recipe ideas to create —–> 21 Easy Spiced Meals Recipes
More beef recipe ideas to create —–> 26 Marvelous Beef Recipes
Some great family recipe ideas for dinners —–> 34 Easy Family Dinner Recipes
Get a few recipe fillings for vetkoek ideas —–> Recipes for Vetkoek and Fillings
Print
Curry Mince Vetkoek Filling
A curry mince vetkoek filling made with minced meat, few vegetables and potato with curry spices. A South African favorite.
Author:
Prep Time:

15 min

Cook Time:

45 min

Total Time:

60 min

Yield:

10
Ingredients
2 Tbsp. of olive oil (to sauté onions)
2 medium onions (of choice, red or white)
1 Cup of Beef stock. (melted in water)
500 g of minced Beef
1 Cup of frozen mixed veg (chopped)
1 Cup of potato (chopped)
Spices.
2 Tbsp of garlic flakes (or cloves)
15 ml of curry powder. (lessen if a medium curry is required)
1 tsp Cumin powder
2 tsp Turmeric powder
Salt and Pepper to taste.
Instructions
In a saucepan add the olive oil, bring to heat and add the onion and sauté until soft and clear.
Add garlic cloves crushed, fry for a minute. If you use garlic flakes then add with the curry and cumin powder, on top of the onions. Stir well and make sure the mixture is not to dry. Otherwise add some water.
The mince meat is then added and stirred up with the onion mix. Brown the mince meat.
The the turmeric and beef stock is added and stirred well until all is mixed. Bringing this to a boil.
Before reducing heat add the frozen vegetables and potato pieces. Once hot reduce the heat and bring to a simmer then cover with a airtight lid. This will increase the flavor, simmer for 30 minutes. 
Salt and pepper can be added to your taste.
Cook until all is done and you are satisfied with the taste.
Can be for about 10 – 15 minutes more.
If  you have already made the vetkoek, then cut and fill the inside with this mince and serve.
This mixture will fill about 8 to 10 vetkoeks. Depending on the size of your vetkoek.
Notes
Use chopped frozen vegetables that contain some peas, corn and carrots. If you can obtain the frozen veg with chopped potato included that would be good.  OR use left over vegetables from a previous meal. 
Turmeric contains curcumin which is a powerful anti-inflammatory compound. Helps reduce inflammation related to arthritis and diabetes and other diseases. (use whole wheat choices for wraps and tortillas)
Keywords: curry mince vetkoek filling
More fillings for vetkoek.
(click on the bold underlined heading for the recipe)
Homemade Chutney Recipe.
Choose more No Bake Stove Top Recipes.
download your FREE Printables here.