Simple Fruity Iced Tea Recipe made with tropical red fruit tea. Simply brew with an ice tea maker or leave the tea bags to draw its easy.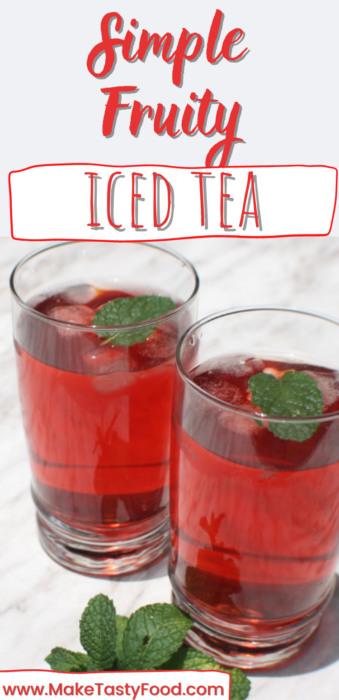 Simple Fruity Iced Tea.
On the farm and during this virus lockdown you improvise to satisfy your thirst. Make a lot of juices and cool drinks at home. Tropical fruit tea and red berry tea came in handy.
So Simple to brew in an iced tea maker or if you would prefer a large pot of hot water. So easy, just add some tea bags over the edge for brewing. bring to boil and switch off the stove plate. Leave to cool with the tea bags drawing and add your sugar stir. Any sugar you prefer will be good it is absolutely to your taste.
Above is a iced tea maker and jug. This works exactly like a coffee machine.
Here the red berry herbal tea bags were used. Tasty and fruity and very aromatic. Add sugar as required. It all depends on how sweet you would like your drink.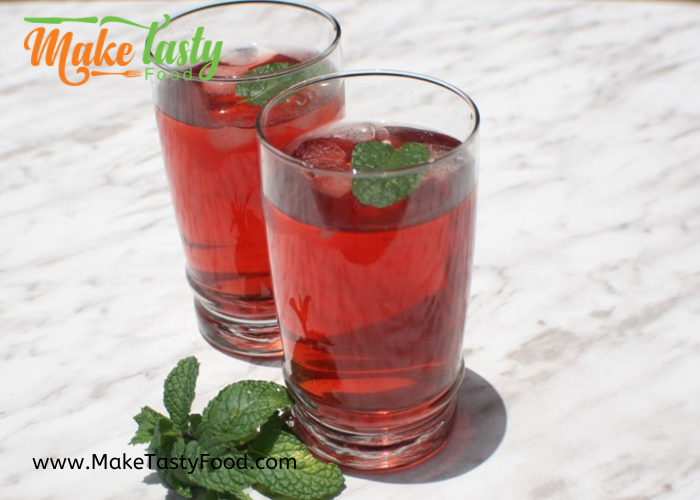 The fruity brewed tea is chilled in the fridge. Top up a glass and add ice and a leaf of mint.
This fruity iced tea is really thirst quenching. The whole family loves to drink the iced tea. I used red berry tea and tropical aromatic tea as well.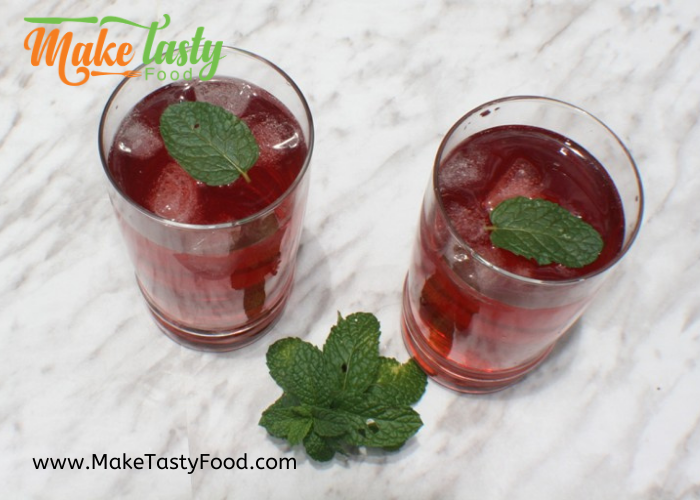 This is a very easy and inexpensive way to make some ice tea. Try different flavors and herbal teas as well. Infuse with juices, or flavors that suite your taste.
Keep in glass bottles and keep chilled in the fridge. Easy to obtain and drink when you need it most.
Get more homemade cool drinks recipes —–> 13 Homemade Cool Drinks Recipes and these recipe ideas as well —–> 13 Fruity Drinks for Summer
Make these homemade —–> 29 Family Christmas Snack & Drinks Ideas
Print
Simple Fruity Iced Tea
Simple Fruity Iced Tea made with tropical fruit tea and aromatic herbs. Simply brew the tea bags in ice tea maker add required sugar, chill.
Prep Time:

10 min

Cook Time:

10 min

Total Time:

20 min

Category:

Drinks

Method:

boil
Ingredients
Iced tea maker (or large Pot)

6

  fruity tea bags of choice
water
Sugar 
Instructions
Fill the iced tea maker with water to required measure in the iced tea maker.
Fit the tea brewer with the tea bags and switch the tea maker on.
Leave to brew until complete, add sugar and stir, pour into bottles to chill.
If you are using a large pot. This will be if you do not have a iced tea maker.
Fill the pot with water. 
Peg or clip about 10 to 12 fruity flavored tea bags to the side of the pot.
Bring to boil and switch off the plate. Add your sugar.
Leave to cool and then fill up your glass containers with the brewed iced tea. 
Place in fridge to chill. Use a jug if desired.
Fill your glasses and add ice blocks and a sprig of mint or lemon.
Notes
Try different fruity teas and herbal teas, any tea that you prefer. Sweeten the iced tea or not.
Keywords: simple fruity iced tea
If you love to make homemade drinks here is another.
Enjoy