Easy Bottled Sweet Apple chutney Recipe. Homemade bottled or canned apple chutney When life gives you apples in apple season.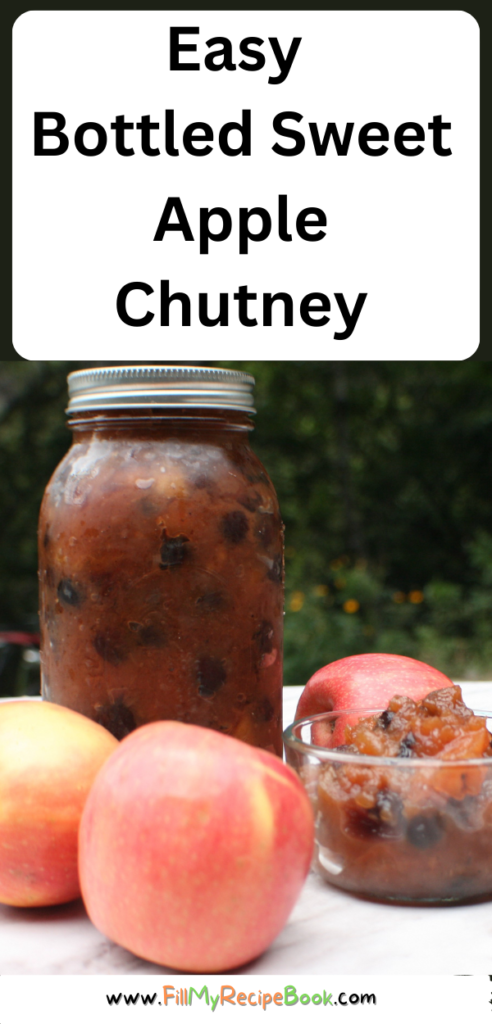 Easy Bottled Sweet Apple Chutney
Easy Bottled Sweet Apple chutney Recipe. Homemade bottled or canned apple chutney When life gives you apples in apple season. A No Bake stove top recipe idea to create for canning or bottling fruit chutney for a condiment. Great for storing and using through out the year.
Living on a farm you might have apple trees growing and have a surplus of apples to use. We had a box or two of apples and needed to make something with them. Being in Ecuador this product is not purchasable, so then you have to make chutney. Coming from South Africa one is accustomed to buying these amazing chutney products. This recipes is so easy and makes quit a large quantity. I halved the recipe simply because I only had a certain size cooking pot. Bottled the chutney mixture, as we would be using it often. Canning is also an option and would be kept for a much longer period of time.
How long does homemade apple chutney last?
All chutneys and relishes and pickled fruits last up to a year on the shelf at room temperature. When you open them up to use then store in the fridge for at least 4-6 weeks.
What is the best vinegar to use for chutney?
A good make of white, wine or malt or apple cider vinegar will poses the qualities to produce a great and lasting chutney. Also if you chutney is darker then use a brown sugar and a white sugar when the fruit is lighter.
Do you bottle chutney hot or cold?
The bottles should be sterilized and clean and dry, but still HOT. Fill the chutneys while still warm to the top of the jar. This will prevent any condensation trapped in the jar. The chutneys or any preserves normally also shrink slightly when cooler. It is important to seal the jars while still hot. These are the rules for all jams, pickles and preserves.
Ingredients
apples
onions
brown sugar
vinnegar
lemons Zest and juice.
chili
ground ginger
all spice
cinnamon
ground cloves
salt
peppercorns
To get the amounts for the ingredients and the instructions view the recipe attached.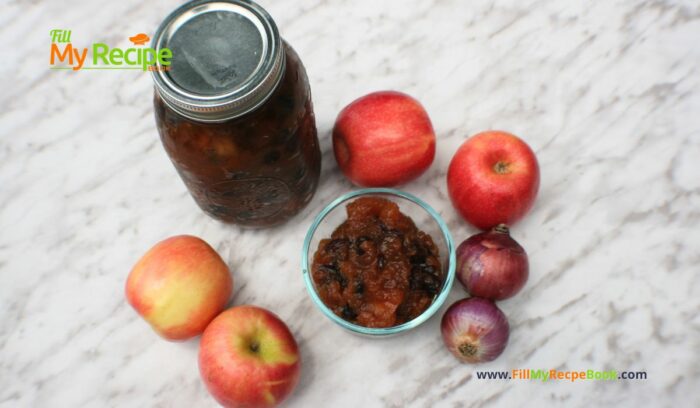 How To
The apples are peeled, cored and chopped into small pieces or as desired. Then raison and spices as per recipe are added, brought to a boil.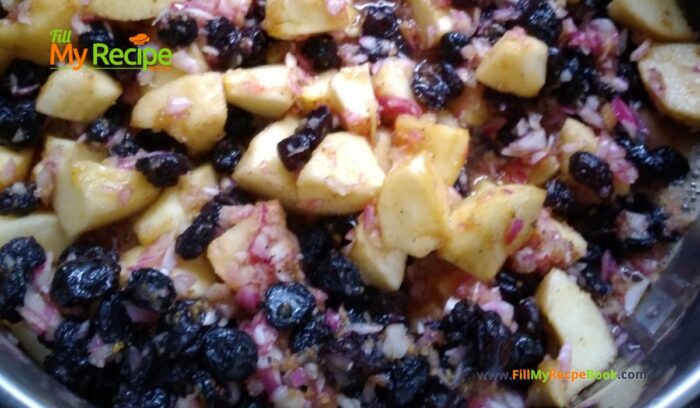 Once boiled and simmered until not liquid is at bottom of the pot. Test with a spatula. Sterilize some jars and fill the hot liquid into them. Sealing well and leave to cool. This amazing chutney is best kept first for a month then used.
Make a few jars to keep for a while. Where we live in Ecuador there isn't any chutney to purchase in the supermarkets. Therefore we make a lot of our own condiments. Which is great because we are on the farm and grow some of our own veggies.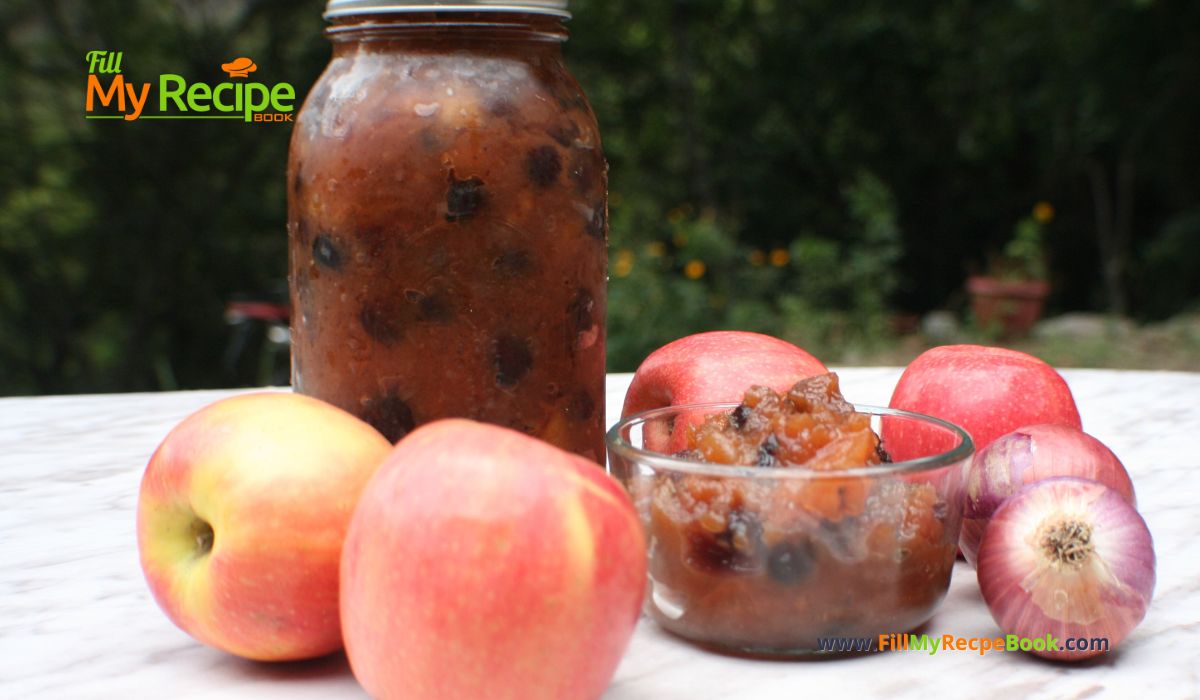 Recommendations
(click the highlighted heading for the recipe)
Get other apple recipe ideas and then these delicious ones to choose from —-> 21 Delicious Apple Recipes
Other bottled recipe ideas to create —-> Tasty Homemade Pear Chutney and Mustard Curry Green Beans and Easy Bottled Sweet Apple Chutney and Tasty Curry Beetroot Chutney and Sweet Tasty Apple Sauce
Print
Easy Bottled Sweet Apple Chutney
Easy Bottled Sweet Apple chutney Recipe. Homemade bottled or canned apple chutney When life gives you apples in apple season.
Author:
Prep Time:

1 1/2 hrs

Cook Time:

4 hrs

Total Time:

5 1/2 hrs

Yield:

5 x 800g canning jars

Category:

condiments and sauces, chutneys

Method:

no bake stove top
Ingredients
1 1/2

Kg of apples (weighed before chopping and peeling)

500 g

onions (weighed before chopping and peeling)

400 g

of brown sugar (or demerara sugar)

500

ml of white wine vinegar (if no vinegar use lemon juice or apple cider vinegar)

2

lemons and their Zest and juice.

1

small chili

1 Tsp

of ground ginger

1 Tsp

of all spice

1/2 Tsp

of cinnamon
a pinch of ground cloves

1/2 Tsp

of salt

8

peppercorns

1 Tbsp

. of mustard seeds 
Instructions
Wash, peel and core apples, then chop into pieces.(as required).
Peel, chop and mince up onions.
Deseed and finely chop up chili.
Place ingredients in a large cooking pot and bring to boil slowly. Stirring now and then. Until sugar is dissolved.
Then simmer on low heat, that the bubbles are barely visible until the chutney has thickened. 
Draw a spatula across the bottom of the chutney to see if no liquid appears. Then it is done.
Fill clean sterilized jars while warm, with plastic under lid. seal.
Leave to mature for a month, longer is better.
Keywords: Easy Bottled Sweet Apple Chutney Recipe
Some Storage Ideas and Recipes to choose from. Also choose some No Bake Stove Top Recipes.
Download some FREE Printables to help in the kitchen with.
Get these bargains while they last with a few Useful gizmos for the kitchen. Some interesting gizmos to help in and around the kitchen and house.