Healthy Infused Fruit Water Recipe that doubles as a detox and a refreshing fruity cold drink on hot days. An easy recipe with fresh fruit.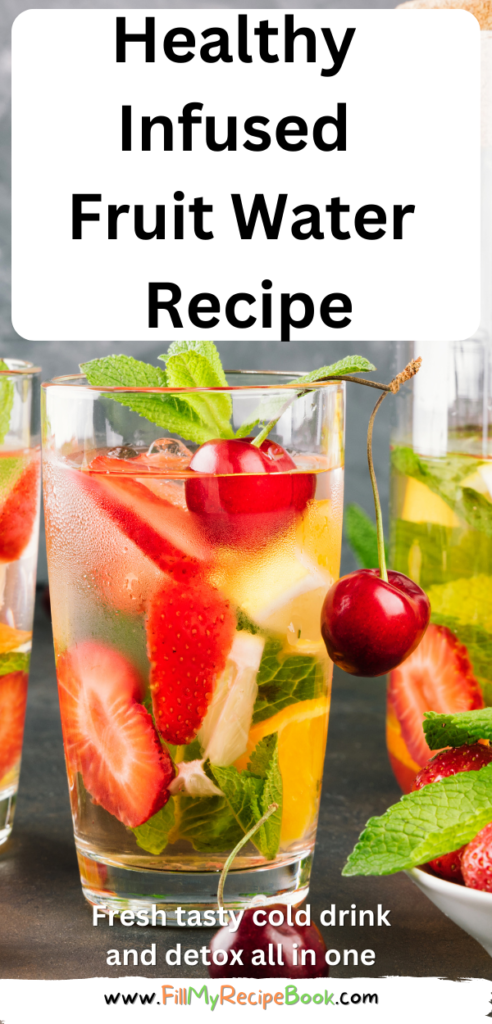 Healthy Infused Fruit Water Recipe
Make this easy and healthy infused fruit water recipe idea for the hot summer days. To keep hydrated and to detox with the apple cider vinegar. Fruit filled clean filtered water is healthier as it will contain many fruit nutrients and helps you recover quickly in the heat. Many health benefits are included in drinking as much as you can chilled fruit infused water with ice. Make it in minutes with mint and cherries or other fruits for a pleasing eye catching cool drink. Great for parties and get togethers with family, alcohol free.
What is the healthiest fruit to put in water?
apples
blackberries
blueberries
grapefruit
kiwis
lemons and limes
oranges
pears
Is water infused with fruit healthy?
Drinking water infused with fruits and herbs is a smart way to stay hydrated and to cleanse your system with a detox without overloading your system. If you do not drink enough water you will dehydrate which will lead to muscle spasms renal dysfunction and increase risk of bladder cancer and death. It is a healthy way to consume enough liquid with healthy fruits and chilled for a hot summer drink.
Can I drink fruit-infused water everyday?
Consuming fruit infused water is safe to drink in large quantities, but make sure your fruit is cleaned properly and that they do not contain any poisons and that the water is clean and filtered and free of contaminants. Using the apple cider vinegar in the fruit infused drinks is optional, and would recommend drinking once or twice a day only.
How long can you infuse fruit in water?
Recommended to keep the fruits in the clean water for up to 18 hours. But its important to strain out the fruits after about 18 hours of absorption to prevent them from becoming soft and decomposing. The water will have the flavors of the fruits and be infused with all the nutrients which would be good chilled for up to 3 days and drinkable.
Ingredients
fresh oranges
fresh strawberries
fresh lemons or limes
mint leaves
filtered water
apple cider vinegar
ice cubes
For the amounts of the ingredients used and the instructions see the recipe attached.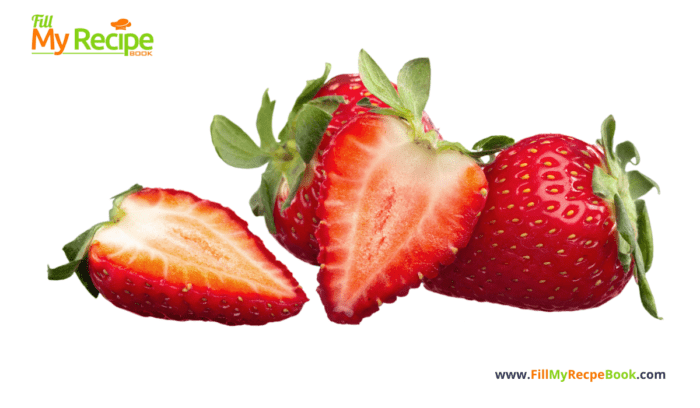 Clean cut strawberries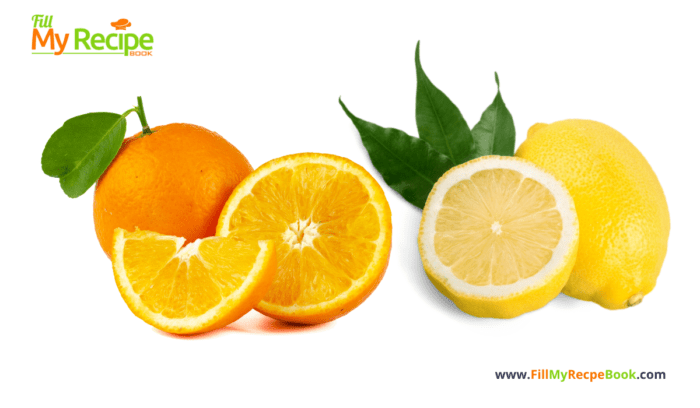 Slice oranges or lemons or limes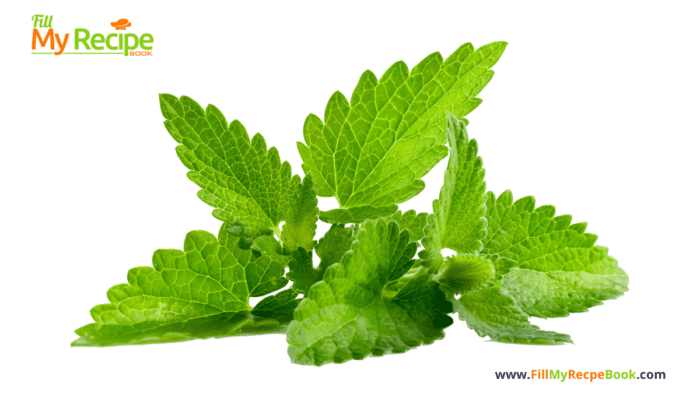 mint leaves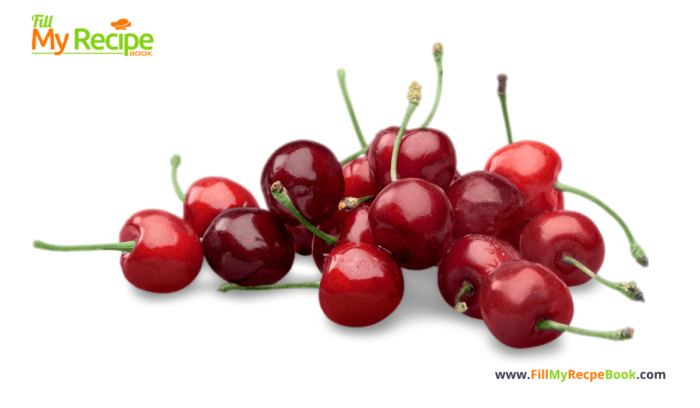 clean whole cherries on a stick for decoration
Drinking healthy filtered waters helps lowers your risk of developing cancers and other problems by removing chlorine and other toxic chemicals. Filtering water will remove the minerals that are bad for you and that are harmful for your health. While keeping the minerals that you want to stay in the water.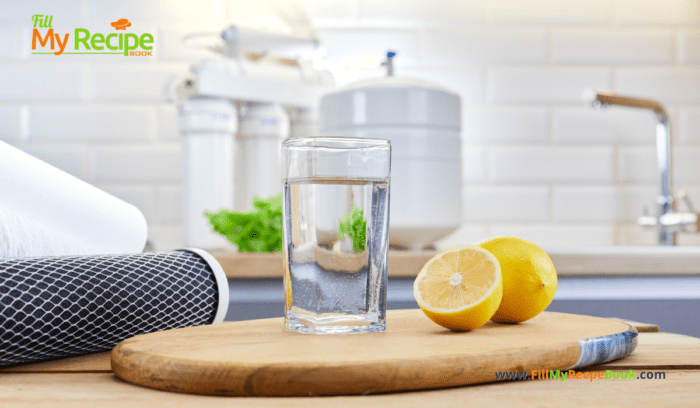 How To
A simple and easy fresh cut fruit and filtered clean healthy water drink, with apple cider vinegar and mint leaves. Fill the jug or pitcher with the water and add the clean sliced fruits and citrus fruits and mint leaves in the water. Stir up and place to chill for two hours in the fridge before serving.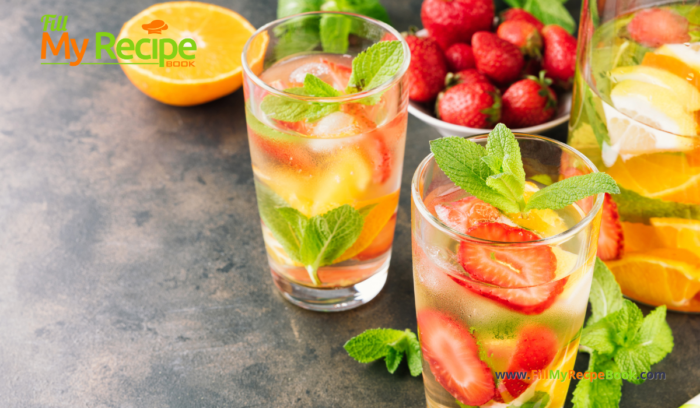 Make some ice cubes to serve with the drink. Adding cherries or other fruit for decoration or eating is very attractive.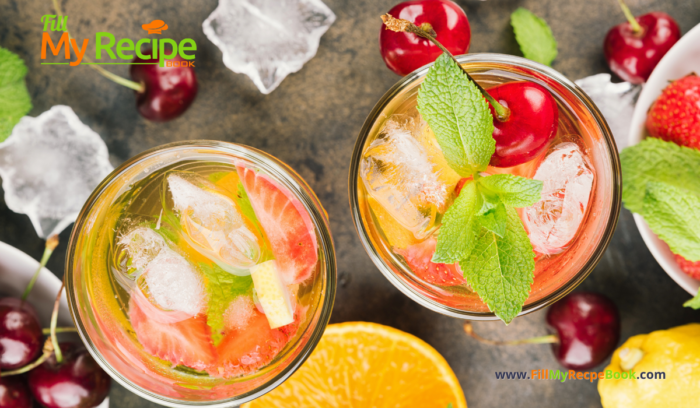 Stir up the chilled fruit infused water and add fresh mint leaves on top with the ice cubes and hand a fruit or cherries over the side for a more pleasing cold fresh drink to have on a summers day.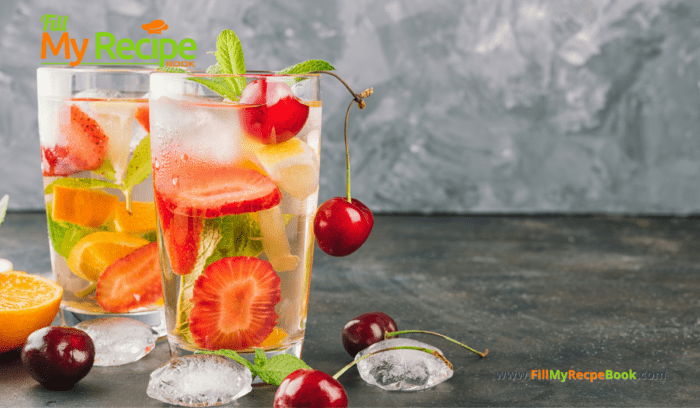 Such a healthy hot summers day cold fruit drink that could have honey added for more sweetness.
Drink as much as you like for the day. Made in a two liter jug that will last for at least 18 hours before it is recommended to take out the fruit. The fruit will leave all the nutrients in the water that is healthy to drink for up to three day if chilled.
If you add the apple cider vinegar to the water and fruit then I would recommend that you drink it twice a day for healthy benefits and detoxing. But if you want to make this recipe for the family for a chilled fruit water drink then leave out the apple cider vinegar.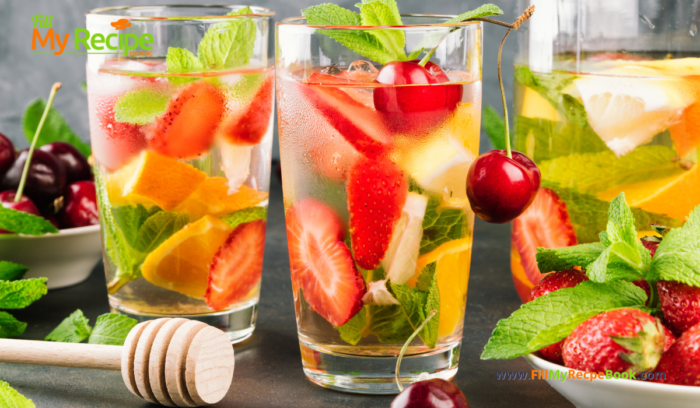 Recommendations
(click the highlighted heading for the recipe)
For more homemade healthy cold healthy drinks recipe ideas —-> Homemade Thirst Quenching Ginger Beer and Simple Healthy Lime Juice with Honey and Homemade 3 Ingredient Passion Fruit Juice and Simple Fruity Iced Tea Recipe and Honey Apple Cider Vinegar Drink.
More iced tea recipes —-> 12 Refreshing Ice Tea Recipes
Print
Healthy Infused Fruit Water Recipe
Healthy Infused Fruit Water Recipe that doubles as a detox and a refreshing fruity cold drink on hot days. An easy recipe with fresh fruit.
Author:
Prep Time:

4 min

Cook Time:

2 min mix

Total Time:

6 min

Yield:

2 liters

Category:

Drinks, cold

Method:

no bake stove top
Ingredients
200 g

fresh ripe strawberries cut in half

1

fresh sweet oranges sliced
a sprig of mint leaves

2

liters of filtered fresh water

1

lemon sliced

1 tablespoon

of apple cider vinegar. –optional–(for a detox drink rather add the tablespoon of apple cider vinegar to your glass of fruit infused water and drink in the morning and the evening.)
Instructions
Wash and clean all fruit. Slice the oranges and lemon or limes, cut strawberries in half, detach mint leaves.
In a 2 liter jug or pitcher add the filtered water.
Add the sliced and cleaned fruit to the jug of water. Add the mint leaves and the apple cider vinegar.
Stir and mix, then place the jug covered with a cling wrap plastic, in the fridge to chill.
Chill for at least 2 hours for the fruit juices and flavors to be absorbed.
Stir before serving with ice and decorate with a cherry or other optional fruit.
This fruit flavored or infused water doubles as a detox drink.
Notes
Its optional to use apple cider vinegar, but it is very healthy to drink this fruit infused water with it. The ratio of apple cider vinegar to the 2 liters of water infused fruit is very low.   
Drinking this fruit infused water without the apple cider vinegar. For a detox, its recommended, that you only add the tablespoon of apple cider vinegar to the glass of fruit infused water and drink it twice a day.
Read all about detoxing with apple cider vinegar –> Honey Apple Cider Vinegar Drink.
Keywords: Healthy Infused Fruit Water Recipe