Loaded Breakfast Potjie Pot Recipe idea for the camp fire coals. A full course of bacon, sausage and beans, egg in one pot for a outdoor meal.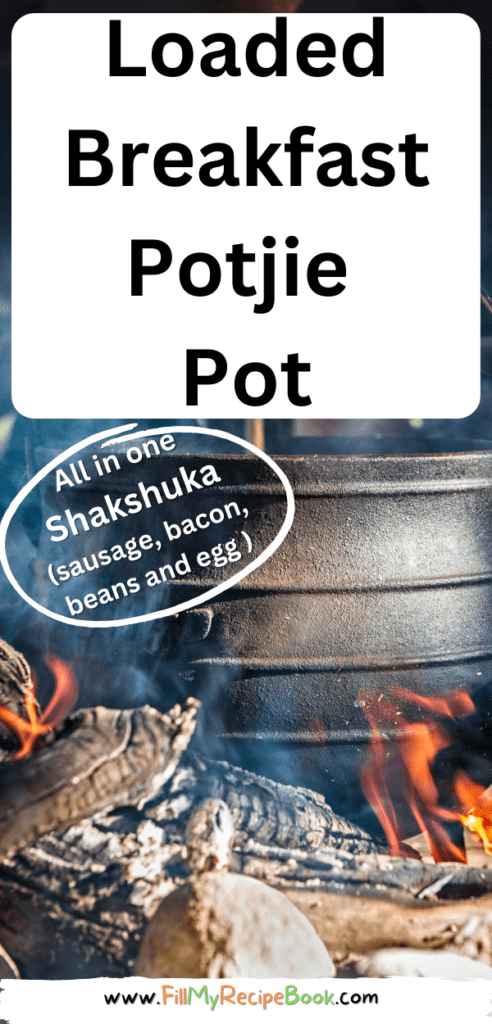 Loaded Breakfast Potjie Pot
Camping or had a braai then cook this loaded breakfast potjie pot recipe idea on coals for the family, or crowd. A brunch or breakfast full meal with bacon, sausage and baked beans all sautéed with onions and mushrooms, tomato sauce. Pockets of eggs simmered until cooked. Served scooped out with a large spoon individually, including an egg and sausage base on a plate. Add buns or bread or pup if you like as a side dish for this breakfast. Its to die for and an all in one pot meal. No bake and braai recipe idea to create.
How do you prepare a potjie for the first time?
This is what should be done before using a potjie for the first time.
Wash out with hot soapy water and steel wool, then dry thoroughly.
Coat the inside with cooking oil and bring to heat until the oil begins to smoke.
Allow the cast iron potjie to cool.
Wipe with a paper towel.
Repeat with the wiping with a paper towel until it comes out clean.
What do the rings on a potjie mean?
Did you know that the number of rings, multiplied to the size of the potjie pot equals the number of servings it can make. For example the size 3 pot has 4 rings on the out side of the pot, so that means it can serve 12 servings of the meals cooked in that pot. That is if the food fills the pot.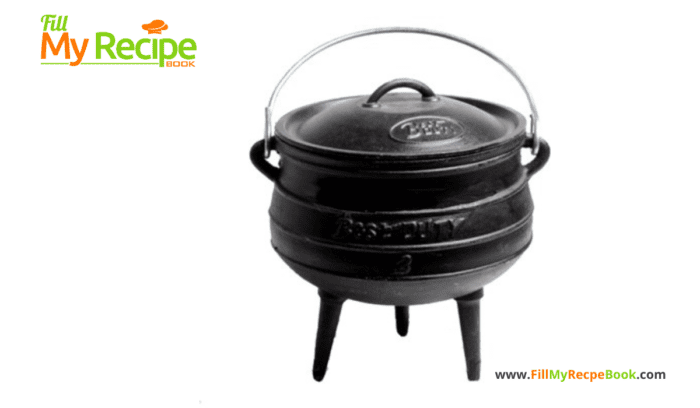 How many people can eat from a potjie?
Some potjies brands can be different sizes and they do have those rings on the sides to indicate the amount of people to feed. The different sizes can feed from 4 up to 25 people from this one pot meal.
What makes a good potjie?
When adding liquid or oils always have the potjie heated up a little first. Pouring it carefully and slowly down the side of the pot. Otherwise adding cold liquid, it would bubble and burst and steam, could be dangerous. Avoid adding large quantities of tomato and vinegar lemon juice or wines to the cast iron pot as the acidity reacts to the cast iron pot. Rather use water or stock.
Ingredients
onion
mushroom
bacon
sausage
tomato and onion sauce
chutney
baked beans
eggs
salt and pepper
For the amounts for the ingredients and the instructions see the recipe attached.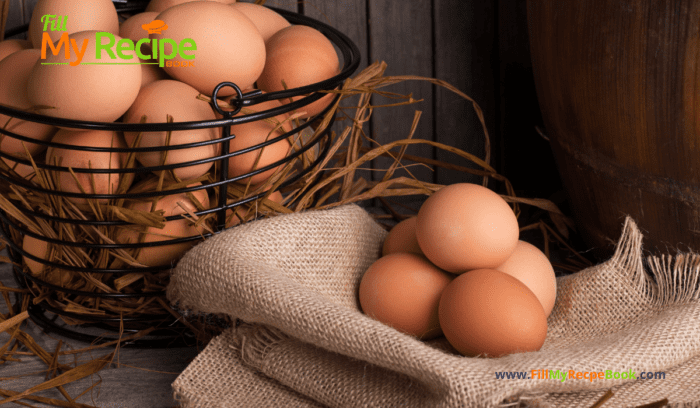 eggs
sausage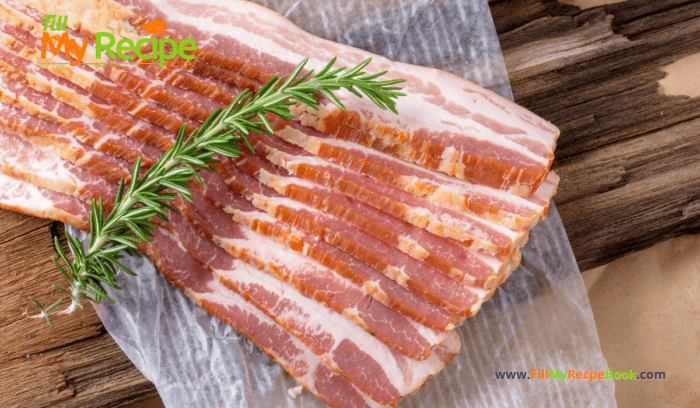 bacon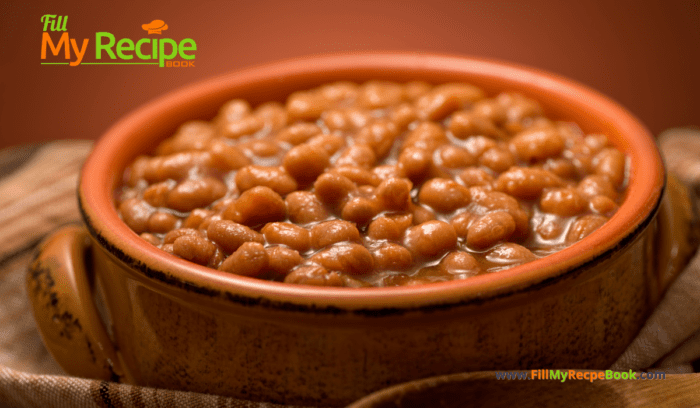 baked beans
Onion and mushroom and tomato mix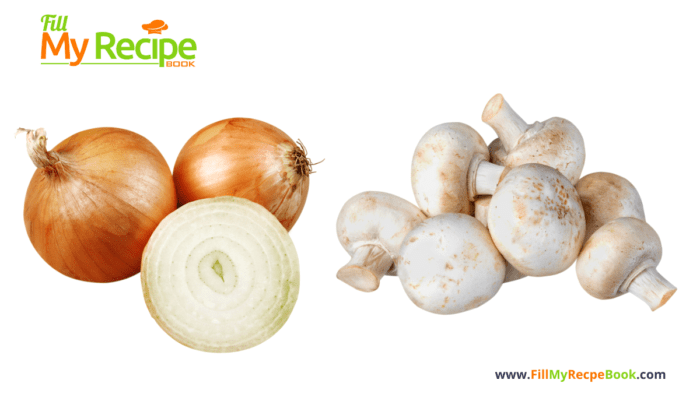 How to
With the coals warm on an open fire, cook up a loaded filling breakfast in a potjie pot. A family or crowd recipe idea that will be an all in one pot meal or brunch.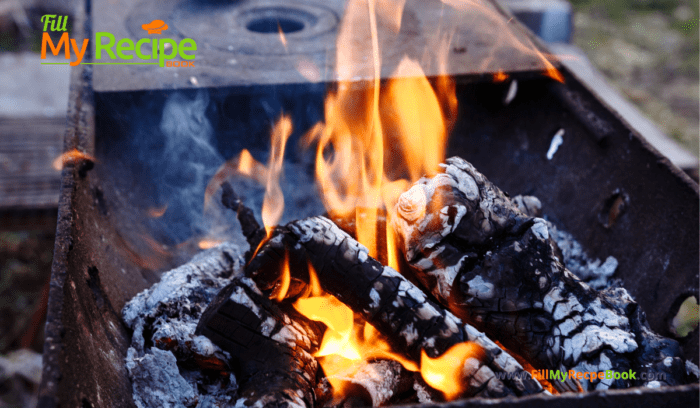 Fry the onions and mushroom until almost tender then add the bacon, sausage cut into pieces. Cook until brown, add tomato onion sauce, baked beans, chutney and the water. Salt and pepper.
Leaving the potjie to simmer with the lid on for about a half an hour or less.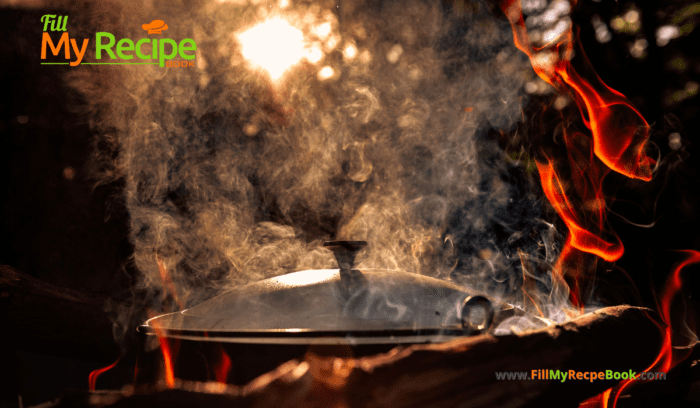 Open the lid and make pockets for the eggs to cook evenly around the pot. Add one egg per pocket and take the potjie off of the coals, placing the lid on the potjie pot. Leave to simmer until eggs are cooked.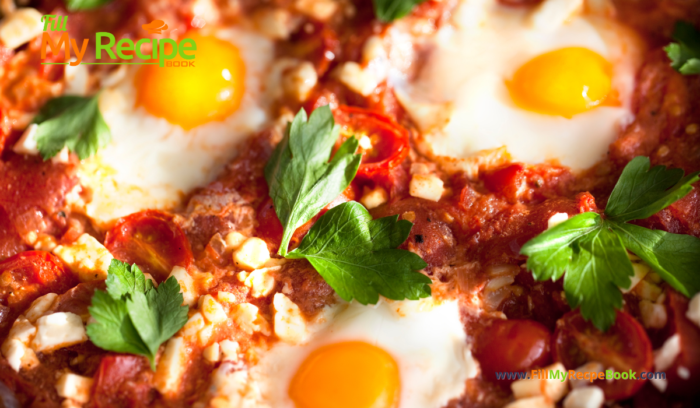 Serving on a plate with bread or buns. Scoop with a large spoon the eggs individually out with sausage and bacon mix. A cowboy breakfast it is. Loaded full of protein and nutrition to keep you filled and give you energy until the next meal.
Recommendations
(click the highlighted heading for the recipe)
Get cooking with more potjie pot recipe ideas for lunch or dinner —-> Creamy Seafood and Wine Potjie Recipe and Chicken and Noodle Potjie Recipe and Easy Biltong Pasta Potjie Recipe and Curry and Yellow Rice Potjie and Tasty Oxtail Potjie Recipe and Filling Lamb Shank Potjie
When using cast iron potjie pots and accessories get the equipment them. Cleaning as well as preserving the cast iron pots and pans.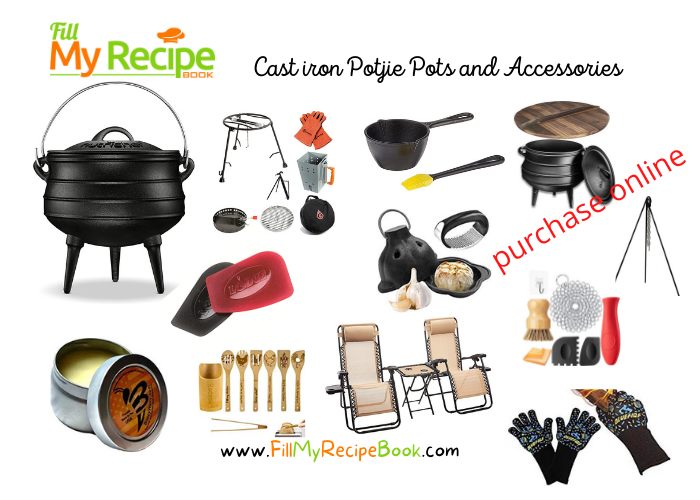 Print
Loaded Breakfast Potjie Pot
Loaded Breakfast Potjie Pot Recipe idea for the camp fire coals. A full course of bacon, sausage and beans, egg in one pot for a outdoor meal.
Author:
Prep Time:

5 min

Cook Time:

40 min

Total Time:

45 min

Yield:

6

Category:

Meals, breakfast, brunch

Method:

braai, open fire on coals, potjie

Cuisine:

South african
Ingredients
1

large onion

250 g

of mushrooms

2 tablespoons

of olive oil

1

packet of bacon

500 g

of breakfast sausage (or any boerewors sausage)

1

tin of tomato and onion (or homemade fried tomato and onion)

1

tin of baked beans

1 cup

of water

2 tablespoons

of chutney or sauce

6

eggs
salt and pepper
Instructions
over an open fire on coals, add the onion in a little olive oil and sauté for a minute or two.
Add the bacon and cut up sausage and cook until browned.
 Then add the mushrooms and finish the fry.
Empty the onion and tomato sauce, chutney baked beans and mix
Also adding the water and salt and pepper next.
Leave it to simmer low for about half an hour with lid on.
With a soup spoon make holes in the sausage, bean mix for the eggs, add the eggs in the holes. The holes should be spread out equally around the pot.
Do not stir or mix, place the lid on and take it off of the heat, and leave to cook for a minute or two until the eggs are cooked.
Using a large dish up spoon, scoop out the egg with sausage bacon mix individually and place on the serving dish.
Serve with a bun or toast for a camping breakfast with coffee.
Notes
This breakfast potjie pot can be made in a cast iron pan on the stove top.
Another side dish idea is to serve on "pup" or pasta or rice.
Keywords: Breakfast Potjie Pot Recipe