Homemade Thirst Quenching Ginger Beer for those very hot summer days. Homemade ginger beer with healthy ginger and lemon juice.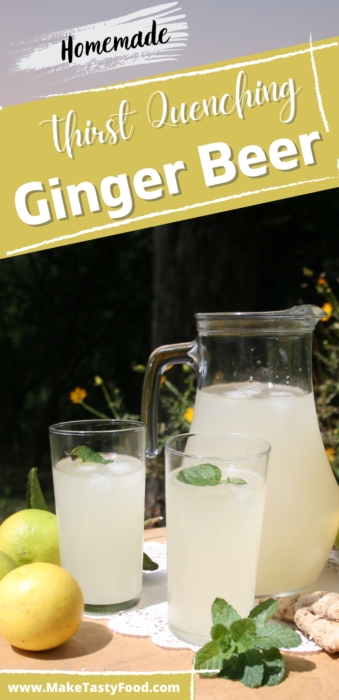 A delicious homemade thirst quenching ginger beer made from organic ginger and limes from the farm. Mint is picked from the veggie garden and fermented in our own kitchen. Placing the final ginger drink in a fridge for chilling and serving with ice.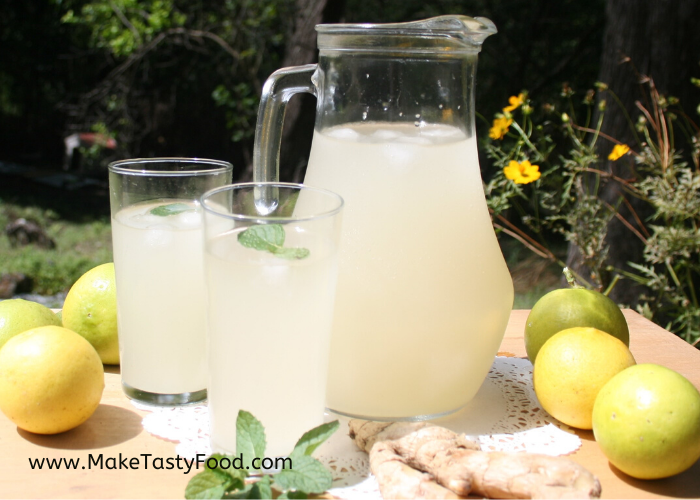 Glasses of iced ginger beer with mint leaves, so refreshing and healthy.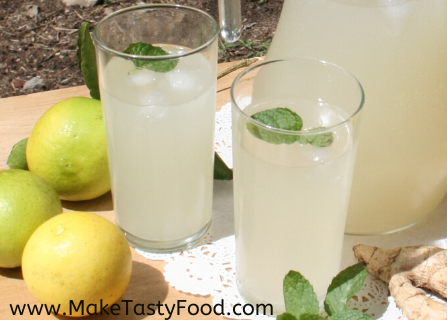 A cold pitcher of homemade ginger beer filled with ice and a leaf of mint.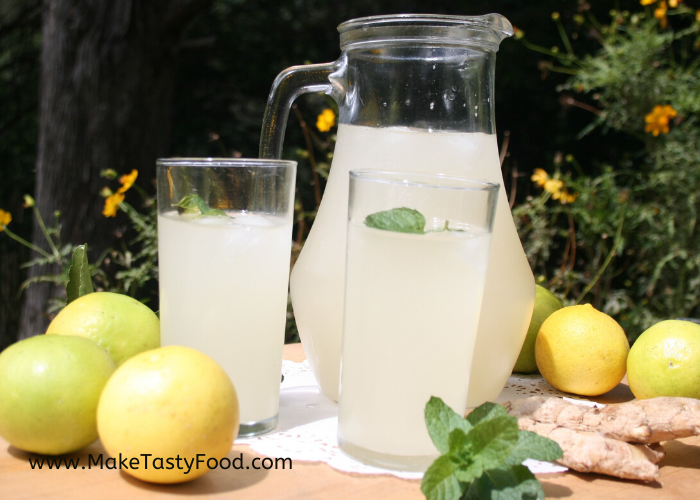 Fresh lemons squeezed for the juice and organic ginger scraped and all brought to a boil, to draw out the ginger in the ingredients.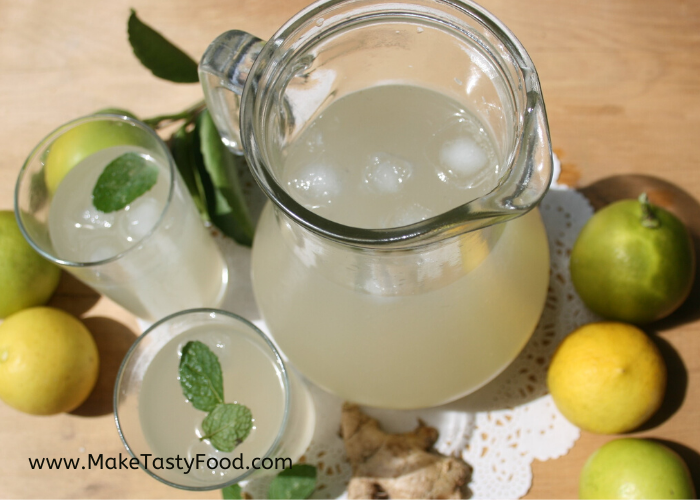 Get more homemade cool drinks recipes —–> 13 Homemade Cool Drinks Recipes and these recipe ideas as well —–> 13 Fruity Drinks for Summer
Make these homemade —–> 29 Family Christmas Snack & Drinks Ideas
Print
Homemade Thirst Quenching Ginger Beer
Thirst Quenching Ginger Beer (or ginger ale)for those very hot summer days. Homemade ginger beer with healthy ginger and lemon juice. Ginger is healthy and thirst quenching.
Author:
Prep Time:

3 DAYS

Cook Time:

15 min

Total Time:

3 days and 15 min

Category:

Drinks
Ingredients
6 Liter Mix.
Syrup
3 Cups white granulated sugar
1 1/2 cups of water
6 Tbsp. grated fresh ginger
Mix
9 Tbsp. of fresh lemon juice 
21 cups of filtered clean water
6/8 tsp of yeast
ginger syrup mixture as above.
Instructions
Peel a lot of ginger with the tip of a teaspoon. – papery skin scrapes right off. Grate the ginger finely.
Combine the syrup mix in a pot heat over medium heat, and leave to simmer to draw the ginger. Stirring to dissolve the sugar.
Keep to draw for at least an hour. Sieve the syrup to get the grated ginger pieces out. Leave aside.
Obtain your plastic "coke a cola" bottles. (6lt. makes 3 x 2lt bottles). Divide the syrup between the bottles equally.
Then with a funnel in the top of the bottle, sprinkle the yeast in , lemon juice and then the water. Equally.
Put the lid on the bottle and shake the concoction until the yeast is dissolved. Stow it away on a shady shelf or in your pantry out of the direct sunlight for 2- 3 days.
Every day release the gas,  by unscrewing the top loose a little. Then closing it again. Do this until the fizz has been achieved.
Then store in a fridge to prevent further fermentation. 
Don't forget about the bottle otherwise it will explode.
Pour cold and enjoy with ice and a sprig of mint or lemon slice. 
Notes
This is a easy recipe and very thirst quenching. Double the recipe if required.
Keywords: thirst quenching ginger beer or ginger ale.
Most thirst quenching ginger beer one can have to drink.
Place ice and some mint leaves in the glass.
You love this drink then make this easy one at home to.