Easy Swiss Chard Mushroom and Feta Quiche recipe that has a base of swiss chard or spinach, mushrooms, feta. A tasty crustless savory quiche.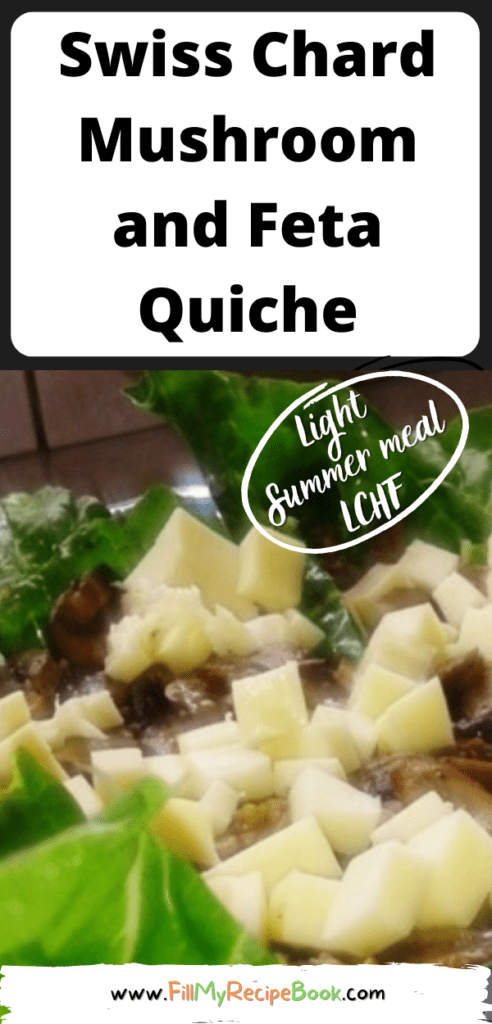 Swiss Chard Mushroom and Feta Quiche
This easy swiss chard mushroom and feta quiche is healthy and tasty, light meal or dessert or snack for tea time. A crustless base made with the swiss chard leaves or use spinach of your choice. Filling is made with mushrooms and feta or mozzarella cheese, eggs and milk custard. Topped with cheese of choice. A healthy oven bake LCHF quiche.
What cheese is the same as feta cheese?
Feta Cheese Substitutes
halloumi which is slightly softer and less crumbly than feta cheese.
Parmesan is also a good alternative to feta cheese. It has a similar flavor but has a more cheesy flavor than feta does.
Cottage cheese is also an option you can try.
Persian Feta.
Goats Cheese.
Ricotta.
Ingredients
swiss chard or spinach
feta cheese
mushrooms
egg and milk
salt and pepper
herbs
Get all the amounts and ingredient needed as well as the herbs for this LCHF quiche in the recipe attached.
How to.
With your clean swiss chard or spinach leaves add them at the bottom of you pie or quiche dish. Add the sautéed mushrooms.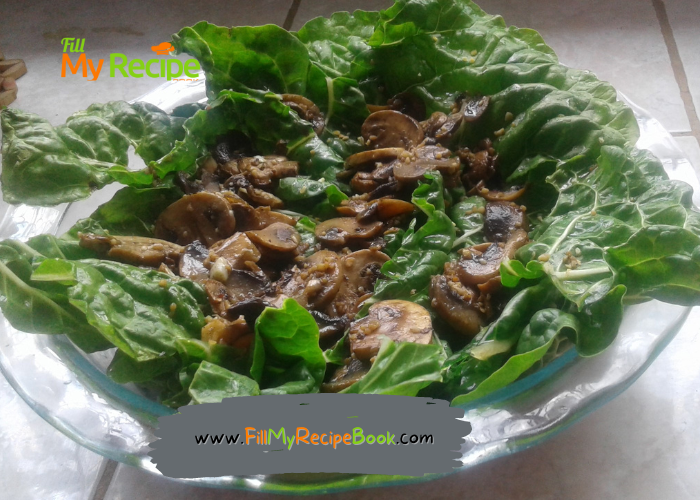 Add Feta or as I did mozzarella cheese as we don't get feta where I live. It came out delicious. Use parmesan or cottage cheese, all should work well.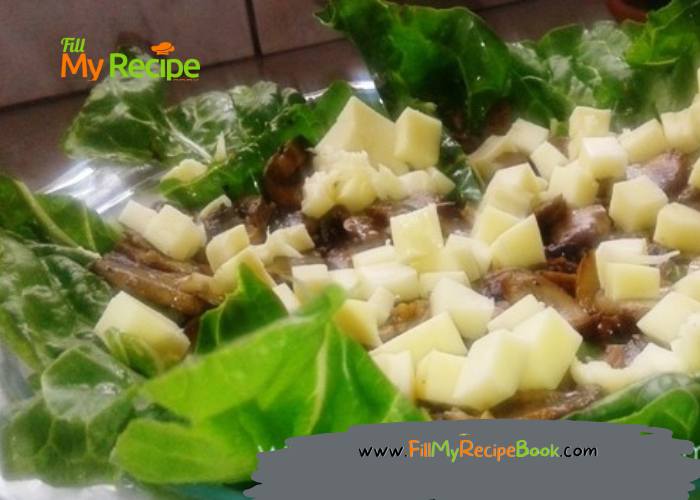 Cheese of choice grated and sprinkled on the top. I used mozzarella and you may use cheddar for more color. Also add some parmesan for that extra tang of savoryness.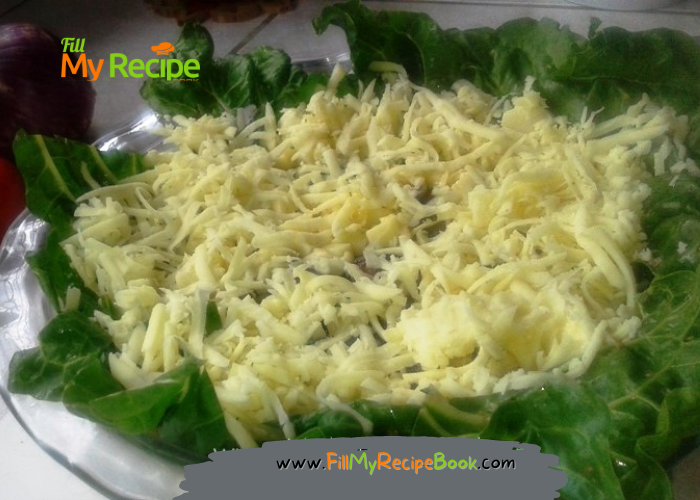 Wisk the egg and milk custard mix with spices and pour over the cheese and mushrooms.
Sprinkle the cheese with dried parsley or dried basil. Bake in the oven and cool on a cooling rack once baked. Serve warm.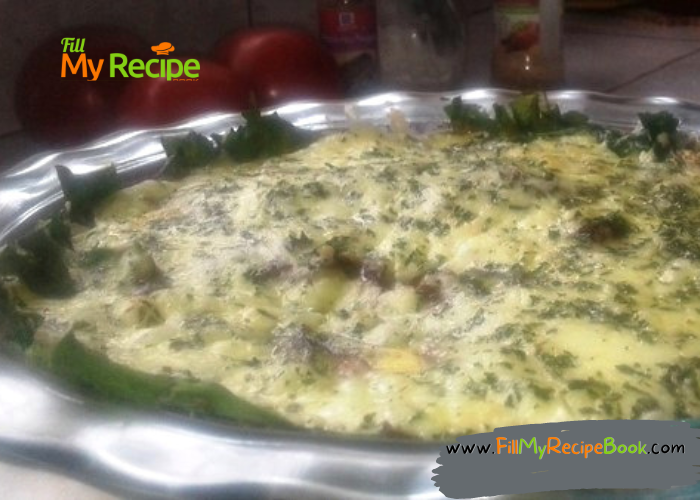 Is Swiss chard and spinach the same thing?
Chard and spinach are often confused with each other, yet they are two different plants. Botanically and scientifically, the two plants are totally different species. Chard (Beta vulgaris) is a member of the chenopod family. Spinach (Spinacia oleracea) is a member of the amaranth family.
Is Swiss chard as healthy as spinach?
Chard is richer in vitamin K, and copper. Spinach is richer in folate, magnesium, vitamin A RAE Iron, vit B2, and B6 and potassium.
Is chard Anti Inflammatory?
Chard has an abundance of antioxidants and as well as phytonutrients. Antioxidants have been shown to have great anti-inflammatory properties and Phytonutrients can be found in the plant's leaves and colorful stems.
Recommendations.
(click the highlighted heading for the recipes)
Great quiche recipe ideas for you to create —-> Crustless Salmon and Spinach Quiche and Quick Fajita Veggie Quiche . as well as 8 Easy Crustless Quiches Recipes
Mothers day recipe ideas to create —–>18 Mother's Day Morning Tea Ideas
Not forgetting about Fathers Day. Make these for him.—–> 24 Fathers Day Breakfast or Brunch Recipes
Get these —–> 9 Easy Crustless Quiche Recipes and —-> 13 Amazing Quiche Recipes
as well as these ideas —– 13 Amazing crustless quiche recipes
You will love these recipe ideas as well —-> 19 Healthy Mushroom Filled Recipes
Healthy Swiss Chard recipe ideas —-> 9 Easy Swiss Chard Meal Recipes
Print
Swiss Chard Mushroom and Feta Quiche
Easy Swiss Chard Mushroom and Feta Quiche recipe that has a base of swiss chard or spinach, mushrooms, feta. A tasty crustless savory quiche.
Author:
Prep Time:

20 min

Cook Time:

45 min

Total Time:

65 min

Category:

Meals, supper or lunch, dessert

Method:

Oven Baking
Ingredients
240 g

. of Mushrooms sliced

1/2 tsp

of garlic flakes (or Chopped cloves)

300g

swiss chard or spinach shredded

4

eggs

1 Cup

of milk

60 g

of Feta cheese (or feta substitutes)

1/4 cup

of Parmesan cheese grated

1/2 cup

of Mozzarella cheese grated
Salt and pepper to taste
Parsley or basil for top of cheese.
Instructions
Heat oven to 180 Deg. C
Grease the pie or tart dish.
Rinse and slice mushrooms, then sauté mushrooms garlic and salt and pepper. for about 5 – 7 min. till tender.
Cover the bottom of the pie dish with shredded swiss chard or spinach leaves.
Add the cooked mushroom then the crumbled feta over the top of the mushrooms.
Whisk eggs milk.
Pour this egg and milk mixture over the mushroom and feta and then sprinkle the cheese, mix over the egg and sprinkle some parsley or basil over the top.
Bake until brown and firm for about 45 minutes to an hour.
Leave to cool a little on a cooler rack.
Serve warm or cool as desired
Notes
This quiche can be used as a light meal as well LCHF dish. Very easy to make and tasty.
Keywords: Easy swiss chard and mushroom and feta quiche recipe
Loved this easy quiche, here are some sweeter deserts to try.
Download your FREE Printables of kitchen charts and household planners as well as some coloring pages for relaxing for adults and kids.
More No Bake Stove Top Recipes to choose from.