Quick Versatile Flapjacks are a South Africans recipe. A breakfast with honey topping or fruits of choice. Easy sugar free meal, snack idea.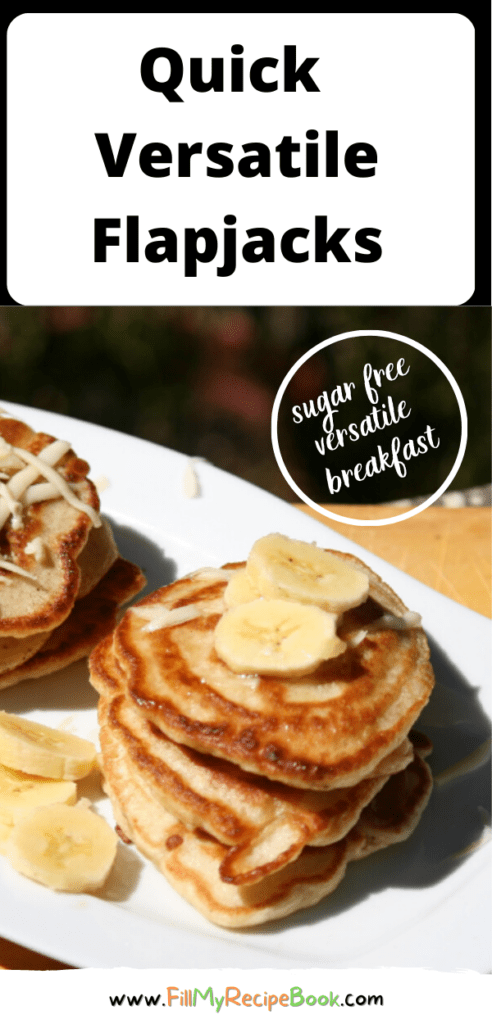 Quick Versatile Flapjacks.
These ingredients make pancakes as well. Make sure that the mix is thin enough for pancakes. We have a different flour and need more milk. Use these for a breakfast for the kids or grownups, very simple and easy with great toppings. For instance use syrup or honey and grated cheese. Even toast them a little and add bacon and an egg, with cheese on. So versatile. If you require them sweeter, just add some honey in the mix. Sprinkle fruit on top of the flapjack as well.
Blue berries, bananas drizzled with honey or maple syrup. Amazing quick versatile sugar free flapjacks to make. Snack or breakfast or small supper.
What's the difference between flapjacks and pancakes?
In the US, the terms flapjack and pancake are interchangeable. There is no difference between the two. Flapjack is a term that you will hear more often in the South, while you will see pancakes on more menus in the north (similar to the divide between stuffing and dressing)
What do Americans call flapjacks?
In the United States and Canada, "flapjack" is a widely-known but lesser-used term for pancake
Is flapjack a cake or biscuit?
British call the flapjacks a thick biscuits made from oats, butter, and syrup. That's what South Africans would call crunchies.
Ingredients
eggs
milk
flour and baking powder
cinnamon
olive oil
salt
View the recipe attached for the amounts and method.
How To
Mix the ingredients according to the recipe attached. For these flapjacks (aka pancakes) the mixture should be a little stiffer. Pour into a lightly oiled pan and leave to level to cook, you will notice bubbles then that is when you flip them.
Cooling flapjacks on a rack. Before they get eaten up.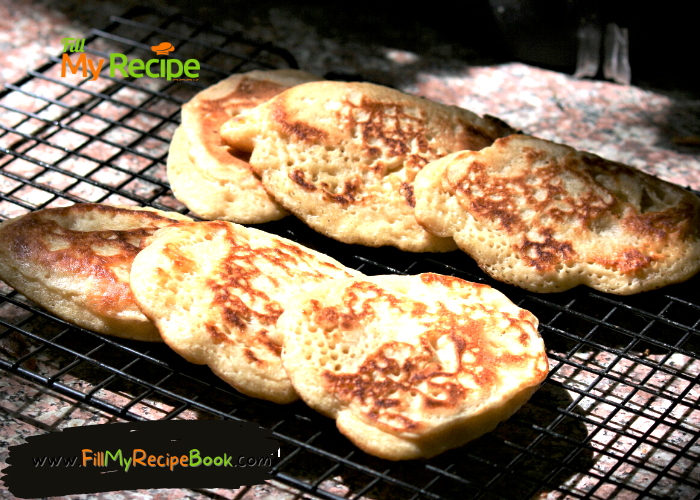 Wonderful breakfast, with honey cheese and banana.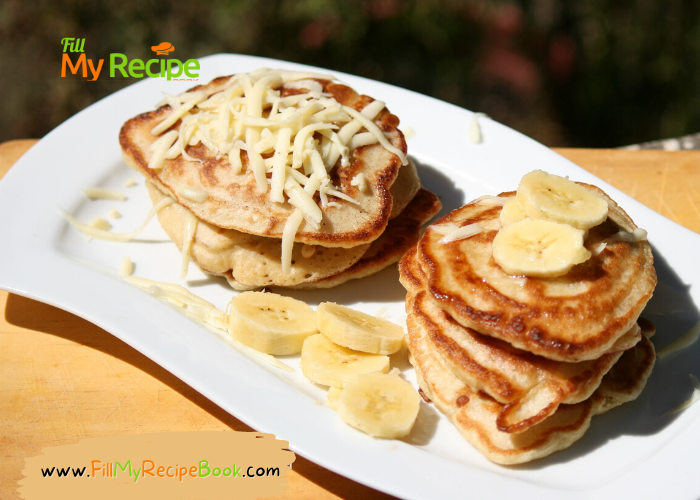 Tips.
Some ideas to make Easter exciting for the kids. Make into a bunny head.
Cut into shapes with cookie cutters. Hearts for special occasions.
Cut into shapes with other cutters for animals.
or try and make shapes with the mixture while they cook
—-> 10 Easy Easter Recipe Ideas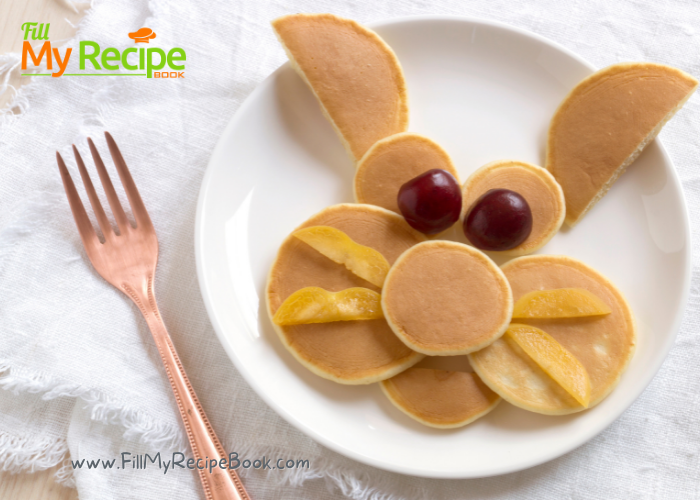 Heart shapes pancakes for valentines or mothers and fathers day.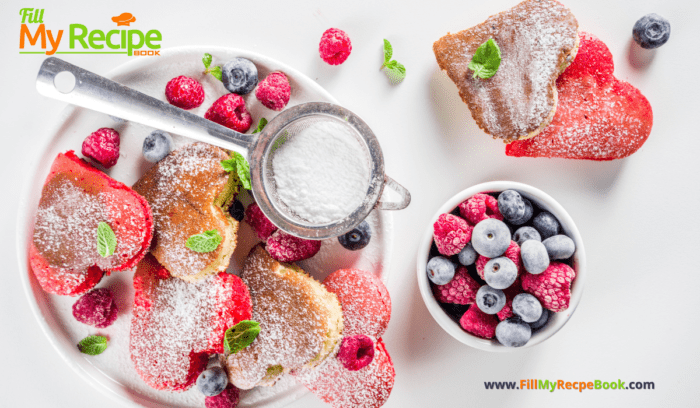 Recommendations.
(click the highlighted heading for the recipe)
Create Brunch or breakfast for easter weekend recipe ideas —-> 26 Easter Breakfast or Brunch Ideas
Other pancake recipes to make ideas —-> Maple Syrup Drizzled Pancakes and Mini Heart Berry Filled Pancakes. and Easy Homemade Pancakes and Easy Banana Pancake Recipe
Some fun food ideas for fussy kids —-> Easy Decorative Kids Food Ideas
Easy and simple ideas to create for kids on easter —->11 Homemade Easter Treats for Kids Recipes
Not forgetting about Fathers Day. Make these for him.—–> 16 Fathers Day Breakfast or Brunch Recipes and for valentines day ideas —-> 16 Easy Valentine's Day Breakfast Recipes
Get more recipe ideas —–> 15 Pancake and Crepes Recipes
Other recipe ideas for eggs —–> 17 Simply Easy Egg Recipes
More recipe ideas for kids —–> 20 Easy Kids Breakfast Recipes
as well as these ideas for kids —-> 11 Easy Decorative Kids Food Ideas
Some ideas for a brunch. —–> 22 Tasty Brunch Recipes
Sharing some great organic kids recipe ideas —–> 20 Organic Kids Treats Recipes
Sharing a few recipe ideas to create —–> 18 No Yeast Easy Dough Recipes
and these are other recipe ideas to try —-> 18 Yummy Fat Free Recipes
Get these great Christmas breakfast ideas —–> 35 Easy Christmas Breakfast Ideas
These recipes are easy and simple enough for kids to make.—-> 22 Easy Recipes Kids Can Make
You love these flapjacks, you will love these as well, and choose more No Bake Stove Top Recipes here as well.
and other recipe ideas —-> Homemade Vetkoek and Tasty Syrupy Koeksisters and Easy Homemade Pancakes
Download some FREE Printables to help in your kitchen.
Gorgeous Blank Recipe Book of 200 pages. An empty book to fill in instead of bits of paper everywhere. It has sections and index pages.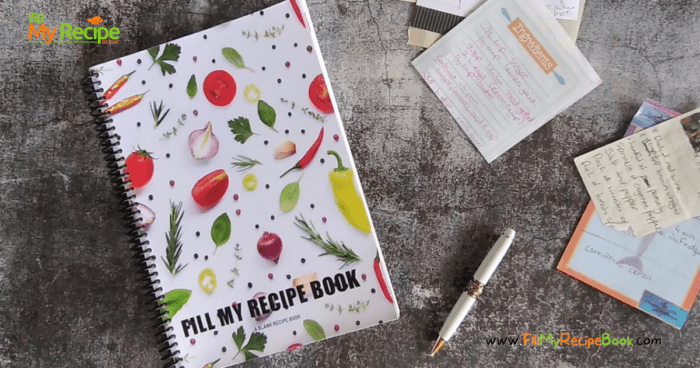 This post may contain affiliate links, where we earn from qualifying purchases. See more details in the policy page. Does not effect your purchase cost.
Print
Quick Versatile Flapjacks
Quick Versatile Flapjacks are a South Africans recipe. A breakfast with honey topping or fruits of choice. Easy sugar free meal, snack idea.
Author:
Prep Time:

10 min

Cook Time:

10 min

Total Time:

20 min

Yield:

4

Category:

Breakfast

Method:

Stove top No Bake

Cuisine:

South african
Ingredients
2

Large Eggs

1 Cup

of Flour

1/2 Cups

of Milk

2 Tsp

of baking powder

2 Tbsp

of olive oil

1/2 tsp

of cinnamon.

1 tsp

Salt 
Instructions
In a large bowl with a mixer, whisk the egg and milk and oil until smooth and fluffy.
Whisk the four and baking powder and salt with the cinnamon, to mix them all together.
Add the two mixtures together and mix until all is blended.
Obtain a frying pan and add a little olive oil, warm the pan up and then with a measuring cup scoop up a half cup of  mixture then pour into a oiled pan and cook until it bubbles a little. Then flip it and cook the other side.
They will be golden brown and place them of a cooler rack and then serve on a plate.
Add any ingredients you prefer, such as banana and cheese with drizzled maple syrup or organic honey.
Enjoy  
Notes
This recipe is versatile as you can also add some blueberries or chocolate chips or any other fruit you would like to make a tasty healthy breakfast. 
Keywords: Quick Versatile Flapjacks