Mini Heart Berry Filled Pancakes. A special breakfast is always needed, make these easy raspberry and blueberry filled heart shaped pancakes.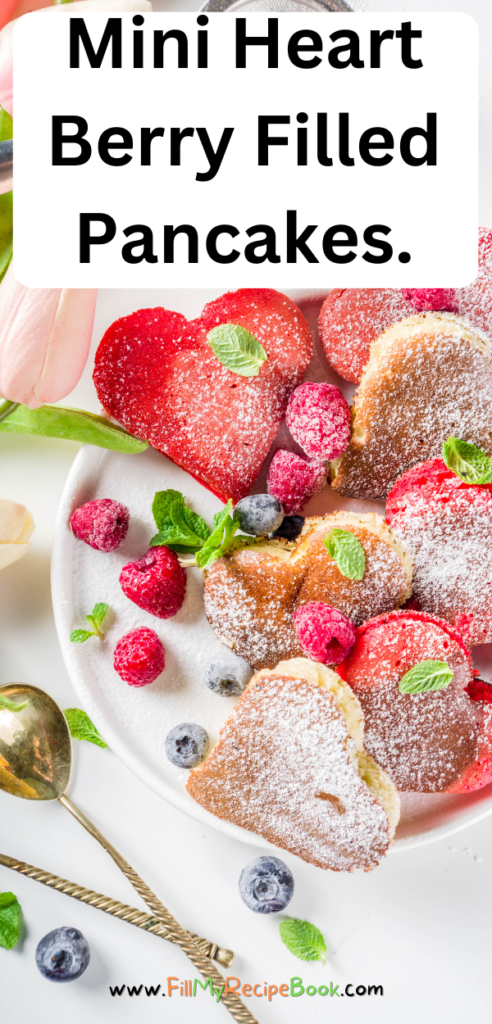 Mini Heart Berry Filled Pancakes.
There is always some special breakfasts you would love to make for that special someone. This is an easy recipe to do, even the kids can help. It would help a lot for you to just improvise with some berries or any other fruits you would like add. Never will have to go out and buy special fruits. Just use whatever you have in the fridge. As well as what's easily available to purchase. No need to go and search for those ingredients one normally comes across when you want to make a special meal.
Make these easy pancakes and cut them out with a heart shaped cookie cutter for breakfast. Sprinkle some castor sugar over the berries and fruits as well as the pancake hearts and serve with a cup of coffee or tea for a Valentines or Mothers day or Fathers day Breakfast.
How to make heart pancakes without cookie cutter?
Take a piece of foil that is 13 inches long, and fold it over a few times until you have a nice long strip. Shape it into a heart and pinch the middle together by folding it over 2 times. Once that's done you can proceed to making your pancakes.
How do you use heart-shaped pancake molds?
Simply place the molds on the griddle, pour eggs or batter into the mold and lift when done, and you will have a heart-shaped breakfast.
Ingredients
Fresh or thawed frozen blueberries and raspberries or strawberries. Pancake mix with flour and milk and egg. (see the recipe below for the exact measures and ingredients needed)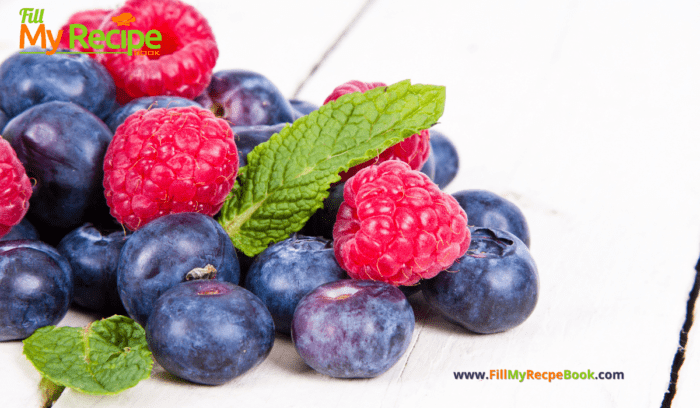 Above are some delicious healthy raspberries and blueberries.
What you need.
Below are some ideas to either cut or bake the pancake mix in. A simple cookie cutter is used for many things.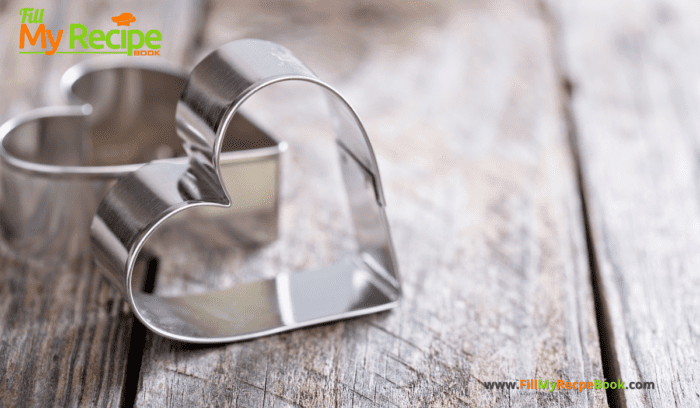 How to make heart shaped Pancakes.
Cook the Easy Homemade Pancakes or Quick Versatile Flapjacks then cut them out with the heart shaped cookie cutter. Sprinkle with castor sugar. To make them pink color add a tiny drop of pink or red food coloring. If you have some dried raspberry or strawberry powder then use that for a healthy coloring. One can blend the raspberries in the milk or liquid used for the coloring instead. Color a few pancakes and have some that are normal. Blueberries will make them purple as well.
Serve
Then serve them up with some sprinkled icing or castor sugar and plate them nicely. Then sprinkle some castor sugar on the berries served as an extra with the heart shaped pancakes.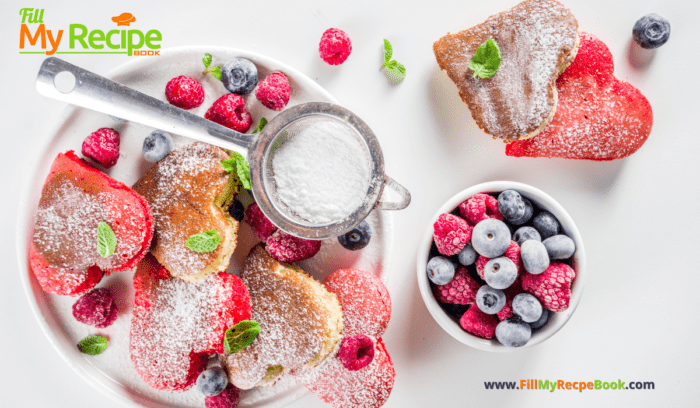 Serve on a tray and make them very attractive with some flowers and more fruit in a bowl.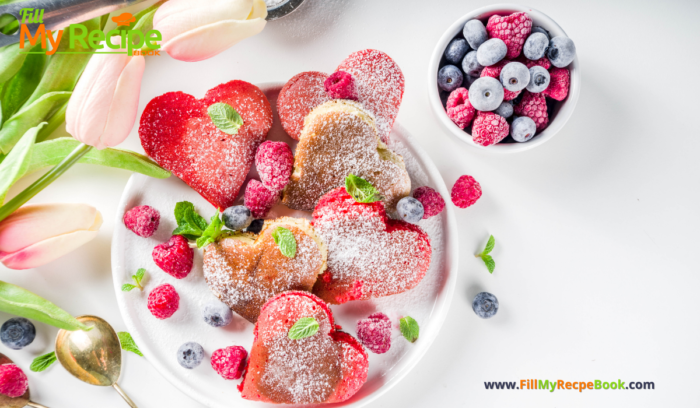 On this tray you can write a personal note or add a card and serve with a coffee or tea. Even if the special person loves juice, that would be good. Lay a flower on the plate or tray as well.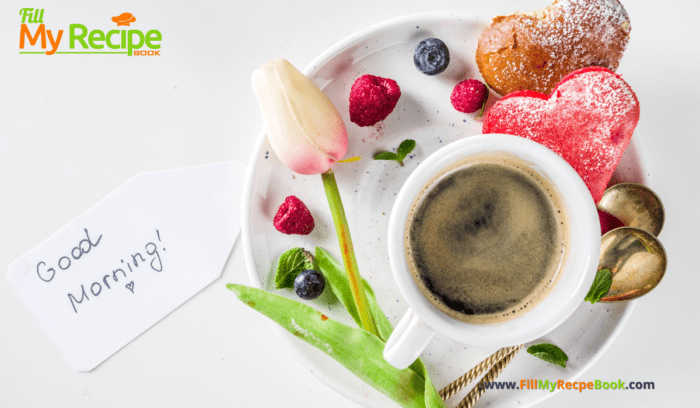 A Mothers Day or Fathers Day or even a Valentines Day breakfast that a kid could serve and make.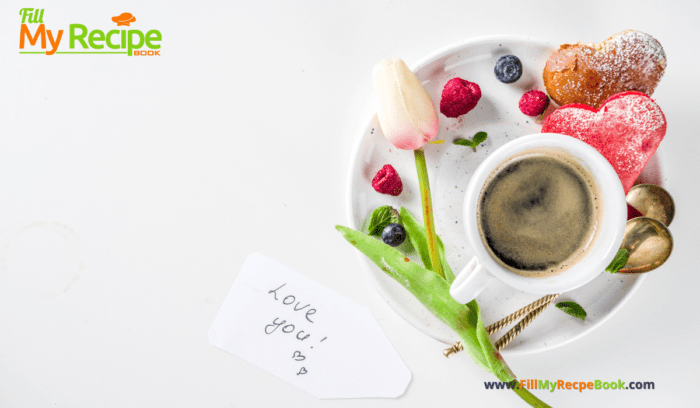 Decorate the table with a pretty place mat or runner and then add this very attractive plated mini heart berry filled pancakes. Enjoy
Just to say to them that they are someone special and you appreciate them. You love them.
Recommendations.
(click the highlighted heading for the recipe)
Not forgetting about Fathers Day. Make these for him.—–> 16 Fathers Day Breakfast or Brunch Recipes
Get a few more recipe ideas to make a valentines day cake or cupcakes and heart shaped desserts. —–> Valentine Cupcakes and Cakes Recipe and these ideas —–> 16 Easy Valentines Snacks Recipes and Get these recipe ideas to create for valentines —-> Easy Valentines Treats to Choose. and for valentines day ideas —-> 16 Easy Valentine's Day Breakfast Recipes
Recipe ideas to create for Valentines —-> 14 Easy Valentine Appetizer Recipes
and a few more —-> 25 Healthy Easy Breakfast Recipes
Get more recipe ideas —–> 15 Pancake and Crepes Recipes
Breakfast recipe ideas —–> 28 Easy Breakfast Ideas Recipes
as well as these ideas for kids —-> 11 Easy Decorative Kids Food Ideas
Sharing some great organic kids recipe ideas —–> 20 Organic Kids Treats Recipes
Get these great Christmas breakfast ideas —–> 35 Easy Christmas Breakfast Ideas
These recipes are easy and simple enough for kids to make.—-> 22 Easy Recipes Kids Can Make
Print
Mini Heart Berry Filled Pancakes.
Mini Heart Berry Filled Pancakes. A special breakfast is always needed, make these easy raspberry and blueberry filled heart shaped pancakes.
Author:
Prep Time:

10 min

Cook Time:

20 min

Total Time:

30 min

Yield:

6

Category:

Breakfast

Method:

Stove top No Bake

Cuisine:

South african
Ingredients
1 Cup Flour
1 tsp baking powder.
pinch of salt
1/2 cup of milk
2 Tbsp of olive oil or butter
2 eggs
2 Tbsp of honey
Red food coloring OR 1/4 cup of raspberries or strawberries (to blend in the milk for coloring). healthier.
Heart cookie cutters and a small sieve.
Raspberries and blueberries or strawberries to serve.
Castor sugar or icing sugar to sprinkle on the hearts and berries.
Instructions
Firstly if you are using fresh or frozen raspberries or strawberries for the pink color then blend the milk with the berries. (for pink color) Add the milk and raspberry mixture to a bowl.
With a mixer and in a bowl add the eggs and mix them with milk, vanilla essence, oil and honey until smooth and fluffy. (if you are using food coloring instead of fresh berries add a tiny drop of red or pink to this mixture.)
Sieve the flour baking powder and salt. 
Add the dry mixture to the wet mixture, and mix well until smooth..
Make another mix for plain heart pancakes that does not need color. (the mixture is small)
Warm the sauce pan with a little olive oil, for frying the pancake or flapjacks mixture in round forms for cutting out hearts when cooked.
Cool them on a cooling rack and then place them on a plate or board to cut out the hearts. 
Plate them up on a serving dish and sprinkle the berries over the top with a dash of icing or castor sugar. Sprinkle with a small sieve on top of the pancakes and berries. Even drizzle some pure organic honey over the pancakes for that sweet taste.
Happy days. enjoy
Notes
Use any berries or fruits you would prefer or you have onhand.
Keywords: mini Heart berry filled pancakes for valentines
You loved this recipe and are looking for more ideas, then go here below for more.
Choose some more No Bake Stove Top Recipes. As well as other recipes.
Download some FREE Printables as well for the kitchen charts and household planner and to relax some coloring pages for adults and kids.