Easy Homemade Pancakes recipe. Top with honey or maple syrup, add cinnamon and brown sugar and a simple filling of chocolate cocoa spread.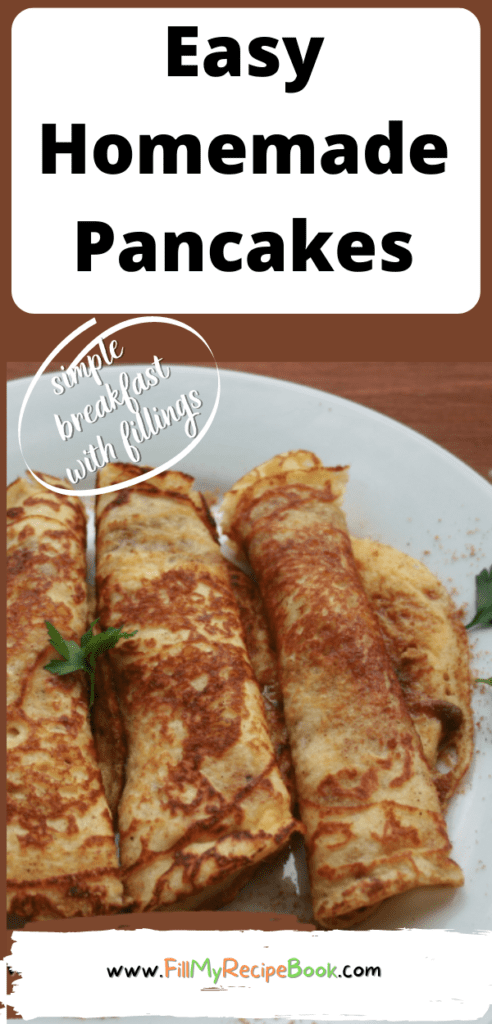 Easy Homemade Pancakes (sugar free)
A simple recipe to make, oh so easy homemade pancakes, for breakfast or a quick weekend light Saturday lunch meal. A no bake stove top recipe with different fillings and toppings. Sprinkle with cinnamon and brown sugar mix and roll them up. Add some honey or syrup and the other idea is chocolate spread. A great school lunch for students.
Are pancakes better with milk or water?
Milk add richness and flavor to the batter and makes the pancake fluffier and moist. Water could be used but milk will leaven the batter and give you a lighter texture. Milk also gives them that brown color.
What not to do when making pancakes?
To avoid some common mistakes here are some tips.
do not overmix the batter
not resting the batter
not starting with a hot enough pan
not having a non stick or lightly oiled pan.
do not set the heat to high.
flip the pancakes at the right time. (when the mixture starts to bubble)
Ingredients
View the recipe attached for the full amounts and all the ingredients you could use as well as the instructions.
flour
eggs
milk
baking powder
butter
Depends on what flour you are using, for instance I use the locally milled flour, which needs more liquid in the mixture to have a good consistency. Shop bought flour may not need more liquid.
How To
While the pancakes are getting made in the pan, they will be layered on top of each other once done and in a plate.
That's when you would sprinkle on the brown sugar and cinnamon mixture. While they are warm as it melts into the pancake.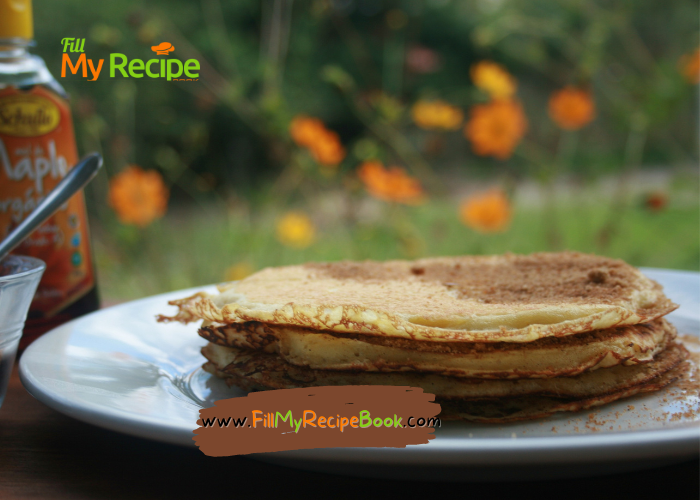 What can I put on my pancakes?
Use organic maple syrup or syrup.
Honey.
Cinnamon and brown sugar.
Chocolate nut spread or Nutella.
Minced meats.
Fresh Fruits.
Whipped cream.
Fresh berries.
Banana and chocolate chips.
Blue berry and apple sauce.
What is the traditional pancake topping?
There is a reason why butter and maple syrup are the top and very traditional pancake topping. It melts when warm and seeps into the pancake and then you add maple syrup.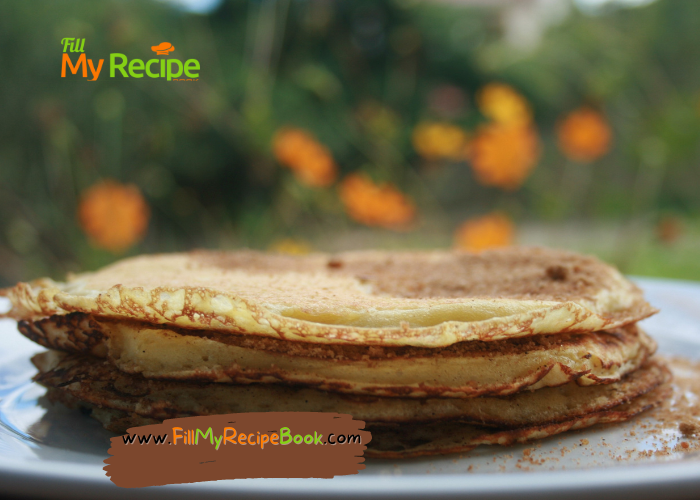 These have organic maple syrup spread on, note the organic syrup is not as thick as the normal syrup.
A lot more runny. The pan I used to make these pancakes was a small non stick pan. A larger pan will make larger pancakes.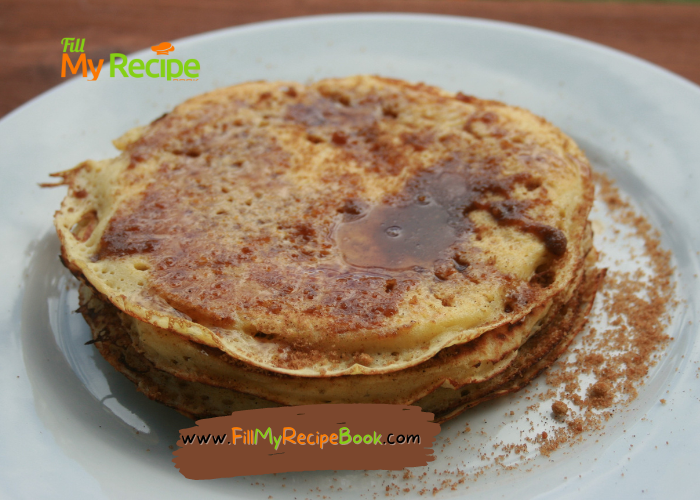 Roll the pancakes while they are warm and enjoy.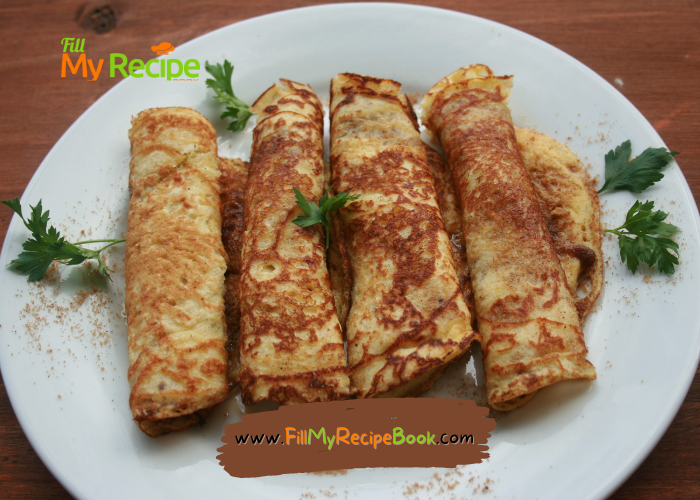 Pancakes may be used for a breakfast meal or a light supper, even in between snack.
Spread with nut chocolate, the pancake is a great school lunch idea.
Recommendations.
(click the highlighted heading for the recipe)
Diabetic friendly recipe ideas to create —-> 15 Satisfying Diabetic Recipes
A recipe idea for shapes —-> Quick Versatile Flapjacks and Maple Syrup Drizzled Pancakes and Mini Heart Pancakes with Berries and Easy Banana Pancake Recipe
Use Nutella or nut chocolate recipe ideas —-> 10 Scrumptious Nutella Recipes
Not forgetting about Fathers Day. Make these for him.—–> 16 Fathers Day Breakfast or Brunch Recipes
Get more recipe ideas —–> 15 Pancake and Crepes Recipes
More recipe ideas for egg recipes —–> 16 Tasty Egg Recipes
More recipe ideas for kids —–> 20 Easy Kids Breakfast Recipes
Some ideas for a brunch. —–> 22 Tasty Brunch Recipes
Sharing a few recipe ideas to create —–> 18 No Yeast Easy Dough Recipes
Get these great Christmas breakfast ideas —–> 35 Easy Christmas Breakfast Ideas
Print
Easy Homemade Pancakes
Easy Homemade Pancakes recipe. Top with honey or maple syrup, add cinnamon and brown sugar and a simple filling of chocolate cocoa spread. 
Author:
Prep Time:

10 min

Cook Time:

15 min

Total Time:

25 min

Yield:

25 min

Category:

Breakfast, light snack

Method:

no bake stove top

Cuisine:

South african
Ingredients
2

 eggs

1 cup

 of flour

1/2 cup

 of milk (I used 

1 cup

 of milk for locally milled flour)

2 teaspoons

 of baking powder

2 Tablespoons

 of melted butter
salt to taste
Sugar Free
Instructions
This recipe makes 8 pancakes.
Oil a good medium pan with oil, pour oil out into a cup. Then place a small cup of pancake mixture into the oiled pan and cook until bubbles are rising on the pancake mixture. Flip the pancake with a spatula or if able to do the flip.
Cook the other side till light brown then place the cooked pancake onto a dinner plate. Do these instructions over until mixture is done.
In the mean time mix brown sugar and cinnamon, sprinkle on the pancake and squeeze syrup or honey in the inside of the pancake and roll the pancake up.
Ready to eat. yummy and tasty.
Notes
Make this recipe with different fillings, like Nutela or  savory fillings. Versatile recipe for flapjacks to, may add sugar.
Keywords: easy homemade pancakes sugar free
Honey drizzled inside and on top of one pancake and chocolate cocoa spread in the cut pancake.
The chocolate spread cocoa pancake is tasty for school lunches.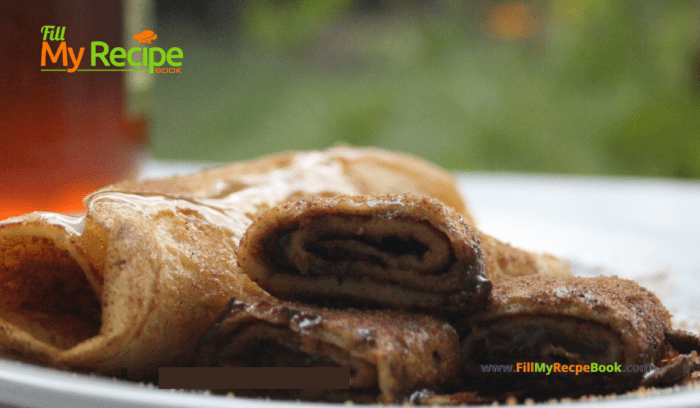 You will also love these recipes.
For any special occasion and —-> Fathers Day Breakfast or Brunch Recipes
And many more to choose from on No Bake Stove Top Recipes and other recipes.
Download some FREE Printables to use in your kitchen for charts as well as planners for the household and when you need to relax some coloring pages.