Easy Lemon Meringue Tart recipe. A biscuit base, condensed milk and fresh squeezed lemon juice and with meringue as a oven baked dessert.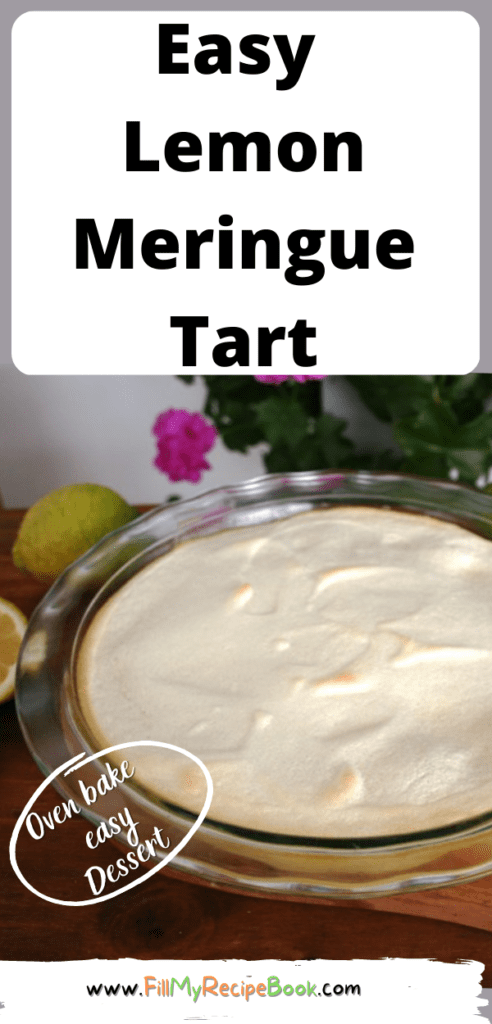 Lemon Meringue Tart
Bake a south African easy lemon meringue tart recipe idea. Made with condensed milk and lemon topped with a meringue and browned to the tip. A biscuit base, filled with lemon mixed condensed milk for a delicious dessert. Very similar to a fridge tart or cake as it is served chilled. A oven bake dessert tart or pie.
This lemon meringue tart is a change from sweet cakes, with a taste of sour lemon. But still sweat from condensed milk. A moist tasty tart for get together s and tea time, with family.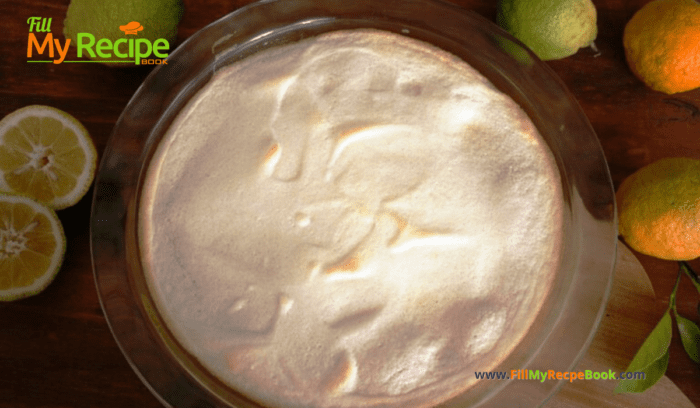 What happens when you add lemon juice to condensed milk?
Adding lemon or lime juice to condensed milk will thicken and set the mixture instead of heating it up. Also giving the filling a sweet but tart taste. Many fridge tarts are made this way.
What is the difference between lemon pie and lemon meringue?
The difference between a lemon cream pie and a lemon meringue is one uses a whipped cream topping (or none at all) and a lemon meringue uses a whipped egg white topping that is browned and baked in the oven.
What is the secret to making meringue?
Don't use packaged egg whites to make meringue.
Use fresh egg whites.
Use eggs at room temperature.
Never let any yolk get into the whites.
Don't overbeat egg whites.
Ingredients
Ingredients to make the tart, freshly squeezed organic lemon juice from our gardens.
lemons
condensed milk
egg
butter
tennis biscuits or other
For the exact amount of ingredients needed view the recipe attached.
How To Make.
Condensed milk and lemon juice and egg yolk mixture poured on top of the biscuit and butter base.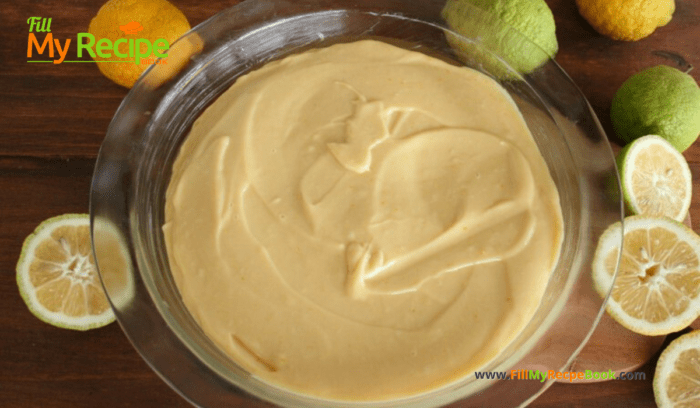 Meringue, egg whites whisked with a little icing sugar for sweetness and stiffness. Baked to brown and cook the meringue.
Unfortunately my gas oven does not grill and could not brown the tips of meringue nicely. But its cooked.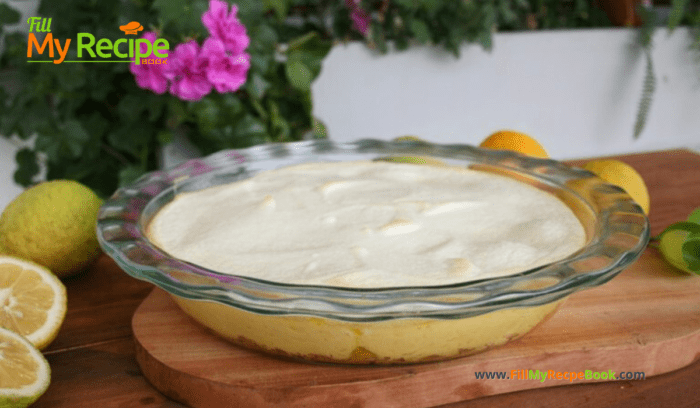 Recommendations.
(click the highlighted heading for the recipes)
Very tasty dessert recipe ideas to create for the family —-> 10 Puddings and Desserts Recipes
A no bake cheesecake recipe idea to create —-> Chocolate Raspberry Cheesecake Parfait
Mothers day recipe ideas to create for tea —-> 18 Tarts and Cakes for Mothers Day Tea
Get more fridge tart recipes. —–>11 Easy Fridge Tarts
These are great Recipes as well.—–>10 Tasty Fridge Tart Recipes
Get these recipe ideas ——> 20 Fathers day afternoon tea recipes
More lemon recipe ideas —-> 14 Useful Lemon Dessert Recipes
Obtain some recipes Ideas —–> 16 Fathers Day Pudding Recipes
More of these amazing recipes for afternoon or weekend tea.—-> 24 Yummy Cakes and Tarts Recipes
More amazing puddings and pie tarts recipe ideas to create —–> 18 Delectable Puddings & Pies
Great ideas for a Christmas Desserts —–> 20 Pleasing Christmas Dessert Recipes
These are some ideas to use lemons and lemon juices for —-> 12 Lemon Storage And Recipe ideas
Print
Easy Lemon Meringue Tart
Easy Lemon Meringue Tart recipe. A biscuit base, condensed milk and fresh squeezed  lemon juice and with meringue as a oven baked dessert.
Author:
Prep Time:

20 min

Cook Time:

20 min

Total Time:

40 min

Yield:

10

Category:

Desserts

Method:

Oven Baking

Cuisine:

South african
Ingredients
1

  Packet of Tennis or coconut biscuits, crushed.

60 g

of melted butter

2

tins of condensed milk 375 ml(sizes now differ just use

200

ml of lemon juice instead of

250

ml)

1

200 ml of lemon juice. 

2

egg yolks
Egg whites (for meringue topping)
Instructions
Preheat oven to 180 Deg. C
Take the crushed biscuits and add the melted butter and stir till all dissolved. 
Press the biscuit mixture in a grease pie dish, along the bottom and if you like the sides. Place in the fridge to set.
Mix the condensed milk and lemon juice and egg all together, stir until it thickens.
Pour the mixture over the biscuit base and level it off.
Whip a few egg whites to make enough topping for the lemon meringue. Add a little castor sugar to stiffen and sweeten the meringue.
Place the meringue on top of the meringue pie mix and make sure it covers all the tart.
Bake in the oven until just golden and then cool on a cooling rack.
Once cool place in the fridge and serve as desired.
Keywords: Easy lemon meringue tart recipe
Another Lemon recipe to make that's delicious.
Mini Lemon Curd Filled Meringue
You enjoyed this desert then you will also enjoy these.
Download your free printable of oven temp. and measurement here. Many more FREE Printables as well.
More Oven Baking Recipes to choose from.