A Tangy Asparagus Tart Recipe and pastry to bake for a savory dish. Using asparagus spears spiced with tangy mustard and topped with cheese.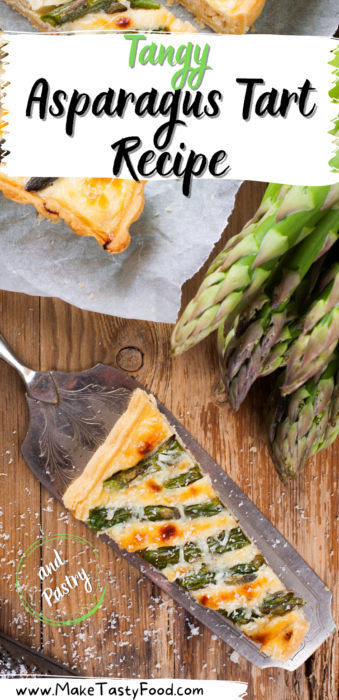 This easy asparagus tart is so nice to make and it is tangy with a little mustard and worcestershire sauce. Which does not make it to tangy. A difference to many other tarts I have baked. Also love asparagus and of course tarts and quiches. Making some savory dishes is so much better than to many sweet tarts. This is also a vegetarian dish which would suite our large family of eight. Only granny and grandpa are not vegetarian, that's us.
For the Pastry mix the ingredients according to the recipe below.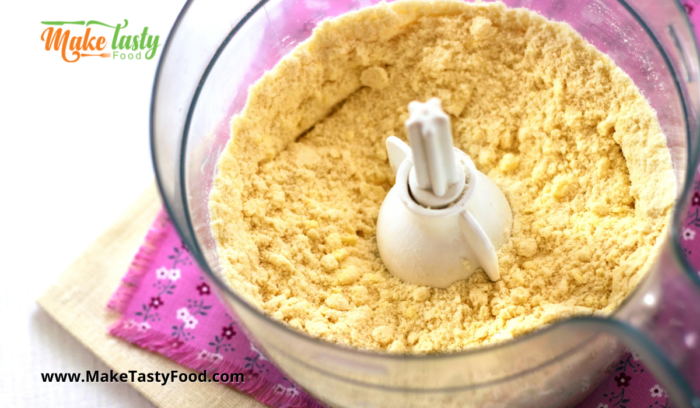 Grease and line the tart dish with the pastry. Bake till partly done.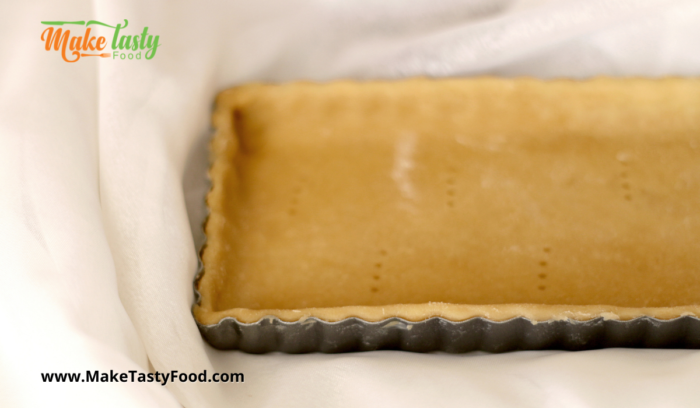 Cut the bottom of the asparagus of and then half them. To add to the tart dish once its baked.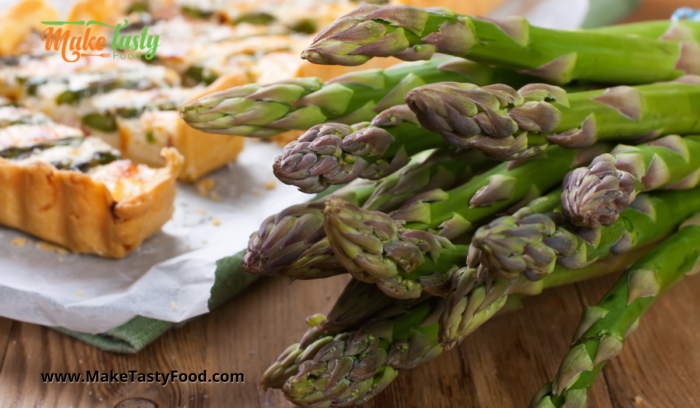 Then mix the filling according to the ingredients in the recipe below. Quit simple really, and then fill half the cheese and then half the sauce.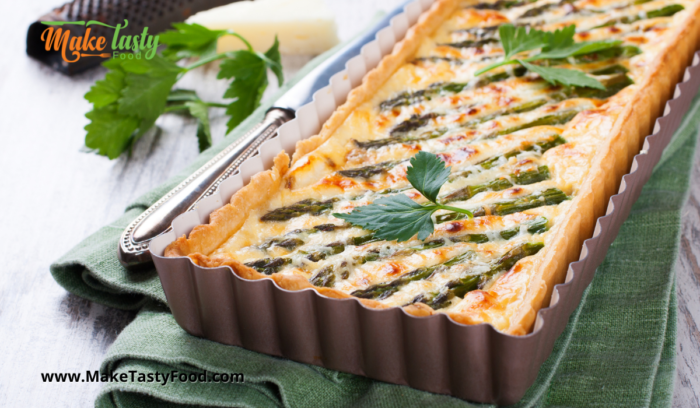 Layering the cheese and sauce again and adding some dry bread crumbs on top.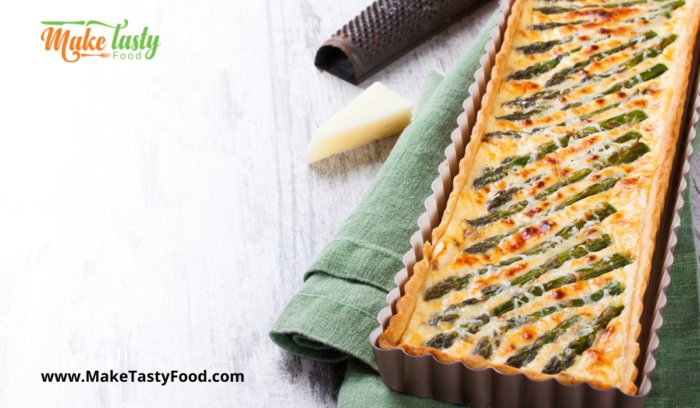 Baking in the oven until done which only takes about twenty minutes. Oh so yummy and cut and serve as desired.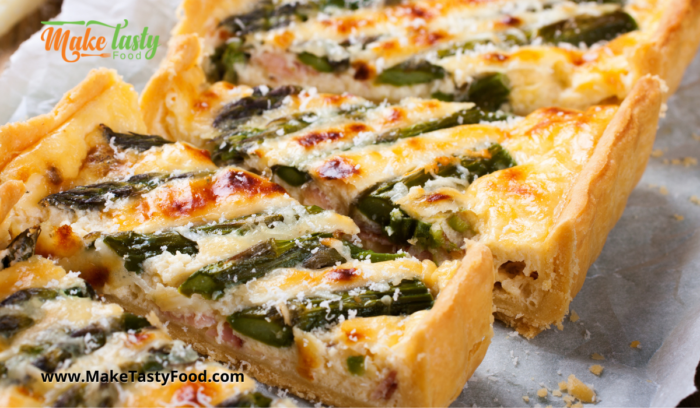 Slices tart to serve for tea or a snack or even a light meal. enjoy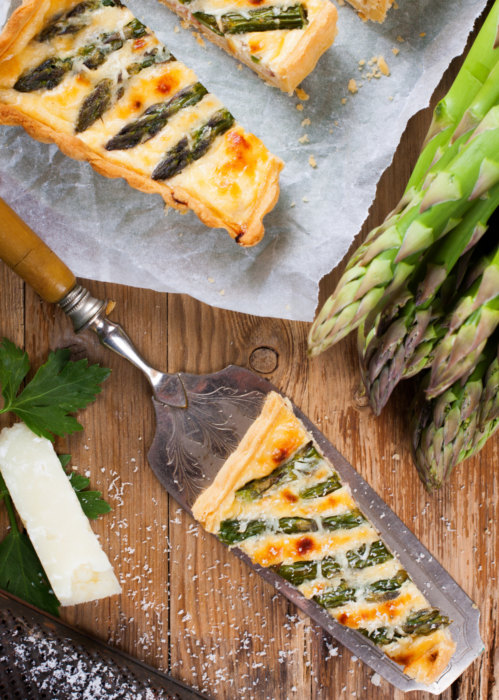 The tangy asparagus tart recipe below for downloading and printing.
If you don't print the recipe then download this FREE printable to write out your recipes and file them in a uniform file. Which makes them all the same size and easy to peruse through.
Obtain some recipes Ideas —–> 16 Fathers Day Pudding Recipes
Some more tarts and quiches recipes —–> 16 Quick and Easy Veggie Tart Recipes
More of these amazing recipes for afternoon or weekend tea.—-> 24 Yummy Cakes and Tarts Recipes
How to use asparagus in and with meals —–> 13 Unbelievable Flavorful Asparagus Recipes
Print
A Tangy Asparagus Tart Recipe
A Tangy Asparagus Tart Recipe and pastry to bake for a savory dish. Using asparagus spears spiced with tangy mustard and topped with cheese.
Prep Time:

20 min

Cook Time:

20 min

Total Time:

40 min

Yield:

40 min
Ingredients
PASTRY
225 g of flour (1 cup)
225 g butter (soft )(1 cup)
225 g grated cheese (1 cup)
1/2 teaspoon of Himalayan salt
FILLING
1 Tin of asparagus spears or (453 g)
2 Tablespoons of corn flour (mazena)
2 Tablespoons of butter, (soft)
2 cups of Asparagus water made up with milk.
1 teaspoon of mustard (prepaired)
1 teaspoon of worcestershire sauce 
Salt and pepepr
1 cup of grated cheese (cheddar or mozzarella)
1 Tablespoons of dry breadcrumbs
Instructions
Preheat oven to 180 Deg.C (350 Deg.F)
Mix the pastry ingredients together in a bowl.
Grease and prepare pie dish with pastry pressed nicely around the dishes. Prebake the crust to make sure its baked once the tart has been bakes.
Make the white sauce with the corn flour, butter, asparagus water and milk.
Season this mixture with mustard and worcestershire sauce and the salt and pepper.
Cut the asparagus in half and arrange them in the tart pie dish, 
Sprinkle half the grated cheese over them and half of the white sauce mixture. Then sprinkle the rest of the cheese and then the rest of the white sauce mixture.
Sprinkle with bread crumbs and bake.
Bake for 20 minutes until it is brown and tests cooked.
Keywords: Tangy asparagus tart recipe
More Tart recipes you would love to make.
Biscuit base.
Crust less tarts
Pastry based
Other Free Pintables to use in the kitchen to help with oven temperatures and measurements.