A Homemade Chicken Noodle Soup recipe. This chicken soup helps when ill with colds and flu, its not a myth its nutrition for your body.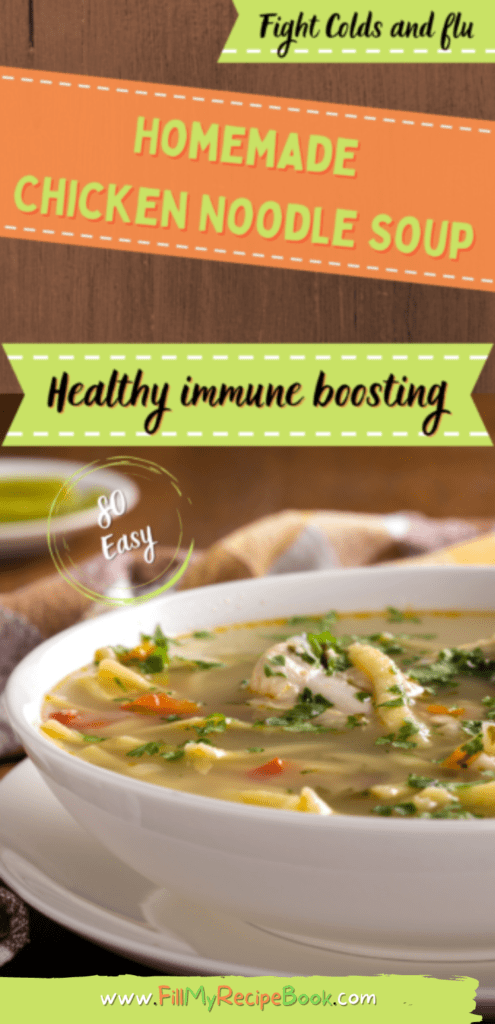 Homemade Chicken Noodle Soup
Make this homemade chicken and noodle soup for the winter and when family are ill and trying to recover. When they can not keep down any food, this soup will nourish their body. Helps with vitamins and many people say its a myth, but its not. Try making it, its not difficult at all.
Save some in the freezer for those days when you are ill and not up to making a meal. The ingredients its made with help tremendously, such as the ginger and the lemon grass. Thyme is a natural herb fighting infections. You can not go wrong making this soup and offering to family when needed.
Ingredients
This recipe is absolutely easy, get some celery and carrots and onions. Garlic and herbs as per recipe below. Dont forget the chicken legs to cook with chicken broth.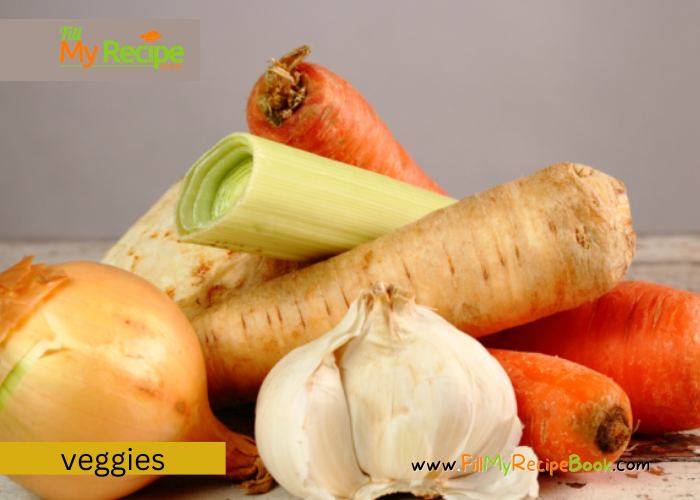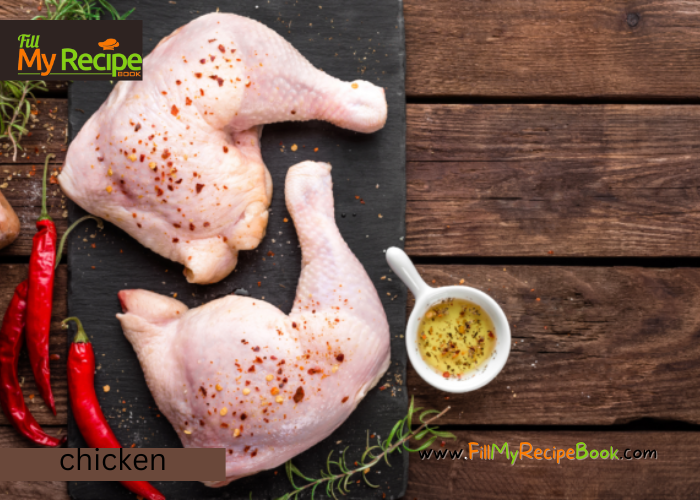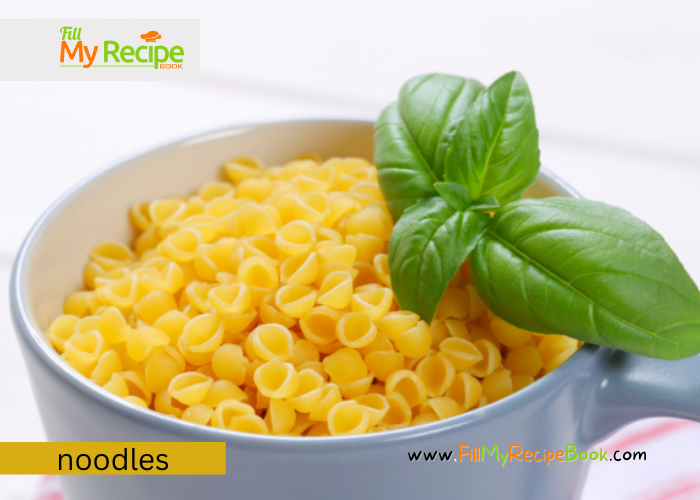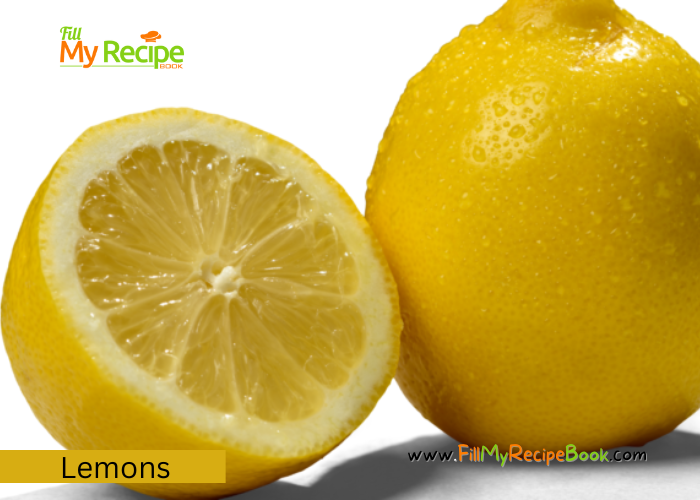 For the noodles use some small shells or take some pasta you have over and crush them a little and add to the soup mix. The lemon juice is added lastly for a tang.
In a large pot sauté the onions and then the herbs and ingredients according to the recipe below.
After adding some stock boil the chicken, then shred it and cook the pasta pieces or shells.
Its as simple as that, and then you have this tasty delishes chicken noodle soup to help you when you are ill.
But not only for you being ill, this soup will warm up those cold winter night meals and your body.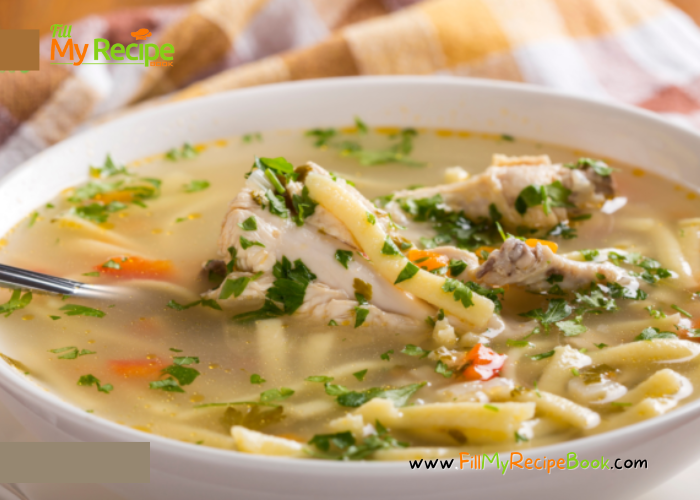 Serve immediately when it is cooked and enjoy. Make a larger amount altogether and freeze some for the days you yourself are ill and are not feeling well to make a meal. This soup will also help when you are sick to keep some food down while giving your body some good nutrients needed.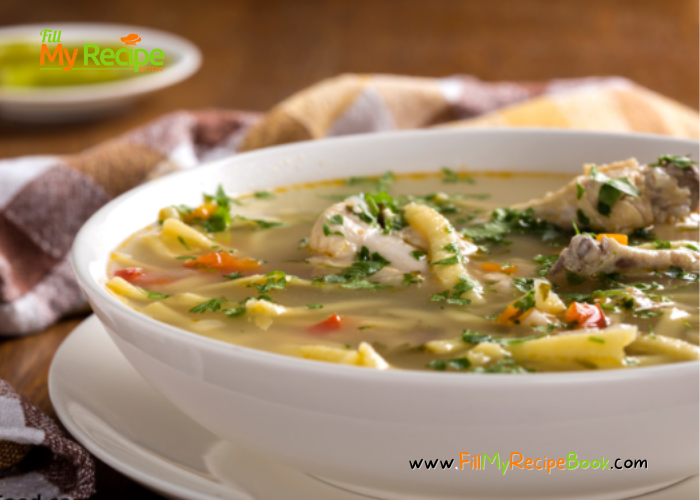 The Recipe below for the homemade chicken noodle soup.
Recommendations
(click on the highlighted heading for the recipes)
View more soup recipes —-> Roasted Butternut Creamy Soup and Roasted Tomato and Cheddar Soup and Chicken Soup & Matzo Balls and Quick Easy Corn-Chowder and 3 Bean Chili Soup in Instant Pot and Tasty Minestrone Soup
Recipe ideas for the use of lemon and herbs —-> 21 Meals With Lemon and Herbs Recipes
Other great noodle recipes to create —–> 15 Easy Noodle Recipes
Sharing a few more soup recipe ideas —–> 15 Easy Soup Recipes and Get more soup recipe ideas
—–> 15 Easy Vegetable Soup Recipes
Look no further for these pasta recipe ideas —–> 22 Easy Pasta Recipes
Print
Homemade Chicken Noodle Soup
A Homemade Chicken Noodle Soup recipe. This chicken soup helps when ill with colds and flu, its not a myth its nutrition for your body.
Prep Time:

15 min

Cook Time:

30 min

Total Time:

45 min

Yield:

4
Ingredients
1 Tablespoon of olive oil
1 large onion Diced
3 carrots peeled and diced
2 celery sticks diced
3 garlic cloves chopped finely or rasped finely
1 Tablespoon of freshly grated ginger
1 Tablespoon fresh minced lemon grass
1 Tablespoon Fresh Thyme chopped
1 Tablespoon Fresh Rosemary chopped
5 Cups of chicken stock
2 bay leaves
500 g. Chicken thighs, skin less
3/4 cup of small pasta (or some left over broken pasta pieces)
Juice of one lemon
Himalayan Salt and pepper
Instructions
In a large pot heat the olive oil on medium heat and add the celery, carrots and onion and sauté. Stirring  occasionally until soft. Takes about 3 – 4 minutes.
Stir in the rest of the herbs, garlic ginger lemon grass rosemary and thyme and stir for about 2 minutes, until fragrant.
Whisk in the chicken stock and add another cup of water. Add the bay leaves. Bring all of this to a boil, then add the chicken and simmer. Cook with a lid on until the chicken is tender, which should take about 10 – 15 minutes.
Once chicken is soft and cooked remove from the pot and shred it finely. 
Next add and stir in the pasta shells and cook until tender. should be about 10 minutes.
Once they are tender add in the shredded chicken with your lemon and salt and pepper.
Serve hot.
Plate and serve with some homemade bread or buns. Cut into pieces.
Notes
This chicken noodle soup helps the body recover when you are ill with colds and flu and are not able to keep any food down. Make a larger amount and freeze.
Keywords: homemade chicken noodle soup
You would love to make more NO Bake Stove Top, homemade soups then follow the links below by clicking on the highlighted name for the recipe. Download some FREE Printables for oven measurements and ingredient replacements and more.
More to choose.