Beef Fillet Garlic Potato fine dining recipe. Easy baked potato dish plated with a seared grilled beef fillet with mushroom sauce.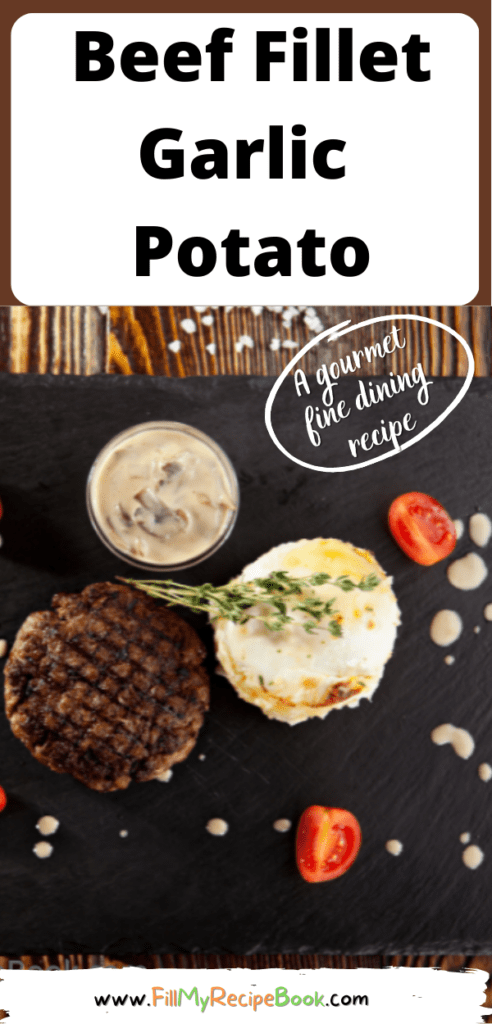 Beef Fillet Garlic Potato
This recipe is specially cooked and plated for gourmet fine dining meal for two.
Baking the garlic potato dish before hand and then the Rich mushroom sauce.
Obtaining the beef fillet a few days before to rest in the fridge and to keep in the fridge until use. Then bringing the fillet to room temperature before searing or grilling.
A good tip is to buy the fillet that are marbled with fat which will cook the meat better and flavor it.
What's a fillet of beef?
The fillet is a very tender steak muscle which comes from the lower middle of the back and forms part of the sirloin. The fillet muscle is so tender because it does the least work. It is also a very lean cut with little fat running through it, which means it doesn't have quite so much flavour as other steak cuts.
Is beef fillet the same as filet mignon?
By definition, a filet is really any boneless cut of meat. But Filet Mignon is the beef tenderloin. There's quite a difference in taste and in price
What is another name for beef fillet?
Beef tenderloin has a few other names, including fillet, eye filet, and tenderloin steak. Because it comes from the loin primal cut of the animal, some also refer to beef tenderloin as primal steak or loin steak.
The Ingredients
View ingredients on the recipe attached.
Beef Fillet.
olive oil
salt and pepper
Potatoes
cream
garlic
mushrooms and more ingredients for the sauce. (see recipe attached.)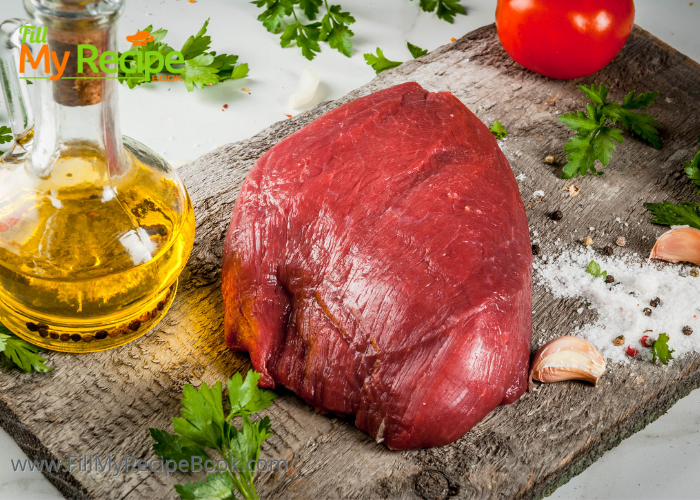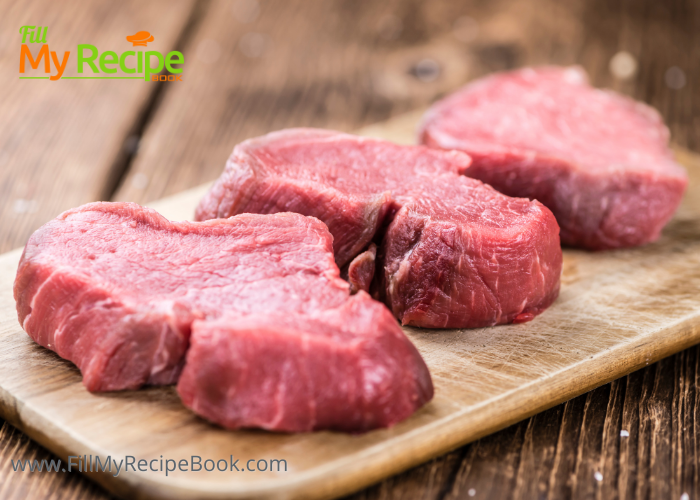 How To
Firstly bake the garlic potato dish, then the steak and lastly the sauce. The potato dish will take the longest.
The garlic Potato Dish
Obtain the garlic potato dish recipe. Cutting the baked potato in circles with a round cookie cutter with handles to the required serving size. (you get the cookie cutters in size of 2.2 inch or 3.2 inch)
Keeping the food warm.
Make this amazing rich mushroom sauce with white wine and serve in a small glass bowl with the serve fillet and potato.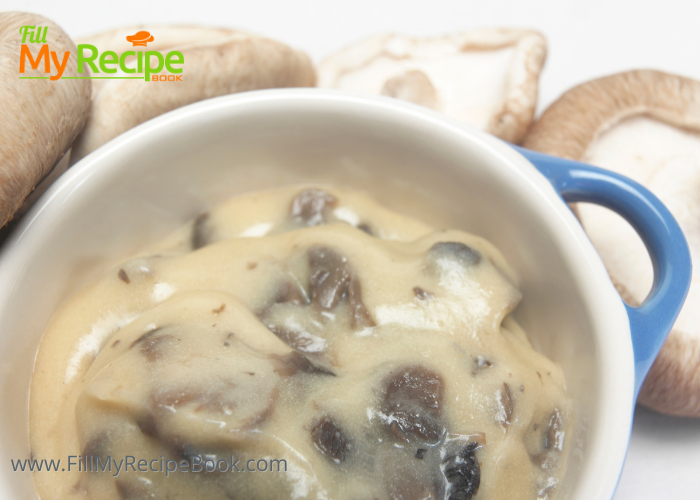 Once the beef fillet is room temperature, then heat up the cast iron pan with a little oil, to sear the fillets in. This should only take about 5 minutes, for medium rare. That is why we sear the fillet last.
The other potato and mushroom sauce is kept warm in the warmer draw with serving plates.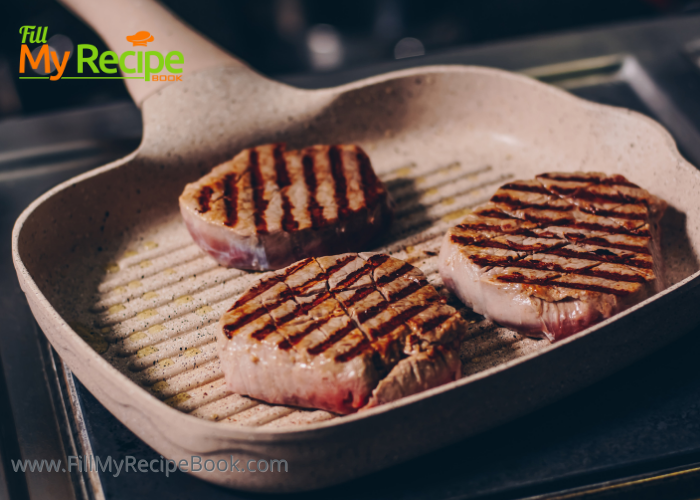 Once seared leave to rest wrapped with foil for at least 5 minutes.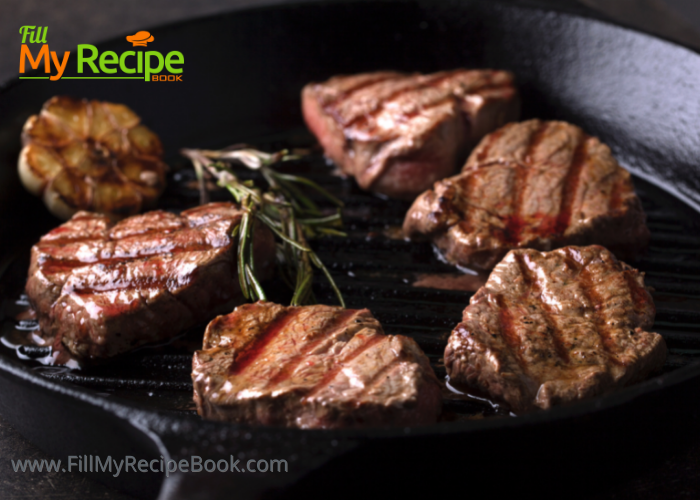 While the fillet rests obtain your plates for serving a gourmet meal with. (of choice)
Cut up some red cherry tomatoes and place on the warm plate with a bowl of mushroom sauce.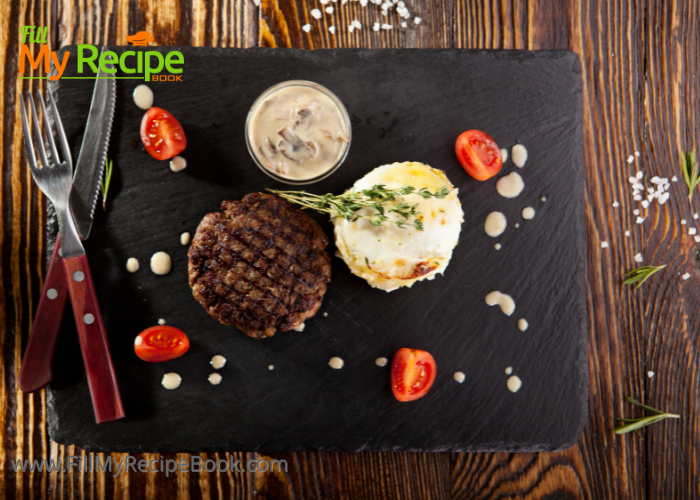 Add your potato rounds and fillet. Drizzle with some mushroom sauce liquid to style the fine dining plate of beef fillet and potato dish.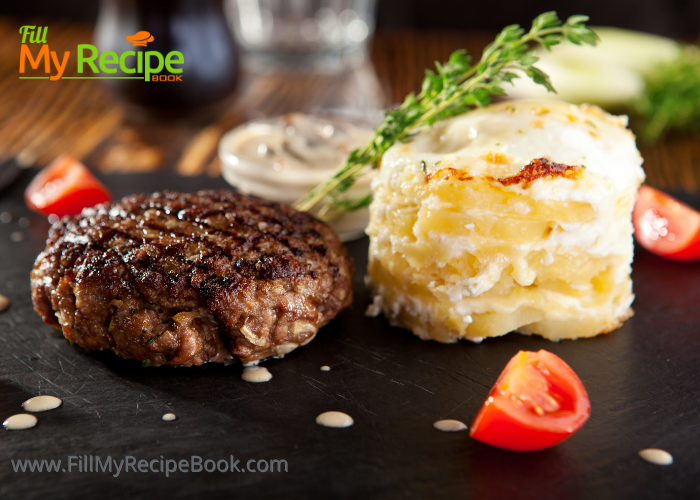 Adding some garnish of Thyme over the potato or on the plate. Serve warm for a gourmet meal for two.
An amazingly special dish to serve for two for a gourmet meal, and special occasion.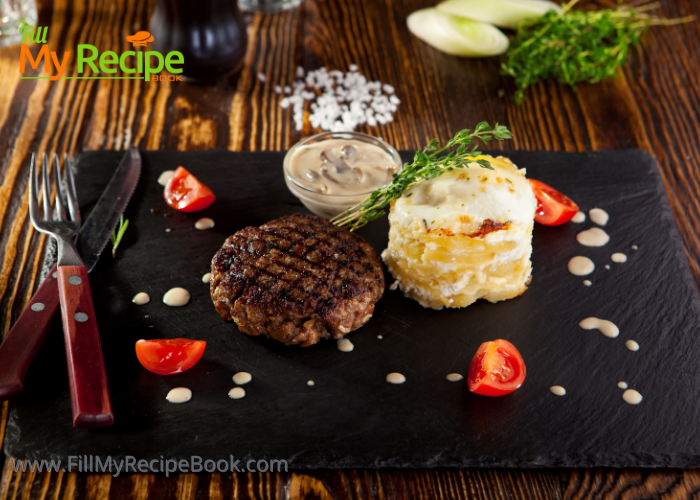 If you would love to write it out then download this FREE General Recipe page to do so.
A few purchase online links of Fine Dining Dessert Serving Dishes to choose from. Fine dining desserts must be presented well.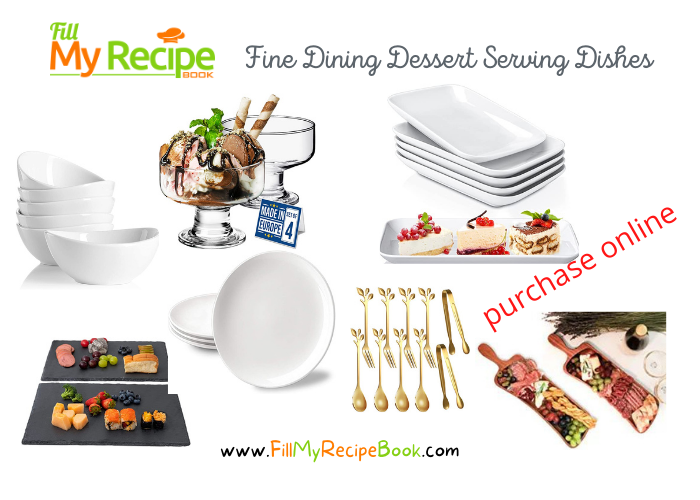 Recommendations
(click the highlighted heading for the recipes)
Some more beef recipe ideas to create —-> Summer Beef Strips Stir Fry and Tasty One Pot Beef Stew Beef Recipe and Simple Oven Roasted Beef Recipe and Minced Beef Spaghetti and Veggies and Homemade Ground Beef Chili Recipe and A Classic Beef Stroganoff and Grilled Beef and Peppers Sosaties and Beef Stew with Fresh Vegetables and Homemade Cottage Pie Dish and Spaghetti & Meatballs with Sauce and Curry and Yellow Rice Potjie and Filet Mignon in Red Wine Sauce and Traditional Bobotie and Yellow Rice and Pan Seared Garlic Butter Steak and Homemade Tangy Lasagna Dish and Curry Mince Vetkoek Filling and Easy Biltong Pasta Potjie Recipe and Mini Puff Pastry Sausage Rolls make this recipe idea to —-> Beef Stew with Fresh Vegetables eate these beef recipes to —-> Filet Mignon in Red Wine Sauce
Cook or bake more gourmet meals here. —-> 10 Extraordinary Gourmet Fine Dining
You love using garlic in meals then get these ideas —–> 18 Garlic Meal Inspired Recipes as well as these recipe ideas to create —-> 22 Garlic and Mushroom Filled Recipes
Also get some other inspiration for a special valentine meal idea –—-> 20 Romantic Valentine Meals Recipes
More beef recipe ideas to create —–> 26 Marvelous Beef Recipes
These are a few great healthy dinners for two recipe ideas —-> 25 Easy Dinner Recipes For Two
Print
Beef Fillet Garlic Potato
Beef Fillet Garlic Potato fine dining recipe. Easy baked potato dish plated with a seared grilled beef fillet with mushroom sauce.
Author:
Prep Time:

30 min

Cook Time:

35 min

Total Time:

65 min

Yield:

2

Category:

Gourmet fine dining meals

Method:

Stove top No Bake

Cuisine:

French
Ingredients
Dinner for Two
2

pieces Beef Fillet (Fat marbling is great to distribute heat in the meat)

1 Tablespoon

of olive oil
Salt and Pepper
Bake the Garlic Potato Dish   (Potato and Garlic Bake)
Mushrooms Sauce
1/2 Tablespoon

of olive oil

2 Tablespoons

of unsalted Butter

300 g

of button mushrooms sliced
Salt and Pepper

2

Garlic cloves

1/4 Cup

of white wine

1/2 cup

of chicken or vegetable broth

1 Cup

of heavy cream

1/2 Cup

of Parmesan cheese

2 teaspoons

of fresh Thyme leaves 
Instructions
1. Firstly bake the Garlic Potato Dish set aside and keep warm, to cut out with round cookie cutters to plate for fine dining.
2. Make the mushroom sauce. keep warm and set aside.
3. Sear the beef steak.
Heat the oil and butter and sauté the mushrooms that are sliced until soft, which should take about 4 minutes, Then add the garlic crushed and salt and pepper. For about a minute.
Add the white wine and stir the mushrooms so they don't stick and this should sizzle well. For about a minute as well, until mostly evaporated.
Finely add the broth, cream and parmesan and bring to a medium heat stirring a little. bringing the sauce to a simmer and until it thickens. 2 – 3 minutes then its done. This is a very rich sauce.
Stir through some thyme and taste if the salt and pepper needs to be adjusted.
Remove from the stove and pour into a gravy bowl for serving in a small bowl for the plated beef fillet and garlic potato with small cherry tomatoes.
It is best to buy the beef fillet a day or two before and leave in the fridge until needed. (covered or uncovered for oxidization.) Which improves the flavor.
Bring the fillet to room temperature before cooking.
Preparing a hot cast iron pan with a little olive oil in.  A fillet that is about 3 cm thick will cook in about 5 min for a medium rare sear. You can add a minute for thicker fillet to cook or for well done sear.
Keep your plates and an extra plate for the steak to rest on in the warmer draw, until needed.
The pan should be very hot. Salt and pepper the fillet before placing both in the pan. (keep your spatula's ready to flip the steaks.)
Use a timer to flip the steaks every 15 second or 30 seconds if you can. Until the 5 minutes is up. 
When finely seared place the seared grilled fillets on a warm plate and cover with foil to rest for about 5 minutes. 
You would of had the potato dish cooked and the mushroom sauce. (kept warm)
Use the round biscuit cutter with handles (that are about 2.2 inch, or 3.2 inch in diameter.) and press round fine dining potato cuts out of the potato casserole dish.
Platting on warm serving plates with the fillet and mushroom sauce in a small glass bowl. 
Serve with some small cherry tomato sliced and drizzle some sauce with drops on a plate (desired for serving)
Garnish with fresh Thyme.
Serve as a gourmet fine dining meal.
Notes
Garlic baked potato dish is a warm side dish.
Other sides are salads.
Keywords: Beef Fillet Garlic Potato and mushroom sauce