Creamy Garlic Potato Casserole recipe. Best easy 3 ingredient warm side dish idea for a braai, dinner or lunch for a healthy versatile meal.
Creamy Garlic Potato Casserole
The Best and easiest creamy garlic potato casserole to bake in the oven for a warm side dish for Lunch or dinner family gathering meals. This dish suits any meal made with meats. The most tastiest and popular dish for braai or barbecue for family get togethers. Vegetarian friendly as well. Simple 3 ingredients to use for a budget friendly casserole. Make ahead and keep covered in the fridge until baked with a meal.
Garlic is very good for you and this is when I go overboard with the garlic. The delicious mouth watering aroma that comes from the garlic bake once done will make any bodies mouth water. Rich and Tasty and so delicious. My go to recipe.
Why do you need to soak potatoes before baking?
Soaking potatoes in water helps remove excess starch. Excess starch can inhibit the potatoes from cooking evenly as well as creating a gummy or sticky texture on the outside of your potatoes. Cold water is used because hot water would react with the starch activating it, making it harder to separate from the potatoes.
Can you put cream in a potato bake?
Leaving your peeled and potato cut into slices in water for at least 5 minutes before draining them. Placing them into a casserole dish in layers and adding cream after then baking.
Is it better to bake with sour cream or milk?
The creamy texture of sour cream makes baked goods more moist than if you used milk. This makes sour cream an excellent choice for recipes that are known to have drier results, like sponge cakes.
Ingredients.
potatoes
garlic, salt and pepper or(aromat)
cream
View the recipe that is attached for all the measures and instructions.
How To Make
Slice some potatoes to fill up the size of the dish you using. I used a roasting pan and this dish will provide for 8 people. Place the sliced potatoes in a bowl of water for at least 5 minutes, then rinse them off to get rid of the startch.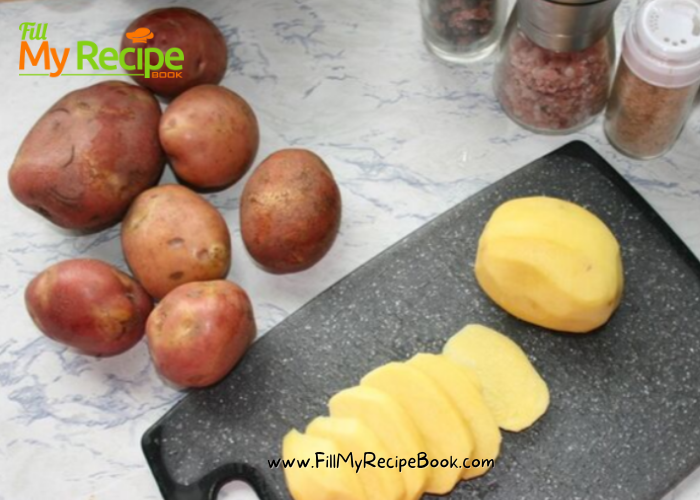 Some healthy ingredients used. Himalayan salt and pepper OR(aromat)with full cream and your choice of garlic flakes or cloves.(we live in Ecuador therefore the names are Spanish)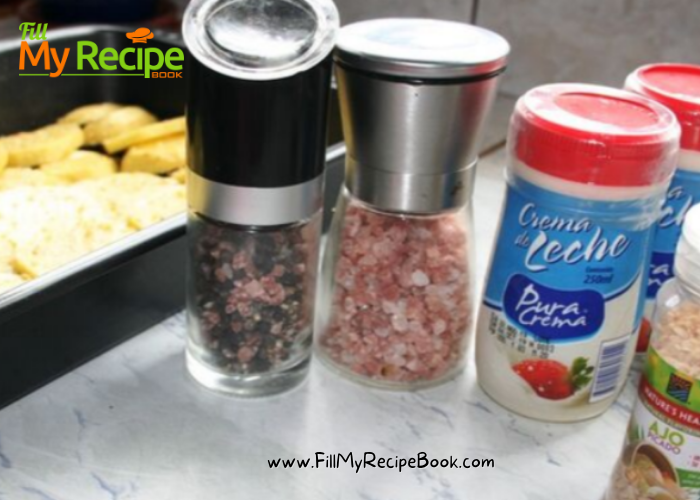 Layer slice potato on the bottom of the roasting pan.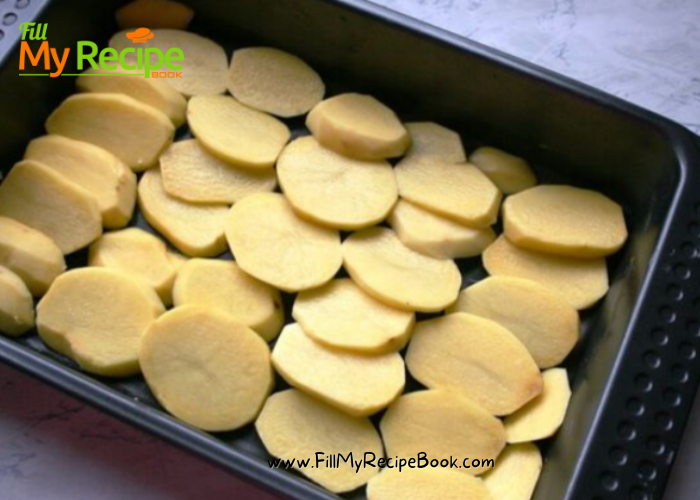 Sprinkle the potato with a little salt and pepper them generously coat with garlic flakes.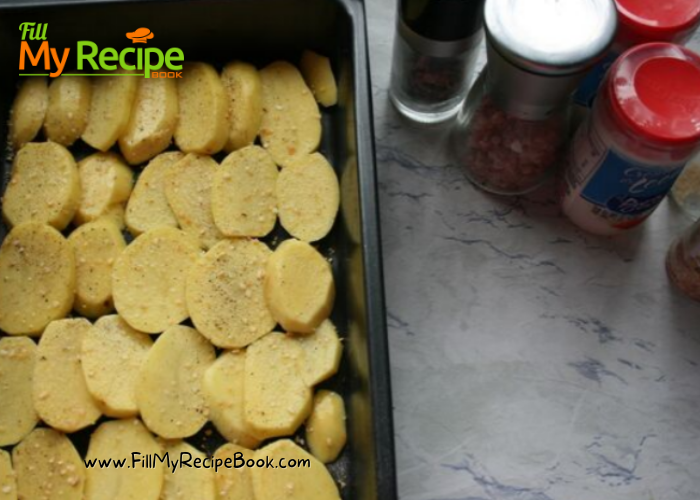 The second layer of sliced potato, then use salt, pepper and more garlic flakes. Its not overpowering.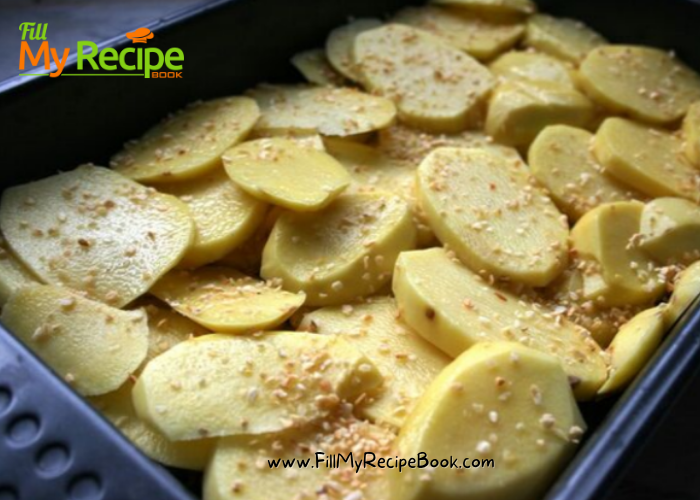 Apply the full cream to the potato and spread over evenly.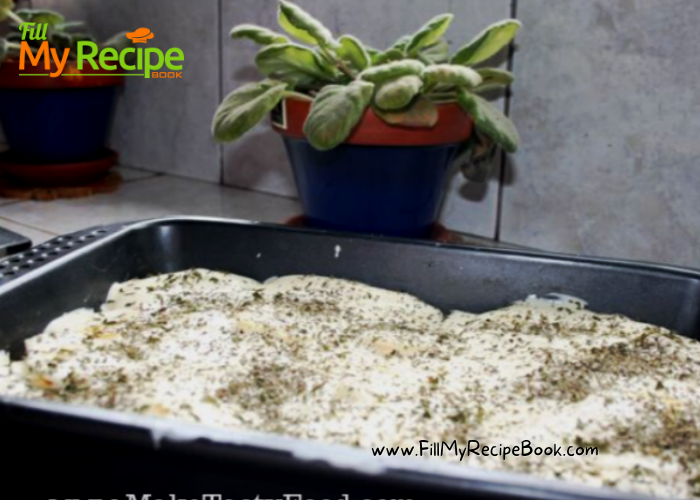 Then apply your herbs of choice, I used parsley and Basil. For color and taste.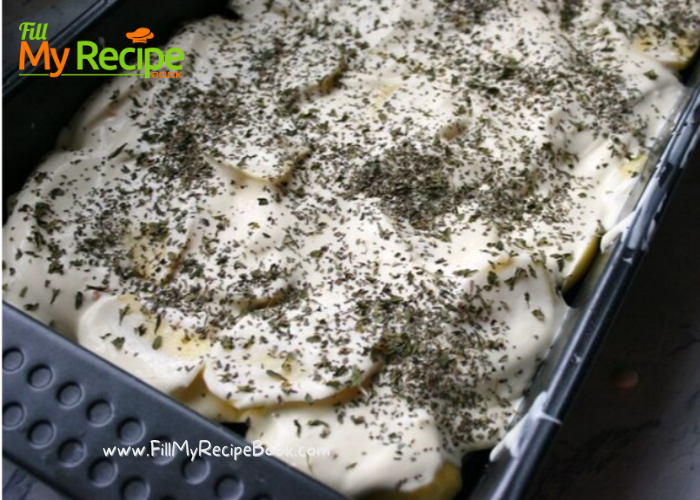 Place in heated oven and bake till brown and potato is soft or when the cream is thick it will be absorbed.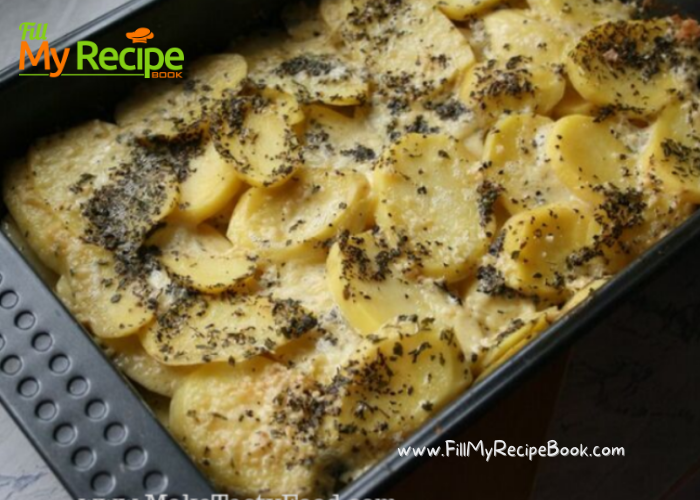 Creamy Potato Garlic Casserole with herbs and spices, much loved dish for a family meals that are either for lunch or dinner.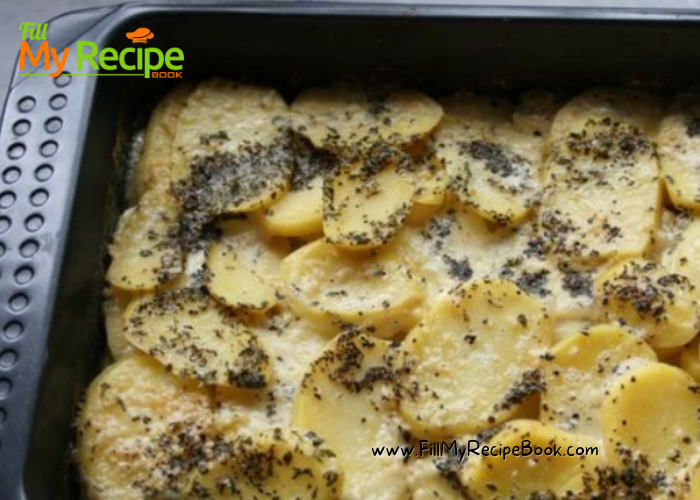 Recommendations.
(click the highlighted heading for the recipe)
Make a Fathers day menu with these recipes —-> A Braai or Barbecue for Fathers Day
Great potato recipe ideas to create —-> How To Make Mashed Potato and Baked Potato in Foil on Coals and Foiled Sweet Potato on Coals and Sunday Roasted Chicken and Potato's and Creamy Potato Salad
A few Mothers Day recipe Ideas to create —-> 21 Mother's Day Braai Ideas
A few more side dishes recipe ideas to create —-> Warm Side Dishes for Meals
also view more casserole recipes to bake here.—–> 20 Easy Casserole Baked Recipes
Get some more amazing recipe ideas for a meal menu for a braai.—–> 12 Fathers Day BBQ or Braai Recipes
Make a braai menu with these side dish ideas.—–> 11 Braai Side Dishes Ideas
View more dinner party recipes to serve for special occasions here —–> 25 Easy & Quick Dinner Party Recipes
Try these amazing delicious vegetable recipes. —-> 24 Easy Veggie Side Dish Recipes As well as these other recipe ideas —–> 13 Make Ahead Vegetable Casserole
family meals —–> 22 Large Budget Family Meal Recipes
You love using garlic in meals then get these ideas —–> 18 Garlic Meal Inspired Recipes
Great family meal ideas —–> 24 Easy Family Meal Recipes
Then there are these 3 ingredient —-> 16 Three Ingredient Dinner Recipes
Some more amazing dinner recipes to create —–> 13 Easy 4 Ingredient Dinners Recipes
You will love these —–> 10 Easy Potato Recipe Ideas
Supper or lunch casserole ideas —-> 22 Family Casserole Dishes as well as these —-> 23 Easy Casserole Recipes
Get Thanksgiving recipe ideas to create —–> 16 Traditional Thanksgiving Meal Recipes and also Sharing Thanksgiving side dishes to create —–> 27 Thanksgiving Side Dishes
Some great family recipe ideas —– 24 Easy Family Favourite Recipes
Some great family recipe ideas for dinners —–> 34 Easy Family Dinner Recipes
Did you know you can enjoy a braai or barbecue as a vegetarian? get these ideas —–> 25 Vegetarian Braai or Barbecue Recipes
You will also love these casserole ideas —–> 20 Taste of Home Casserole Recipes
Learn how to cook with herbs and spices, get the guides —–> Cooking with Herbs and Spices
Purchase these pretty and very versatile casserole dishes to bake in.
Get these beautiful Casserole Dishes & Table Mats to bake your healthy homemade casserole dishes in, many ceramic and stoneware dishes.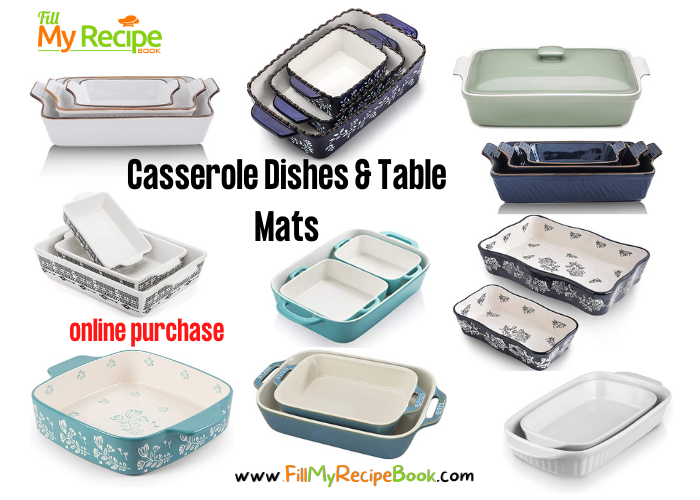 Print
Creamy Garlic Potato Casserole
Creamy Garlic Potato Casserole recipe. Best easy 3 ingredient warm side dish idea for a braai, dinner or lunch for a healthy versatile meal.
Author:
Prep Time:

20 min

Cook Time:

45 min

Total Time:

65 min

Yield:

8

Category:

Dinner or lunch, meal, side dish

Method:

Oven Baking

Cuisine:

South african
Ingredients
A couple of potato's (this recipe depends on the family size casserole you wanting to make for a family)

1

lt of full cream
Chopped up garlic cloves or garlic flakes.
Salt and pepper. or (aromat spice)
Parsley and basil mix. 
Instructions
Preheat oven to 200 Deg. C
Obtain a roasting pan or a large glass casserole dish. Grease the dish.
Peal and slice the potato's, soak in water for at least 5 minutes, then drain and layer on the bottom of the pan.
Add plenty crushed garlic or flakes and salt and pepper. or aromat spices.
Then add another layer of sliced potato over the first potato's, adding more garlic and spices.
If you can add another layer the same way.
Open the cream and pour over the potato's evenly. (sour cream may be used)
Sprinkle the parsley and basil flakes over the cream on top.
Bake in the oven until golden brown and cream has been absorbed.
Serve with a meal or use this recipe as a side dish with a braai. 
Keywords: Potato and garlic baked casserole
More casserole dishes to make for family.
Other Oven Baking Recipes to choose from. Also choose more Side Dishes for meals.
Also download some FREE Printables for use in the kitchen.