The Tasty Vegetable Dish recipe oven baked. An easy healthy vegetable casserole that can be made ahead with veggies as a side dish.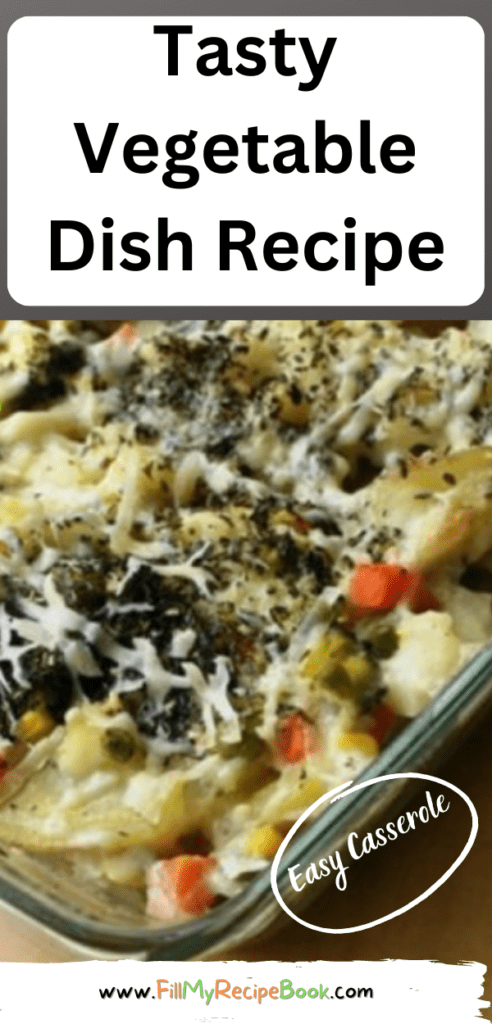 Tasty Vegetable Dish Recipe
Its a great and tasty dish to make for a family gathering, as you could make a large dish of vegetables for the family table or smaller casserole in a pyrex dish. Its so easy and a healthy recipe for low carb or green and other veggies for a tasty side dish. The best oven baked meal to make ahead for dinner or lunch.
This dish serves three, chicken with mushrooms where added in the plate for lunch. I used a Pyrex dish for the casserole dish.
How do you make vegetable dishes taste better?
Add cheese.
Tangy surprise.
Sauté with herbs.
Spice them up.
Healthy dip or sauce.
Mix with fruit.
Flavorful homemade soup.
Drink them, – smoothies.
How do you make vegetables taste like a restaurant?
To sauté leafy greens, you must massage them with salt first to get rid of their bitter taste and makes them more digestible. Try blanching the greens in salty water before suite them. It improves their taste.
What is the best seasoning for vegetables?
It is said that it is best to add-
Raw ground spice seasoning such as curry powder, Chinese five spice, taco seasoning are better added at the beginning.
Dry herbs in the middle of your cooking the vegetables.
Fresh herbs such as parsley, cilantro/coriander leaves, basil are best added at the end of cooking.
Ingredients
The ingredients are very simple. Add any vegetable that you would love to eat, even add small cuts of potato. This recipe may be made with left over vegetables for a meal the next day and that is why it is easy to make ahead. We used cream and sprinkled cheese on top with garlic and other spices. Baked in the oven for a side dish.
(for a guide to vegetables used see the recipe attached)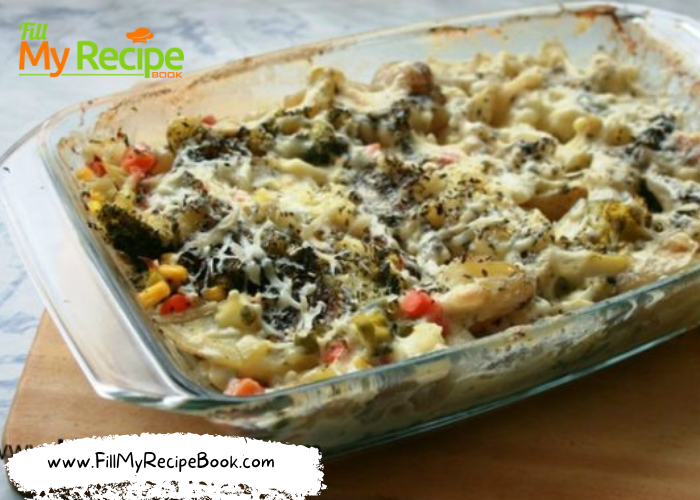 How To
Wash and chop up the vegetables needed. Any veggies you have in season or available or would love to eat for a side dish with your meal is good.
Place them in the pyrex dish add cream or tin of soup and sprinkle with herbs and spices and drizzle cheese on top and bake in the oven. (follow the directions on the recipe attached)
The vegetable dish was oven baked and the cream that was added evaporated and soaked into the veggies. A versatile dish that can be made with some potato and vegetables or just any type of vegetables. Depends on your taste.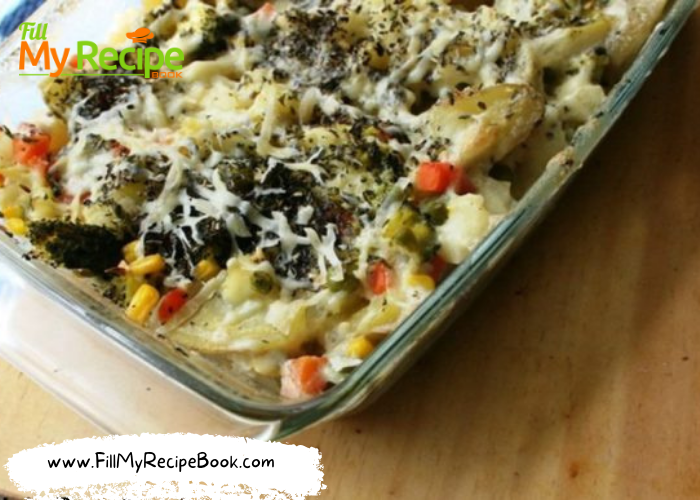 Sprinkled Parmesan or mozzarella cheese on top for the fussy vegetable eater, and to add to the taste.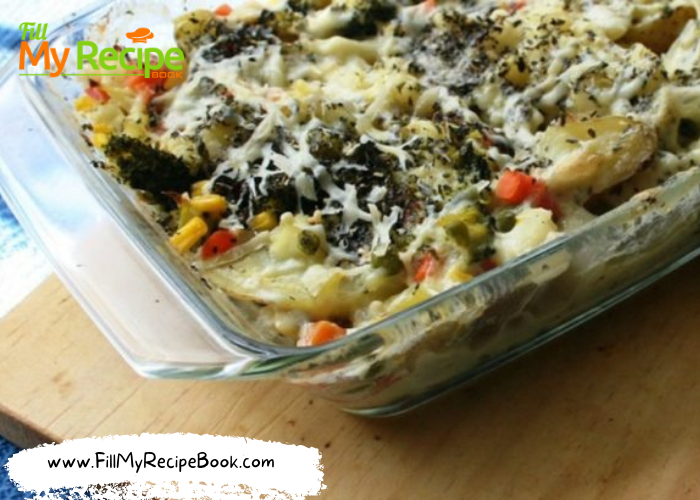 A portion of the baked veggies, in a serving plate.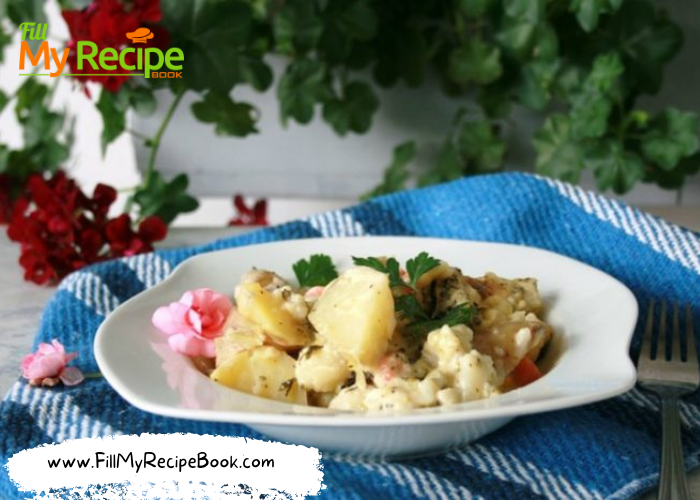 Recommendations.
(click the highlighted heading for the recipe)
Bake this amazing recipe —-> Creamy Pumpkin & Vegetable Casserole and —-> Creamy Cabbage Casserole with Cheese
And this recipe idea —-> Basil Pesto Vegetable Lasagna
A few more side dishes recipe ideas to create —-> Warm Side Dishes for Meals
Here are some more amazing and delicious vegetable casserole dishes to bake.
—–> 20 Easy Casserole Baked Recipes
—–> 12 Easy Cauliflower Dish Recipes
View more dinner party recipes to serve for special occasions here. —–>25 Easy & Quick Dinner Party Recipes
Some exciting vegetables dishes —-> 24 Easy Veggie Side Dish Recipes and 12 Healthy Casserole Veggie Recipes As well as these other recipe ideas —–> 13 Make Ahead Vegetable Casserole
Get these vegetarian recipes —-> 14 Vegetarian Freezer Casseroles Recipes
Supper or lunch casserole ideas —-> 22 Family Casserole Dishes as well as these —-> 23 Easy Casserole Recipes
and these recipe ideas as well —–> 24 Tasty Parmesan Inspired Recipes
Sharing Thanksgiving side dishes to create —–> 27 Thanksgiving Side Dishes
Some great family recipe ideas —–> 24 Easy Family Favourite Recipes
Did you know you can enjoy a braai or barbecue as a vegetarian? get these ideas —–> 25 Vegetarian Braai or Barbecue Recipes
Use left overs at Christmas time to make these recipe ideas —-> 25 Quick Christmas Leftovers Ideas
Ideas for a vegetarian Christmas meal —–> 34 Vegetarian Christmas Dishes Recipes
and more supper or dinner ideas —–> 22 Easy Healthy Dinner Recipes
You will also love these casserole ideas —–> 20 Taste of Home Casserole Recipes
Some warm roasted meals for the family dinner or lunch on Christmas —–> 18 Roasted Christmas Family Meal Recipes
Then there are these vegetable recipe ideas to —–> 10 Easy Vegetable Recipes
Print
Tasty Vegetable Dish
The Tasty Vegetable Dish recipe oven baked. An easy healthy vegetable casserole that can be made ahead with veggies as a side dish.
Author:
Prep Time:

15 min

Cook Time:

30 min

Total Time:

45 min

Yield:

6

Category:

casserole

Method:

Oven Baking

Cuisine:

South african
Ingredients
Any vegetables you have available will make a good dish. I made this vegetable dish for three people. Made in a medium glass dish.

1.

Half a small Cauliflower

2.

Half a small broccoli

3.

Small potatoes cut in half

4.

Mixed frozen vegetables (peas, carrots, corn)

5.

250 ml cream

6.

Himalayan Salt and pepper

7.

Garlic flakes

8.

Dried Basil and parsley

9.

Parmesan cheese grated or other.
Instructions
1. Preheat oven to 180.deg.C.
2. Boil vegetables till half done, with salt and pepper. (you can use the veggies not boiled will only take longer to bake the dish)
3. Strain and fill the glass dish with the vegetables.
4. Open cream and pour over vegetables.
5. Sprinkle some garlic flakes on top of the vegetables, with parsley and basil leaves.
6. Bake in oven till cream has been absorbed and vegetables are soft.
7. Sprinkle with some grated Parmesan cheese.
8. Bake till melted.
Serve warm with your meat of choice.
Notes
This dish is so easy and can be a side dish for any meal, including a braai or barbecue.
Alternative to cream add cream soup mix.
Keywords: Easy tasty vegetable dish all in one. For family.
Vegetable cream dish with herbs and garlic spices.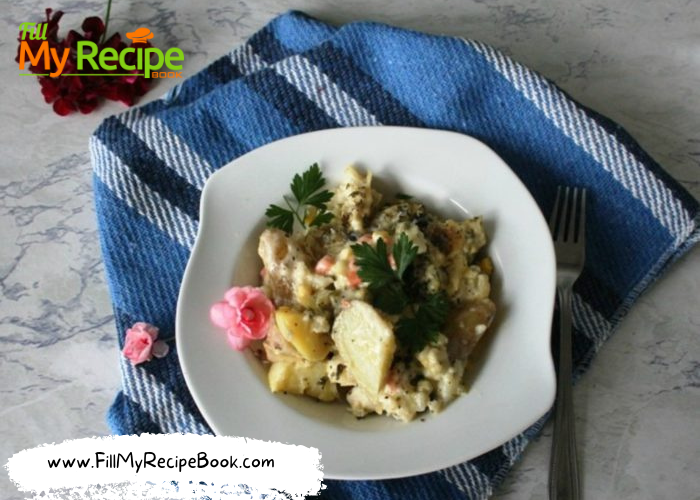 You will love some of these other Oven Baking Recipes as well, and Side Dishes.
Don't forget about some FREE Printables to help with baking and useful in the kitchen.
Get these beautiful Casserole Dishes & Table Mats to bake your healthy homemade casserole dishes in, many ceramic and stoneware dishes.