Easy Macaroni and Cheese recipe for two or four people. This is a family favorite dish and is often made with bacon and cream.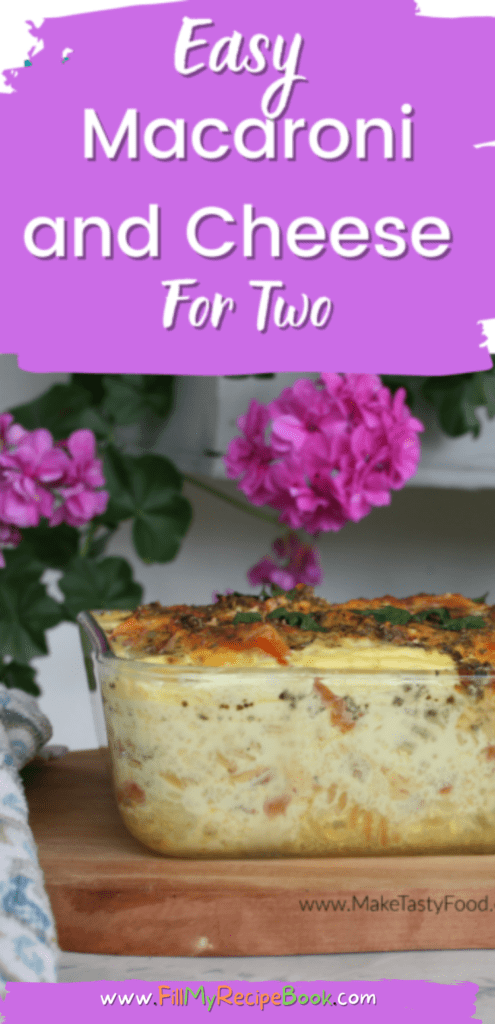 Easy Macaroni and Cheese for Two
Make this dish easily and quickly with organic ingredients. One can use tinned tomato and onion, or pureed tomato. But where we live we get to use all the organic natural ingredients. Himalayan Salt and pepper, garlic flakes or cloves. Organic eggs, good pasta. All mixed and sautes in a frying pan.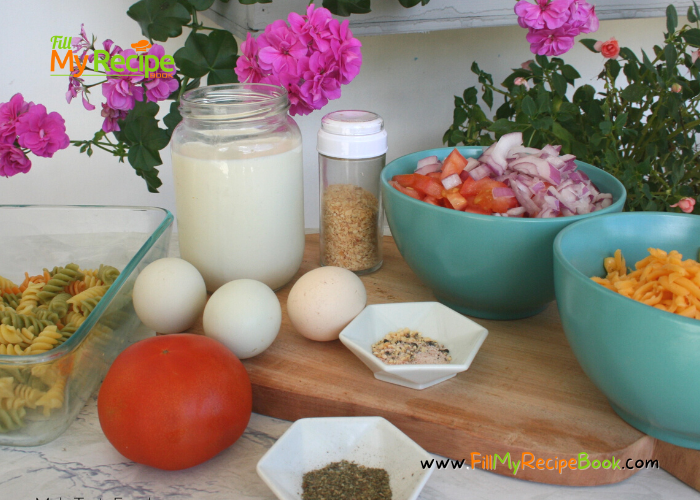 Ingredients all layered in two layers, with cheese on top and parsley or basil flakes.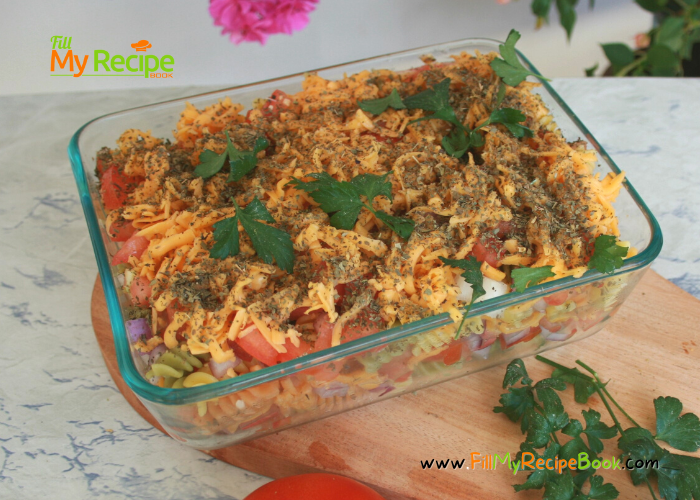 Whisk organic eggs and milk and salt and pepper. Organic eggs are very orange in colour. Pour over dish.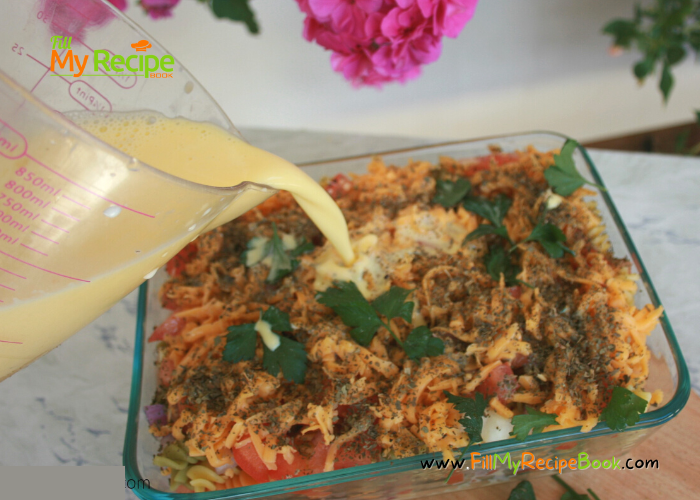 Below is the amount of egg and milk mixture needed for the dish.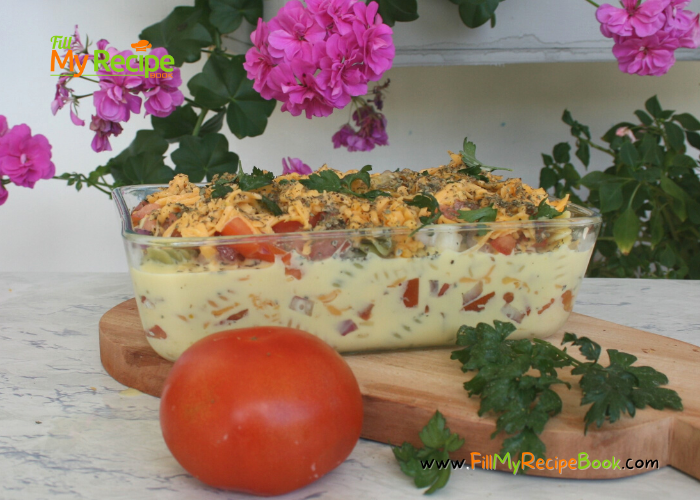 Cooked until you notice liquid milk and egg is firm on the sides of the dish. Browned on the top. A glass Pyrex casserole dish is use to see that it is cooked on the sides.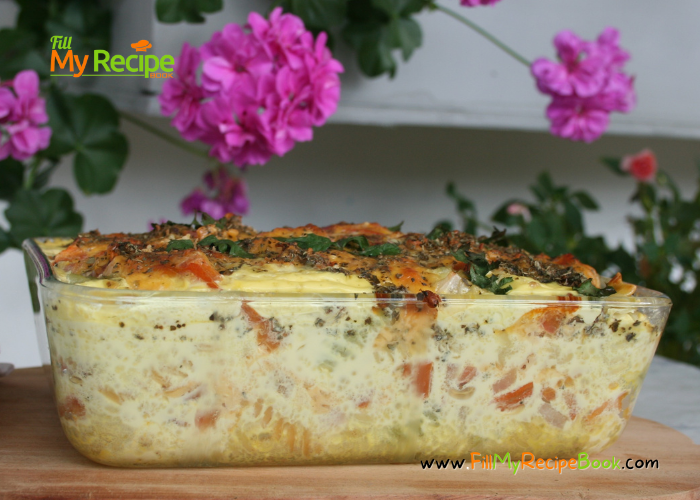 Notice the yellow colour of the egg mixture. When you get that lovely aroma of the food then you should know its cooked.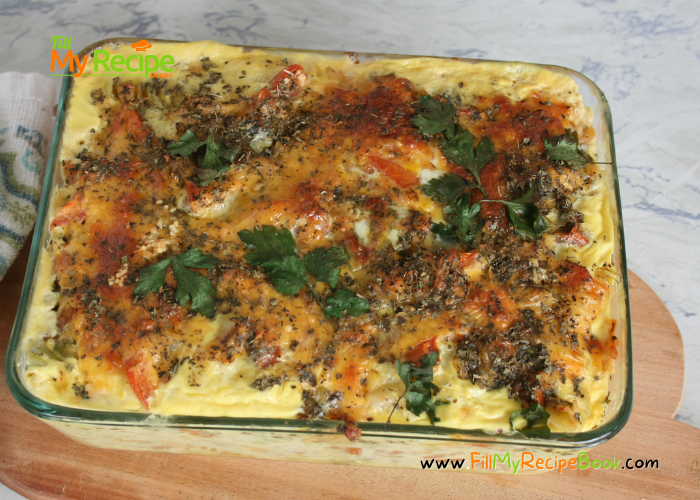 Dish up warm and use salad or as we prefer it just with tomato sauce. Lots of garlic goes in my dish as garlic is good for digestion.
You would love to make ahead some casserole to freeze then get more recipes here.—–> 10 Make Ahead Freezer Casserole Recipes
Look no further for these pasta recipe ideas —–> 22 Easy Pasta Recipes
These are simple ideas that can be made with left overs —–> 21 Easy Meatless Monday Recipes
These are a few great healthy dinners for two recipe ideas —-> 25 Easy Dinner Recipes For Two and budget friendly ones —–> 23 Simple Family Budget Meals
Print
Easy Macaroni and Cheese for Two
Easy Macaroni and Cheese for two to four people.  This is a family favorite dish and is often made with alternative ingredients such as bacon and cream.
Prep Time:

15 min

Cook Time:

30 min

Total Time:

45 min

Yield:

45 min

Category:

casserole

Method:

baking
Ingredients
2

 x red organic tomatoes

1

 x red onion

1 1/2 cups

 of grated cheddar cheese (or mozzarella)

3

 x organic eggs

400

 ml. of milk (or Cream)

250 grams

 organic pasta (small tubes or as desired)
Himalayan salt
Pepper
Garlic flakes (or cloves crushed)
Basil flakes or parsley
Instructions
Set oven to 1850 deg. C.
Chop tomato and onion, in blender, or as you would prefer to use them. They are better blended.
Fill small pot with water half way and add salt, then bring to boil and add pasta for a few minutes till soft. sieve the pasta of water.
Grate the cheese.
Use a glass Pyrex dish for the macaroni dish.
fill half the cooked macaroni's in the Pyrex dish layered at the bottom.
Spice with garlic over the layer while warm.
Spread half the tomato and onion mixture over the macaroni's.
Layer some grated cheese over the tomato mixture.
Do a second and last layer of the pasta, garlic flakes galore, then tomato mixture and cheese finally.
Sprinkle the basil flakes on the top of the cheese.
Whisk the eggs and milk, with salt and pepper.
Pour over the macaroni mixture in the dish until the base of the macaroni's are covered.
Place in the oven and bake until brown and the mixture has firmed.
You will notice it through the glass Pyrex sides.(see photo)
Makes a meal for four, with salad. Two large meals, if desired.
---
Notes
This is a particular favorite family dish, from my mother. It has been modified a little to suite my family. Normally we would use elbow macaroni, for this dish. But any available pasta will do.
Keywords: easy macaroni and cheese for two
More casserole dishes. and Oven Baking Recipes here.
Download and print these FREE Printables for your kitchen.