Bake this Boerewors Mac n Cheese Casserole for a meal. A South African recipe that includes left over boerewors with tomato and garlic.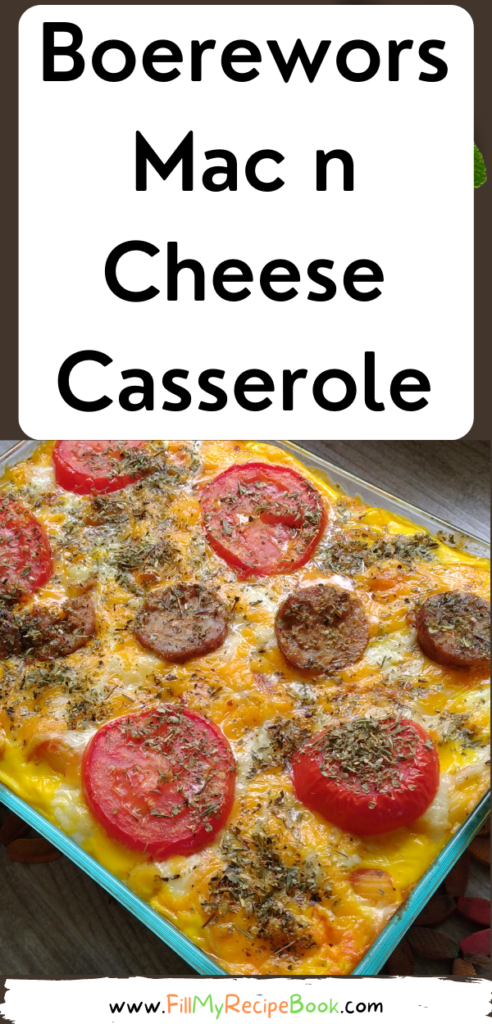 Boerewors Mac n Cheese Casserole
Bake this boerewors mac n cheese casserole dish recipe idea for a lunch or dinner for four. Use left over sausage or boerewors to add to the dish. Generously spiced with garlic and Italian herbs on top. This Oven Baked dish makes a delicious meal put together with a egg and milk mixture and two cheeses. It is versatile to bake as a plain mac n cheese or add your meats or veggies to make a difference. A favorite South African dish Granny used to make for a large family gathering.
How do you keep homemade mac and cheese creamy?
Personally I use full cream for the creamy version of mac n cheese. The full cream will also make the dish very rich. But you may do half milk or half cream to suit your strength of creaminess. This recipe is made with only milk with the egg mix. The pasta should also not be overcooked that it becomes mushy.
How do you fix bland mac and cheese?
To make your mac and cheese not bland add herbs such as Italian herb mix or dried parsley or basil. I Love to use a lot of garlic flakes or crushed garlic with the whole cream which make this dish so strong and rich with flavor. Using salt and pepper also helps if you to not want to spice it up that much.
What can I add to mac and cheese for more flavor?
adding extra amount of cheese to the dish, also using different cheeses.
adding sauces and meats to spice up the flavor.
adding some vegetables to the dish will also work. or tomato and onion.
Sprinkle the top with herbs or bits of bacon or tomato.
adding mustard to the dish help with breaking down the fat from the cheese.
What cheese is best for mac n cheese?
cheddar is popular for many casseroles
salty parmesan cheese
gruyere cheese
brie
gouda
Monterey jack
fontina cheese
Ingredients
macaroni italian pasta
salt and pepper
garlic flakes
Italian seasoning
mozerrella and cheddar cheese
Roma tomato
boerewors (bratwurst)
milk
egg
tomato salsa (or tin of tomato and onion.)
View the recipe attached for all the final amounts needed and the instructions for this delicious lunch or dinner meal for four.
How To
Boil the macaroni pasta in water with salt for about 6 minutes. Grate the cheese and slice the tomato and boerewors.
Mix the egg and milk with salt and pepper. Obtain the garlic flakes and Italian seasoning. Make a mix of tomato salsa or use a tin of tomato and onion paste.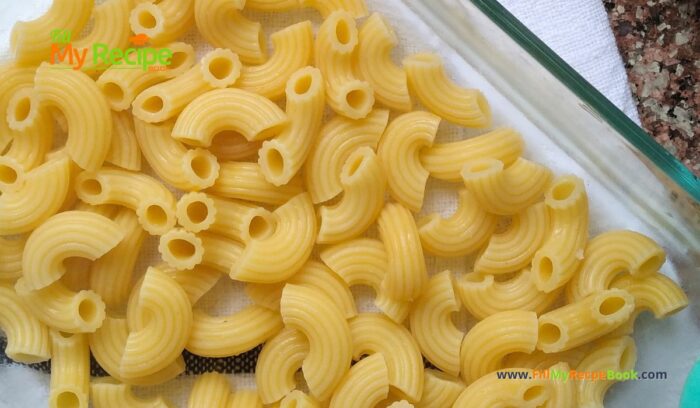 Layer the pasta on the bottom of the casserole dish. Sprinkle generously some garlic flakes over the warm pasta and smear or mix some tomato salsa with the pasta.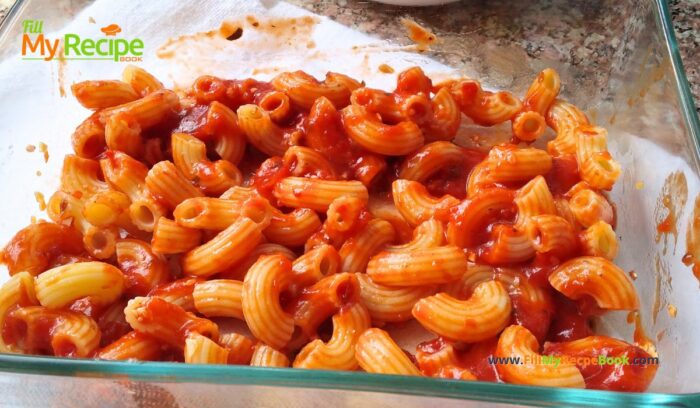 Then add some grated cheese over this mixture.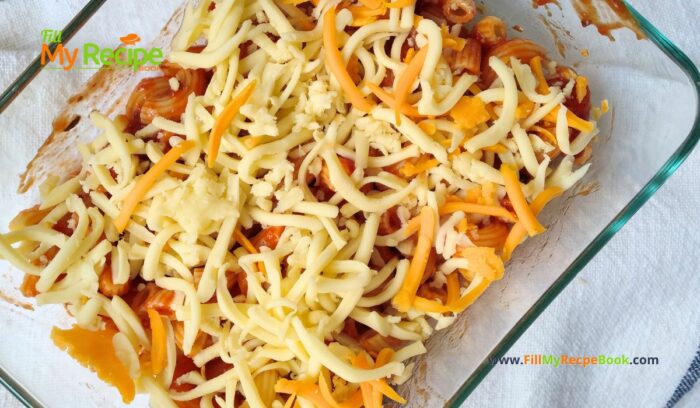 Layer the sliced boerewors evenly over the cheese.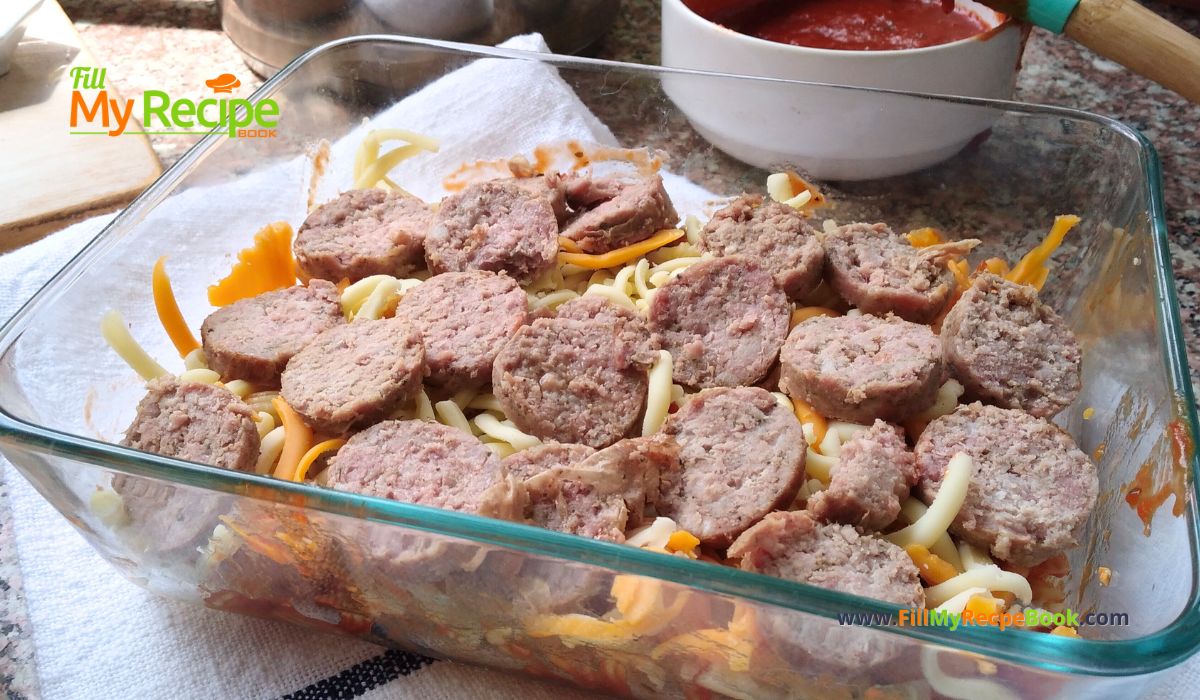 Finally add the last of the pasta over the boerewors and sprinkle more garlic flakes over this. Add the rest of the tomato salsa over the pasta and then add the rest of the mixed cheeses over the top. Adding a few pieces of boerewors on top for decoration as well as the sliced tomato.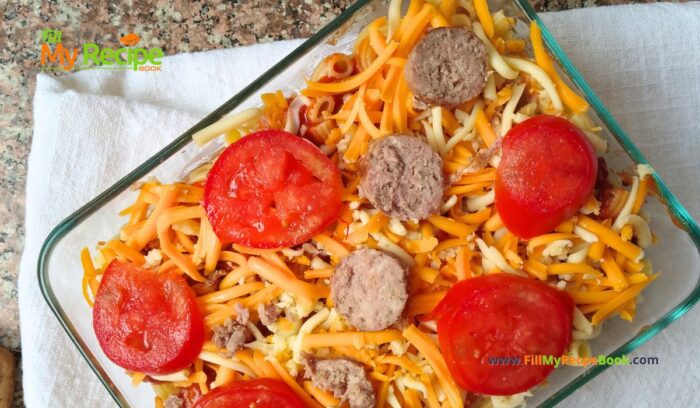 Pour over the whole top of dish the egg and milk mixture. Sprinkle the top with Italian seasoning.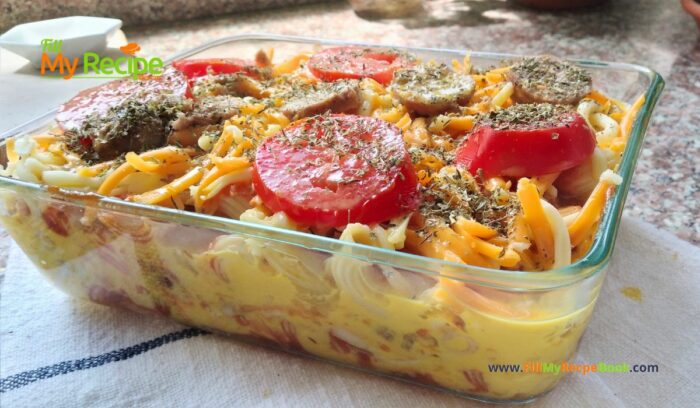 Bake in the oven for about 25 minutes until brown and cooked. Serve for a warm meal for lunch or dinner with salad or a side of focaccia flat bread.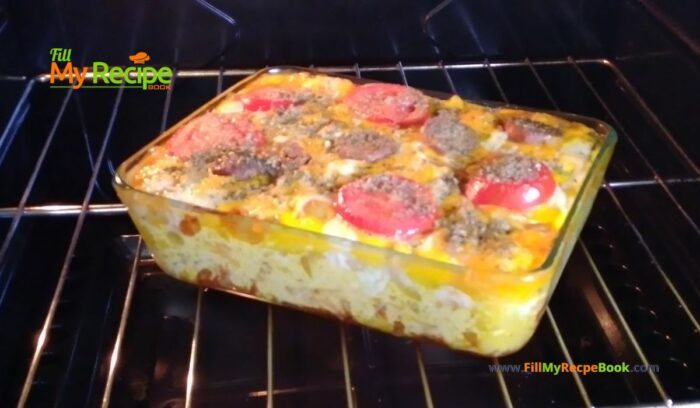 Take note of the cooked filling on the side of the dish. No more liquid, then its done.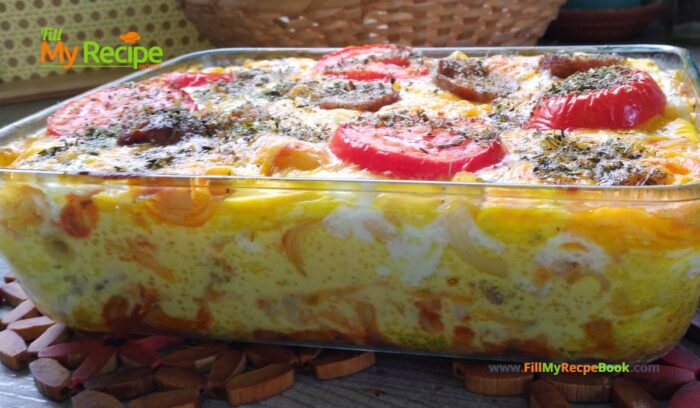 Serve for lunch or dinner for a family of 4, with avocado or salads of choice.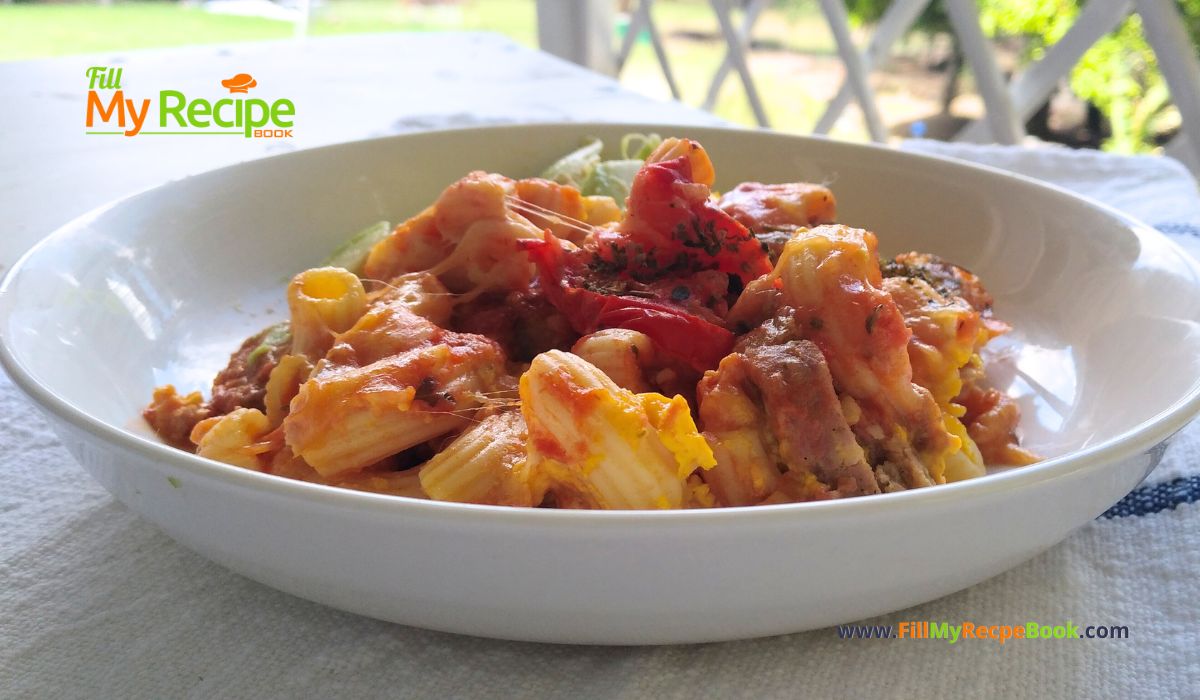 Recommendations
(click the highlighted heading for the recipes)
Get more pasta or mac n cheese recipe ideas to create —-> Easy Macaroni and Cheese for Two and Homemade Family Macaroni and Cheese
Side dish for this recipe idea is —-> Garlic Rosemary Focaccia Bread Machine Recipe and Best Greek Salad Recipe and Corn and Black Bean Salad and Simple Tomato and Onion Salad
Get these beautiful Casserole Dishes & Table Mats to bake your healthy homemade casserole dishes in, many ceramic and stoneware dishes.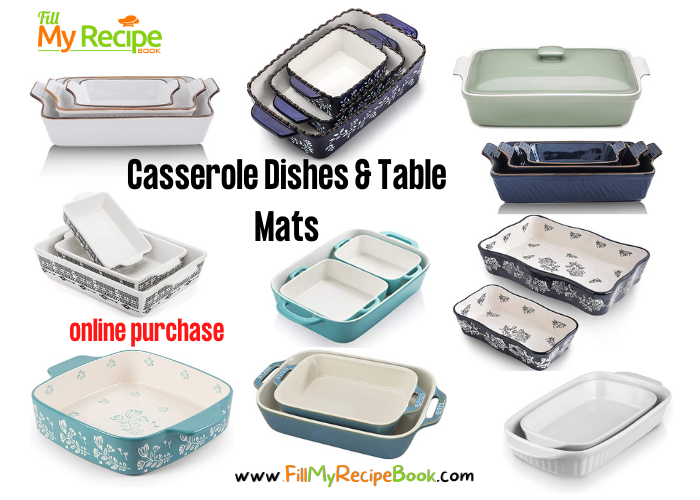 Print
Boerewors Mac n Cheese Casserole
Bake this Boerewors Mac n Cheese Casserole for a meal. A South African recipe that includes left over boerewors with tomato and garlic.
Author:
Prep Time:

15 min

Cook Time:

25 min

Total Time:

40 min

Yield:

4

Category:

Meals, supper or lunch, dinner

Method:

Oven Baking

Cuisine:

South african
Ingredients
250 g

Macaroni pasta (or other pasta your prefer or have on hand)

1 teaspoon

salt and pepper

1 tablespoons

of garlic flakes

1 tablespoon

of Italian herbs (or dried parsley or basil)

4

eggs

500

ml of milk

200 g

of tomato paste (or tomato and onion mix)

250 g

of grated mozzarella and cheddar cheese (or either)

2

whole left over boerewors or sausage cut into small slices.

1

Roma tomato cut into slices for decoration.
Instructions
Cook the pasta as directed on the package and add the salt to the pot of water. It should take about 6 minutes. This macaroni pasta used was an Italian type. Don't overcook it as you will still bake it with the ingredients in the oven.
While you cooking the pasta grate the cheese in a bowl and slice the boerewors or sausage in slices and the Roma tomato.
In a separate bowl break open the eggs and add the milk and salt and pepper, then whisk this until all is incorporated.
Drain the pasta once cooked. No need to rinse.
Obtain your small casserole dish (as this will serve for 4 people)
Add half of the macaroni to the bottom of the dish. Sprinkle some garlic flakes over this pasta, while hot. It will absorb it better.
Then add the tomato paste, and spread it over the pasta or mix it up totally.
Sprinkle the grated cheese over this evenly. Add the boerewors slices evenly over the top of the tomato.
Then repeat the layers again. ie: pasta, garlic, tomato, and the final layer of cheese with a few pieces of boerewors on top with sliced tomato.
Pour your mixed egg and milk mixture over the top of the dish. Sprinkle with Italian seasoning.
Bake in the oven at 180 Deg. C (360 Deg. F) for 25 min. to 30 minutes, until a little brown. You will see that the egg mix is cooked on the side of the dish as it will not look runny but set.
Serve warm or hot for lunch or dinner.
Add in some salad or focaccia bread for sides. Even eat it as is.
Notes
For a creamier flavor mix half milk to half cream.
For a richer flavor use full cream.
Another alternative is to use Evaporated milk if cream and milk does not suite you.
Any cheese will be great to use with this recipe. mozzarella and gouda or cheddar. other.
Keywords: Boerewors Mac n Cheese Casserole recipe