Garlic Rosemary Focaccia Bread Machine Recipe. A bread machine dough for an easy oven bake side with fresh rosemary and herbs topping.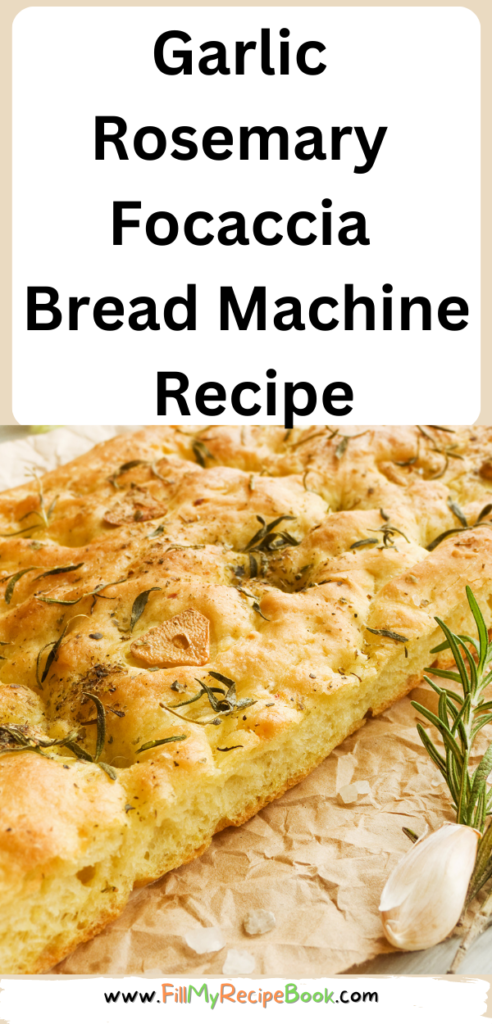 Garlic Rosemary Focaccia Bread Machine Recipe
An easy garlic rosemary focaccia bread machine dough recipe idea. Play with the ingredients and decoration on top of the oven baked flat bread with fresh rosemary leaves and herbs on the topping. A tasty side dish for salads and pasta dishes for a lunch or dinner meal. This garlic and herb bread will help as an appetizer for braai or barbecues as well. To feed the hungry people waiting for the meats and sides to be grilled for a great family meal.
How do you keep rosemary from burning on focaccia?
When you have drizzled the olive oil over the bread, then breaking off the pieces of leaves off of the stems of rosemary branch or stick. First coat them and the crushed garlic in some olive oil. Press them into the dough a little. Do this with any other toppings as well. This will prevent the herbs and toppings from getting burned on top of the bread.
What makes focaccia bread different from other breads?
The different types of breads baked are done at different temperatures. The focaccia bread does not get stale quickly and keeps longer because of the amount of olive oil used in it and on top of it, as well as some herbs that are included. Normal breads get stale quickly.
What type of flour is best for focaccia?
You can use all purpose flour and bread flour. The bread flour will give you a different texture and it will be chewier and salt and pepper the dough, which will make a huge difference in the taste.
How to make focaccia more flavorful?
I found that adding your herbs and spices directly into the dough before needing will give it more flavor as the wetness will absorb the flavors more. Most recipe ask for the herbs to be added when the dough is placed into the oven to bake. Placing the rosemary and garlic on top of the focaccia bread that was soaked in the olive oil is an additional touch to the bread.
Ingredients
warm water
olive oil
salt
garlic powder and cloves
bread flour
yeast
sugar
rosemary fresh leaves and dried herbs
All the amounts for the ingredients and the instructions are in the recipe attached. (NB please follow the ingredients list for the recipe attached, for adding the ingredient for the bread dough into the bread machine to mix the dough)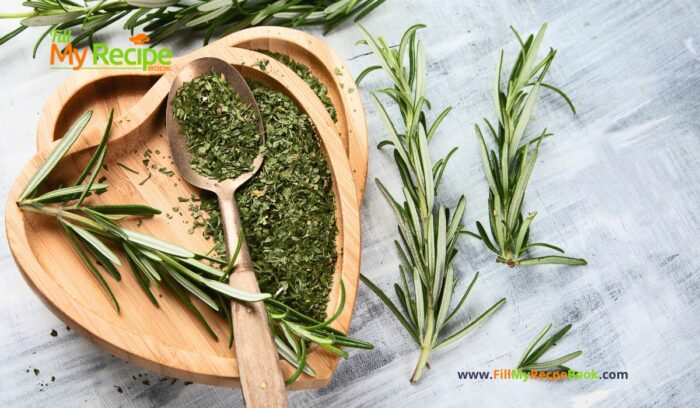 fresh and dried rosemary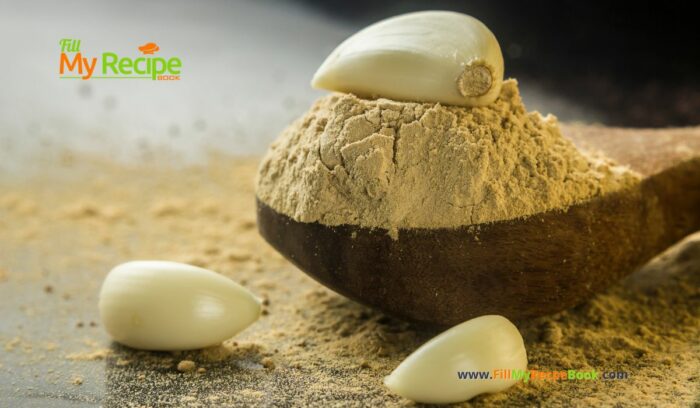 garlic powder and cloves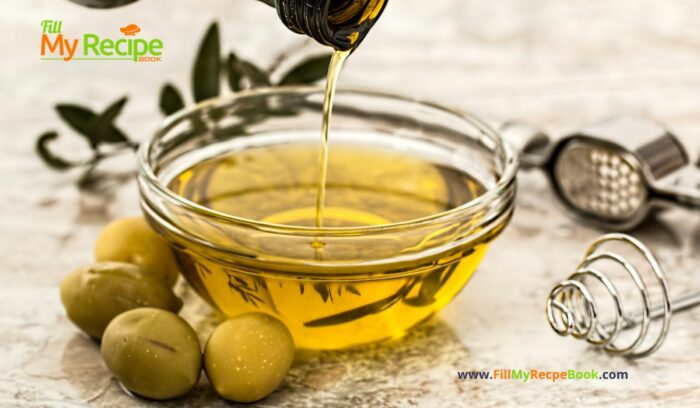 olive oils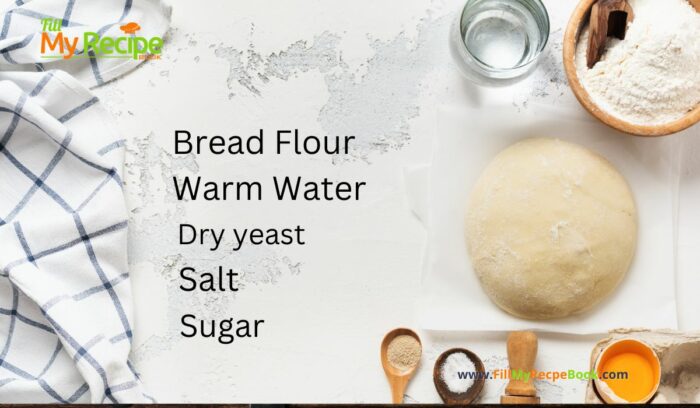 bread flour, warm water, dry yeast, salt, sugar
How To
Making the dough in a bread machine. Adding your ingredients (as per recipe attached) in the bread machine and letting it mix the dough. On the dough setting.
Taking the dough out of the container and placing it on a floured surface. Cover the dough and leave for about 10 minutes.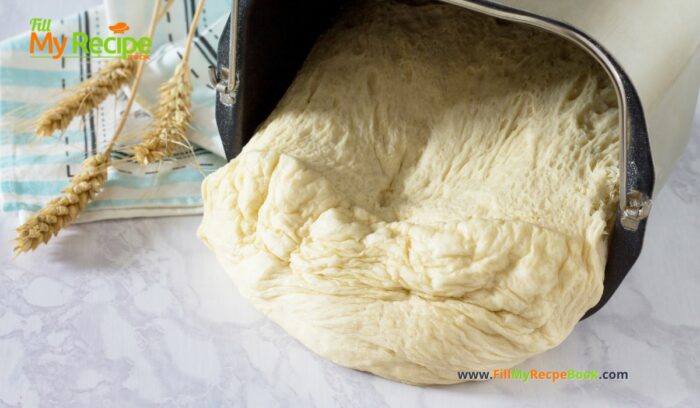 Roll out the dough to a rectangle of the size you want. Covering it and leaving it to rise in a warm place for about 40 minutes. Until it doubles it size.
Preheating your oven to bake this flat focaccia bread. (see recipe)Prepare the sheet pan with a lot of olive oil and sprinkle the flour on top of that.
When it has doubled it size, poke with your finger some dents in the dough that are deep enough to make the dough uneven. Place it on the sheet pan and then coat with olive oil and decorate with herbs and olive oil soaked fresh rosemary leaves and crushed garlic and finally salt. (optional to add other toppings.)Bake.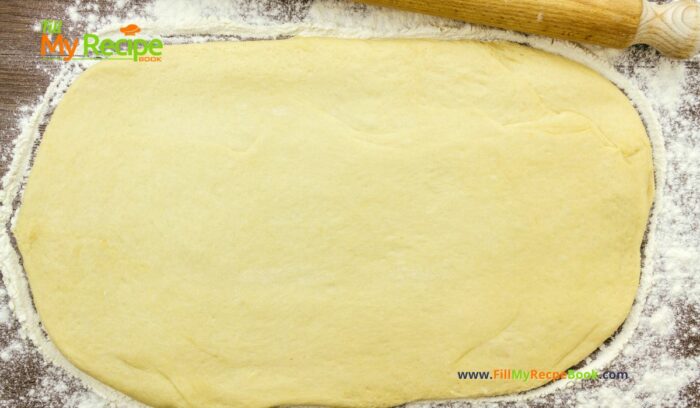 A piece of garlic rosemary focaccia bread, that was cut in half. After leaving to cool for a few minutes before cutting in half or in pieces to serve warm.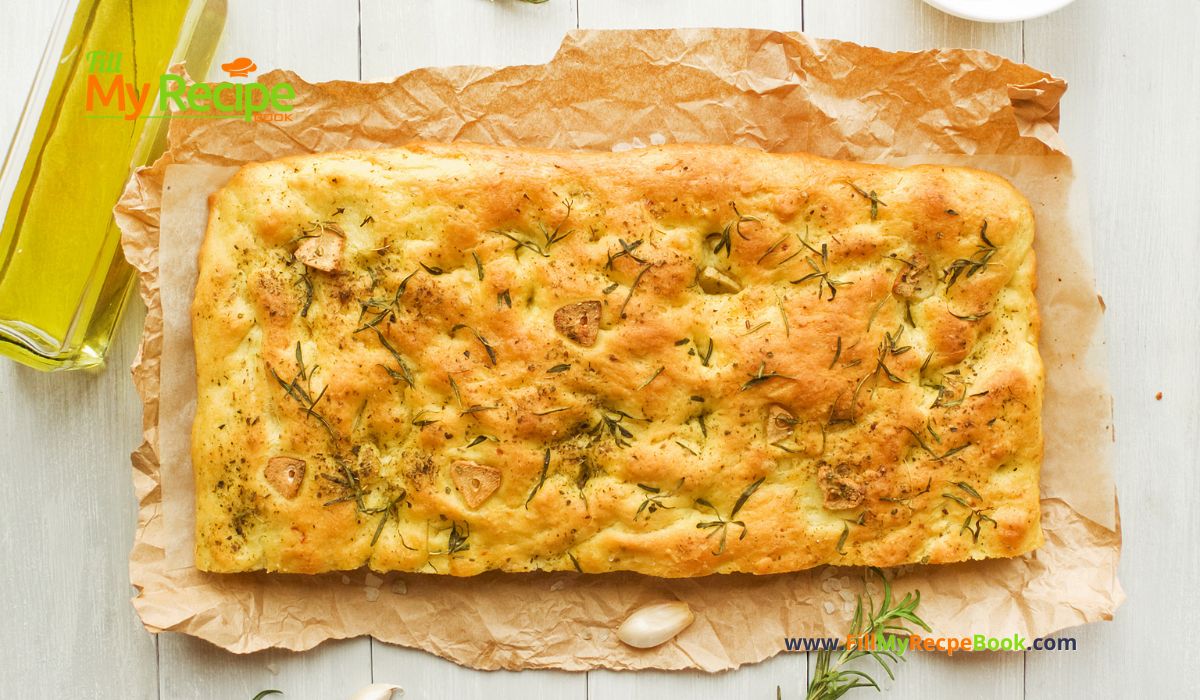 Just the right thickness for this absolutely delicious flat bread to eat with salads or pasta dishes.
Makes a tasty side dish for any other meal or appetizer. Serve with a braai or barbecue as a starter.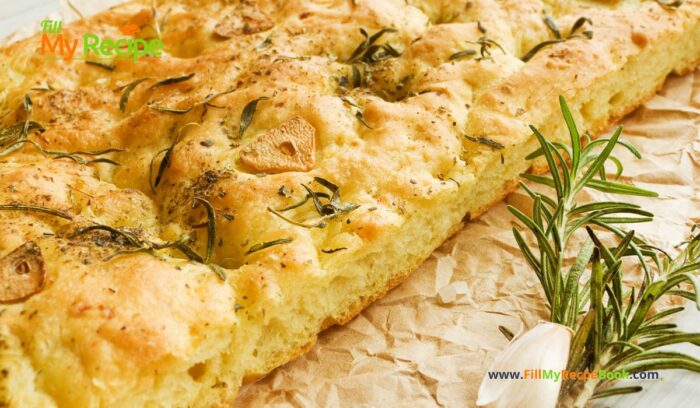 Serve and cut into sizes for people and family to obtain easily and enjoy.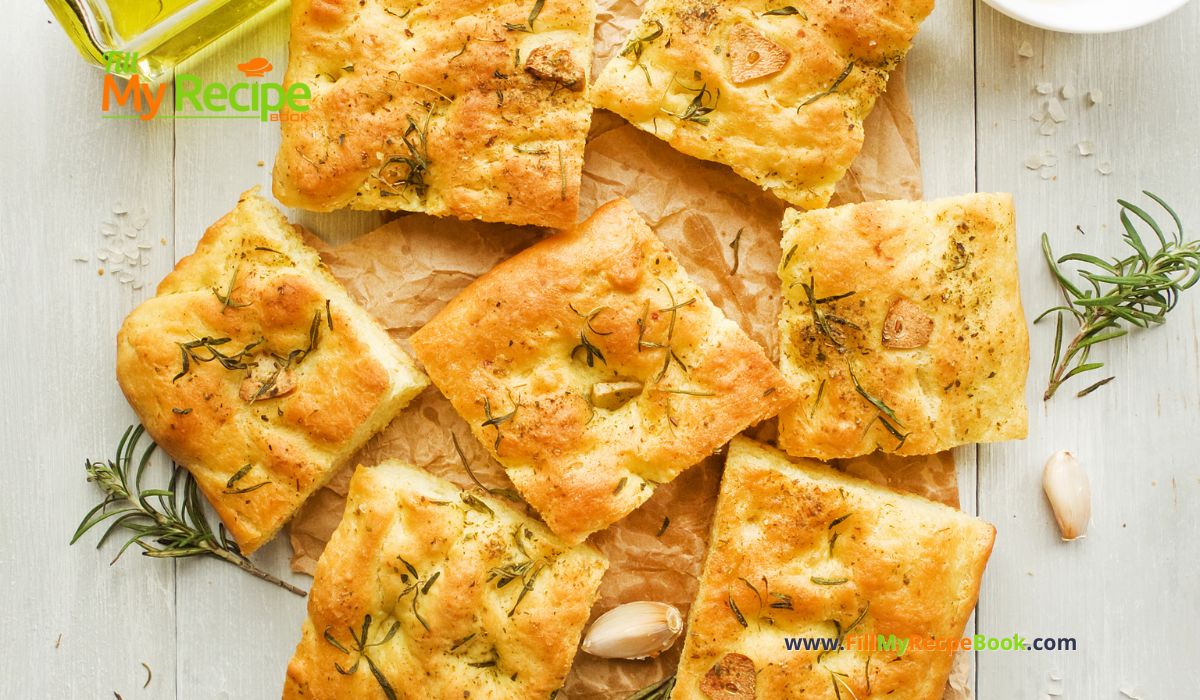 Recommendations
(click the highlighted heading for the recipe)
Make this —-> Homemade flatbread recipe idea for all your toppings.
A bread machine recipe that is so versatile for hot cross buns —-> Versatile Raisin Bread Machine Recipe
Follow this flat bread recipe for a tasty snack or appetizer.—-> Quick and Easy Pesto Flatbread
Another garlic bread recipe to create —-> Homemade Garlic Braai Loaf
Other bread recipe ideas for you to choose —-> Homemade Brioche Loaf and 18 Easy Bread Recipes and 8 Superb Garlic Bread Recipes
Print
Garlic Rosemary Focaccia Bread Machine Recipe
Garlic Rosemary Focaccia Bread Machine Recipe. A bread machine dough for an easy oven bake side with fresh rosemary and herbs topping.
Author:
Prep Time:

10 min

Cook Time:

25 min, rising 2hr 20 min

Total Time:

2hrs 55 min.

Yield:

12 slices

Category:

appetizer, snack, side dish

Method:

bread machine, oven bake

Cuisine:

Italian
Ingredients
Bread
1 1/4 cup

of warm water

1 Tablespoons

of olive oil

1 1/2 teaspoons

of salt

1 Tablespoon

of dried rosemary

2 teaspoons

of garlic powder

1 1/2 teaspoons

of sugar

3 cups

of bread flour

2

garlic cloves minced

1 1/2 teaspoons

of dry yeast
Topping
2 Tablespoons

of olive oil

2

cloves of garlic crushed (soaked in olive oil)

1/2 cup

of fresh rosemary leaves (Soak them in olive oil)

1/2 teaspoon

of salt
Instructions
For the bread machine, add the ingredients as listed for the bread into the bread machine. Always starts with the liquids and then the dry ingredients, Making a well in the middle of the flour for yeast and other dry herbs and spices.
Set the bread machine on the dough cycle. Leave machine to finish the dough cycle.
Take out the dough and place on a clean floured surface and press the dough down and leave to rest covered for about 10 minutes.
Now roll the dough into rectangle. Cover and leave in a warm place to rise for about 40 minutes until double its size.
Preheat the oven to 225 Deg. C (450 Deg. F)
Oil the sheet pan with olive oil generously. Flour over this.
With the risen dough press a few finger prints into the dough to make the indents all over the rectangular dough.
Baste the two tablespoons of olive oil over the dough and press into the dough the fresh olive oil soaked rosemary leaves and crushed garlic. Then sprinkle the salt on top. Do some decorate work with the rosemary leaves or herbs as well to make a pleasing focaccia bread. (the rosemary and crushed garlic cloves soaked in olive oil prevents the herbs from getting burned when baked) 
Bake in the oven for 20 – 25 minutes until golden brown.
Let cool for a short time on the cooler rack before cutting and serving warm.
This Focaccia bread makes a delicious side dish with salads or pasta dishes.
Keywords: Garlic Rosemary Focaccia Bread Machine Recipe