A Healthy Strawberry Banana Smoothie Bowl recipe idea for a quick and filling breakfast with Greek yogurt and granola sweetened with honey.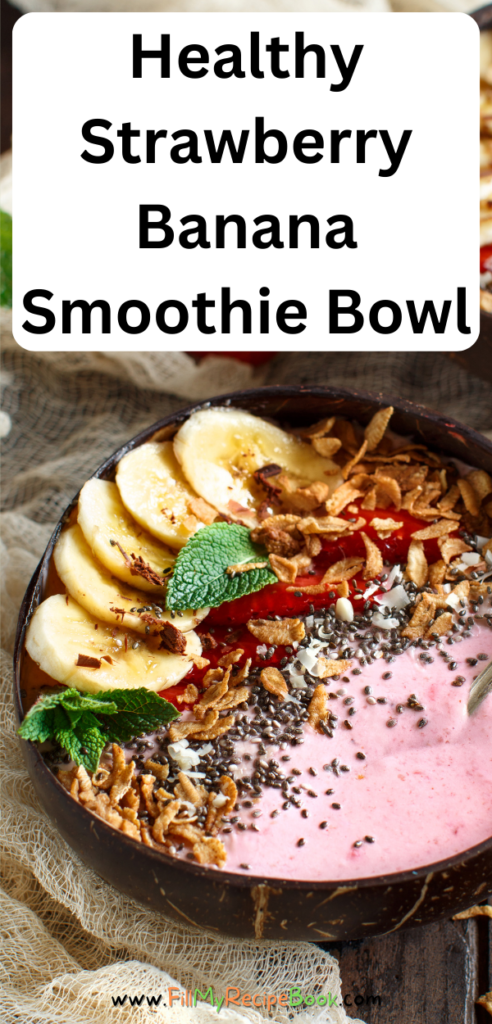 Healthy Strawberry Banana Smoothie Bowl
Make this easy and filling healthy strawberry banana smoothie bowl recipe idea filled with granola, for the family or kids. It is a Cooking appliances recipe idea with blenders for smoothies. For a breakfast or snack any time of the day.
Can smoothie bowls be healthy?
They are a nutritious, and a great way to eat well for a diet plan. They include carbs and protein from the Greek yogurt and filled with protein with the topping of granola with mixed nuts. Lots of vitamins and minerals to kick start those hormones. Filling but not uncomfortable as it is a smoothie thick enough to eat with a spoon.
What is the secret to a thick smoothie bowl?
Choosing high fiber fruits and veggies. Fruits with thicker flesh such as banana, peaches, pineapple and mangos. Blender to a smoother consistency and make a thicker smoothie bowl.
slicing your fruit
using less liquid. That's why Greek yogurt. no sugar and healthy.
a choice of adding avocado
optional to add some healthy protein powder.
Is Greek yogurt and banana healthy?
Bananas are filled with potassium and combined with Greek yogurt that is full of high protein helps build muscle and replenish the amino acids that get depleted after exercise. So this is the easiest foods to put together for a healthy snack.
Can I have a strawberry banana smoothie everyday?
Greek yogurt with fruits are fine to eat daily. As long as it is the full fat plain Greek yogurt and healthy organic fruits mixed for a smoothie bowl. As they will keep you filled longer as they are rich in fiber and proteins. Greek yogurt does not have sugar in and is a great probiotic for the gut as well. As long as you alternate your fruits or vegetables and do not use a yogurt that has sugar included.
Ingredients
Greek yogurt
granola
frozen strawberries (or fresh)
banana
honey
optional chia seeds or nuts
Get the amounts for the ingredients and instructions from the recipe attached.
How To
It is preferable to use frozen strawberries to thicken the main mixture. But fresh strawberries will also work, as we use Greek yogurt for this recipe. Honey to sweeten it and granola and banana on top.
The strawberries and Greek yogurt blended with the honey in a blender until nicely mixed and a smooth consistency.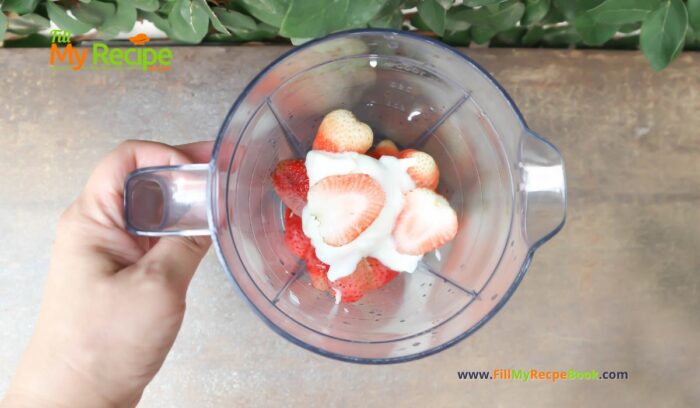 Pour in a bowl and top with sliced banana and fresh sliced strawberries and sprinkle some granola with nuts on top. (optional some chia seeds)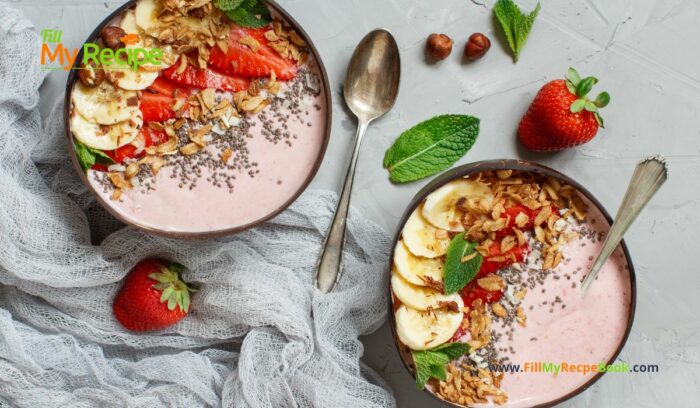 Makes a two bowl breakfast or snack. Very filling and so healthy for a good start to the day as a breakfast meal. Children and adults alike will love to eat this daily. It is also said to eat Greek yogurt with fruits will stimulate some hormones and this is what is healthy.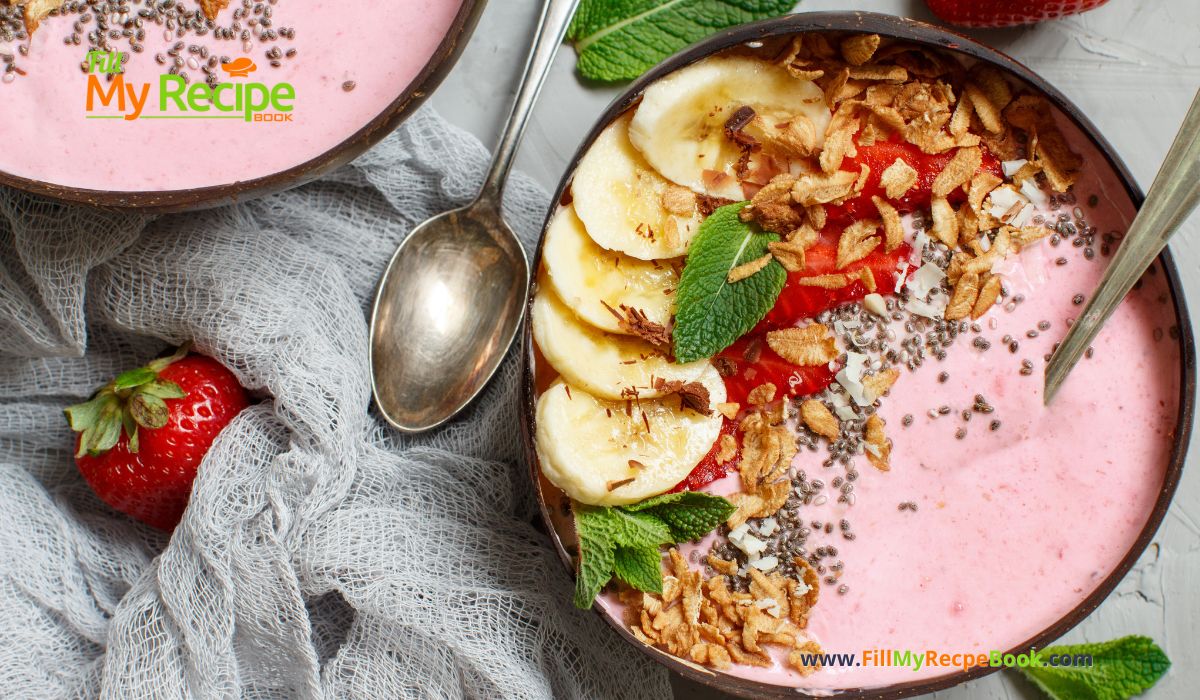 So tasty and really filling and quick and easy to whip it up in a few minutes with a blender.
Recommendations
(click on the highlighted heading for the recipes)
Recipe ideas to create with Greek yogurt. —-> 20 Healthy Greek Yogurt Recipes
Another smoothie bowl recipe idea to create —- >Vegan Chocolate Raspberry Smoothie Bowl
There are more recipes that use blenders, get some great healthy ideas for preventing anemia as well —-> Blender and Grinder Recipes that include all the smoothies for breakfast or snacks and a few healthy reasons.
You would need these 9 Essentials to make a Smoothie. Purchase these recommendations online to clean, cut and blend a healthy smoothie.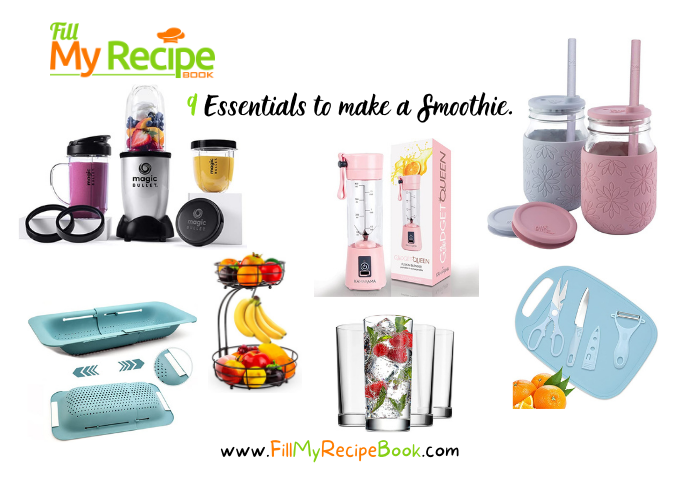 Print
Healthy Strawberry Banana Smoothie Bowl
A Healthy Strawberry Banana Smoothie Bowl recipe idea for a quick and filling breakfast with Greek yogurt and granola sweetened with honey.
Author:
Prep Time:

10 min

Cook Time:

0 min

Total Time:

10

Yield:

2

Category:

Meals, breakfast or snacks

Method:

Cooking Appliances Recipes
Ingredients
2 cups

frozen strawberries

1.1

/2 cups of Greek Yogurt

¾ cups

granola mix with nuts and other.

2

ripe banana

2

  tbsp honey
Instructions
Clean and cut the strawberries and bananas in slices for the topping. For the blender mix just remove the leaves if not frozen. You can use frozen strawberries as well.
Blend all your smoothie ingredients (yogurt, honey and strawberries and one banana) in the blender until you achieve a creamy consistency. Note: If you using frozen strawberries then make sure to leave the strawberries in the freezer for at least an hour before preparing your smoothie bowl to achieve a thicker consistency. If you don't have time to freeze the strawberries, add three ice cubes instead. Or even use fresh strawberries with a few ice cubes.
Pour the smoothie into two bowls.
Top with cut strawberries and sliced banana pieces, granola mix(or nuts and chia seed) and a leaf or two of mint.
Serve and enjoy.
Keywords: Healthy Strawberry Banana Smoothie Bowl