Creamy Potato Salad Recipe for a summer braai or barbecue grill side dish. Easy healthy potato salad mustard, mayo dressing grandma made.
Creamy Potato Salad Recipe
The best and favorite potato salad always made for the Christmas season. My mother made this recipe for ages as a cold side dish for all meals during the holidays. Lunch or dinner was not without it. It was delicious and suited all types of meals hot or cold. This creamy potato salad keeps well refrigerated and covered or in a sealed container. A large bowl can be ready for any meal such as a braai or cold meats. Dressing made with mustard and mayonnaise and chopped boiled egg and chopped onions with salt and pepper.
Why put potatoes in cold water before boiling?
If you peel your potatoes before boiling them, then do soak them in cold water to remove the starch as this would make the potato cook more evenly. But with this recipe we boil the potato with the skins on for a more healthy potato and it would not help to soak them to remove the starch. The skin is peeled off of the potato once boiled to required tenderness. Before making the salad and dressing.
Is it better to make potato salad the night before?
As grandma would say it is better to make the potato salad the day before. As it gets even better if left to sit overnight in the fridge covered. So that it does not dry out. The seasoning and flavors combine more and give you a better tasting salad.
Can you overcook potatoes for potato salad?
Overcooked potatoes can make your salad turn into mash potato. As soon as they feel tender take them out. A to thick salad dressing can also leave your salad dry and bland, as it would not have soaked into the potato itself. Leaving it tasteless.
What is the best type of potato to use for potato salad?
Waxy potatoes are usually the best to use for potato salad, boiled with their skin on. As they hold their shape and these you do not have to be peeled and they have a smooth texture.
Should potatoes for salad be cooked whole?
Waxy potatoes and all purpose potatoes can be boiled whole with skins on. Starchy potatoes should always be cooked whole. Placing them in a pot in water that covers them by at least an inch and adding salt. Watching the water when boiling that it covers the potatoes. Check when tender then they are done. Peel and cut into decent size pieces for the salad.
Ingredients
potato
egg
onions
mustard
mayonnaise
garlic
salt and pepper
View the recipe attached for the amounts needed for guidance. All cooked on a stove top.
How to.
Boils some potatoes, as many as you need for a large or medium dish. Add salt, or garlic if preferred, but don't over boil them. I prefer to boil the potatoes with the skins on. Then peel them when tender. But for a quick boil you can boil them skin less and cut.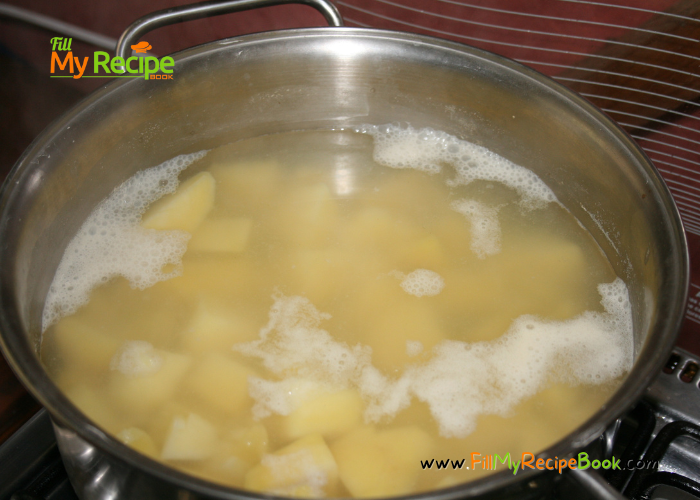 Boil the eggs for at least 4 to 5 minutes for best boiled eggs.
Chop onions finally, and the red ones will give some color in the salad.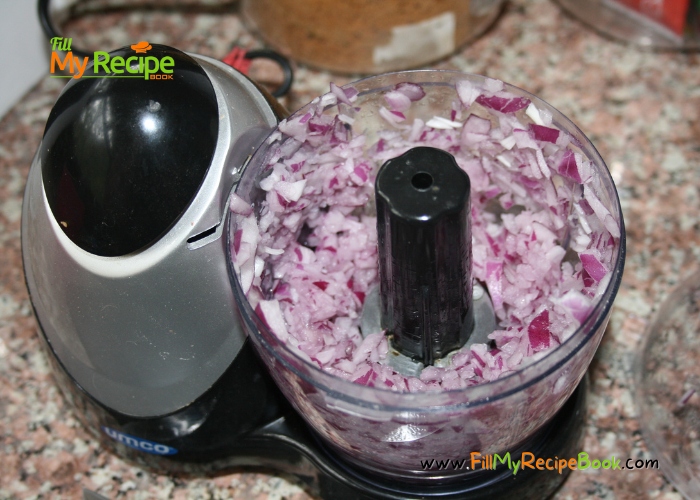 I used a plastic lunch tin with a little water and added the boiled eggs. Shake the eggs a little till they are almost pealed. Cut boiled eggs with slicer and turn and cut into smaller pieces.
How to boil an egg for Filling for a mixed salad idea —-> Boiled Eggs for Breakfast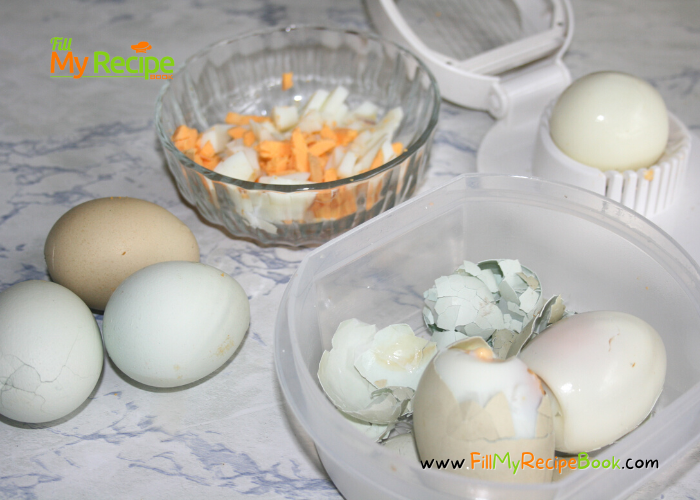 Make the dressing by adding a teaspoon of mustard to mayonnaise. Drain the cut boiled potato and place in the bowl.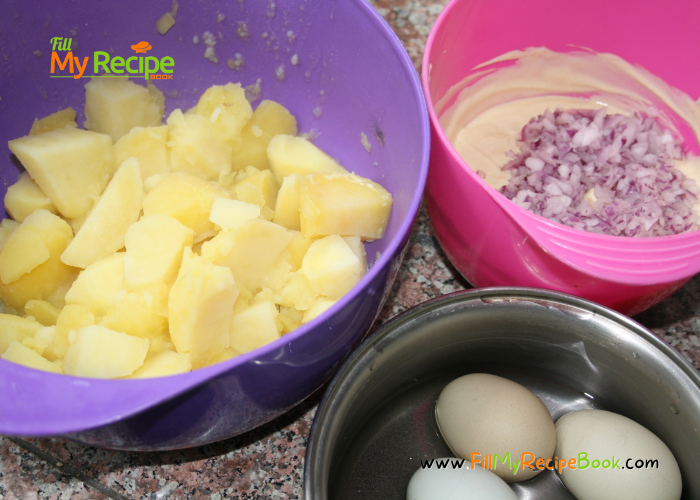 Mix the onion into the mayo mustard mix.
Then add to the hot potato, so that the potatoes will soak up the mayonnaise. Then the chopped eggs and fold in.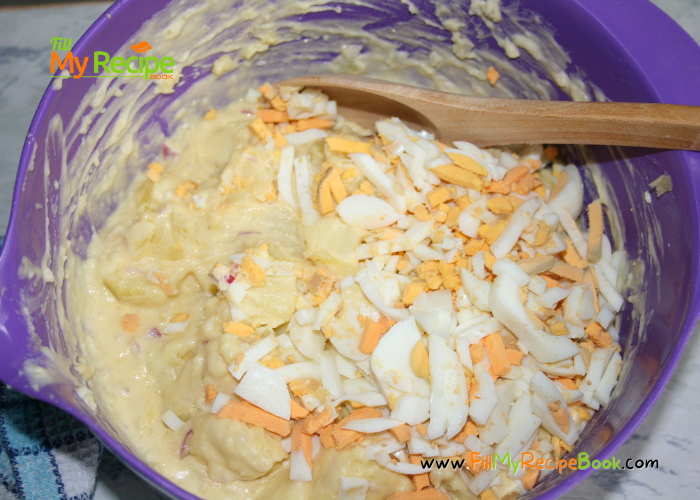 Fold all together without mashing the potato.
Leave to cool and keep covered in the fridge. Ready to eat.
Amazing tasty Creamy Potato Salad Recipe that late grandma used to make now this grandma makes it.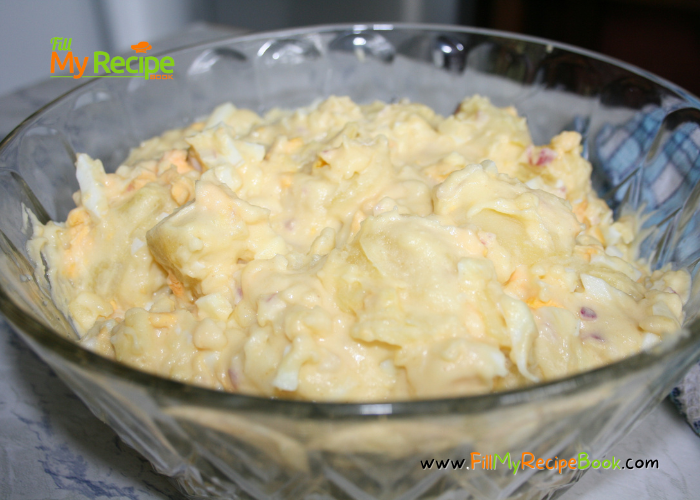 Recommendations.
(click the highlighted heading for the recipe)
More salad or cold side dish recipe to create —-> Fresh Tuna Pasta Salad Recipe and A Filling Homemade Chicken Salad and Best Greek Salad Recipe and Corn and Black Bean Salad and Simple Pasta Salad and Dressing and Simple Tomato and Onion Salad and Crunchy Coleslaw Salad and Sauce and Three Bean Salad and Dressing and Mustard Curry Green Beans and Tasty Curry Beetroot Chutney
Recipe ideas to create a menus for A Braai or Barbecue for Fathers Day
Other side dishes are, Tasty Curry beetroot chutney. and Mustard Curry Green Beans and cold meats, all from left overs from a main meal. Even toasted braai sandwiches. The three bean salad is absolutely yummy.
When you Braai or BBQ Grill this Juicy Grilled whole lemon chicken, this dish would be amazing. What about some crunchy coleslaw salad as well. Don't forget the simple tomato and onion salad and sauce.
Great potato recipe ideas to create —-> Potato and Garlic Baked casserole and How To Make Mashed Potato and Baked Potato in Foil on Coals and Foiled Sweet Potato on Coals and Sunday Roasted Chicken and Potato's
A few Mothers Day recipe Ideas to create —-> 21 Mother's Day Braai Ideas
To choose more salad and Side Dishes view more here. As well as No Bake Stove Top Recipes.
Make a braai menu with these side dish ideas.—–> 10 Best Braai Salad Side Dishes
Try these amazing delicious vegetable recipes. —-> 24 Easy Veggie Side Dish Recipes
Get these salad ideas to create —–> 19 Amazing Salad Recipes and more salad ideas to create —–> 18 Quick Salad Recipes
You will love these —–> 10 Easy Potato Recipe Ideas
Sharing Thanksgiving side dishes to create —–> 27 Thanksgiving Side Dishes
Ideas for a vegetarian Christmas meal —–> 34 Vegetarian Christmas Dishes Recipes
A great few Christmas cold side dish salads to choose from.—–> 21 Healthy Cold Christmas Salads Recipes
Egg salad recipe ideas to create —–> 10 Amazing Egg Salad Recipes
Print
Creamy Potato Salad Recipe
Creamy Potato Salad Recipe for a summer braai or barbecue grill side dish. Easy healthy potato salad mustard, mayo dressing grandma made.
Author:
Prep Time:

15 mins

Cook Time:

15 mins

Total Time:

30 mins

Category:

salad, side dishes

Method:

Stove top No Bake

Cuisine:

South african
Ingredients
6

potatoes peeled. ( or boil with skins on and then peal)

2

red onions
Teaspoon of mustard
Himalayan salt
Teaspoon garlic flakes

500 g

mayonnaise

4

eggs boiled.
Instructions
Boil the potatoes skins on in covered water, till tender enough.(but not to soft, as you do not want them to turn to mash)
Add salt and garlic to water half way.
while you boiling the potatoes, boil the eggs with the potatoes till done, about 5 min. ( or separate)
Chop up the onions finely
Cut with egg slicer the boiled eggs
With the mayonnaise add mustard, and mix
When potatoes are ready peel and cut into niece size pieces then add the mayonnaise and mustard mix while hot.(the potato will absorb the mayonnaise)
Then fold in the onion and chopped egg.
Leave to cool.
Cover and keep in the fridge when needed. Made the day before enables the potatoes to absorb plenty of flavor.
Keeps for a few days covered in the fridge.
Notes
A Homemade Christmas holiday salad to keep in fridge for a few days. will last 4 – 5 days covered. not freezable.
Keywords: Creamy Potato salad Recipe
Download some FREE Printables as well that would help in the kitchen.