21 Healthy Cold Christmas Salads Recipes ideas that are always a hit for summer holidays and the best easy dinner and lunch side dishes.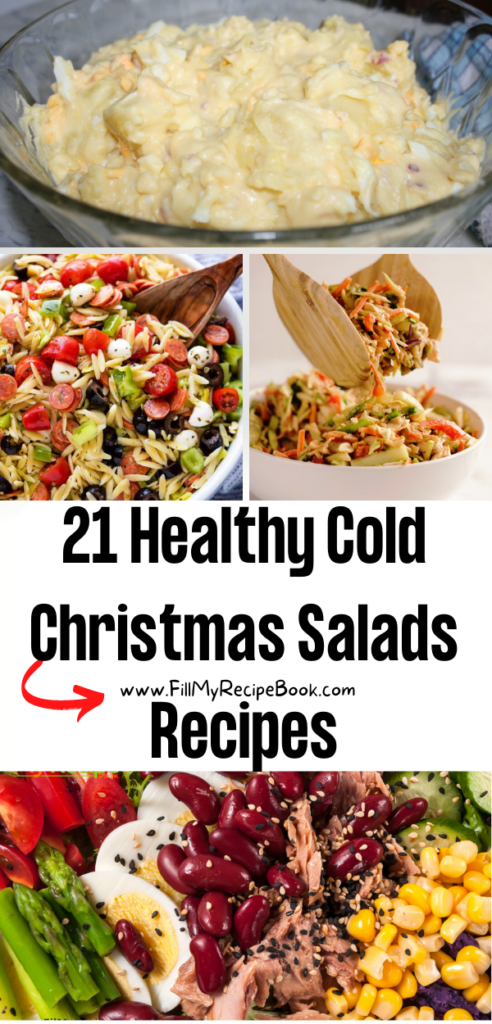 21 Healthy Cold Christmas Salads Recipes
We share a few cold Christmas salad recipe ideas for lunch or dinner as a side dish with meals. Even make a meal out of the salads adding meats.
Also keep leftover roasts of leg of meats or gammon and slice them up to have with salad. They also make a delicious wrap or sandwich fillings. Very versatile. Reminds me of when my mother used to do so much for Christmas. Always look forward to these salads. Many tasty ones included in the recipes.
Store some salads in the fridge covered or sealed for a day or two. The potato salad keeps well. The salads that do not keep well are those with tomato or cucumber or any ingredient that browns, such as avocado.
What to put in a salad to make it filling?
Bean and lentils.
Left over rice or grains.
Tuna.
Hard or soft boiled egg.
Left over pasta.
Meats, poultry, fish.
Croutons…bread.
Fetta or cheeses.
What are the 5 types of salads?
Salads can be a wide variety of dishes that fall into the following categories.
Green salads.
Vegetable salads.
Salads with pasta.
Legumes or grains.
Mixed salads incorporating meats, poultry, seafood.
Fruit salads
A most simple salad dressing would be to combine lemon juice, olive oil, salt, and pepper.
(Click the link that is highlighted for the recipe you would love to get.)
Best Greek Salad Recipe with a dressing, tossed together with lettuce , tomato, cucumber, feta and black olives for an tasty cold side dish.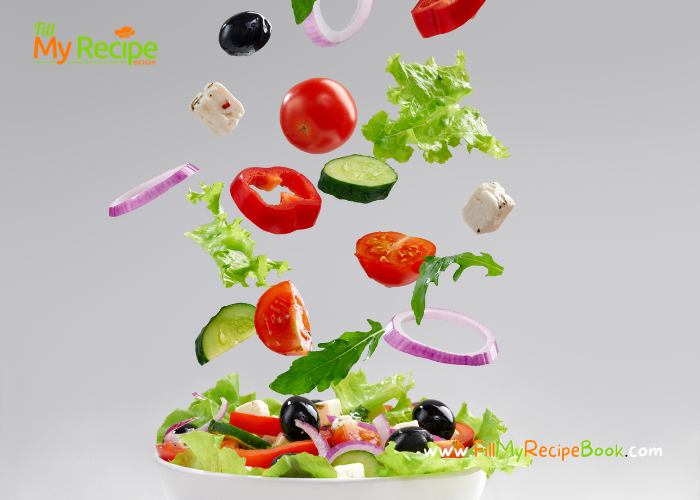 Simple Pasta Salad & Dressing. A simple salad to quickly put together with a few ingredients or left overs and a tasty mayo dressing.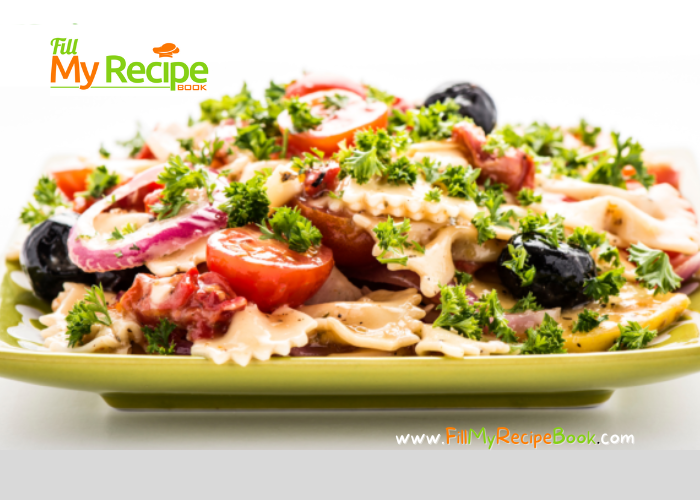 Simple Tomato and onion salad with spiced balsamic sauce. A salad idea for a braai or barbecue that could be added to a curry dish or meals.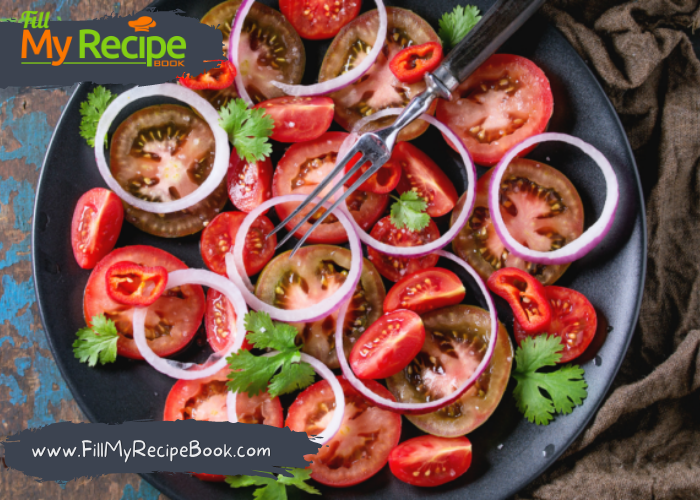 Crunchy Coleslaw Salad recipe to add to the salads or a cold side dish. An easy and quick carrot and cabbage salad for a braai or Bbq.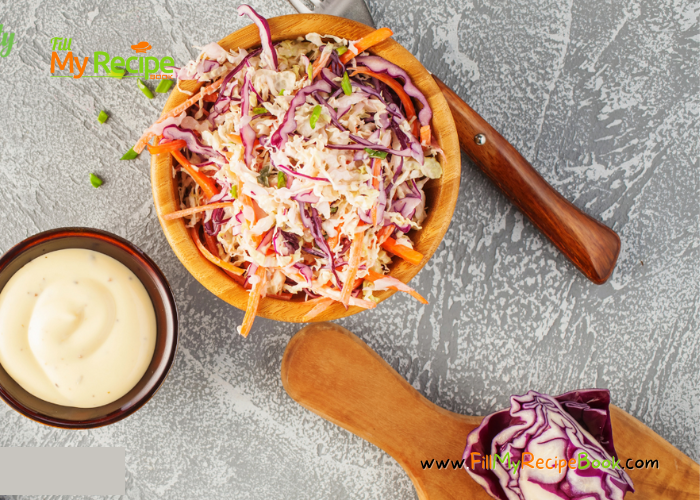 Three Bean Salad and sauce is such an easy dish to make. With onion, celery, and parsley mixed with the three different beans.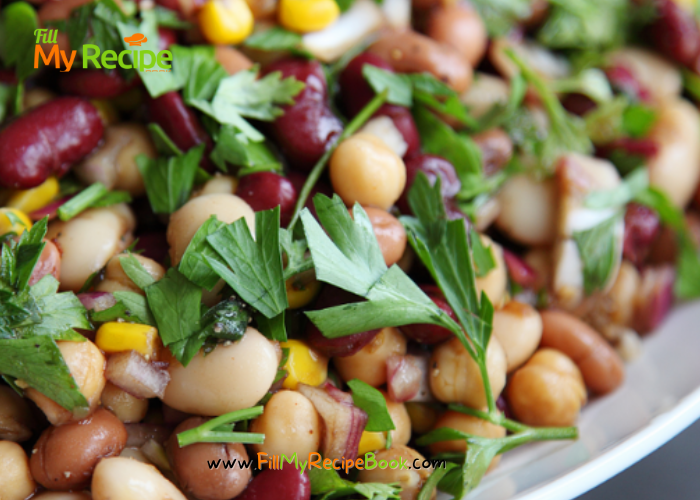 Mustard Curry Green Beans, a favorite for the family. As this can be used for a side dish or salad. Great to have during holidays, less cooking.
Tasty Curry Beetroot Chutney to bottle for holidays. A useful beetroot light curry chutney recipe that can be used as a side dish and as a salad.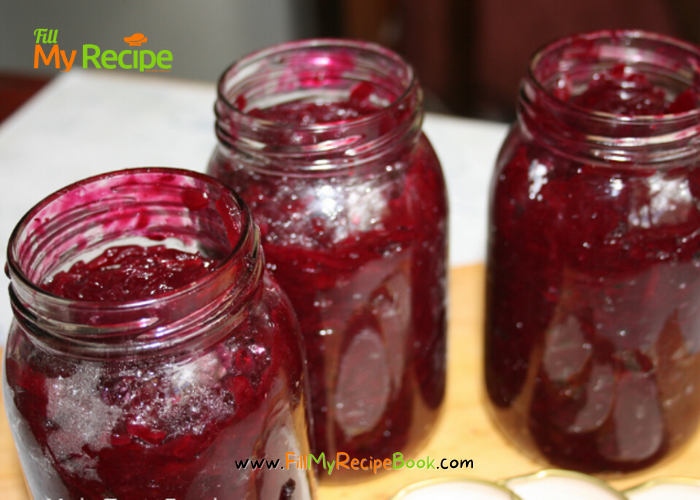 A Filling Homemade Chicken Salad
A Filling Homemade Chicken Salad. A colorful bean, corn and cheese and greens, chicken salad that is very filling with homemade sauce.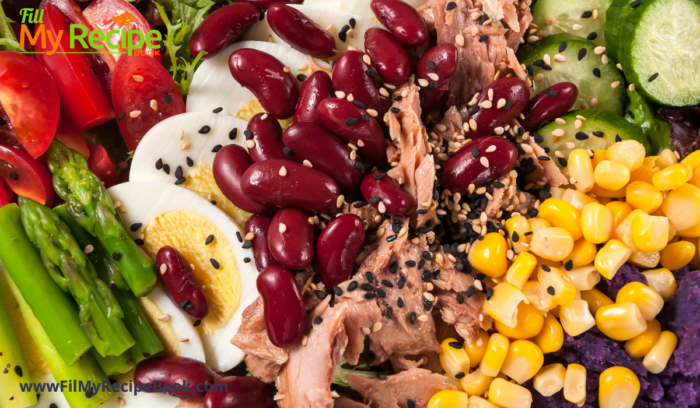 Creamy Potato Salad for a side dish. Tangy potato salad made for a braai or holiday meals ready to eat.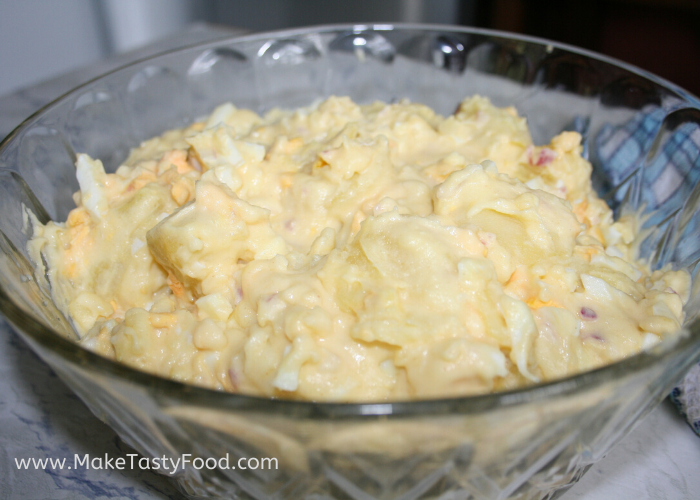 Corn and Black Bean Salad with avocado and lime dressing. An easy and very tasty cold side dish to have with meals or dinners for family.
Cauliflower-corn-cucumber-salad
The BEST creamy cauliflower corn salad recipe. An easy corn salad that is loaded with cauliflower florets, cucumbers, bell peppers, and dill all tossed in a creamy homemade dressing.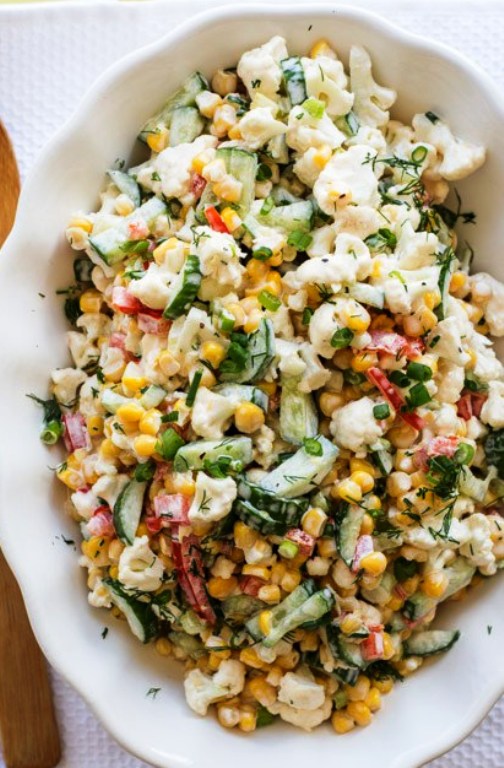 Chickpea-avocado-and-feta-salad
Summer means too hot for using the oven and it means barbeques and mosquitoes. It means swimming, sunburn and slushies. Summer means salad. Lots of salad. Lots and lots of salad.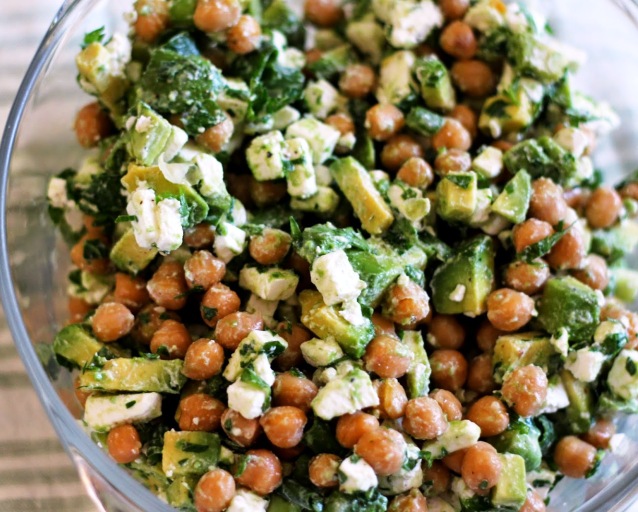 Thai-peanut-chicken-crunch-slaw-salad
Thai Peanut Chicken Crunch Slaw Salad is an easy & healthy 20 minute salad with Asian inspired flavors. It is loaded coleslaw, broccoli slaw, vegetables and rotisserie chicken and dressed with a homemade Thai Peanut Sauce and peanuts for amazing flavor and crunch!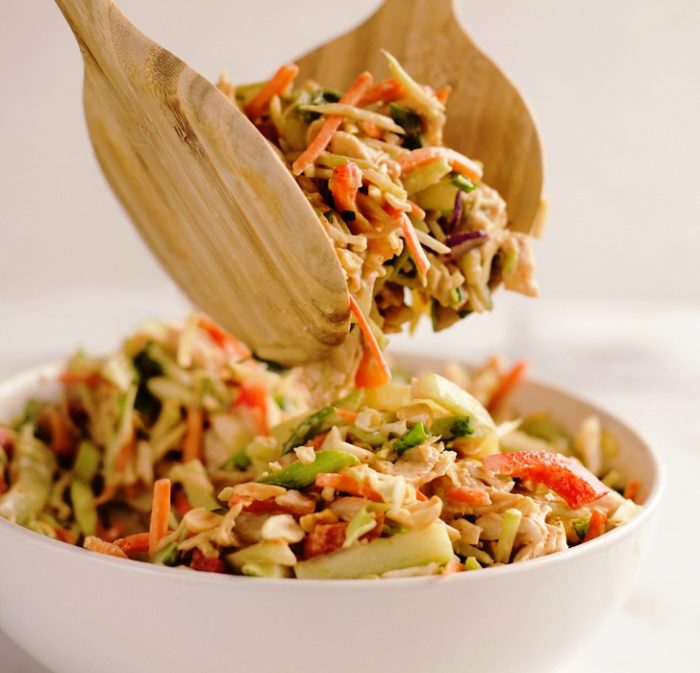 Creamy cucumber salad starts off with English cucumbers, red onion, mayonnaise, vinegar, and dill. It's a light side dish that is perfect for those hot summer nights and it is really easy to throw together any night of the week!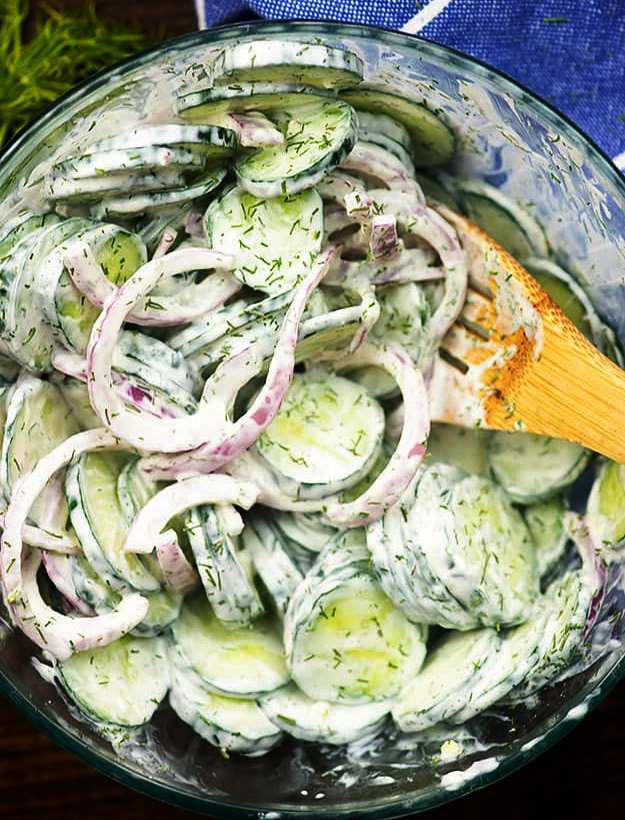 This classic vegan potato salad is a rich and creamy addition to any summer picnic! Made with perfectly cooked potatoes, red onion, celery, and dill pickle relish. Combined with a delicious dressing made of vegan mayo, mustard, celery seed, and fresh herbs for the perfect blend of flavor!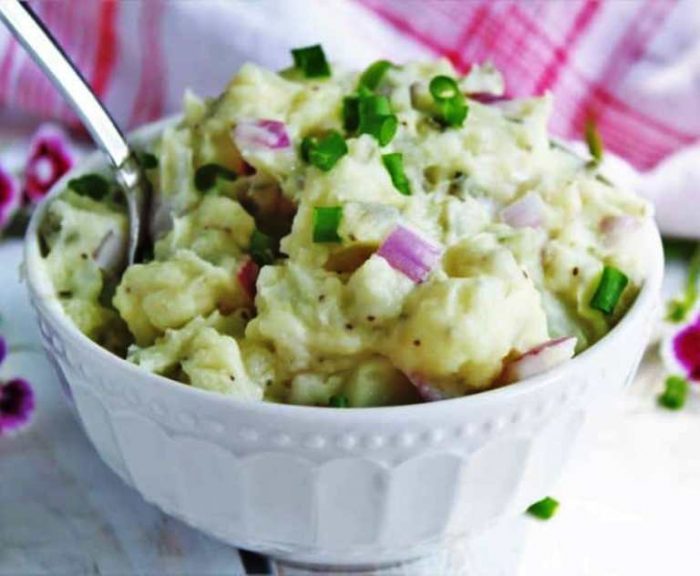 A bowl of this easy BLT Zucchini Salad is a delicious side dish to add to all your summer picnic and dinner plans. You are only a few ingredients away from enjoying a healthy low carb salad for dinner tonight.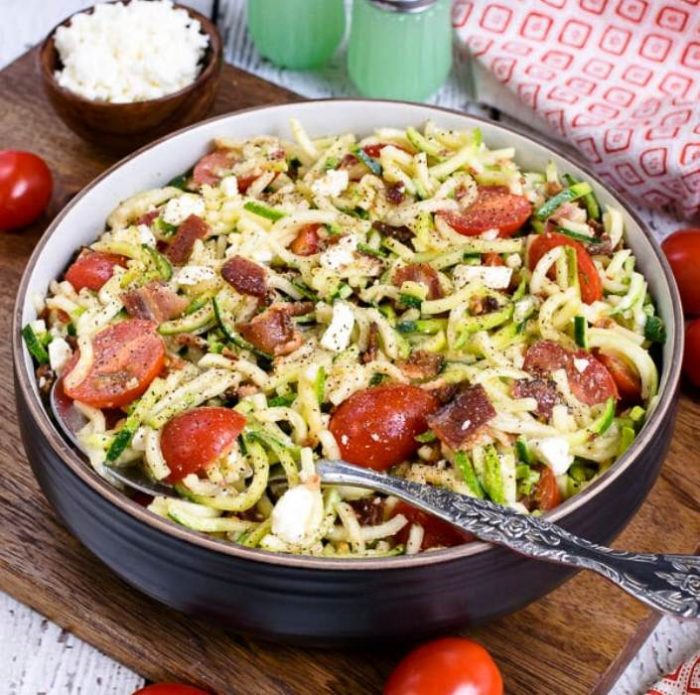 This watermelon salad is full of sliced cucumbers, crumbled feta cheese and mint, all tossed in an easy lime dressing. A simple yet unusual summer salad that's sure to get rave reviews.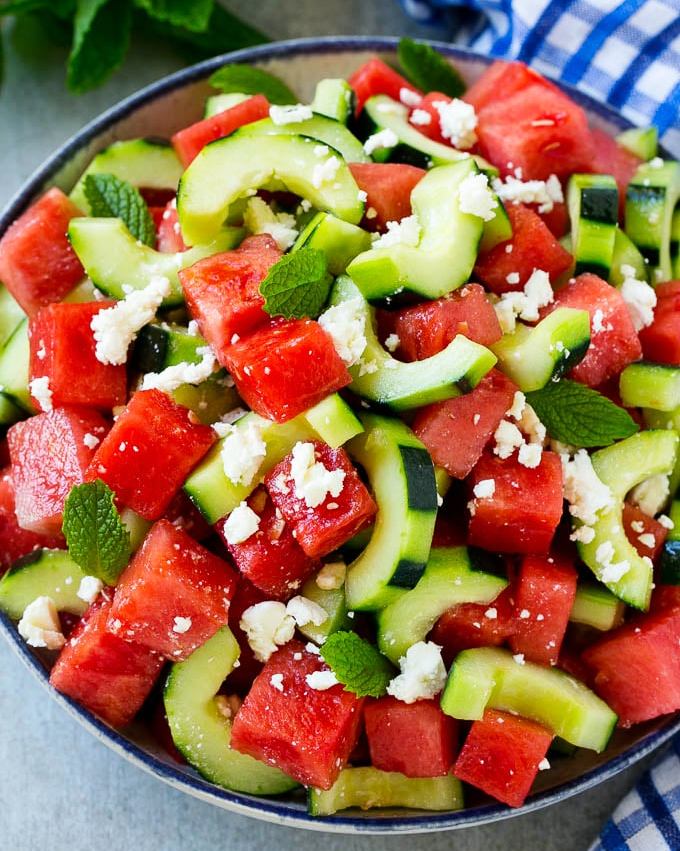 Classic Italian orzo pasta salad, complete with a homemade dressing and mini pepperonis. This traditional American pasta salad is great with an orzo pasta twist.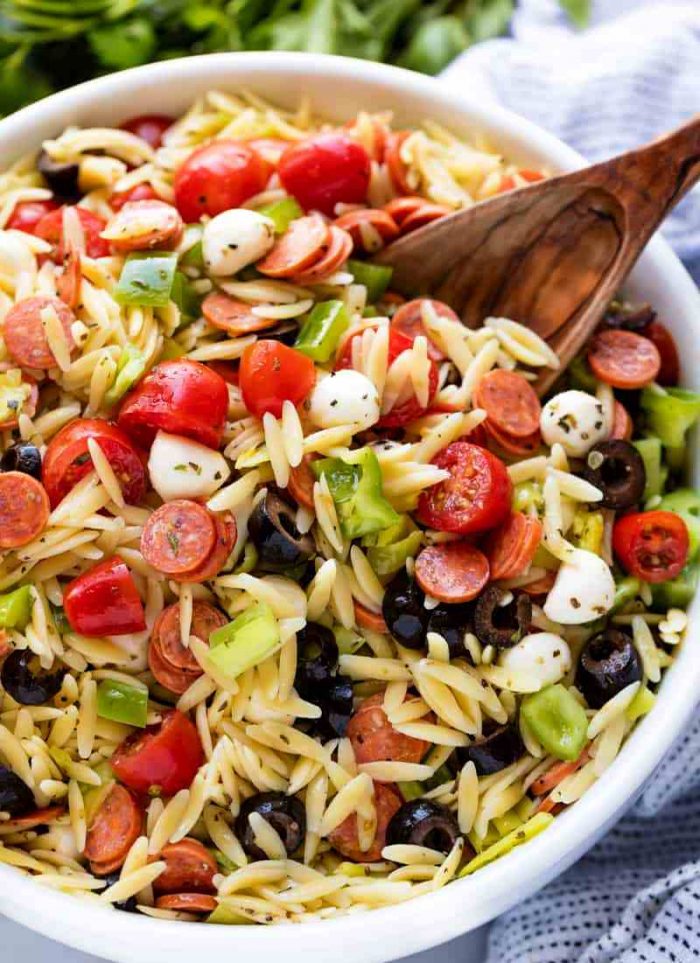 Carrot-raisin-salad-with-pineapple
Carrot raisin salad is one of those vintage classic dishes I grew-up eating. This Carrot Raisin Salad with Pineapple takes a bit of a turn from the classic as it features crushed and chunks of pineapple as well as thinly sliced red onion which gives it a bit of a bite. All dressed with a homemade poppy seed dressing to enhance the flavor giving an update to this classic dish.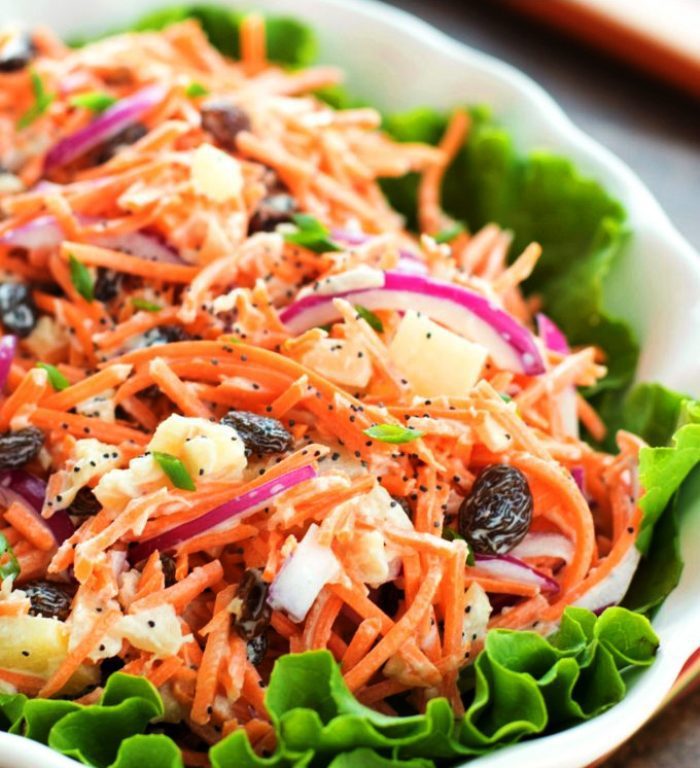 Roasted-sweet-potato-salad-with-spinach-and-grapes
Roasted Sweet Potato Salad with Spinach, grapes, avocado, feta cheese and more! This hearty, healthy salad recipe is both light and filling! Make it for your guests for a crowd-pleasing side dish, or just add your favorite animal protein to turn it into an entrée salad.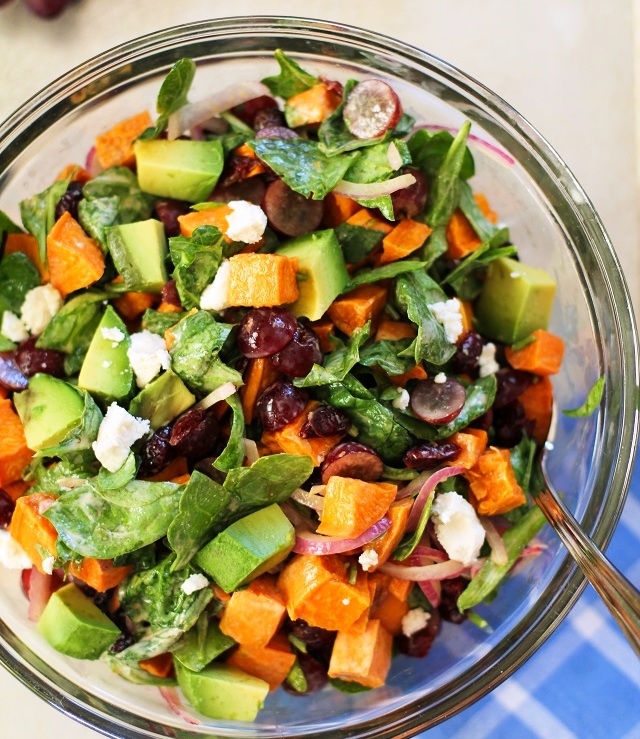 Curried-wild-rice-salad-raisins-pecans
This cold curried wild rice salad with raisins and pecans has amazing flavors and textures and is perfect as a make-ahead dinner side dish or lunch. You'll be addicted!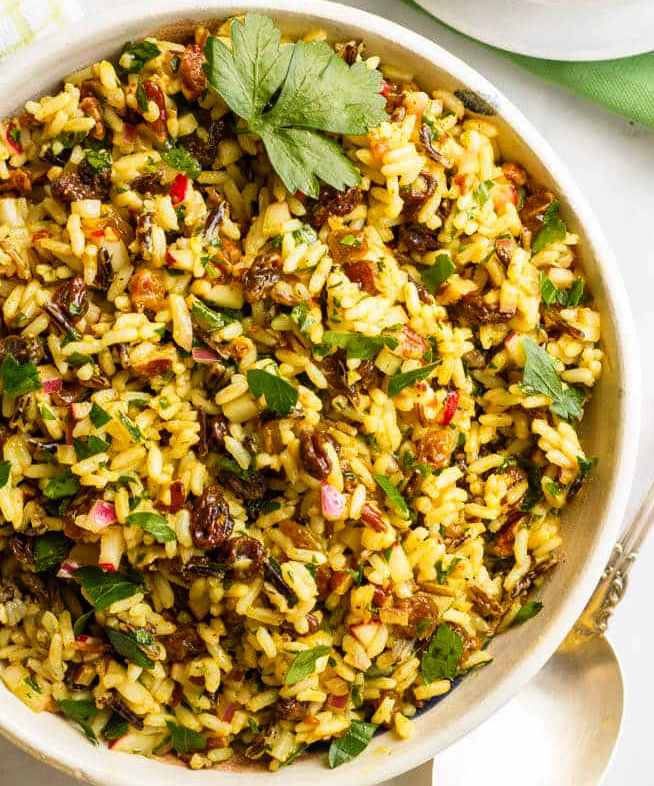 Recommendations.
Get some amazing dressings for salads —–> Apple Cider Vinegar Salads and Dressing
Other salads for you to choose from.–>
Other cold salad side dishes. –>
Enjoy