10 Easy Waldorf salads Recipes ideas to create. Using cream or yogurt and filled with fruits, nuts and poultry and chickpeas, homemade.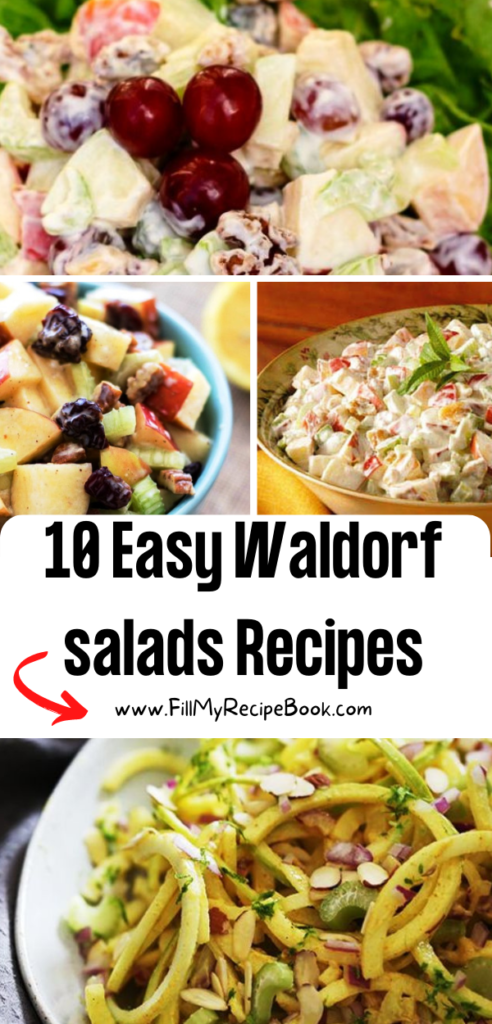 10 Easy Waldorf salads Recipes
We share a few easy Waldorf salad recipe ideas to create for a cold side dish, As a salad filled with fruits and nuts, chickpeas, or meats and chicken. Any diet is suitable to create one of these salads. Using either Greek yogurt or cream or mayonnaise. Change them up, there is a recipe ideas for all.
(Go and click the highlighted heading or image for the recipe.)
What are the ingredients to a Waldorf salad?
A Waldorf salad is created with what?.
Tart apples
Celery
Walnuts or pecans
Grapes
Lemon juice.
Sweetener, sugar or honey.
Salt
Mayonnaise or Greek yogurt or cream.
What type of salad is a Waldorf salad?
A Waldorf salad is a fruit and nut salad, generally made of the grapes and apples and celery, nuts and dressed in mayonnaise or Greek yogurt or cream. Served on a bed of lettuce and as an appetizer or a light meal. Salad with a difference.
How to keep apples from turning brown in Waldorf salad?
To prevent the browning of the apples add a splash of lemon or vinegar to the cut apples. Lemon is added to the dressing sauce to prevent that happening. The acid prevents the enzymes from oxidizing the flesh.
This spin on the classic Waldorf Salad uses Greek yogurt instead of mayonnaise, lemon juice, and a couple other additional ingredients to give it a fresh new flavor.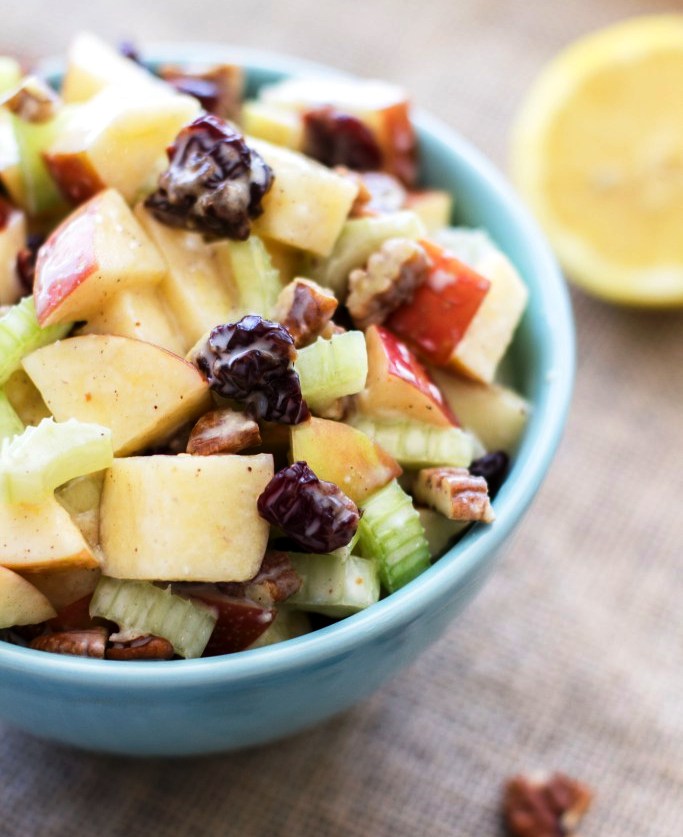 Sonoma Chickpea 'Chicken' Salad features protein rich chickpeas, juicy grapes, celery, and pecans tossed with a healthy maple-tahini poppy seed dressing – it's customizable, easy to make and delicious!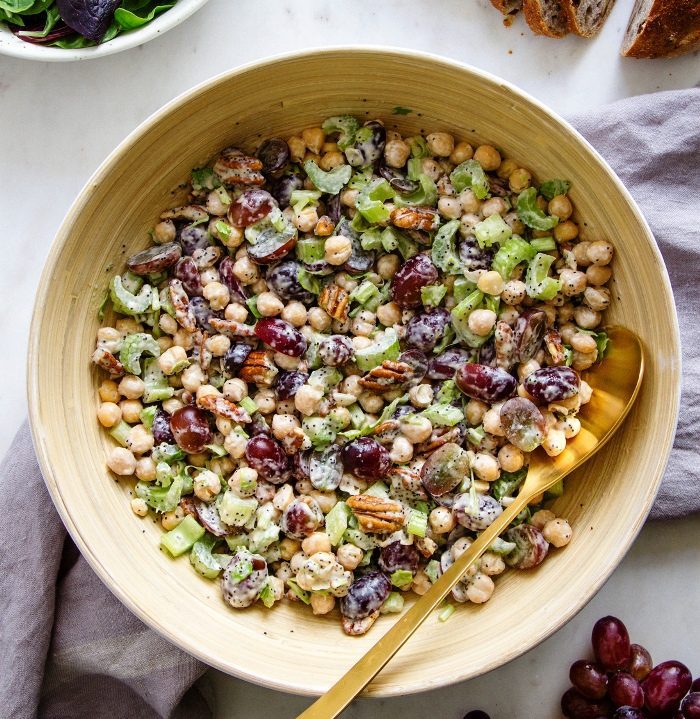 This Waldorf Salad recipe is simple, delicious and can be made using everyday ingredients in just 15 minutes. It's the perfect salad for summer meals, or take it to potlucks and family gatherings. I love that it makes tons of servings for easy meal planning!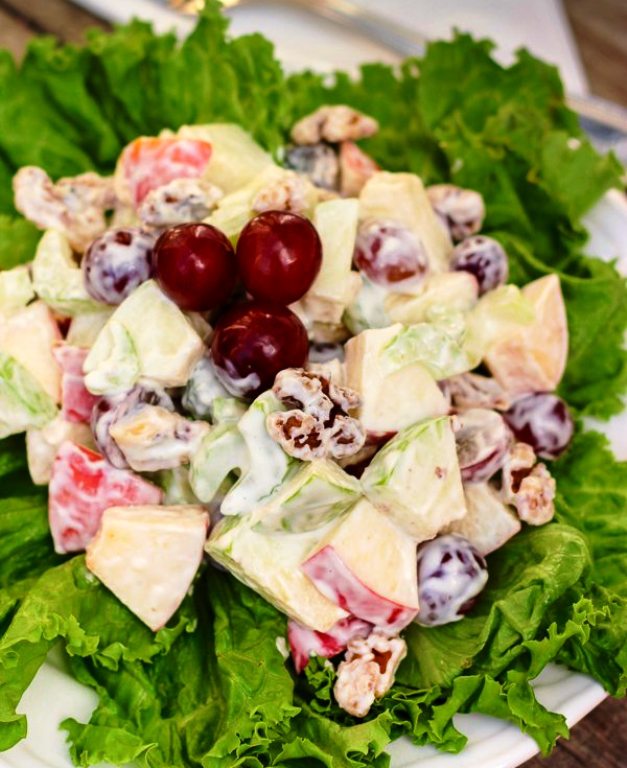 Feel free to use lemon juice in place of the vinegar in this recipe. Both acids work well. Personally, I prefer the more round taste of the vinegar with this combination of ingredients as opposed to the more bright flavor of lemon juice.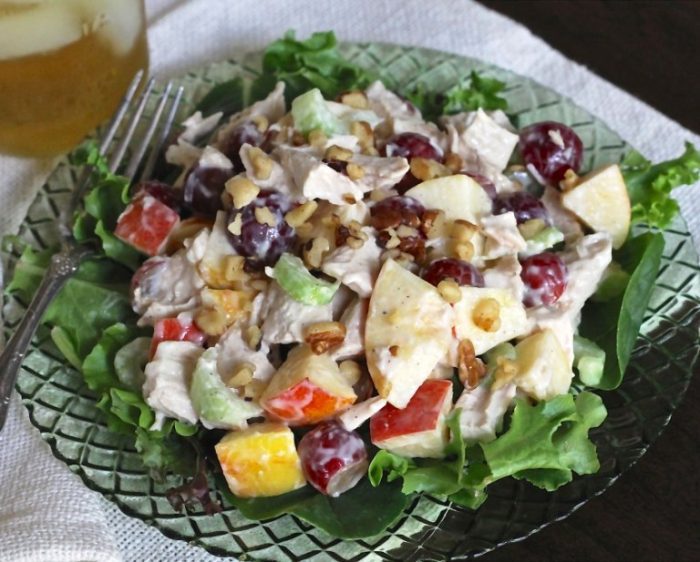 Waldorf-salad-with-whipping-cream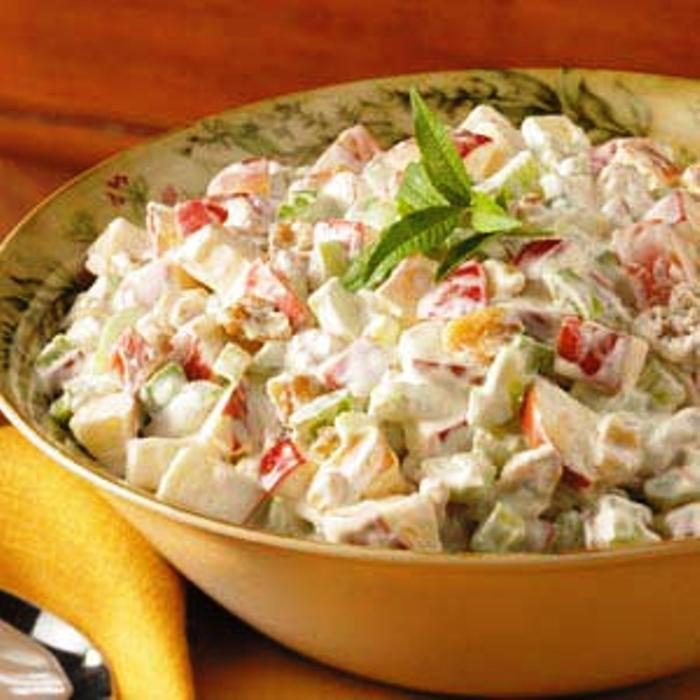 Waldorf salad with yogurt dressing
The great combo of flavours turn this dead simple salad into something really special.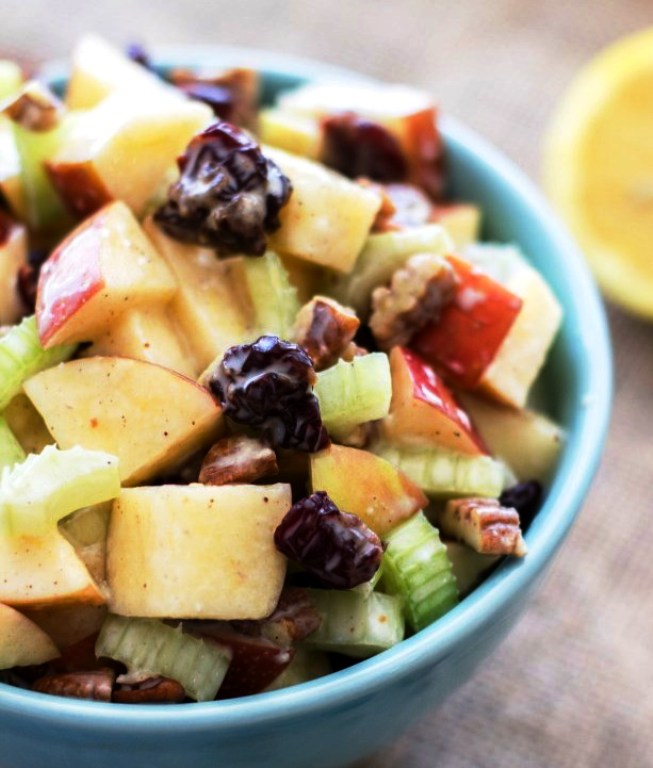 Spiralized-indian-waldorf-salad
Look no further than this Spiralized Indian Waldorf Salad for a healthy, easy and flavorful side dish. Spiralized apples, celery, raisins and red onion are tossed in a dressing of Greek yogurt spiked with lime juice, curry powder and ginger in this 15 minute recipe.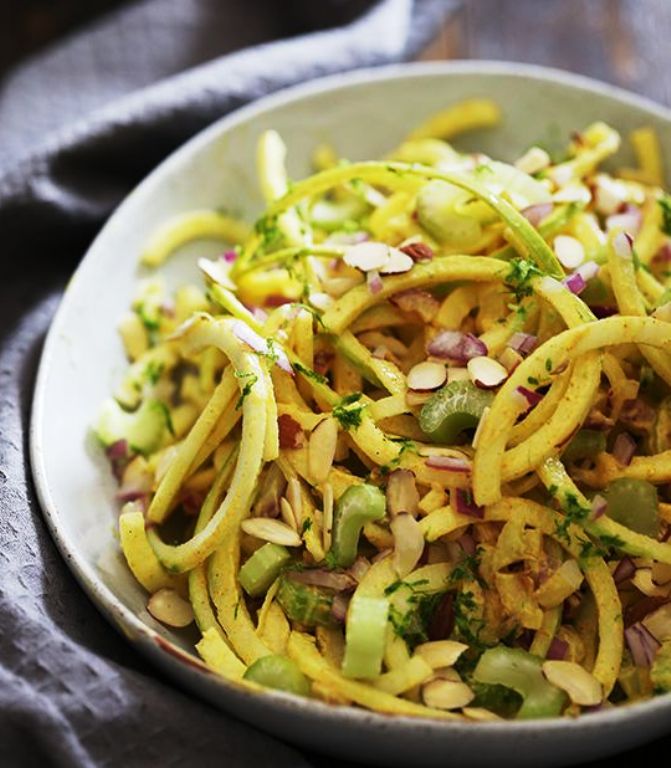 Best kale salad ever! A kale waldorf salad with apples, celery, walnuts, dried cranberries, and tangy mayo dressing.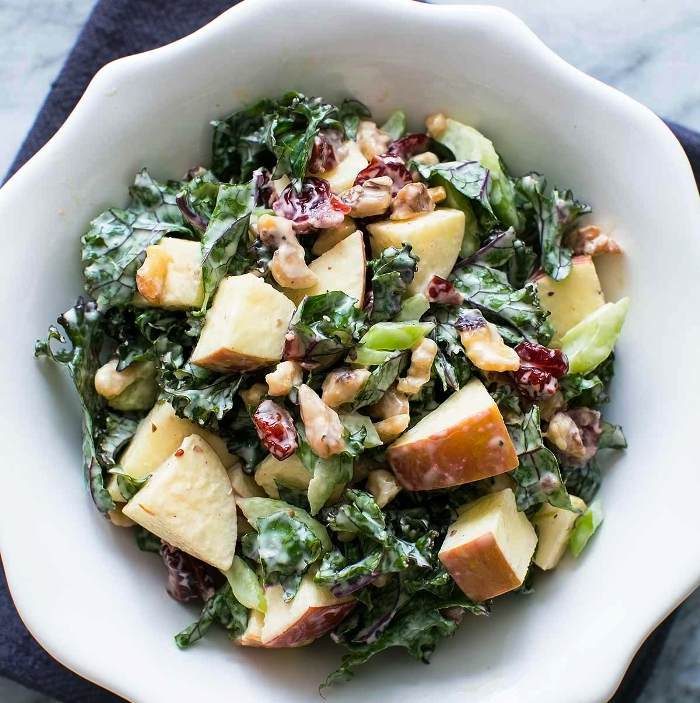 A tasty twist on regular chicken salad, this Waldorf Chicken Salad recipe is loaded with delicious fruit – apples, blueberries, grapes. The mayo, lemon juice, and honey dressing is light and dairy-free too! This salad is perfect for a tasty lunch and hearty enough as a light summer supper; it's also easy quick and easy to make.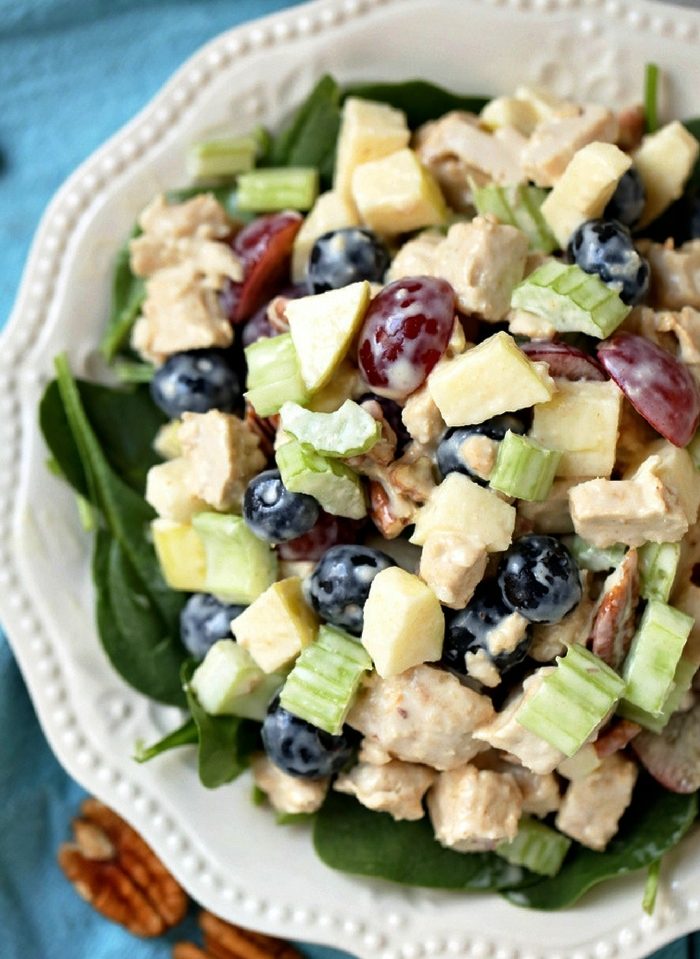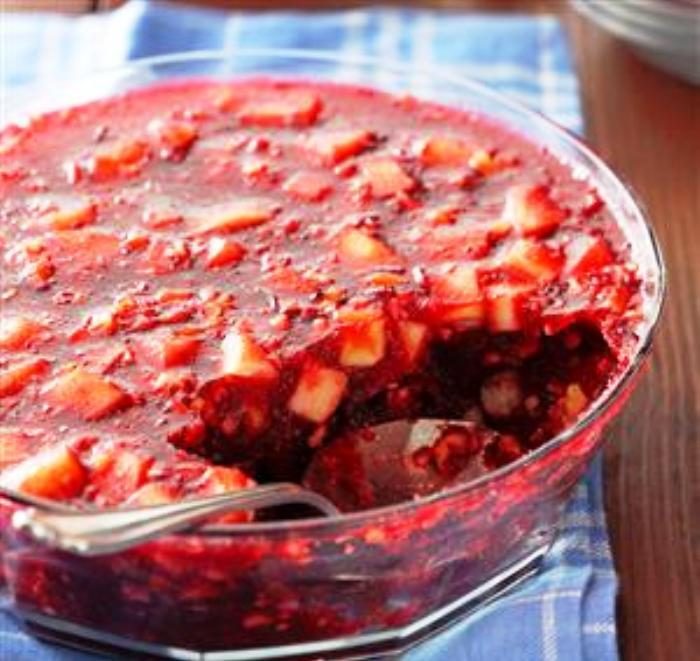 Recommendations.
Get some amazing dressings for salads —–> Apple Cider Vinegar Salads and Dressing
Other salads you can choose form as well as a dressing.–>