Juicy Grilled whole Lemon Chicken. Grilled on outside braai / BBQ. A dish made with fresh lemon juice squeezed regularly over chicken.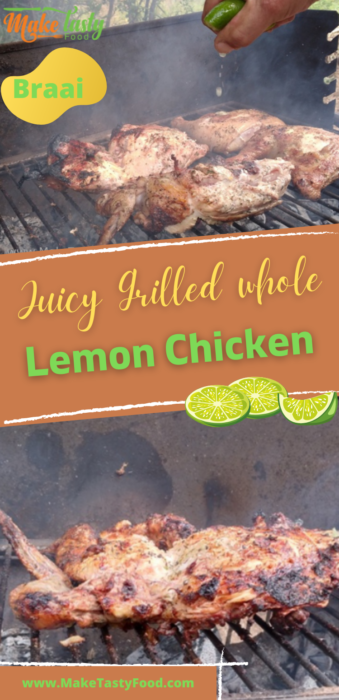 Juicy Grilled whole Lemon Chicken
The weekend is the best time to make this grilled whole chicken. Cleaned and defrosted, spiced with lemon pepper and rosemary and of course garlic cloves or flakes and Himalayan salt as well. Pick some lemons from the trees on the farm and cut into halves. Keep aside to squeeze regularly while braaing over the coals. Tangy and juicy, chicken.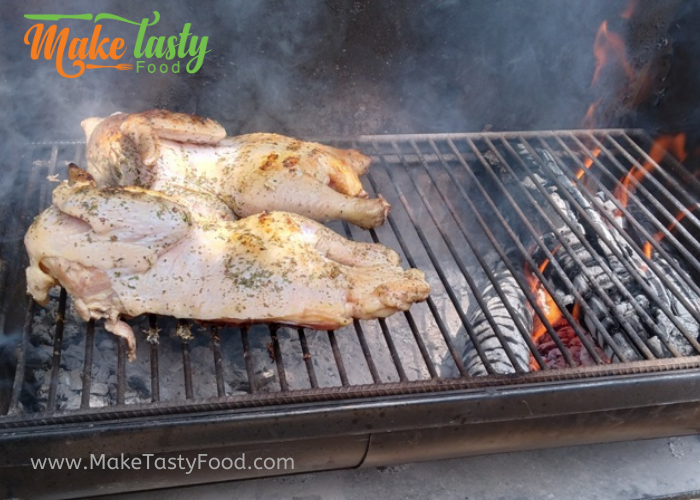 Preparing the chicken
The whole spatchcocked spiced chicken is placed on the grill of the braai / BBQ. The chicken is cut in half by means of cutting or removing the back bone. Called spatchcock chicken. Then opened up on the grill for grilling.
How to go about grilling.
One side the logs are burning to make some coals. Coals are always used as the heat from them is sufficient to slowly grill the chicken. If the chicken is grilled in the flames then it will get burnt to a crisp.
Once the coals are formed then you will move them over and place the chicken above them on the grill. This way the chicken was grilling slowly.
The grilling process.
Eventually the chicken is cut into pieces. Cut the legs and the wings to separate the whole cut chicken into better portions.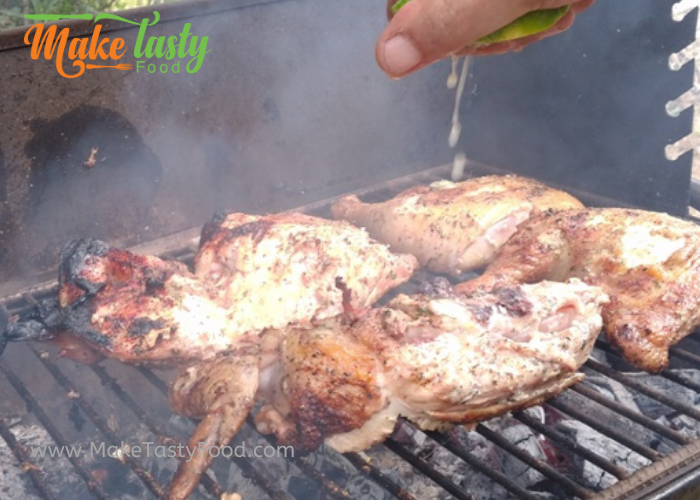 Take your cut lemons and squeeze the juice over the chicken. Do this regularly. Keeps the chicken moist and will give it that tangy taste.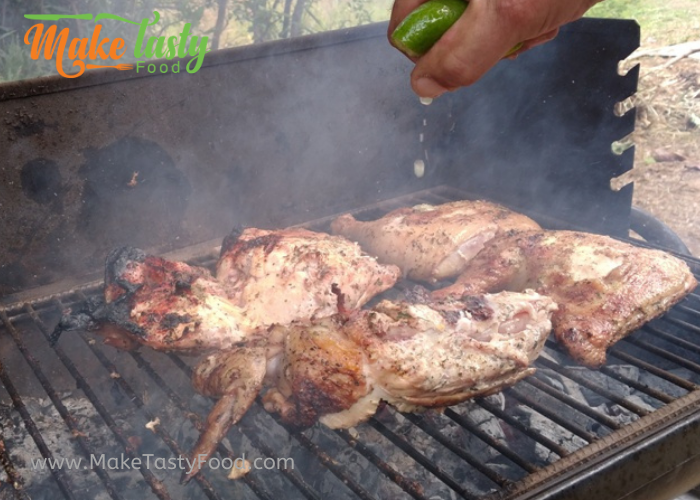 Continue grilling with lemon juice squeezed on the chicken regularly. This process may me done to your taste. If you like very lemony chicken taste, then do it often. For a less tangy taste only squeeze juice now and again.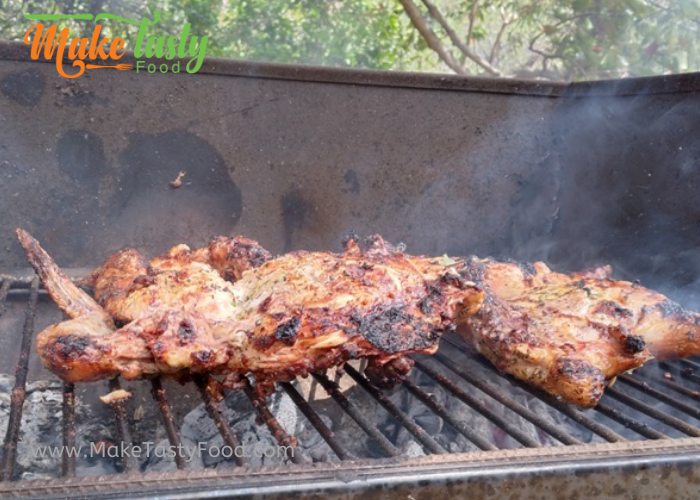 This method also keeps the chicken, tender.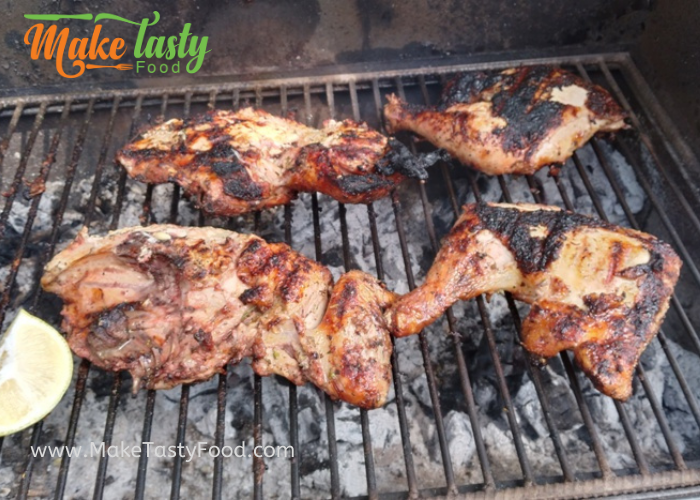 Serve with a baked sweet potato and garlic dish, as well as some vegetables, or Salads.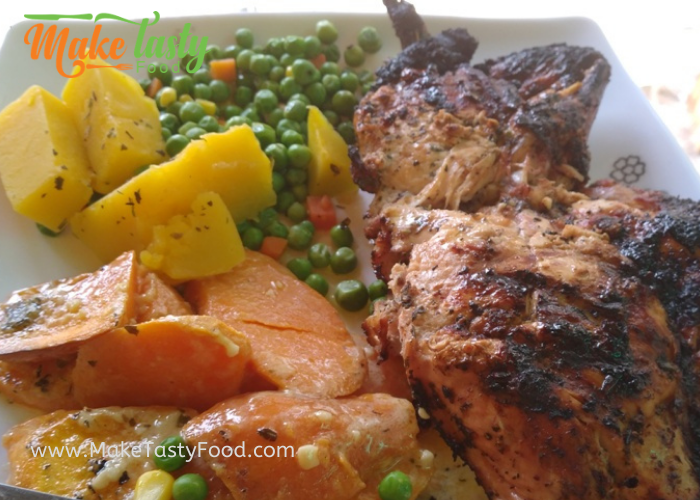 For the baked garlic potato dish you may find it here on this link. I used sweet potato this time which is my favorite. A vegetable baked casserole dish is a good idea to bake when using your oven.
This leaves you free to stand or sit around the grilling on a braai and socialize. enjoy.
Recommendations
(click the highlighted heading for the recipe)
For recipe ideas to create with left over chicken and veggies —-> Creamy Chicken and Veggie Pie
Get some more amazing recipe ideas for a meal menu for a braai. —–> 12 Fathers Day BBQ or Braai Recipes
Other family meals you would love to make —-> 14 New Year's Day Family Feast Recipes
Recipe ideas for the use of lemon and herbs —-> 21 Meals With Lemon and Herbs Recipes
You will love to get more recipe ideas —–> 13 Finger Licking Barbecue Recipes
These are some ideas to use lemons and lemon juices for —-> 12 Lemon Storage And Recipe ideas
Print
Juicy Grilled Whole Lemon Chicken
Grilled on outside braai / BBQ. A dish made with fresh lemon juice squeezed regularly over chicken .
Prep Time:

25 min

Cook Time:

45 min

Total Time:

70 min

Yield:

6

Category:

Grill Braai and BBQ

Method:

Grilling Braai BBQ
Ingredients
1 Whole organic Chicken
foil
1 Tsp salt
2 Tsp garlic flakes
1 Tsp lemon pepper
1 Tsp Rosemary spices
4 whole lemons
Instructions
1. Firstly Light the wood or charcoal to be used on the braai or BBQ. Have them to one side of the braai or BBQ Grill.
2. Clean and spice the whole chicken to be ready to place on the grill. Cut the chicken in half. Spatchcock style.
3. Place the cut open spiced chicken on the side of the grill, not on the burning wood or charcoal. It can simmer while the coals are forming. Only use coals for the grilling of the chicken. As the flames will burn the chicken. 
4. Once coals are ready then the coals are pushed evenly at the bottom of the grill. Chicken is placed on top of the grill for coals to cook it.
5. Cut and squeeze lemon juice regularly over the chicken to keep it tender and moist. This will make the chicken meat very tangy. If you don't like the chicken to be very tangy don't squeeze the lemon juice to often.
6.Once the chicken is halfway done, you may if you prefer to cut it further into 4 pieces. This depends totally on your preference. Sometimes the chicken is very big and the meat will not cook evenly. That's why we cut the chicken further into pieces. 
7. Grill continually and squeeze lemons juice until it is brown and cooked. 
8. Serve warm with any side dishes you prefer. I used baked Garlic Potato dish, and baked vegetables. As this would free up our time to spend with family.
Keywords: Juicy Lemon Grilled Whole Chicken
A Roasted Lunch recipe.
Another chicken dish you would love to make with left overs is.
Click here for other Grill Braai or Barbecue recipes
Some homemade bottled salads will be an amazing side dish with this grilled chicken. As well as creamy potato salad. See below links.