Easy 2 Ingredient Pizza Base dough recipe to quickly make for mini or medium pizza crust. Simple and sugar free, made with various flours.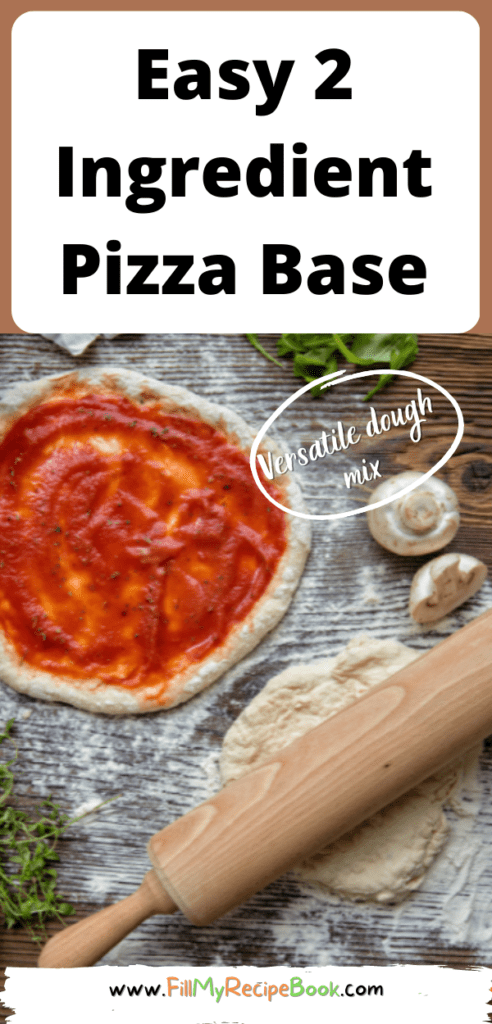 Easy 2 Ingredient Pizza Base
Needing a homemade dough for a pizza base or crust. Then make this simple and quick 2 ingredient dough for small or medium pizza of your choice. Even double it and make a large family pizza base for a baking tray. So easy and delicious it serves for a gluten free, sugar free and egg free meal. Which makes a vegan or gluten free meal. Make the toppings of your choice. Various flours may be used for this versatile recipe. Suiting all diets. Bake and enjoy
Why is 2 ingredient dough healthier?
Two-ingredient dough is packed with protein thanks to the yogurt, and is free of the preservatives and artificial ingredients found in many prebaked crusts and prepared doughs.
Does 2 ingredient dough taste good?
To change the sour or bitter taste of the yogurt that some people say they taste, is to add more flavor to the pizza that you would not notice it. Add spices and seasoning.
What if 2 ingredient pizza dough is too sticky?
If you find the dough is to sticky then add one tablespoon of extra flour to the dough and mix until smooth. The dough should be a little sticky and soft, so when you working with the mixture make sure you add some flour to your surface and hands, so that it does not stick.
Ingredients
Two simple ingredients for this homemade pizza base.
Flour
Greek yogurt
Get the amounts from the recipe attached.
Flour or self rising flour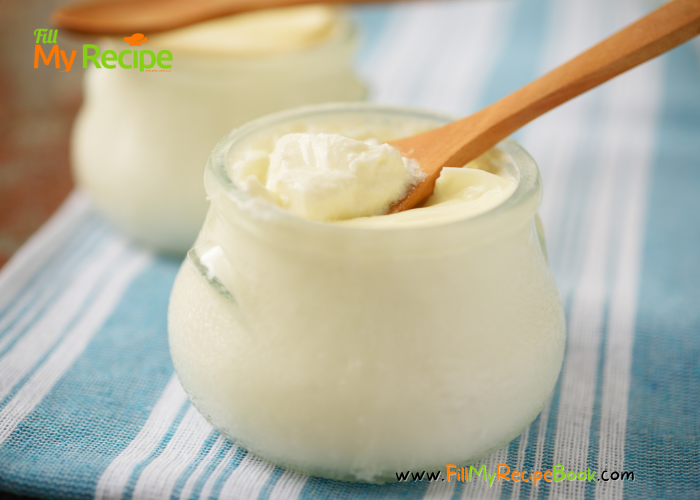 Full cream Greek yogurt
How to.
Mix these two ingredients together and divide into the quantity or size of the pizza you would love to make. Make into balls ready to flatten for pizza base. If you would like to make mini pizza then divide them up to smaller balls.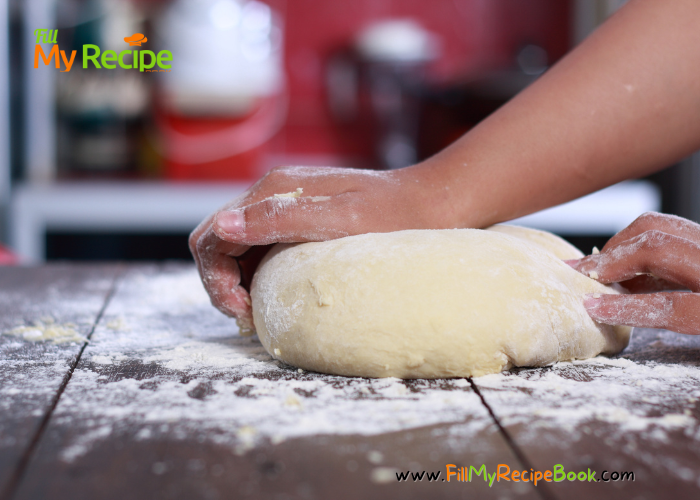 Roll out or press these balls by hand to the thickness of the pizza you would make.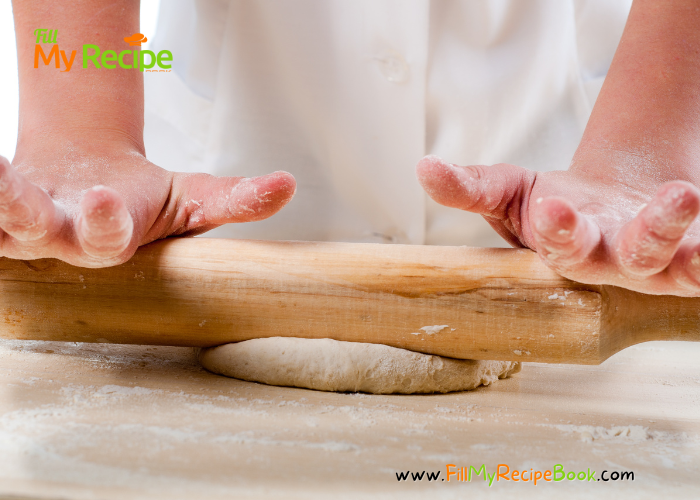 Making this medium pizza dough bases and starting to add your ingredients such as the tomato basel paste.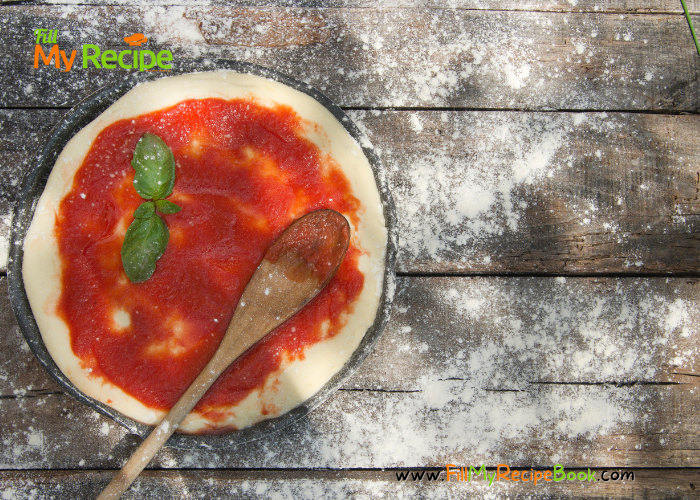 Such and easy dough base to quickly make if you do not use the bought basic pizza basis. Make this in a bigger quantity for big families. Spread on a greased baking tray and make a larger pizza and bake in the oven. Its amazing. For mini pizza dough bases make smaller crust to decorate with toppings.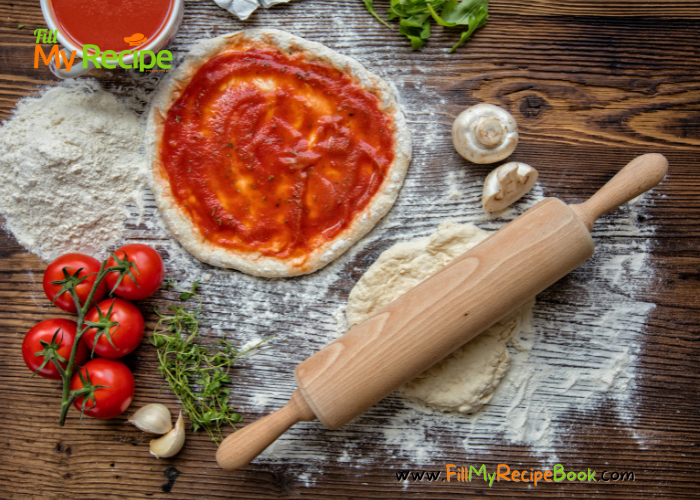 Can yogurt be used for pizza dough.
Plain yogurt holds the dough together and ensures a tender base.
Easily make these bases as it it sugar free and yeast free and egg free. Makes a Vegan and Gluten Free base. What makes this pizza dough soft, is the yogurt as more moisture in the dough makes it soft.
You can also add some corn flour or flour at the bottom of the bases to prevent it burning when baking on a pan or pizza oven.
What type of flour to use.
All purpose flour is used but the second best option used for pizza dough is bread flour for homemade pizza base. As bread flour has a higher amount of gluten and protein than normal flour. The high gluten content in this flour creates a very structured dough allowing for stretching and rising.
Can I freeze yoghurt and flour dough?
Yes, like regular pizza dough, roll it into a ball, lightly oil and wrap in cling film, or place it in a freezer bag. Do not store large balls, as they would take to long to thaw. It will last for up to 3 months in the freezer.
Freezing and Storage
You can freeze the pizza bases sealed in a zip lock packet or container for a few months. When you are ready to use it, let it thaw on room temperature for 10 minutes.
Recommendations
(click the highlighted heading for the recipe)
Delicious recipe ideas to create —-> 14 Healthy Greek Yogurt Inspired Recipes and Get more Greek yogurt recipe inspiration with —-> 17 Healthy Greek Yogurt Bakes Recipes
Get some topping ideas in this —–> Quick Homemade Pizza
Then there are these 3 ingredient —-> 16 Three Ingredient Dinner Recipes
There is more recipe ideas —–> 12 Delicious Homemade Pizza Ideas
Sharing a few recipe ideas to create —–> 18 No Yeast Easy Dough Recipes
Print
Easy 2 Ingredient Pizza Base
Easy 2 Ingredient Pizza Base dough recipe to quickly make for mini or medium pizza crust. Simple and sugar free, made with various flours.
Author:
Prep Time:

15 min

Cook Time:

12 or 15 min

Total Time:

30 min

Yield:

8

Category:

Meal or snacks

Method:

Oven Baking
Ingredients
1. 1 Cup of all purpose or self raising flour (Bread flour is an option as well as gluten free flours)
2. 1 Cup of Greek Yogurt (full cream)
Pinch of salt
Instructions
In a bowl mix the flour and yogurt together well. Make it into a ball. (All depending on your flour) if the dough is to wet then add a little to get the correct consistency.
If you are making smaller pizza or medium pizza then it will depend on the size of dough balls you cut and roll.  For small pizza cut this dough mixture in about 8, then roll into balls and press or roll out to desired base thickness.
Add any of your favourite toppings and bake at 180 Deg. C For 12 – 16 minutes until brown. (depends on your crust )
serve and enjoy.
Keywords: Easy 2 Ingredient Pizza Base