Healthy Asian Chicken Wrap recipe with a sweet and sour sauce-based gravy folded in a lettuce leaf topped with cashew nut for protein.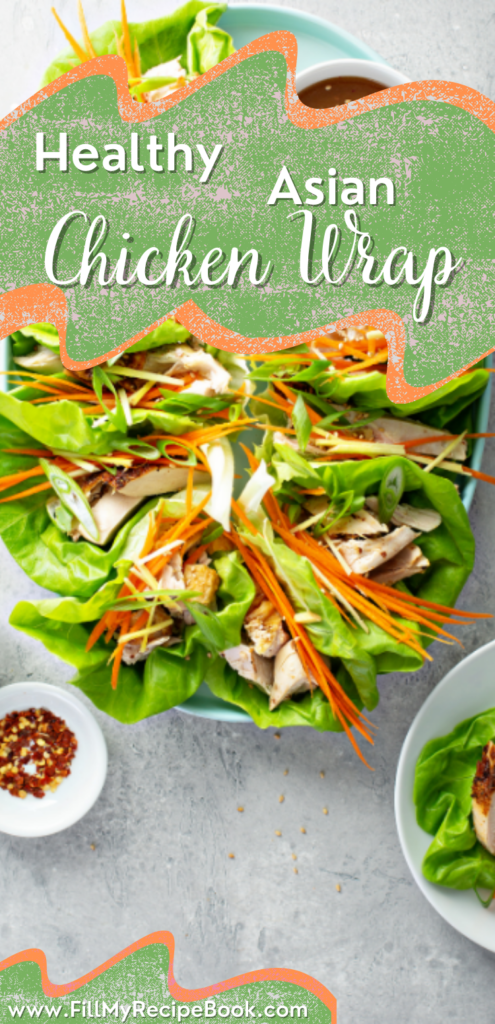 No Bake Healthy Asian Chicken Wrap
Sweet and sour or other Asian chicken in a sauce-based gravy can be fattening if served with fried noodles, in most bread rolls, or in most flatbread wraps. Using lettuce leaves as a wrap for sweet and sour or other Asian-style chicken can give it a healthy twist, as can stir-frying chopped skinless, boneless chicken and chopped cashew nuts in a mixture of low-fat Asian sauces, such as Hoisin, Soy, and Sweet and Sour.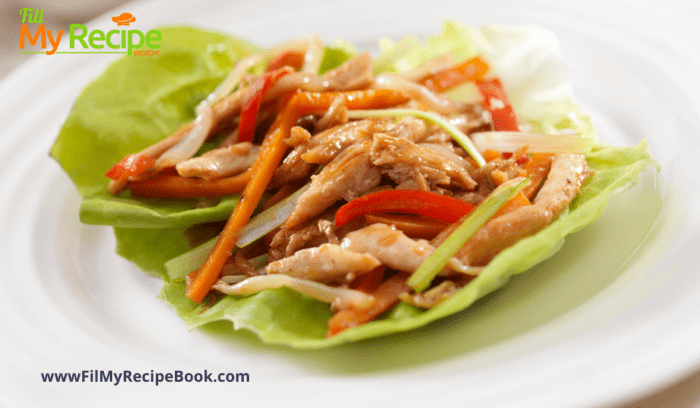 Lettuce wraps are turning up in restaurants across the country. While they are usually offered as appetizers, some actually prefer to eat them as a main course. This recipe will serve them as a main course. Lettuce wraps are also conducive to a no-carb diet, she says. While iceberg lettuce is the most common kind of lettuce used, red leaf or even romaine lettuce can be used, says Stradley.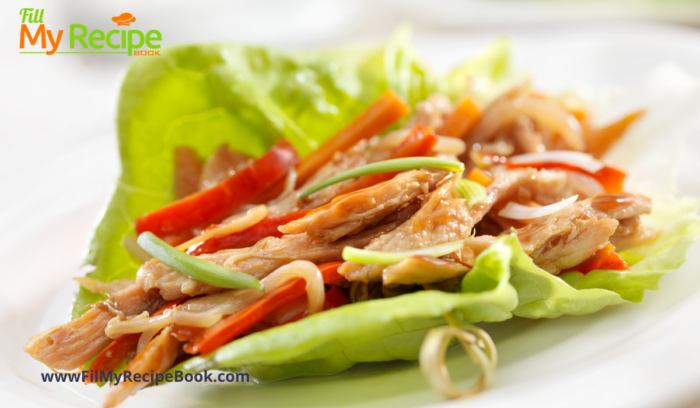 Chopped cashew nuts add to the variety of textures. Cashew nuts are good sources of fiber and protein, like other nuts. They contain monounsaturated fat, the healthy kind of fat that protects the heart, and are also fine sources of Vitamin B complex. One ounce, which is equivalent to 25 grams of cashew nuts, contains only 160 calories.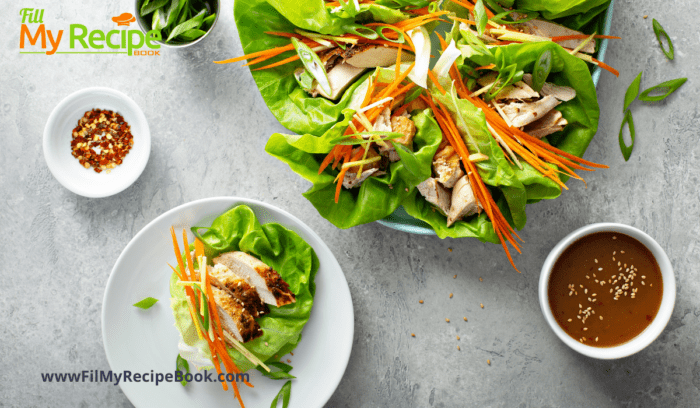 Ingredients & Preparation Tips
Romaine lettuce is recommended, as they are a bright green color is visually appealing. The leaves should be firm and sufficiently green.
Boneless and skinless chicken should be used to make preparation easier and quicker, and the skinless variety is less fattening. Chicken should always be handled very carefully as well asindividuals should thoroughly wash and clean chicken and all the utensils and work surfaces it comes into contact with. Failure to do so could lead to salmonella.

Cashew nuts should be of the regular variety, not the golden fried kind, in order to maintain the nutrition value of this dish. These cashew nuts would gain some of the desirable golden colors during the course of stir-frying.
A mixture of sweet and sour, Hoisin, and Soy sauces add a variety of flavors and keep the filling moist. The sauces should preferably be low fat and be used sparingly in order to prevent sogginess in this lettuce wrap filling. Kikkoman is an example of a popular brand. Found in many grocery or convenience stores. Store brands products can also be used and may, in fact, be less expensive and taste just as good or even better.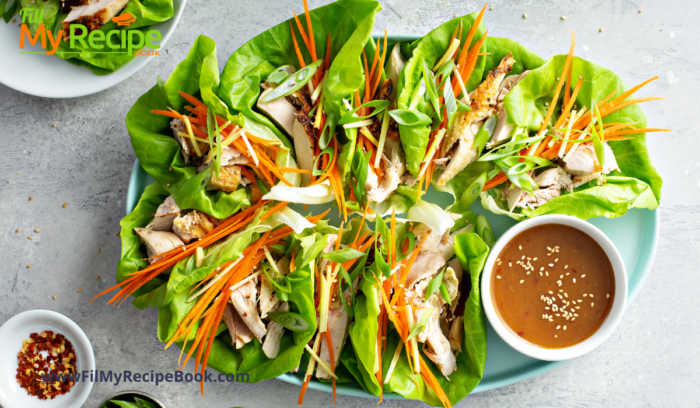 Love some more chicken dishes click the links below.
Recommendations
(click on the highlighted word for the recipe)
Recipe ideas to create with left over chicken —-> Creamy Chicken and Veggie Pie
There are some left over food ideas to obtain —–> 15 Easy Holiday Leftovers Meal Recipes and Obtain these recipe ideas —-> 22 Leftovers Ideas for Monday Meals
Go and view more Asian recipes below.——> 10 Delightful Asian Recipes
Get some tortilla recipes ideas Here.—–> Easy Homemade Tortillas Recipes
These amazing 12 easy healthy light meals recipes
More light meals here.—–> 14 Quick Light Summer Meals.
View more recipe ideas —–> 14 Cashew Nut Inspired Recipes
Some more amazing ideas —–> 15 Lite LCHF Lunch Recipes
Print
Healthy Asian Chicken Wrap
Healthy Asian Chicken Wrap recipe. Asian chicken wrap in a sauce-based gravy folded in a lettuce leaf topped with cashew nut for protein.
Author:
Prep Time:

15 min

Cook Time:

5 min

Total Time:

20 min

Yield:

4

Category:

Meals, supper or lunch, dinner

Method:

no bake stove top

Cuisine:

Asian
Ingredients
4

romaine lettuce leaves

1 cup

boneless and skinless chicken

1/2 cup

cashew nuts, chopped

1/4 cup

Hoisin sauce

1/4 cup

Soy sauce

1/4 cup

Sweet and Sour Sauce

1 tablespoon

peanut or Extra Virgin Olive Oil
Instructions
Thoroughly rinse the lettuce leaves, pat dry with a paper towel, and place them carefully on a plate. Place plate on a flat and stable surface.
Carefully clean and wash the chicken. Chop into small pieces.
Heat the oil on a non-stick skillet, using medium-high heat. Add the chicken pieces and cook until the raw pink color disappears. Add the cashew nuts and cook for 5 minutes until slightly golden brown. Add the sauces and cook until most of the gravy is absorbed.
Spoon the chicken and cashew nut mixture onto the lettuce leaves. Allow mixture to cool slightly, and then carefully roll up the lettuce leaves. Serve immediately. The wraps can be served either by themselves or with an Asian soup, such as sweet corn, hot and sour, or egg drop.
Keywords: Healthy Asian Chicken Wrap recipe