Easy Mint Sauce for Lamb recipe ideas to create at home that uses only 3 ingredients and simple, goes with lamb and other meat very well.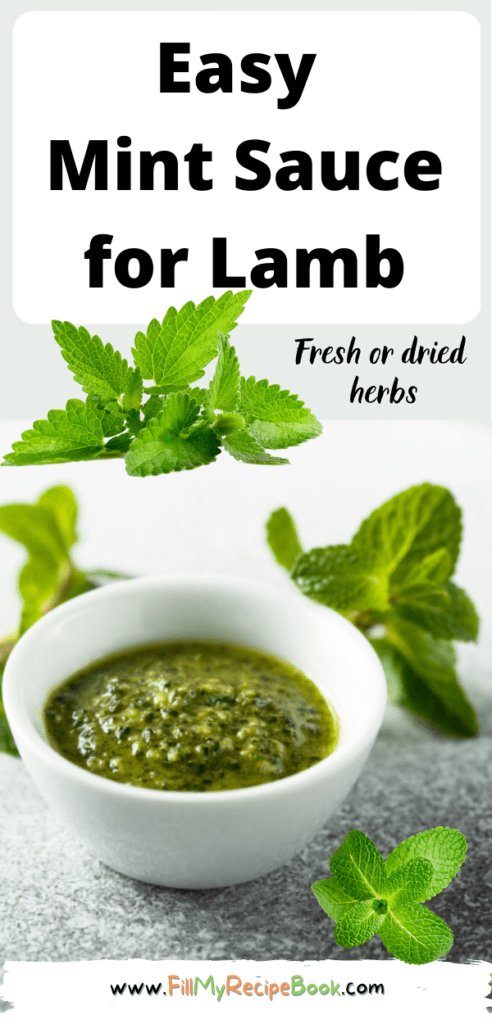 Easy Mint Sauce for Lamb
This homemade mint sauce is made from fresh mint leaves that are chopped and soaked in sugar, vinegar. It goes well with lamb and other game meats to disguise the taste.
Mints health benefits improve brain function and digestive symptoms to relieving pain and good for fevers. As well as good for bad breath. Mint leaves are anti-inflammatory in nature and help improve inflammation in your digestive system. You cant go wrong with adding mint to your food or tea.
Why is mint sauce served with lamb?
In England in the medieval times mint sauce was served with lamb to disguise the game taste of the meat. Then sugar was included that made this sweeter and more popular.
What can you eat with mint leaves?
Adding mint to food and beverages as it adds variety.
Chocolate cake, mint essence.
Lemonade
Zucchini or squash soup
lettuce salad
Bean salad
Lamb dishes
Chicken dishes
Peas and vegetable side dishes
Tea
Dips with yogurt.
Ingredients.
Just 3 ingredients for this easy and refreshing mint sauce for meats.
Mint leaves, or dried.
sugar
vinegar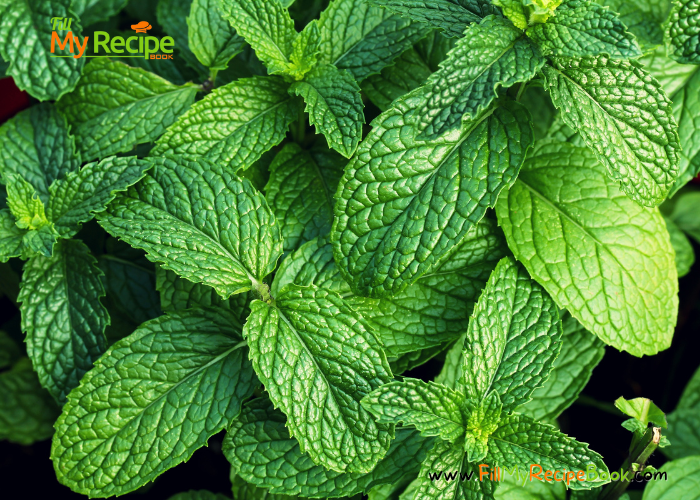 Fresh mint leaves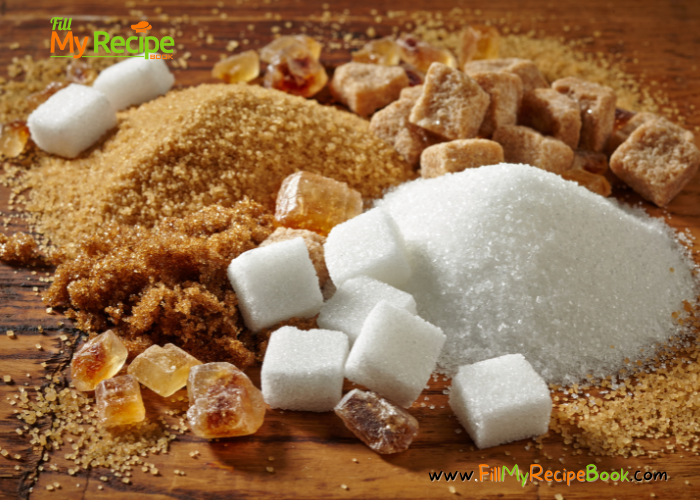 Sugar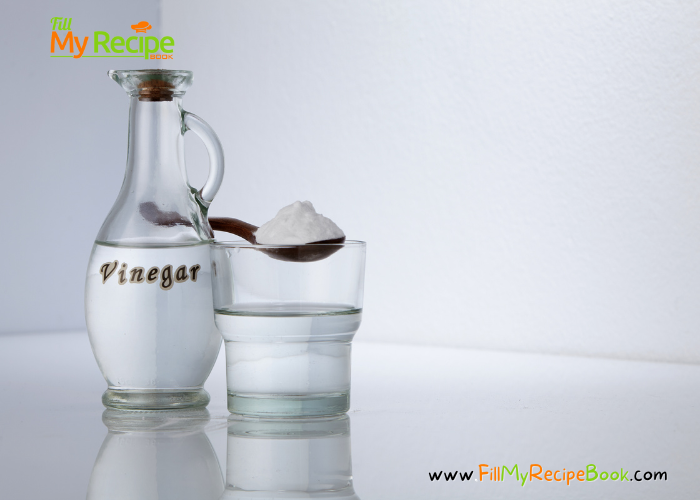 Vinegar
Where do you put mint in your food?
Incredibly tasty herb.
Adding fresh mint leaves to yogurt with berries.
Making tea with the fresh leaves.
Changing up you protein smoothie.
Mixing up and changing your salads
Mint sauces or jellies.
Make a mint lime sizzler.
Watermelon mint popsicles.
How To.
Firstly gather the fresh mint leaves and chop them up. Add them to a small bowl, then add the vinegar and sugar. Mix and leave to draw for up to 5 minutes.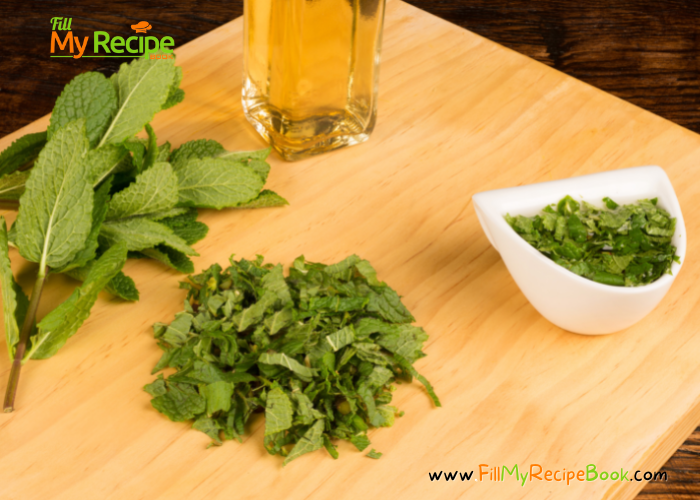 The left over mint sauce can keep in the fridge for up to 2 weeks sealed for use with meats, as well with chicken. Make a mint yogurt mix sauce for the chicken with the left over sauce.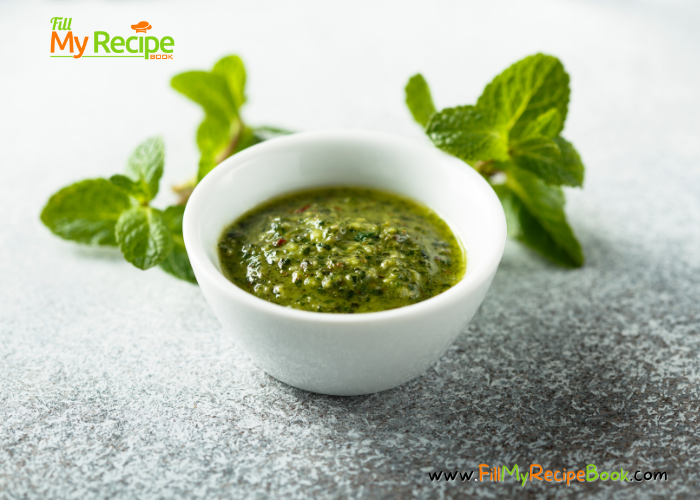 Can I use dried mint instead of fresh mint leaves?
When cooking or baking you can use dried mint instead of fresh mint.
Dried mint are often used to rub your meats and poultry before cooking as they release their flavors slowly during cooking. It helps the meats or food by not letting the onion and garlic overpower the flavors.
Use dried mint leaves that are still the color green, in the same way you would use the fresh mint leaves. Leave stand to draw out the flavor. The ratio to go with is 1 teaspoon of dried mint to 3 teaspoons of fresh chopped mint. (rule of thumb is a third measure of dried herbs to fresh herbs for the recipe)
Recommendations.
(click the highlighted heading for the recipe)
Roast this leg of lamb to use with the sauce —–> Roasted Leg of Lamb & Mint Sauce
as well as this —–> Sunday Roasted Chicken and Potato's and A thanksgiving recipe —–> Herbs and Butter Roasted Turkey
Here are some sauces and gravy recipe ideas to create —-> 16 Amazing Sauces & Gravy Recipes
As well as this dressing —-> Honey Balsamic Mustard Salad Dressing and Homemade Sweet Chili Sauce and Tasty Cranberry Sauce Recipe and for veggies A Simple White Sauce and Savory Nutty Parmesan Cheese Sauce with Simple Marinara Tomato Sauce
Purchase this amazing blank recipe book online for a gift or for all your recipes.
Gorgeous Blank Recipe Book of 200 pages. An empty book to fill in instead of bits of paper everywhere. It has sections and index pages. Makes a wonderful gift.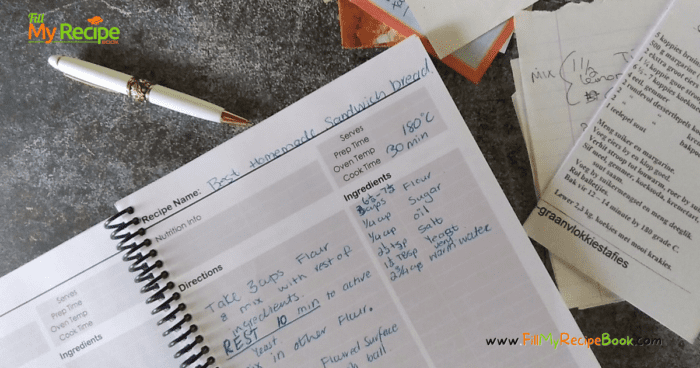 This post may contain affiliate links, where we earn from qualifying purchases. See more details in the policy page. Does not effect your purchase cost.
Print
Easy Mint Sauce for Lamb
Easy Mint Sauce for Lamb recipe idea to create at home that uses only 3 ingredients and simple, goes with lamb and other meats very well.
Author:
Prep Time:

10 min

Total Time:

10

Category:

Condiments, Sauces

Method:

No bake

Cuisine:

English
Ingredients
Mint Sauce
1

bunch of Mint leaves (

2/3 cup

of chopped leaves) (If Using dried mint use

1/3 cup

)

1 teaspoon

of sugar

3 Tablespoons

of wine vinegar
Instructions
Chop the mint leaves finely and place in a bowl with sugar. mix well add a tablespoon of hot water and the vinegar. Mix and leave to stand for about 3 – 5 minutes.
Place in a gravy serving bowl on the table with the meats served.
Notes
Mint sauce may last up to two weeks sealed in a fridge.
Use 1/3 of dried mint to fresh chopped mint leaves.
Keywords: Easy Mint Sauce for Lamb